Keto Dinner
Crave-worthy Keto Taco Stuffed Bell Peppers (Easy Ground Beef Recipe)
I've always been a fan of tacos, but the carbs from the taco shells? Not so much. These keto stuffed bell peppers are the perfect low carb substitute, and I must say they deliver every time I make them.

How to Make the Most Crave-worthy Keto Stuffed Bell Peppers
Prepare the bell pepper halves. Cut them in half and remove the seeds. You can also slice a teeny tiny part of the bottom halves to keep them stable if they're wobbling around.
Bake for 15 minutes. They will soften and wrinkle a tiny bit.
Make the filling. Saute your onion and garlic, and add your seasoned beef.
Prepare the bell peppers. Scoop the beef mixture into the bell pepper halves. Top with cheese.
Bake until the cheese is melted.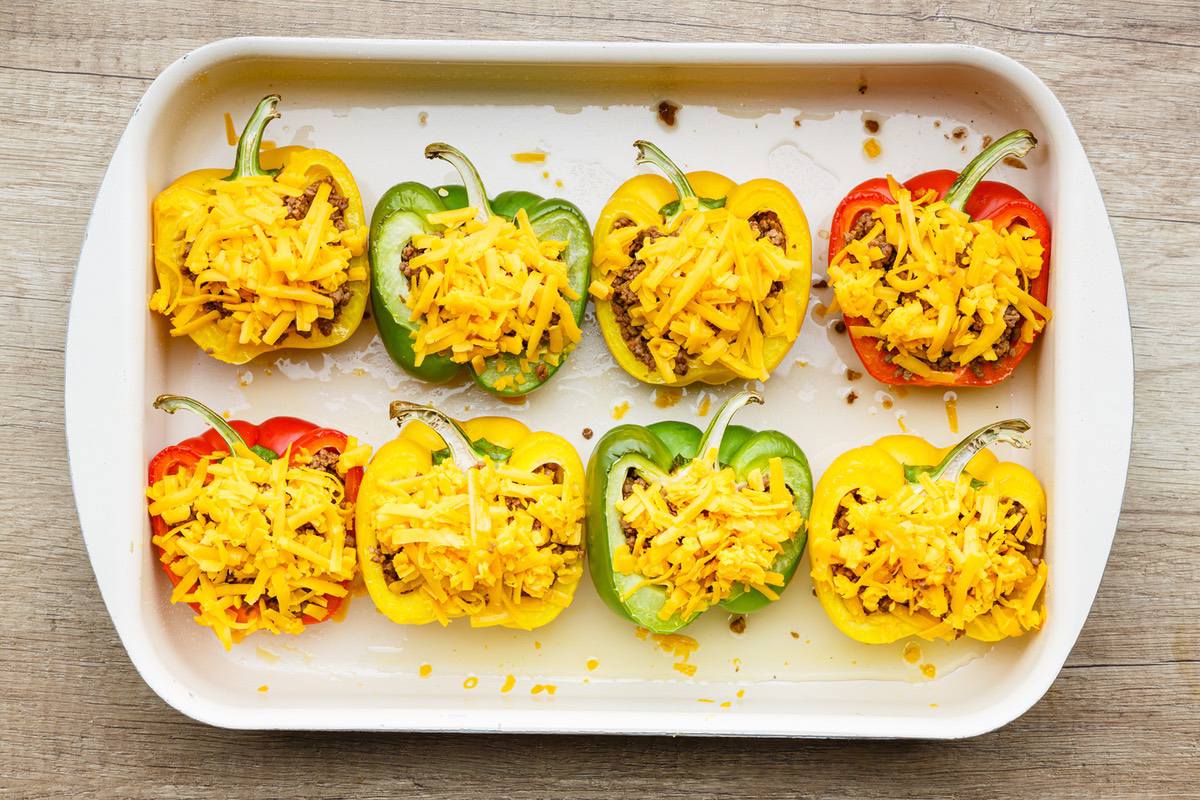 Are Bell Peppers Keto-friendly?
Yes! Bell peppers are low in carbs and have three times more vitamin C per serving than oranges. Green bell peppers have the least amount of carbs with only 2.9g per 100g compared to the red and yellow varieties.
1 medium pepper (116 grams) – 6 grams carbs (2 grams dietary fiber)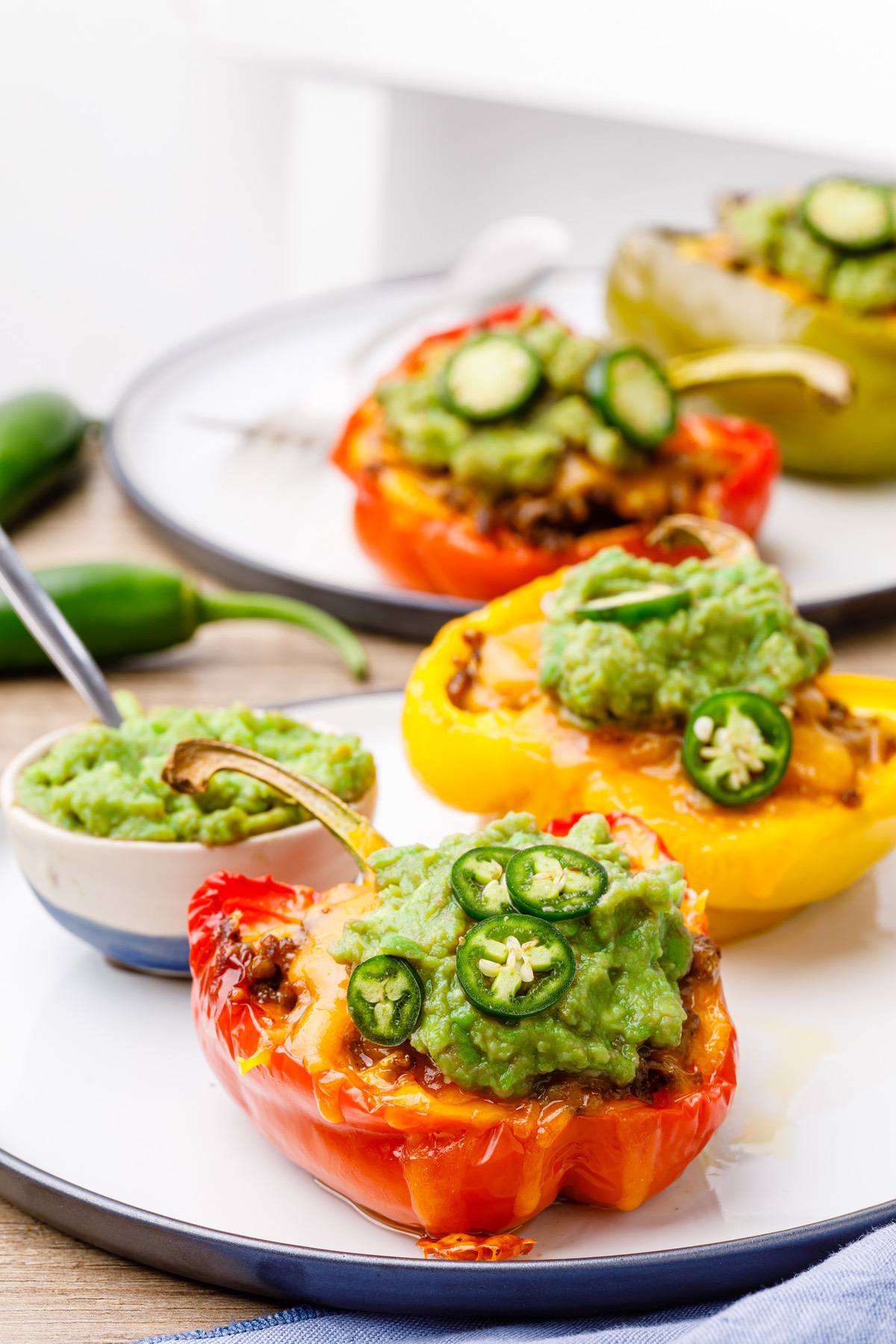 4 Other Peppers That Make Really Good Stuffed Peppers
Poblano Peppers – These are similar to bell peppers, but do have a bit of heat.
Banana Peppers – Shaped just like a banana, this kind of pepper is long and curved and is even milder in heat than poblano peppers.
Cubanelle Peppers – This pepper is widely used in Latin American dishes and is the mildest pepper on this list.
Jalapeño Peppers – Did someone say jalapeño poppers? With the most kick in the list, the jalapeño will liven up any dish.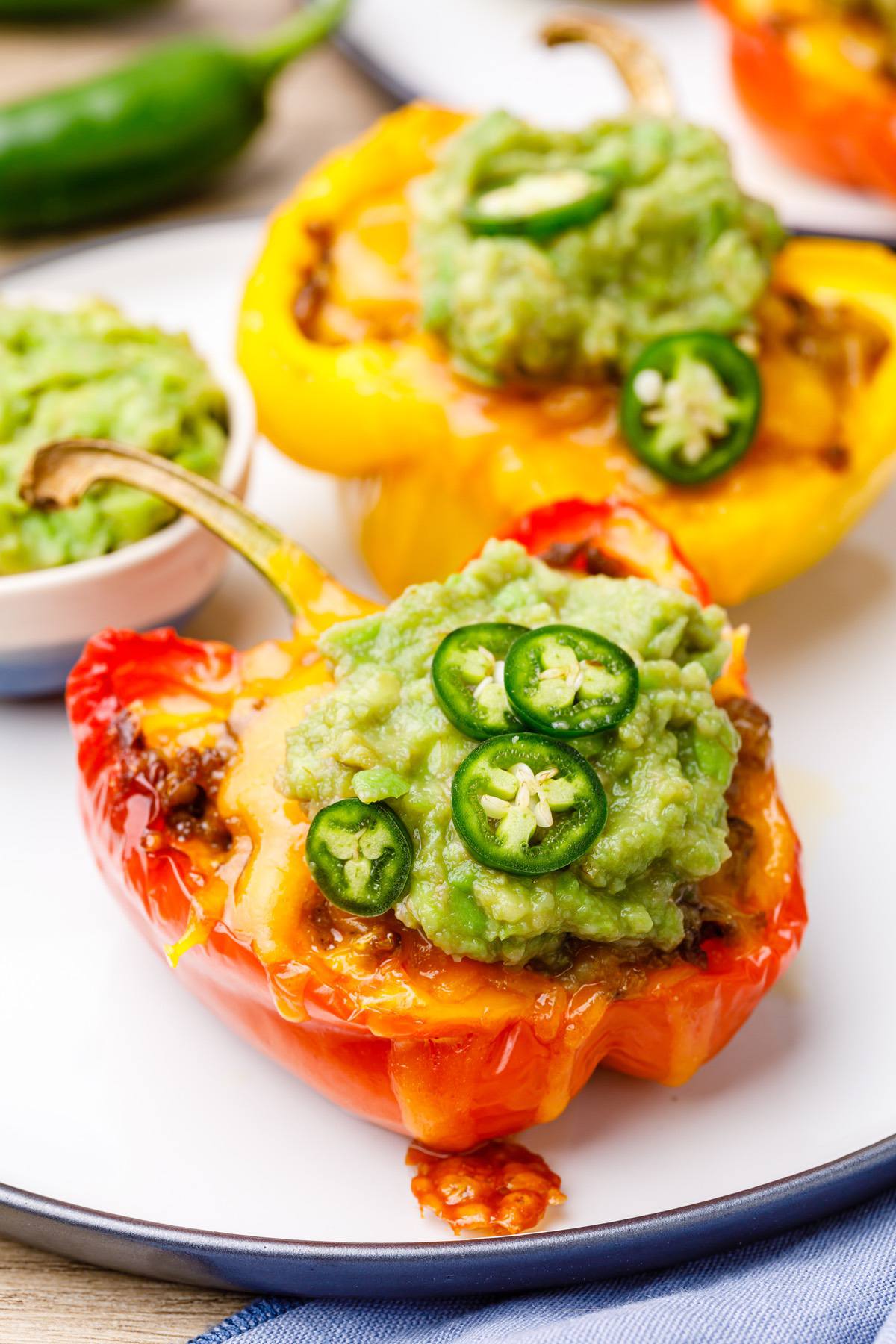 Ground Beef Substitutes
Pork Sausage – Pack in some smokey flavor by using your favorite Italian pork sausage.
Ground Turkey – A leaner alternative is ground turkey which ends up having fewer calories AND more protein per serving than ground beef.
100 gram serving of ground turkey – 143 calories, 18 grams of protein.
100 gram serving of ground turkey – 259 calories, 16 grams of protein.
Lamb – There is something special about bell peppers that are stuffed with hearty lamb with some crumbled feta on top.
Cheddar Cheese Substitutes for Keto Stuffed Peppers
I love cheddar cheese, but feel free to use other types of cheese as well:
Mozzarella
Colby
Ricotta
Cantal
Can I Freeze Stuffed Peppers?
Absolutely! You can store your bell peppers in a tightly sealed container or you can individually wrap your cooked stuffed peppers in freezer-safe plastic or aluminum foil.
Make sure to completely cool down your peppers before freezing.
Are These Stuffed Peppers Good for a Make-Ahead Meal Prep?
Definitely! You can make this recipe in large batches, then store it in the freezer for 2 to 3 months. To reheat, simply pop them in the oven at 350 to 375 degrees fahrenheit for 5-7 minutes or until hot.
More Good Keto Taco Recipes
Print Recipe
Crave-worthy Keto Taco Stuffed Bell Peppers (Easy Ground Beef Recipe)
Author: Bree - KetoPots.com
Prep Time:

10 minutes

Cook Time:

40 minutes

Total Time:

50 minutes

Yield:

8

1

x
Scale
4

bell peppers (any color

),

halved and seeded 

1 tbsp

olive oil 

1 ¼

pound ground lean beef 

2

garlic cloves, minced 

¼

medium onion, chopped 

2 tbsp

homemade taco seasoning 

1 cup

shredded Cheddar cheese 

salt and black pepper to taste 
For serving (optional): 
Preheat oven to 400°F. 

Place the bell pepper halves on a large sheet pan. 

Bake in preheated oven for 15 minutes. 

To make the filling, heat the olive oil over medium heat. 

Add the onion and cook for 5 minutes. 

Add the garlic and cook for 30 seconds. 

Add the beef and cook until no longer pink. 

Add the taco seasoning and mix to combine. 

Remove the sheet pan from the oven. 

Scoop the ground beef mixture into the bell peppers.

Top with cheese. 

Bake in preheated oven for 20 minutes. 

Remove from the oven. 

Serve with guacamole and sliced jalapeno.
FREE KETO RECIPES + 5-INGREDIENT KETO COOKBOOK

Make sure to sign up for free to get instant access to the 5-Ingredient Keto Cookbook, which includes my favorite 20+ keto recipes of all-time, all under 5 ingredients.