Keto Recipes
Easy Keto Crockpot Pulled Chicken Taco Meat
Have you ever tried Crockpot Pulled Chicken Taco Meat? It's a weekly favorite in my house, probably because of all the fun times I've had eating it with friends and family. It's also keto-friendly and packs colossal flavor, so that helps too. You're going to need some time to prepare this dish because it tastes better the longer you can leave it to slow-cook. It's, of course, kept keto-friendly because it's low-carb. Using crisp-lettuce instead of a taco shell means you're just eating delicious slow-cooked chicken flavored with all the good stuff, chili powder, cumin, cinnamon, cayenne pepper, dried oregano, onion powder, garlic powder, and salt.

Slow Cooking Builds Flavor
This dish has complex flavor thanks to the delicious spice mix that is rubbed on the chicken. To make the combination mix chili powder, cumin, cinnamon, cayenne pepper, dried oregano, onion powder, garlic powder, and salt into a bowl. Then add the boneless skinless chicken thighs, make sure they're covered in enough spice, and place them in the slow cooker. Chicken is a great food to eat while in ketosis because it's high in protein and does wonders keeping you full. Add some tomato paste and orange juice to the slow-cooker to take the dish into another dimension.
After about six hours, three minimum, remove the chicken, shred it with a fork into bite-size pieces, then put it back into the pot with all the juice still left behind. This is the stage when the flavor truly soaks into the chicken and makes it so soft that it practically melts in your mouth. The herbs and spices used in this dish have proven health benefits. Studies have shown that cultures that eat spicy foods have a lower incidence of heart attack and stroke.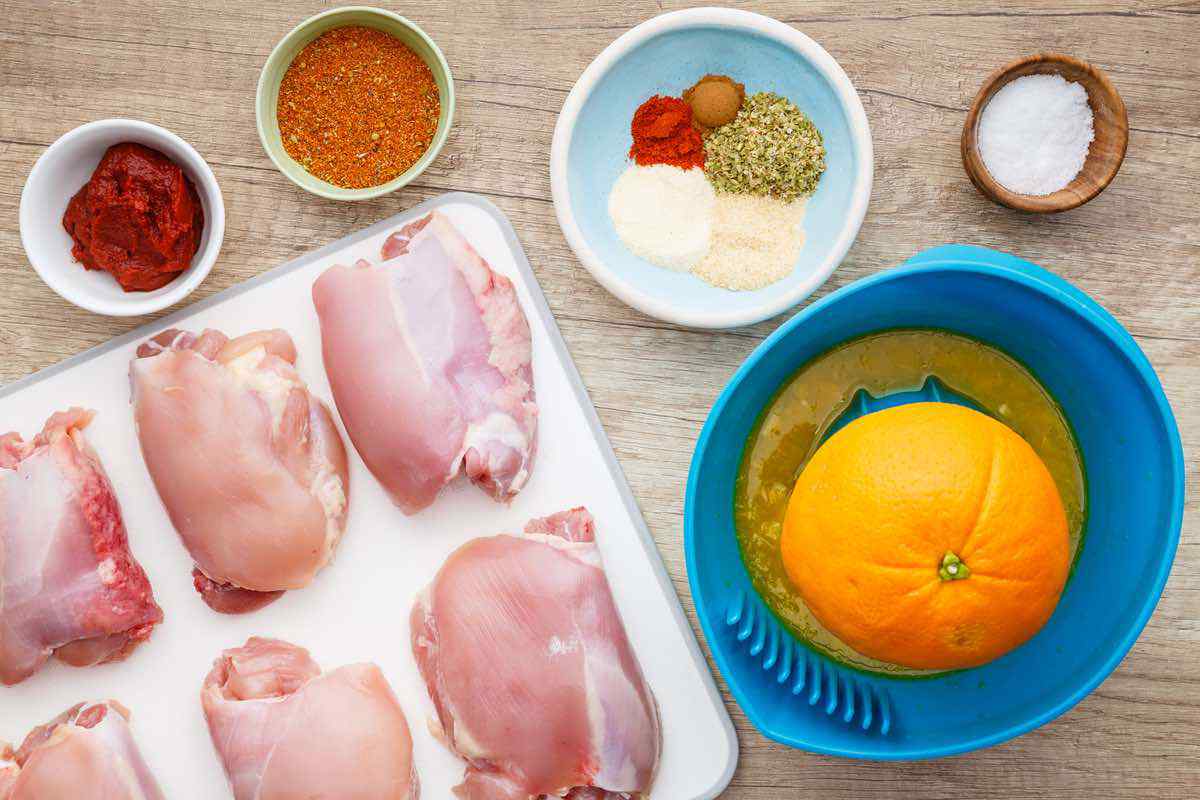 Now it's time to get the family together to eat and for you to relax and enjoy. Place the crockpot in the middle of the dining room table; there's no table service tonight. Set out some low carb tortillas or crispy lettuce cups and let everyone build their dinner!
More Good Keto Taco Recipes
Print Recipe
Easy Keto Crock Pot Pulled Chicken Taco Meat
Author: Bree - KetoPots.com
Prep Time:

15 minutes

Cook Time:

6 hours

Total Time:

6 hours, 15 minutes

Yield:

6

1

x
FREE KETO RECIPES + 5-INGREDIENT KETO COOKBOOK

Make sure to sign up for free to get instant access to the 5-Ingredient Keto Cookbook, which includes my favorite 20+ keto recipes of all-time, all under 5 ingredients.
Scale
1 ½ pounds boneless skinless chicken thighs
2 tbsp chili powder
2 tsp ground cumin
1/4 tsp ground cinnamon
1/4 tsp cayenne pepper
2 tsp dried oregano
1 tsp onion powder
1 tsp garlic powder
1 tsp salt
½ cup fresh squeezed orange juice
1 ½ tbsp tomato paste
In a bowl combine the chili powder, cumin, cinnamon, cayenne pepper, dried oregano, onion powder, garlic powder and salt.
Rub the chicken with spice mixture and place in a slow cooker.
Add the tomato paste and orange juice and mix to combine.
Cover with a lid and cook for 3 hours on high or 6 hours on low.
Remove the chicken and shred it into bite-size pieces with two forks.
Return the chicken to the slow cooker and stir.
Serve with low carb tortillas or lettuce cups and your favorite toppings (sour cream, chopped avocado, tomato, green onions, jalapeno…)