Keto Recipes
Grandma-Approved Crockpot Keto Taco Soup
Every now and then I get an urge to spice things up a little bit when it comes to making dinner. Today I'm going to be sharing one of my favorite keto-friendly crockpot recipes that is absolutely perfect for making a nice and spicy dinner. This crockpot keto taco soup is 100% Grandma-approved and oh so fulfilling. It's made with a superb blend of ingredients, including lean ground beef, a wicked combination of devilishly hot herbs and spices, and it even includes keto staples like cream cheese and heavy cream to increase the fat content. It's also super easy to prepare, requiring only about 15 minutes of prep time and four hours of cooking time. It's perfect for letting you take care of anything else that needs attention and then coming back to a delicious dinner all ready to go.
Some Like It Hot
Start out by heating up your olive oil in a large pan over a medium heat and then adding your ground beef into it. While this recipe calls for the use of lean ground beef, don't be shy about using medium ground beef if you'd prefer for the increased fat content. Use a wooden spoon to break up the pieces for about 10 minutes, or until they're nice and brown. I like to always cook my ground beef in olive oil, as it's an incredibly rich source of heart healthy fatty acids. Olive oil has also been found to effective against several different types of health conditions and diseases, including obesity, oxidative stress, diabetes, cancer, osteoporosis, heart disease, and more. (1)
After transferring the beef into your slow cooker, you can then add in the chopped onion, chili powder, red pepper flakes, dried oregano, paprika, cumin, red and green bell peppers, diced chiles and tomatoes, and the beef broth. As you can see, there's quite a few things going into this soup that bring the heat. One of my favorite things about making spicy recipes like this one is that spicy ingredients in general also provide an incredible amount of great health benefits. Culinary herbs and spices have actually been thoroughly studied and researchers have found that they have a rather high antioxidant content and some potent cancer prevention properties. (2)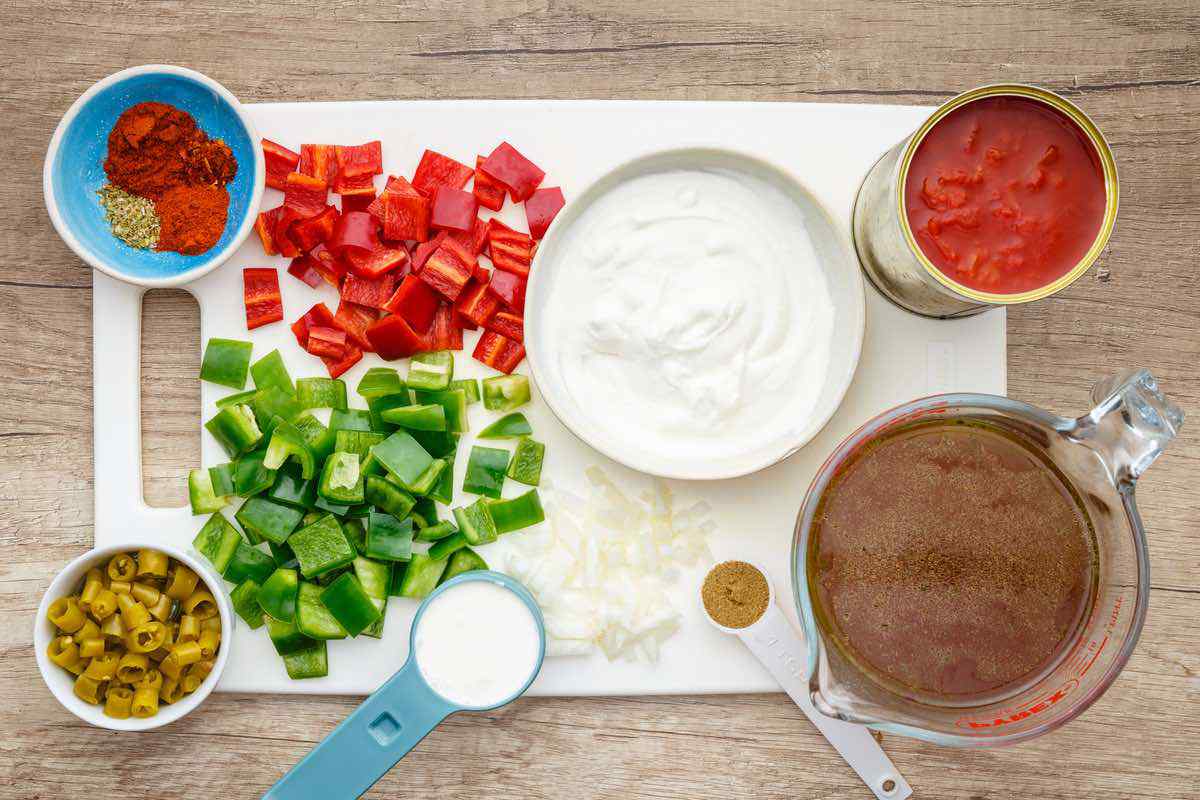 Once you've added all of the ingredients into the slow cooker, mix everything together and leave the soup to cook on low for about four hours. Then you can then stir in the cream cheese and heavy cream to add a solid amount of fat calories to the recipe before finally cooking the soup for an additional 30 minutes. This spicy taco soup recipe is fantastic for making a nice and hot meal to enjoy for dinner on a chilly evening. I like to add some avocado slices and chopped cilantro to my soup when I eat it, just to add even more healthy fats into the mix along with a bit of extra flavor thanks to the cilantro.
More Keto Soup Recipes:
The Best Keto Broccoli Cheese Soup (More Cheddar, More Better)
Print Recipe
Crockpot Keto Taco Soup
Author:
Prep Time:

15 minutes

Cook Time:

4 hours

Total Time:

4 hours 15 minutes

Yield:

8

1

x
FREE KETO RECIPES + 5-INGREDIENT KETO COOKBOOK

Make sure to sign up for free to get instant access to the 5-Ingredient Keto Cookbook, which includes my favorite 20+ keto recipes of all-time, all under 5 ingredients.
Scale
2 pounds ground lean beef
2 tbsp olive oil
2 tbsp chopped onion
1 tsp chili powder
¼ tsp red pepper flakes
1 tsp dried oregano
½ tsp paprika
2 tsp ground cumin
½ red bell pepper, diced
½ green bell pepper, diced
1 (14.5 oz) can diced tomatoes
1 can (4 oz) diced green chiles
4 cups homemade beef broth
4 oz cream cheese, softened
¼ cup heavy cream
salt, black pepper to taste
For serving (optional):
avocado slices
sliced jalapeno
chopped fresh cilantro
In a large pan heat the olive oil over medium heat.
Add the ground beef, breaking up the pieces with a wooden spoon, and cook until brown, about 10 minutes.
Transfer the beef in a slow cooker.
Add the chopped onion, chili powder, red pepper flakes, dried oregano, paprika, ground cumin, bell peppers, diced tomatoes, diced green chiles and beef broth.
Mix to combine.
Cover with a lid and cook on low for 4 hours.
Remove the lid and stir in the cream cheese and heavy cream.
Cook for additional 30 minutes.
Season with salt and black pepper to taste.
Divide the soup between bowls and serve with desired garnishes.