Keto Recipes
Crispy (Not Soggy) Cheese Keto Taco Shells
These low carb cheese keto taco shells are the perfect mix of salty and cheesy and are the perfect base for so many ingredients. Here's how to make them.

How to Make Cheese Keto Taco Shells
Preheat the oven. Preheat your oven to 400℉.
Prepare the baking sheet. Line a baking sheet with either silicone mat or parchment paper.
Bake the cheese. Place your ⅓ cup piles of shredded cheddar cheese on your baking sheet, but make sure to space them apart because they'll spread. This usually takes 5-7 minutes to bake. You'll know they're done when they're golden brown.
Make into tacos. Once the cheese cools, gently lift it up with a spatula while it's still pliable and place it over the handle of a pair of tongs. This will create that folded over shape as the cheese cools and solidifies even more.
Serve. Fill the taco shells with your favorite fillings and serve!
Can I Use Another Type of Cheese?
You can easily substitute out the cheddar cheese for another type of cheese if you're not a big fan of cheddar. Here are some quick and easy swaps you can make for cheese taco shells:
Mozzarella cheese – Use 2 cups of shredded mozzarella cheese and bake for 10-15 minutes.
Colby jack cheese – Use 6-8 slices of colby jack cheese squares and bake for 5 minutes.
Parmesan cheese – Use 2 cups of shredded Parmesan cheese and heat on a skillet for 2-3 minutes.
(View more: Keto-friendly Cheeses)
How to Keep These Keto Cheese Taco Shells Nice and Crispy
The reason why cheese works so great for making keto taco shells is because it can turn out perfectly crispy just like traditional shells are. Here are a few handy tips to keep your own low carb cheese taco shells nice and crispy.
Give them some time to crisp up. Cheese taco shells will get more crispy as they cool off out of the oven, so don't write them off just yet if they aren't as crispy as you would like when they first come out.
Don't undercook. Undercooked cheese is the most common cause of soft cheese taco shells; be sure to follow the baking or frying instructions (depending on the type of cheese you're using) exactly.
Use a harder cheese type. The reason why cheddar cheese works phenomenally well for this recipe is because harder cheese types tend to turn out much crispier when cooked and set.
Can I Make These Low Carb Cheese Taco Shells Ahead?
I highly recommend having these right after making them. The reason why is that when you go to reheat the keto cheese taco shells, the cheese will end up melting even further, causing them to lose not only their shape, but their texture as well.
Since it only takes a few minutes to bake cheese tacos from scratch, you're far better off to just make a batch from scratch whenever you're in the mood for some low carb tacos.
(You may also like: How to Make The Best Low Carb Chewy Keto Tortillas)
More Good Keto Taco Recipes
Print Recipe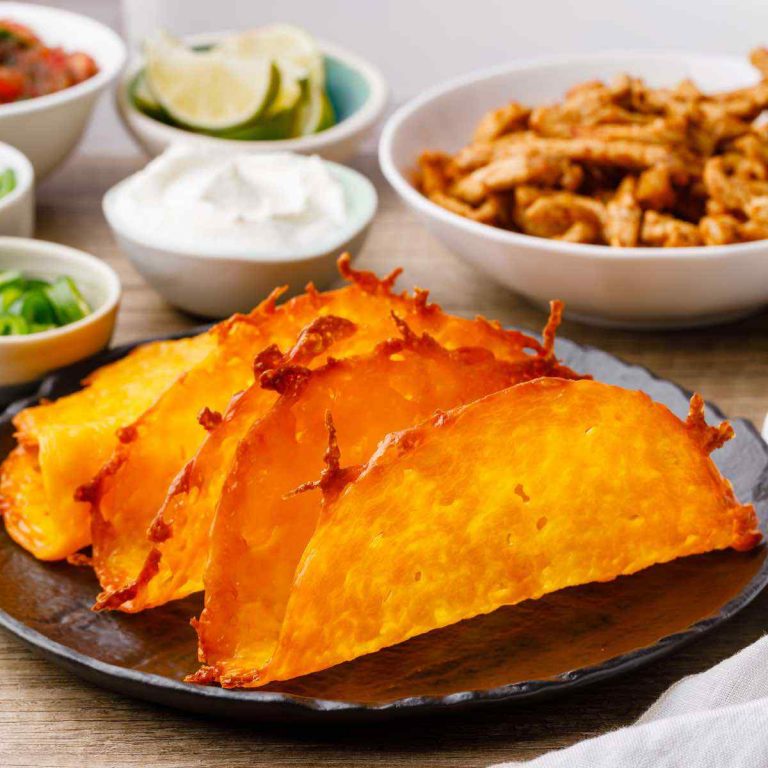 The Best Cheese Keto Taco Shells (Easy Recipe)
Author: Bree - KetoPots.com
Prep Time:

5 minutes

Cook Time:

7 minutes

Total Time:

12 minutes

Yield:

6

1

x
FREE KETO RECIPES + 5-INGREDIENT KETO COOKBOOK

Make sure to sign up for free to get instant access to the 5-Ingredient Keto Cookbook, which includes my favorite 20+ keto recipes of all-time, all under 5 ingredients.
Scale
2 cups finely shredded Cheddar
Preheat oven to 400°F.
Line a baking sheet with silicone mat or parchment paper.
Place 1/3 cup piles of cheese 3 inches apart on the prepared baking sheet.
Bake the first batch for 5-7 minutes or until the cheese melts and turns lightly brown.
Let the cheese cool for 2-3 minutes then using the spatula lift it up and place it over the handle of a tong or other utensils that is balanced on two cups.
Repeat with the remaining cheese circles.
Fill the shells with your favorite taco fillings and serve.