Keto Recipes
Double Dark Chocolate Keto Ice Cream (Ridiculously Good)
Do you know the best part about keto? No matter what the recipe is, as long as you're smart with your ingredient choices, you can almost effortlessly come up with some keto recipes that allow you to enjoy some of your old guilty pleasures. Take this ice cream recipe for example. Double chocolate ice cream is one of those dessert options that immediately conjures up images of an unbelievably decadent treat. And on the keto diet? It indeed still is. However, this double dark chocolate keto ice cream smartly replaces the unhealthy ingredients in favor of sugar-free, high-fat ones. The end result is a deliciously decadent chocolate ice cream treat that you can indulge in freely even while you're in ketosis.
Keto-Style Chocolate Indulgence
As with many keto-friendly dessert recipes, this ice cream starts out with the use of some heavy whipping cream. It works perfectly for making treats like this because it helps to add that thick and creamy texture that will turn your keto ice cream into one yummy treat. More importantly, using one-and-a-half cups of it will add a ton of calories to your ice cream, with nearly 100% of them coming from fats. In fact, just one single cup of heavy whipping cream carries a whopping 413 calories and 44.3 grams of fat (1), meaning you'll definitely be feeling satisfied after you enjoy this treat.
Stevia, An All-Natural Keto-Approved Sweetener
In order to ensure that the ice cream also helps to satisfy your sweet tooth, I recommend using stevia as a sweetener (or any other low carb granulated sweetener variety). The reason that I suggest using stevia is because unlike refined table sugars (or even other artificial sweeteners), it has been used as an all-natural zero calorie sweetener for centuries. It's a fantastic alternative for absolutely anyone looking to reduce their sugar consumption, and there are even studies that have demonstrated the potential of stevia leaf extract as being a useful tool in the fight against obesity. (2) Of course, these benefits translate perfectly for anyone following a keto diet as well.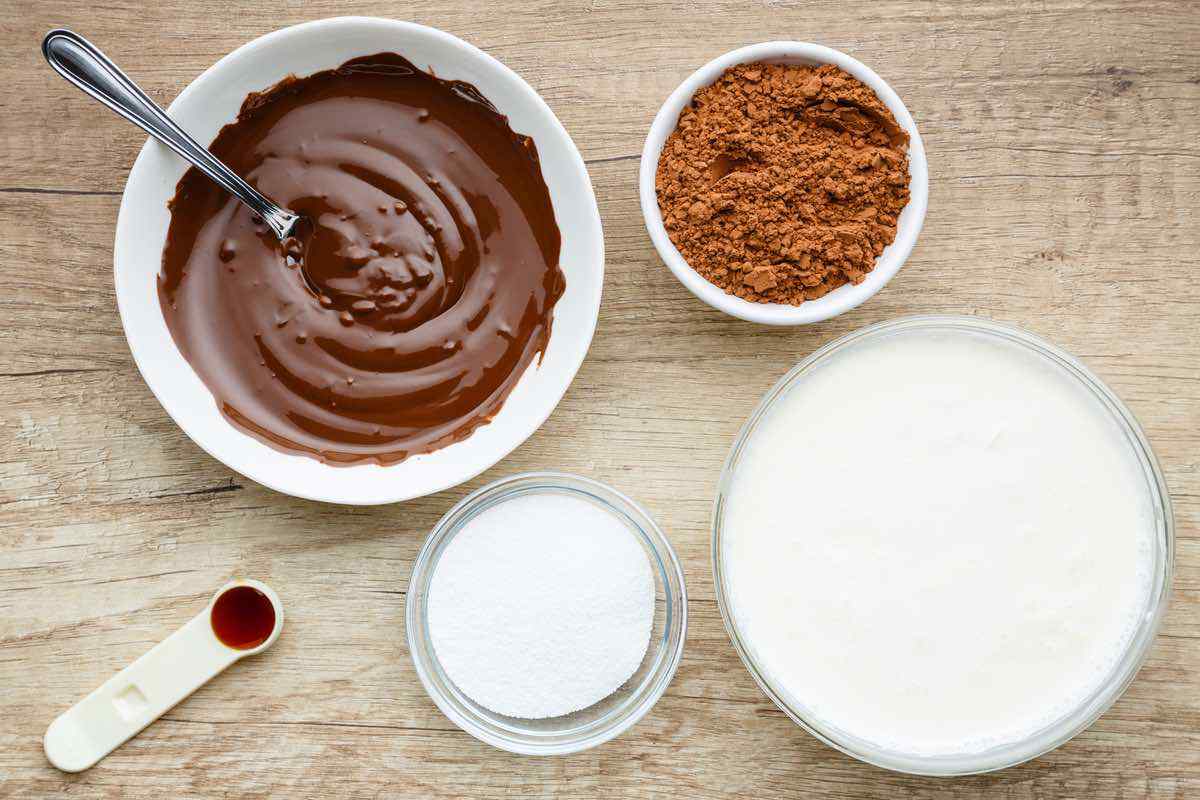 You're going to want to combine your heavy whipping cream, stevia, and vanilla extract together in a bowl that you've previously chilled. Whip it all together until soft peaks form, and then you can add in your chocolate. The "double chocolate" aspect of this recipe comes from the use of both cocoa powder and melted dark chocolate. Not only are both of these sugar-free options that are still capable of satisfying your chocolate sweet tooth, but they're also excellent sources of healthy fats and they play an important role when it comes to human health and helping to prevent certain types of cardiovascular disease. (3)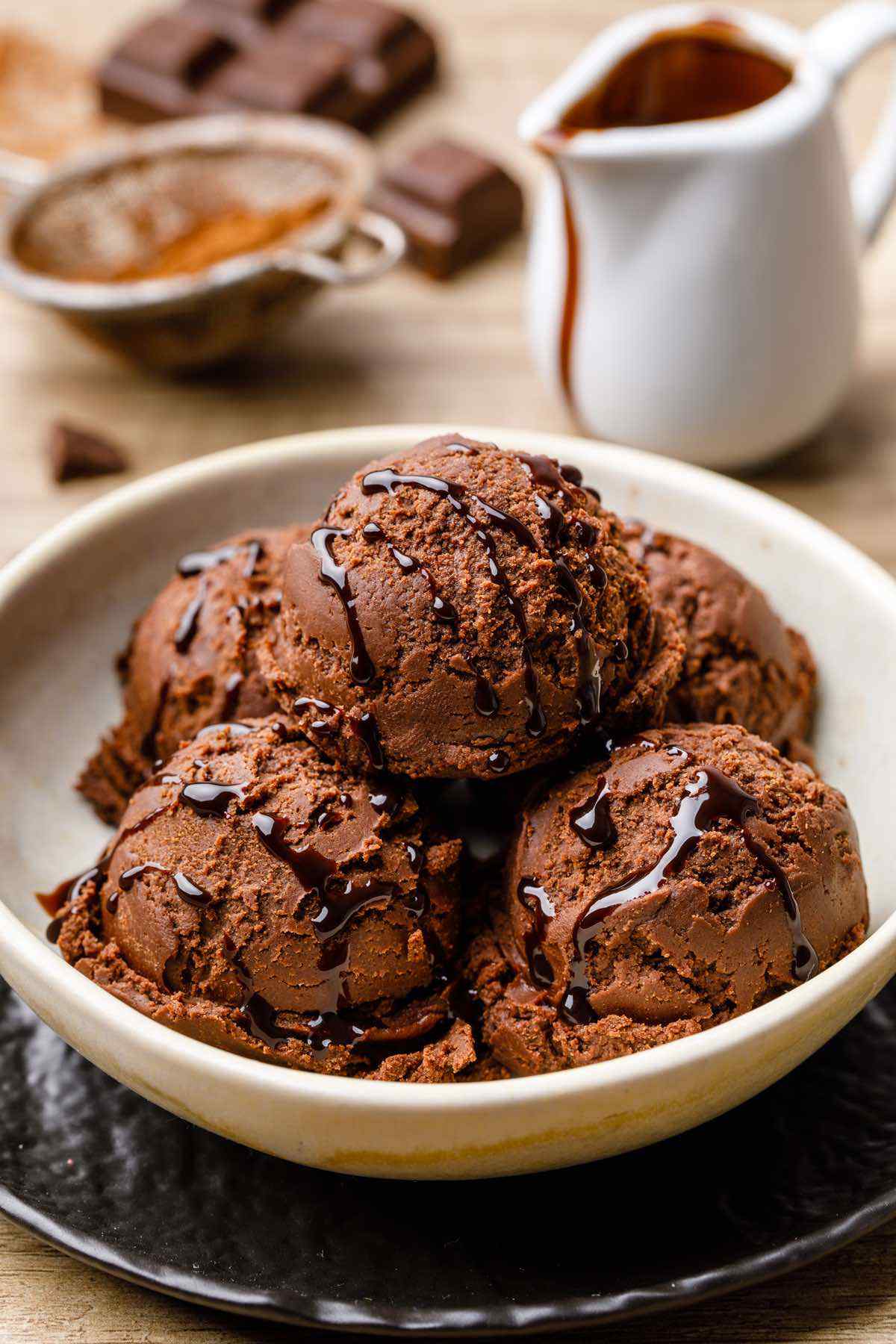 After mixing in your cocoa powder and dark chocolate, pour everything into an ice cream maker and then freeze it according to the manufacturer's instructions.
If you don't already own an ice cream maker, I would highly recommend the Cuisinart ICE-30BC. It's terrific for not only making keto-friendly ice cream, but also sorbets and frozen yogurt as well. You can purchase it by clicking here.
Although I strongly recommend using an ice cream maker to complete this recipe, it's still not absolutely required. You can also just transfer your mixture into a container and then freeze it for several hours. Both options are completely viable, however, I personally prefer the ice cream maker method. Also, one final parting tip: if you really want to treat yourself a little bit, you can also optionally add in a bit of vodka when preparing this recipe as well.
Print Recipe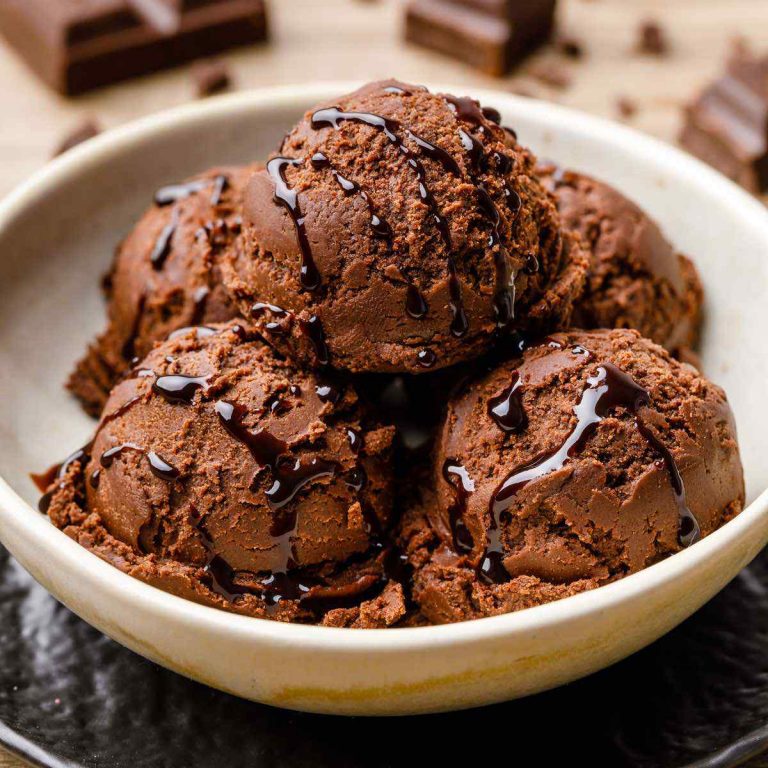 Double Dark Chocolate Keto Ice Cream
Author:
Prep Time:

10 minutes

Total Time:

10 minutes

Yield:

4

1

x
FREE KETO RECIPES + 5-INGREDIENT KETO COOKBOOK

Make sure to sign up for free to get instant access to the 5-Ingredient Keto Cookbook, which includes my favorite 20+ keto recipes of all-time, all under 5 ingredients.
Scale
1 ½ cups heavy whipping cream
1 tsp vanilla extract
¼ cup or to taste granulated stevia or other low carb granulated sweetener
1 ½ oz cocoa powder
5 oz melted sugar free dark chocolate plus extra for serving (optional)
pinch of salt

1 tbsp vodka (optional)
In a large chilled bowl add the heavy whipping cream, vanilla extract and sweetener and whip until soft peaks form.
Add the melted chocolate, cocoa powder, pinch of salt and vodka (if using) and mix until combined.
Pour the mixture into an ice cream maker and freeze according to the manufacturer's instructions.
Notes
If you don't have an ice cream maker, transfer the mixture to a container and freeze for minimum 4 hours or until set.
When ready to serve, thaw for 5-10 minutes then scoop with an ice cream scoop.