Keto Desserts
2-Minute Chocolate Keto Milkshake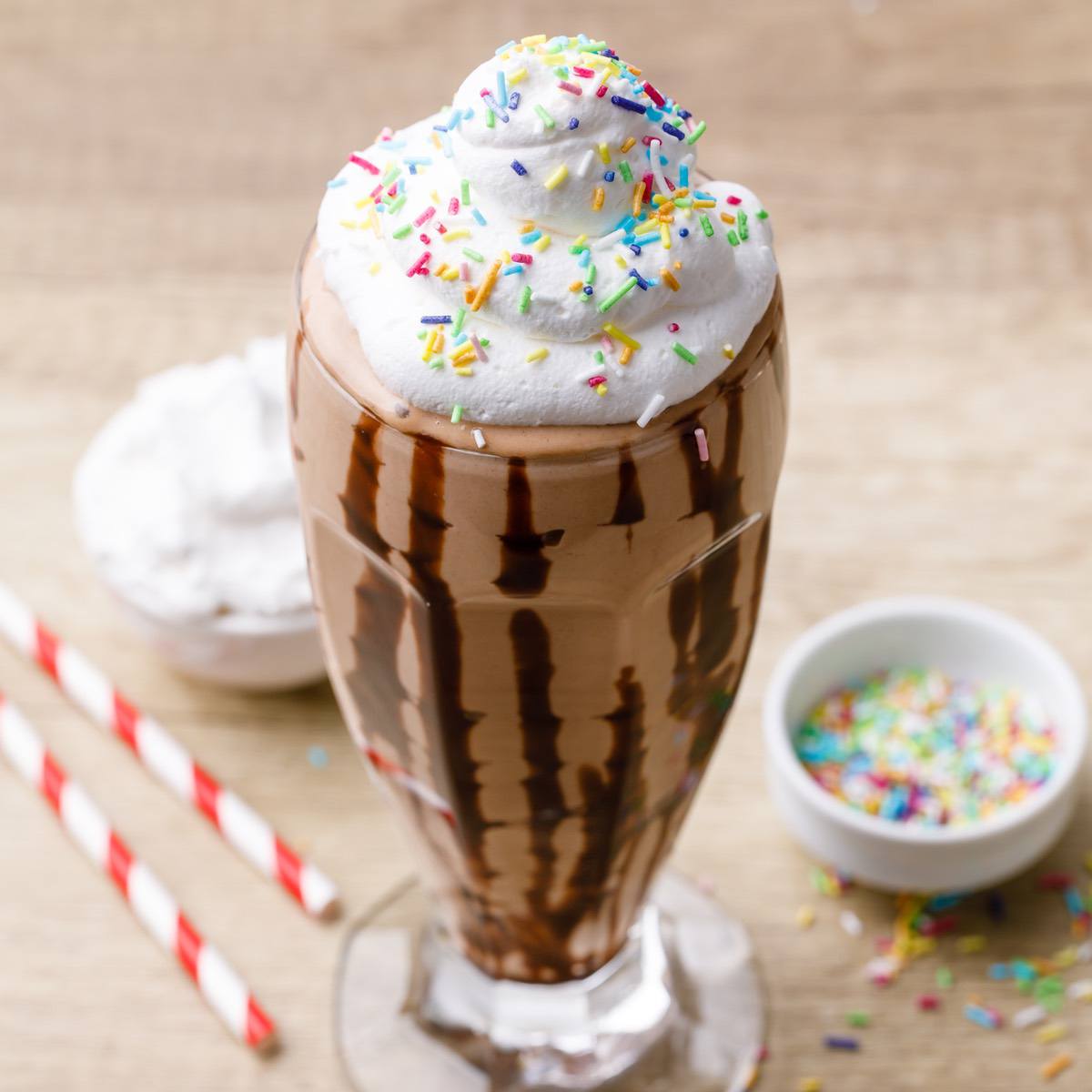 Not all homemade milkshakes are created equal. This super creamy, rich and decadent chocolate keto milkshake takes on 2 minutes, and is one of the best milkshakes you will ever have.

If you're looking for more keto-friendly shakes, you also need to try this low carb vanilla shake, this peanut butter and jelly shake and this mocha frozen latte shake (it's to die for).
---
How to Make an the Easiest Chocolate Keto Milkshake
The recipe I'm about to share is chocolate flavored because it's my favorite, but of course, you can still make different flavors depending on your preferences.
I personally love a chocolate-based milkshake and sometimes add banana (not anymore on keto though), peanut butter, almond butter or chia seeds! You can customize this recipe as much as you want, but just keep your keto guidelines in mind.
Related: Keto Vanilla Ice Cream
---
You can finish this recipe in just 2 minutes. Simply prepare your ingredients such as low carb chocolate protein shake powder, unsweetened cacao powder, water, heavy cream and ice cubes. Pour everything into a blender and blend until smooth. Pour into a tall glass and serve immediately!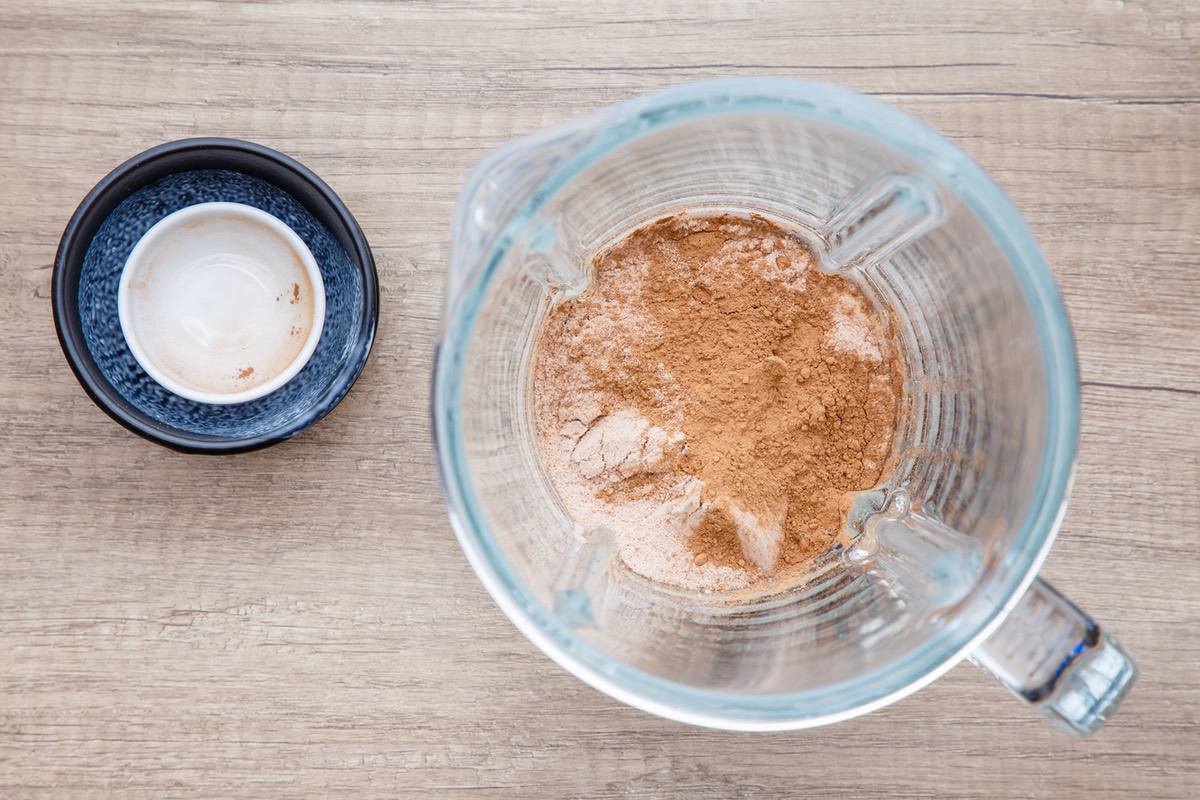 Tips for a Thick Milkshake
A milkshake recipe isn't complete without some best practices, am I right? First of all, please use a proper blender. If you're using an underpowered blender, it won't blend the ice cubes properly and you'll end up with a mix of huge and mini ice chunks–not the texture you want. Only use a blender that you know can blend through ice with ease.
---
Add the water in gradually to ensure that you're not adding too much or too little. Depending on the type of protein powder you have, some can end up really thick or quite runny. By adjusting the water as you blend, you can keep an eye on the texture to make sure it comes out just right.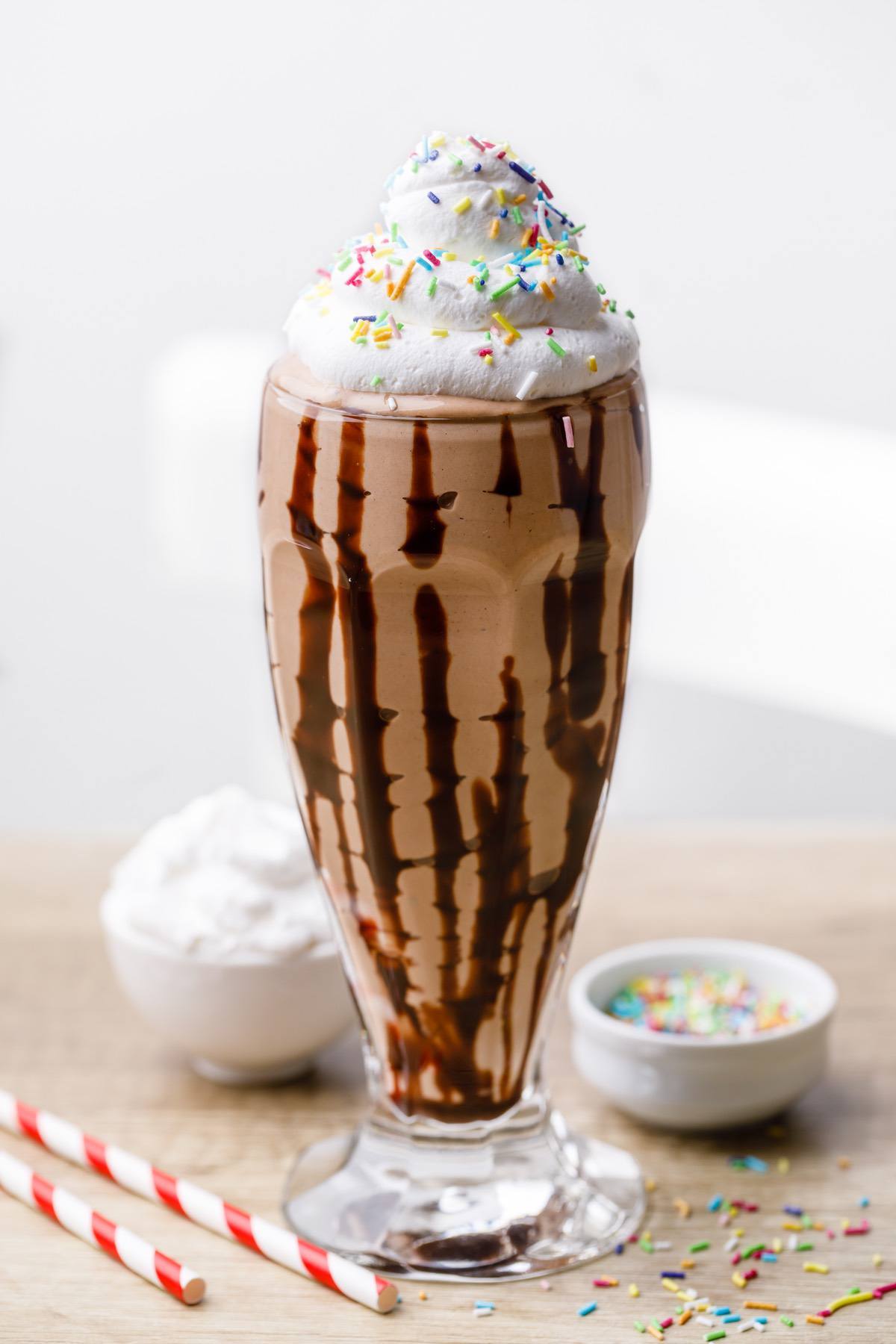 Can I Use Full Cream Milk Instead of Heavy Cream?
I recommend using heavy cream as much as possible as this will make your milkshake thick and creamy. You might not achieve the ideal milkshake texture if you use full cream milk as a substitute. Another alternative to heavy cream is coconut cream in case you can't get heavy cream.
Dark Chocolate vs. Milk Chocolate – Which is Better?
Dark chocolate is definitely the healthier type of chocolate as it contains less sugar and a higher content of cacao. Milk Chocolate, on the other hand, has less cacao content in it and has sugar, cream and milk solids
Given that dark chocolate is the more natural variant, this is the clear winner between the two. Dark chocolate is also known to have more antioxidants which can help the body combat toxins and free radicals, and has up to four times more fiber content vs milk chocolate.
I love chocolate either way, but I'd say dark chocolate is better if you must choose between the two.
---
Is Cocoa Powder the Same as Cacao Powder?
Simply put, both cacao and cocoa powder come from the cacao plant and seeds.
The difference between the two is the process on how it is made. Cacao powder is made by cold pressing cacao beans that haven't been roasted yet, while cocoa powder is made from roasting cacao beans at a high temperature.
There are no clear studies that indicate if cacao is better than cocoa, but cacao powder is known to be the more natural and less processed type, so I'd definitely go for the cacao powder if it's available!
P.S. If you're looking for another keto-friendly ice cream treat, you'll also love these homemade keto fudgesicles: https://ketopots.com/fudgesicle-keto-ice-cream-bars
---
Print
Print Recipe
2-Minute Chocolate Keto Milkshake
Author: Bree
Prep Time:

2 minutes

Total Time:

2 minutes

Yield:

1

1

x
Category:

Dessert

Cuisine:

American
Scale
1

scoop low carb chocolate protein powder

1 tbsp

unsweetened cacao powder 

¼ cup

water

¼ cup

heavy cream

1 cup

ice cubes
Place all the ingredients in a blender and blend until smooth. 

Serve immediately.
Keywords: ice cream, milkshake, chocolate
FREE KETO RECIPES + 5-INGREDIENT KETO COOKBOOK

Make sure to sign up for free to get instant access to the 5-Ingredient Keto Cookbook, which includes my favorite 20+ keto recipes of all-time, all under 5 ingredients.