Keto Recipes
Cookies and Cream Keto Ice Cream Cake
Did you know that it's possible to enjoy a phenomenally good slice of ice cream cake without having to feel even the least bit guilty about it? That isn't just a dream. It can be a reality for everyone thanks to this cookies and cream keto ice cream cake recipe. It's made with a fantastic mix of healthy, all-natural ingredients that even includes a homemade "ice cream" made with heavy cream and a low carb sweetener like Stevia. My kids used to always beg me to take them to Dairy Queen to get an ice cream cake for their birthdays, but after trying this recipe, now they aren't just begging me to make this for birthdays — they want it all the time!



A Delicious Frozen Treat


You're going to want to prepare your cake base before doing anything else, so go ahead and mix your almond flour and coconut flour together in a bowl. There are quite a few reasons why you'll be using those two types of flour in particular for this recipe. For starters, they're both excellent keto-friendly baking ingredients as they're good sources of fat, protein, and fiber. Almond flour and coconut flour are both also low in carbs, unlike refined wheat flour. Worse yet, all-purpose flour made with wheat has also been found to be linked to the inflammation of chronic health conditions due to a protein found in wheat. (1)

After setting aside your flour mix, you'll want to beat together your eggs and Stevia until the mixture is pale and fluffy. Next, reduce the speed to low and gradually mix in your melted butter, vanilla extract, and melted dark chocolate. Adding sugar-free dark chocolate like this will help to give your cake base it's "cookies" aspect in addition to providing quite a few benefits when it comes to your heart health and reducing your risk of cardiovascular disease.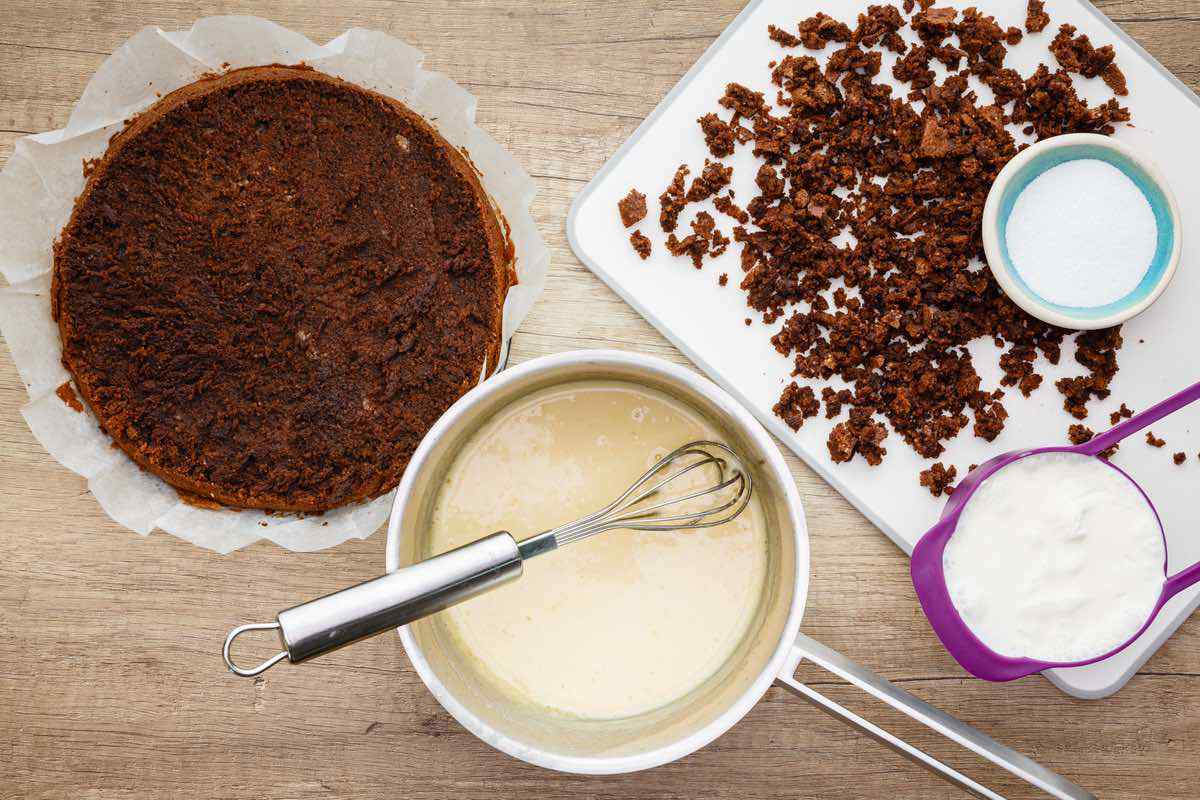 Cocoa and dark chocolate are both known to provide some impressive antioxidant and anti-inflammatory properties thanks to polyphenols found within them. (2) Just be certain to use a dark chocolate that is sugar-free in order to keep the carb content of this cake to a minimum.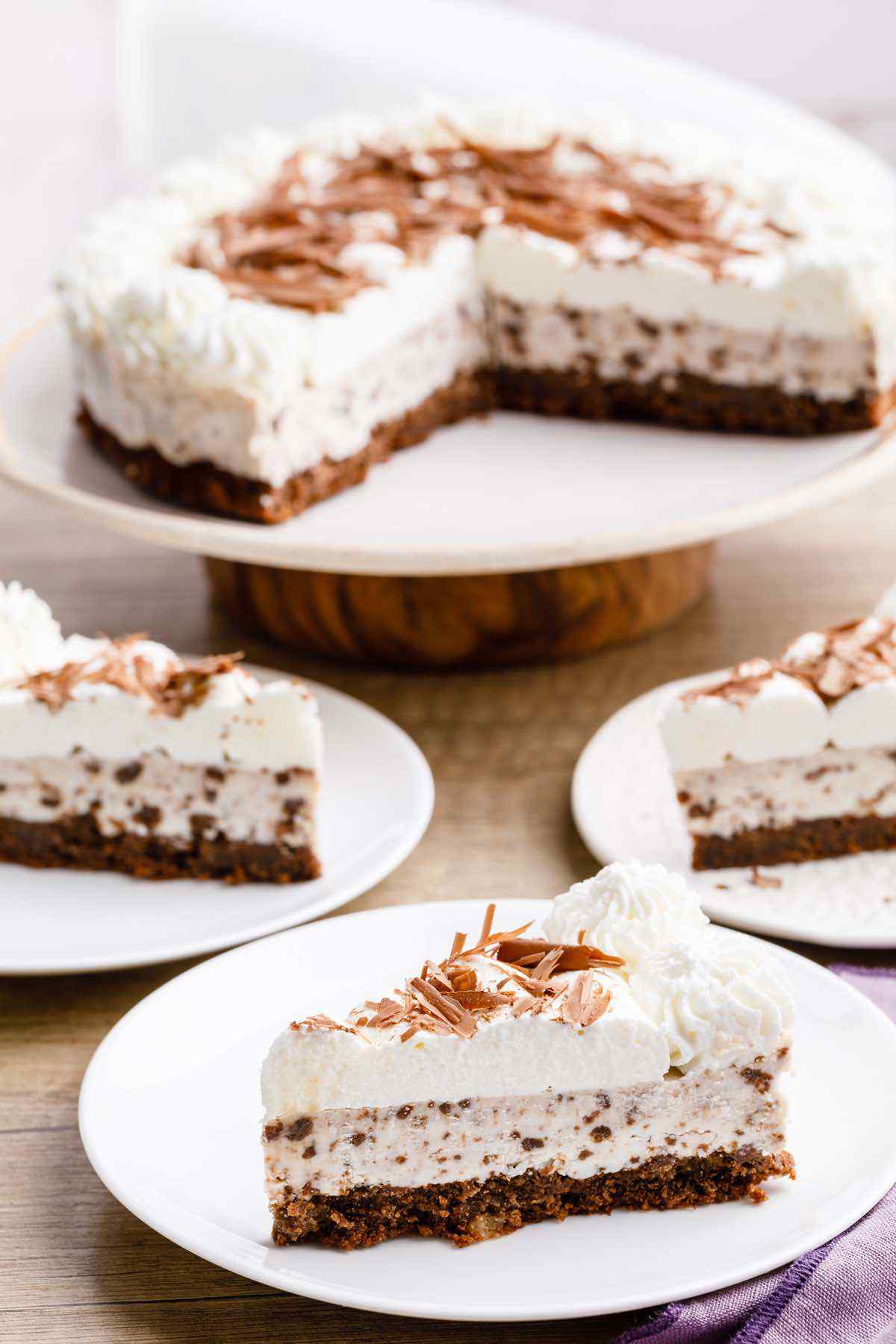 You can then add the almond flour mixture into your dark chocolate mix until they're both well combined before throwing the cake batter into the oven for about 25 minutes. While the cake is baking, you can make the condensed milk by adding one cup of heavy cream into a saucepan, bringing it to a boil, and then allowing it to simmer for 45-50 minutes over a low heat. You can then finish it off by stirring in a bit of Stevia.


Once your cake comes out of the oven, slice it into two layers. After placing one layer into your springform pan, crumble the remaining layer into small crumbs. With that out of the way, whisk together two cups of cold heavy cream and ¼ cup of Stevia, and then fold half of this mixture until your cooled condensed milk before adding in the cake crumbs. You've now got a rich and creamy low carb cookies and cream "ice cream" mixture all set and ready to go, so go ahead and and pour it over your cake base. You can add the rest of your whipped cream mixture to the cake as decoration before you freeze it for 4-6 hours. 

More Good Keto Cake Recipes
Print Recipe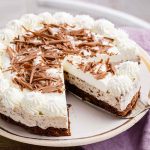 Cookies and Cream Keto Ice Cream Cake
Author:
Prep Time:

30 minutes

Cook Time:

1 hour

Total Time:

1 hour, 30 minutes

Yield:

1

2

1

x
FREE KETO RECIPES + 5-INGREDIENT KETO COOKBOOK

Make sure to sign up for free to get instant access to the 5-Ingredient Keto Cookbook, which includes my favorite 20+ keto recipes of all-time, all under 5 ingredients.
Scale
For the base:
3 oz sugar free dark chocolate, melted
6 tbsp butter, melted
6 tbsp granulated Stevia or other low carb granulated sweetener
1 tsp vanilla extract
2/3 cup almond flour
1 tsp coconut flour
2 eggs
For the condensed milk:
1 cup heavy cream
¼ cup granulated Stevia or other low carb granulated sweetener
For the ice cream:
2 cups cold heavy cream
¼ cup granulated Stevia or other low carb granulated sweetener
For decoration (optional):
sugar free dark chocolate shavings
Preheat oven to 350°F.
Line an 8 inch springform pan with parchment paper. Set aside.
In a bowl mix the almond flour and coconut flour. Set aside.
In the bowl of a stand mixer fitted with the whisk attachment beat the eggs and sweetener until pale and fluffy, about 3-5 minutes.
Reduce speed to low and add the melted butter, melted chocolate and vanilla extract.
Beat until smooth.
Switch to paddle attachment.
Slowly add the almond flour mixture and mix until well combined.
Pour the batter in the prepared pan.
Bake in preheated oven for 22-25 minutes or until a toothpick inserted into the center comes out clean.
Remove from the oven and allow to cool completely.
To make the condensed milk, in a small sauce pan place 1 cup of heavy cream.
Bring to boil over medium heat then reduce the heat to low.
Simmer for 45-50 minutes or until the cream has reduced by half.
Remove from the heat and stir in ¼ cup of sweeter.
Mix to combine.
Set aside and allow to cool completely.
To assemble the cake, slice the cake into two layers.
Transfer the bottom cake layer to the 8 inch springform pan lined with parchment paper.
Use your fingers to crumble the remaining cake layer into small crumbs. Set aside.
In the bowl of a stand mixer fitted with the whisk attachment whisk 2 cup heavy cream with ¼ cup of sweetener until soft peaks form.
Gently fold the half of whipped cream into the cooled condensed milk.
Add the cake crumbs and gently mix to combine.
Pour the mixture over the cake base.
Pipe the remaining whipped cream decoratively onto the cake.
Freeze the cake until firm, 4 to 6 hours.
Decorate with chocolate shavings and serve.