Keto Recipes
Keto Pumpkin Spice Pancakes
We've recently shared quite a few keto-friendly pancake recipes, and they should all be on your "must try" list. These cream cheese keto pancakes are especially delicious. However, I don't think we've shared anything quite like these unreal keto pumpkin spice pancakes with whipped cream.
If you're looking for the best keto pumpkin drink instead, try this keto pumpkin spice latte.
---
How to Make Keto Pumpkin Spice Pancakes
You won't be wasting any time when it comes to making these pumpkin spice pancakes as the first order of business is combining your pumpkin puree with a few eggs, milk, and a zero calorie sweetening option. Beyond just adding an amazing amount of flavor to your pancakes, the pumpkin puree also packs in quite a few great health benefits as well. It's a fantastic source of dietary fiber and essential vitamins and minerals.
In addition, pumpkin contains several unique properties that are a source of flavonoids and palmitic, oleic, and linoleic acids. (1) This makes it an excellent food source for beneficial anti-inflammatory and antioxidant properties.
You may also like: Keto Lemon Ricotta Pancakes
---
In order to help keep your pancakes low in carbs, this recipe calls for the use of both almond flour and coconut flour. They're both excellent sources of healthy fats and fiber, and they each provide moderate amounts of protein and other nutrients as well.
The almond flour can even provide you with several great cardiovascular health benefits, such as helping to lower your cholesterol levels. (2) Both coconut flour and almond flour also add a delightful hint of tropical and nutty flavoring, respectively.
---
After adding in both types of flour with some baking powder to the pumpkin puree mixture, you can also mix in your spices — the cinnamon, nutmeg, and a pinch of ground ginger and cloves. On top of everything else already adding an immense amount of yummy flavor to these pancakes, this combination of spices really pushes this recipe to the next level. Pumpkin and cinnamon combined is easily one of my favorite flavor combinations, and these pancakes give me that and so much more.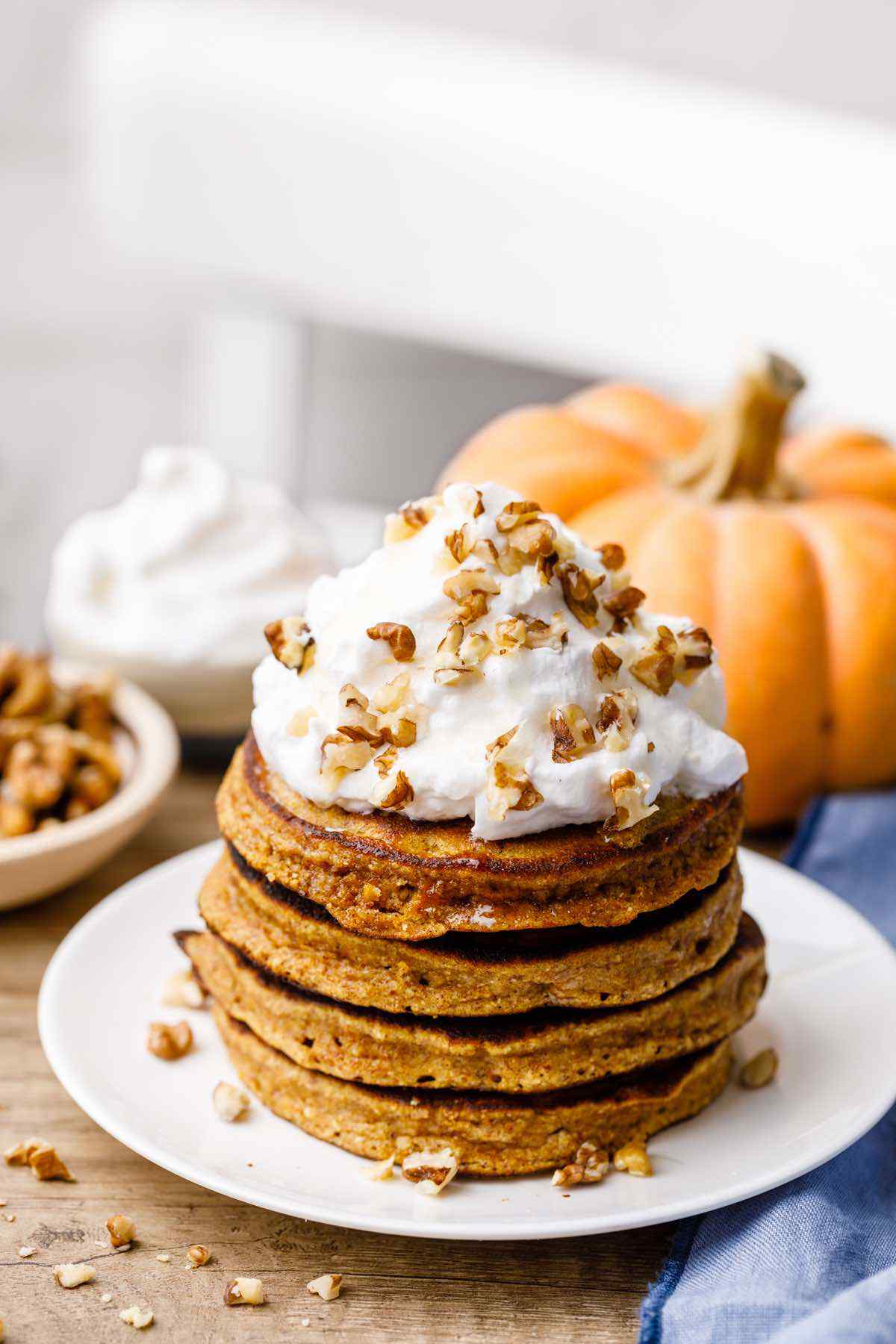 Other than cooking the pancakes, the only thing left to do is prepare your whipped cream. It's easy enough to do: simply whip your heavy whipping cream in a bowl until it forms soft peaks. It's a great way to add more healthy fats to your pancakes in a great tasting way.
I also like to include two other toppings with this recipe — some sugar free maple syrup and chopped walnuts. The walnuts add even more healthy fats to your morning meal while also helping to keep your brain in tip-top shape (3), while the maple syrup provides the perfect amount of sweetness to complement the pumpkin and spices.
---
Whatever toppings you decide to include when making this recipe, you're going to absolutely love these great tasting pumpkin spice pancakes. They're an excellent breakfast option for your kids too, as they strike the perfect balance between being unbelievably delicious and super healthy.
P.S. If you're looking for something even easier and quicker, try this make ahead keto pancake mix: https://ketopots.com/keto-pancake-mix
---
Print