Keto Recipes
Low Carb Mini Pancake Keto Cereal to Curb Cravings
Mini pancake keto cereal is one of those keto-friendly breakfast options that I've somehow gone my whole life without realizing how much I need it. It's become my on-the-go breakfast when I'm in a hurry but still want something made with whole food ingredients.

How to Make Mini Pancake Keto Cereal
Making mini pancake keto cereal is a lot like making regular keto-friendly pancakes. Many of the same keto approved ingredients like almond flour and Stevia are used instead of all purpose flour and refined sugar.
Combine the dry ingredients. Add the almond flour, baking powder, and a pinch of salt and mix to combine. Feel free to make your own almond flour at home too.
Combine the wet ingredients. In a separate bowl, add the eggs, oil, pure vanilla extract, unsweetened almond milk, and either grapeseed oil or avocado oil and whisk to combine.
Combine the wet and dry mixtures in a bowl. Add the egg mixture in with the almond flour mixture and whisk until just combined. Add the egg mixture a little at a time to prevent clumping.
Prepare the cooking skillet. Get a non-stick skillet and grease it with some oil or butter over medium-low heat. If you're using butter, make sure it doesn't burn.
Add the batter to a squeeze bottle. Pour the pancake batter into a squeeze bottle. This will make it easier to pour into uniform shapes.
Cook and flip. Squeeze out a small amount of batter for each mini pancake onto the hot skillet and cook until small bubbles begin to form on the tops. Then carefully flip each pancake and cook the other side for 30-60 seconds (or until fully cooked through).
Serve. Serve warm.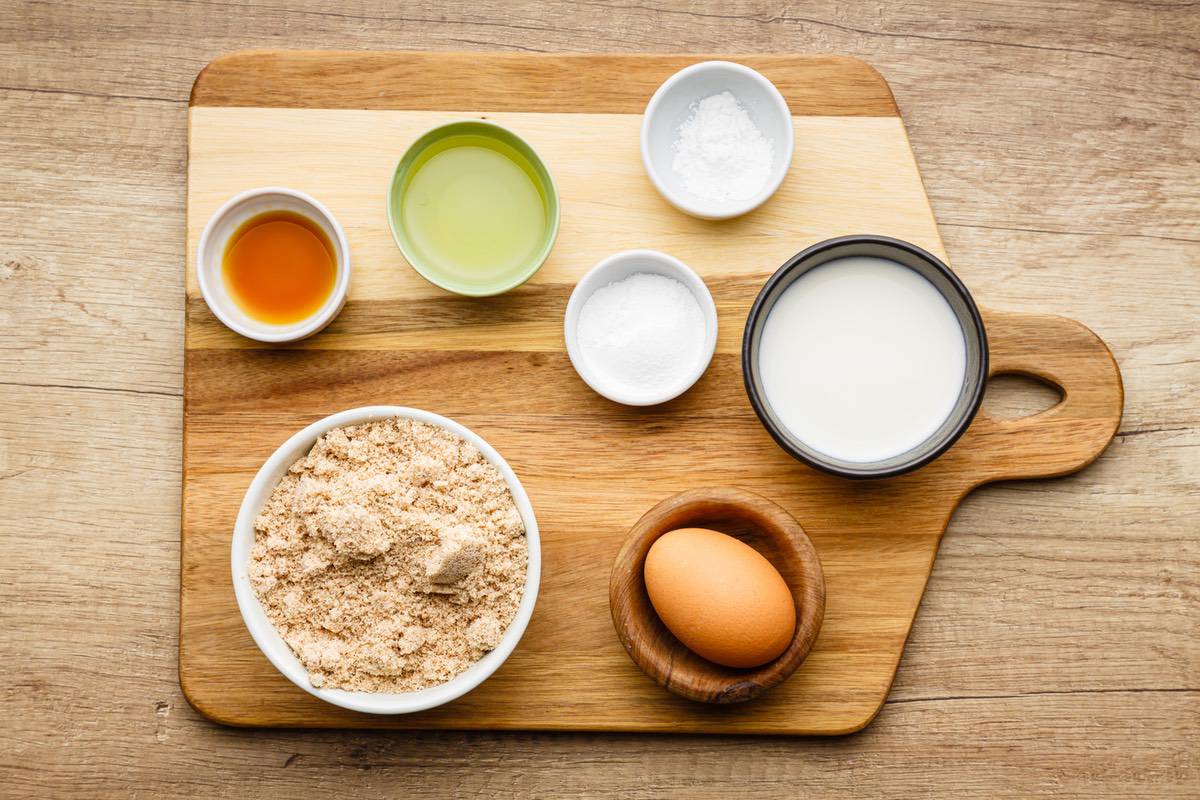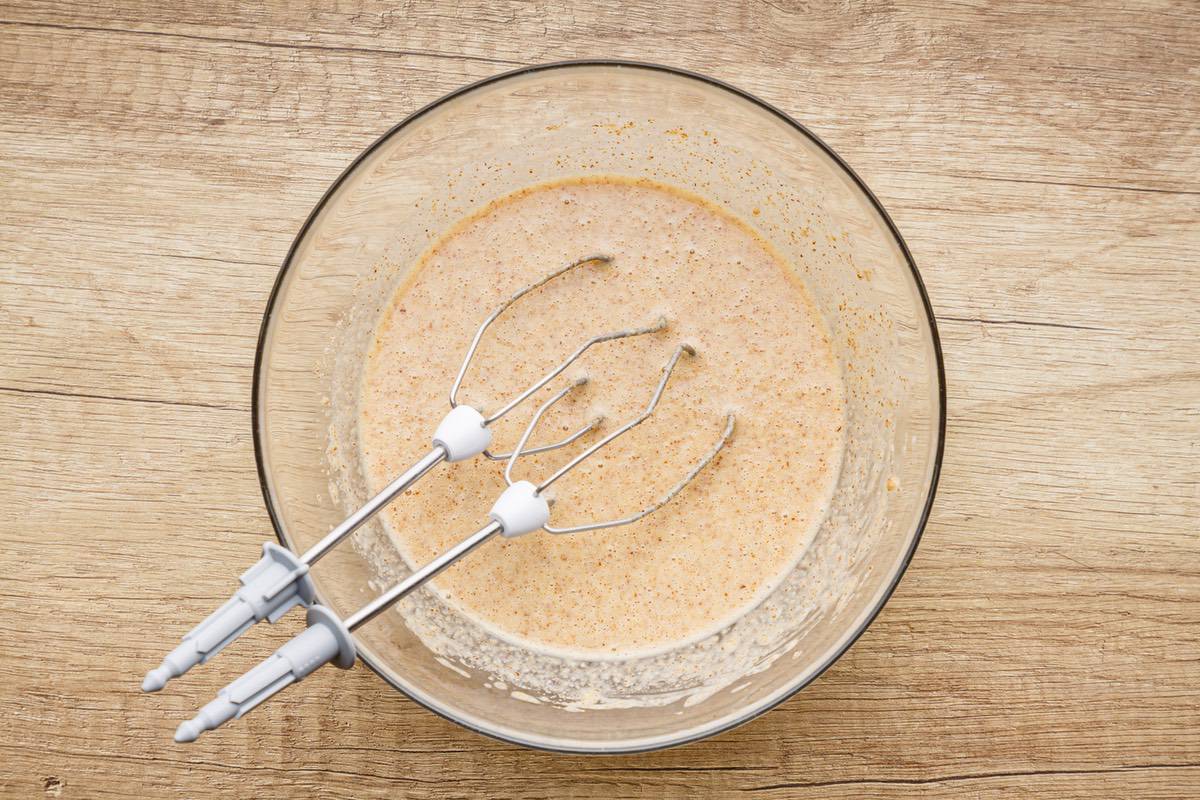 2 Tips to Keep in Mind When Cooking with Almond Flour
Cooking with almond flour comes with more subtle differences than cooking with all purpose flour than you may initially think. With that being said, here are my top tips for getting used to cooking with it:
Know the difference between almond flour and almond meal. Almond flour tends to be much finer than almond meal, which has a more coarse texture. Using almond flour instead of almond meal can make all the difference between ending up with light and fluffy keto pancakes and pancakes that turn out overly grainy.
Don't assume a 1:1 substitute ratio. Many people think they can just swap out one cup of all purpose flour for the exact same amount of almond flour and their recipe will magically turn out keto-friendly. That's not at all the case as almond flour has a much higher amount of dietary fat and fiber, which contribute to the overall texture of your baked products (ie more moisture). This also applies to swapping in coconut flour for almond flour at a 1:1 ratio; it will not work!
Can I Eat This Mini Pancake Keto Cereal Everyday?
While I would never recommend anyone to eat your typical high sugar breakfast cereal typically found on store shelves on a daily basis, this mini pancake keto cereal is perfectly fine to enjoy every day.
This recipe makes a delicious morning meal that doesn't just work great as a cereal replacement; it also offers up a meal that's:
Low carb
Rich in both heart healthy fats and dietary fiber
Offers a modest amount of protein
Contains an abundance of essential micronutrients
Can I Make a Huge Batch of This Keto Cereal?
Since this recipe makes mini pancakes instead of actual 'cereal', it unfortunately won't last anywhere near as long as most cereal will. Almond flour pancakes tend to keep in the fridge for 2-3 days when stored properly inside of an airtight container.
With that in mind, this recipe sadly isn't the best candidate for making ahead in bulk. Good thing it only takes a few minutes to make, right?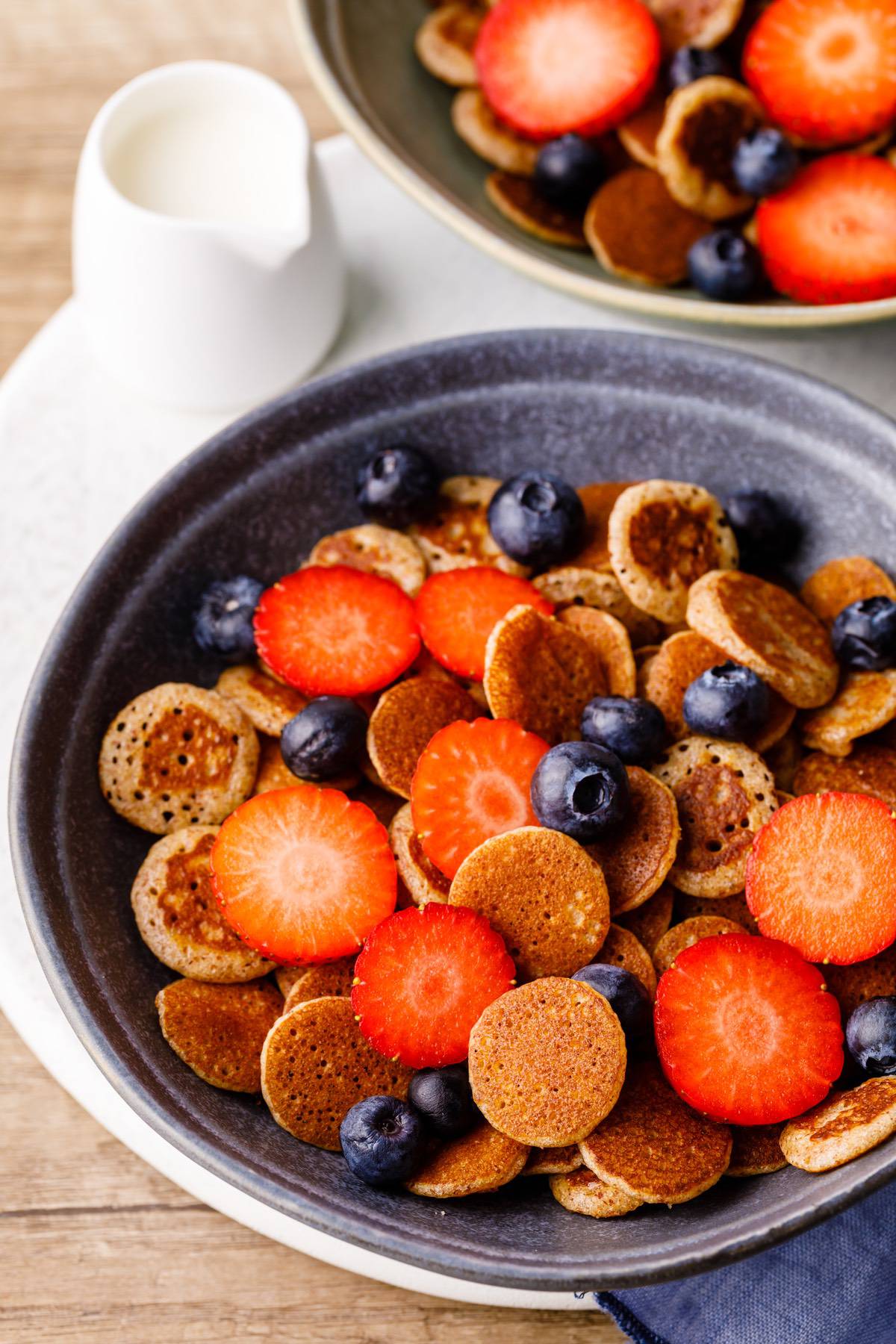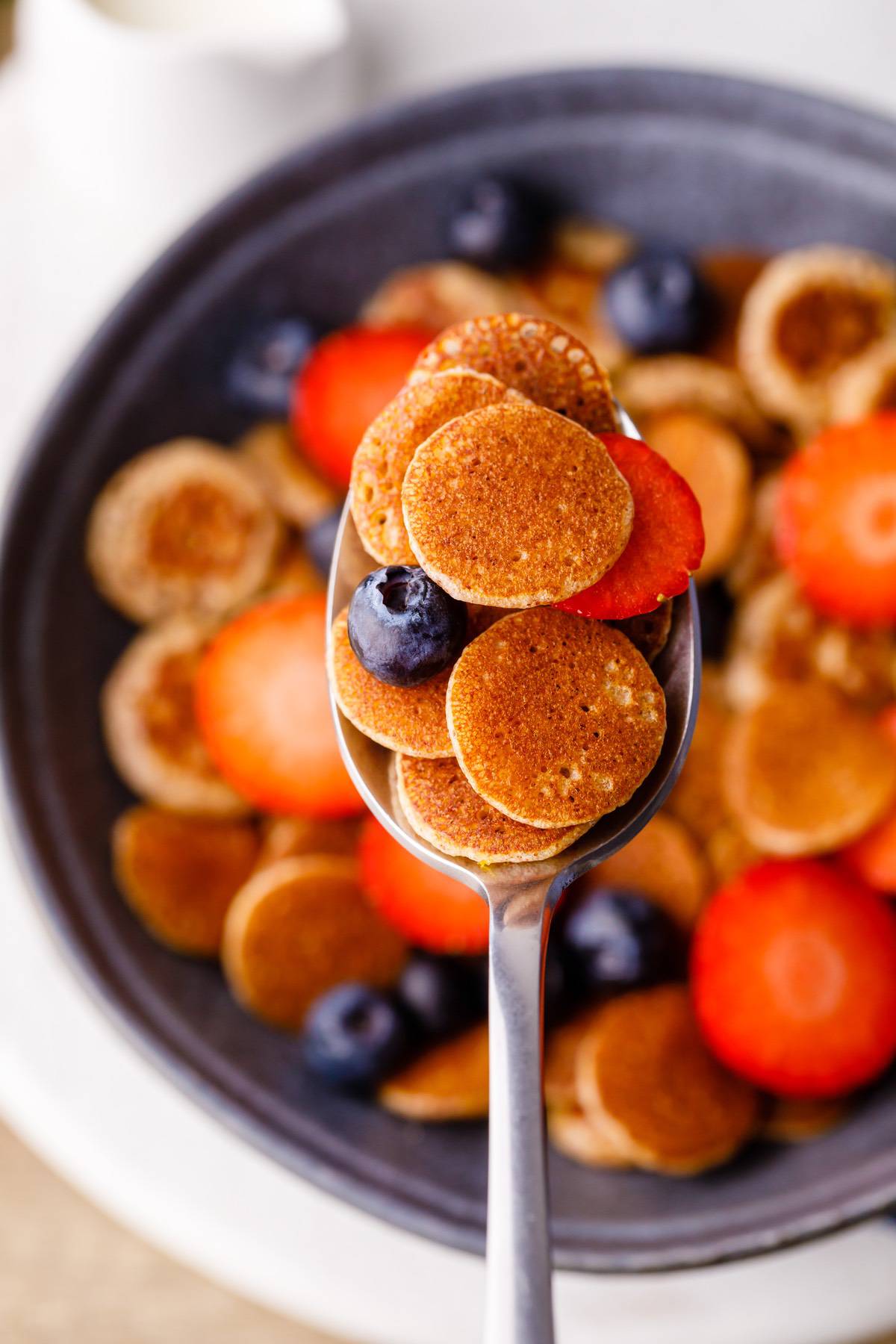 (You may also like: The Best Homemade Keto Cereal Recipe Ever)
Print Recipe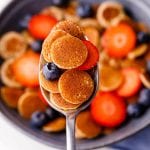 Low Carb Mini Pancake Keto Cereal to Curb Cravings
Author: Bree
Prep Time:

5 minutes

Cook Time:

15 minutes

Total Time:

20 minutes

Yield:

4

1

x
FREE KETO RECIPES + 5-INGREDIENT KETO COOKBOOK

Make sure to sign up for free to get instant access to the 5-Ingredient Keto Cookbook, which includes my favorite 20+ keto recipes of all-time, all under 5 ingredients.
Scale
1 cup

almond flour

1 tsp

baking powder

pinch of salt 

1

large egg

1 tbsp

granulated Stevia or other low carb granulated sweetener 

1/3 cup

unsweetened almond milk 

2 tbsp

grapeseed or avocado oil

1 tsp

vanilla extract

oil of choice for cooking  
In a bowl place the almond flour, baking powder and pinch of salt. 

Mix to combine. 

In another bowl whisk the eggs, sweetener, oil, vanilla extract and almond milk. 

Add the wet ingredients to the dry and whisk until just combined.

Lightly grease a non stick skillet with oil.

Heat the skillet over medium low heat until hot. 

Pour the pancake batter into a squeeze bottle.

Squeeze out small amount of batter for each mini pancake onto the hot skillet.

Cook until small bubbles begin to form on the top. 

Carefully flip the pancakes and cook on the other side 30-60 seconds or until cooked through. 

Serve warm.