Keto Recipes
2-Ingredient Keto Cream Cheese Pancakes (Easiest Pancakes Ever)
Pancakes are one of those breakfast foods that quite a lot of people think are impossible to make keto-friendly. I'm happy to report that not only is that not at all the case, but you can actually make some pretty yummy keto style pancakes. This recipe is proof of that, and it even takes things a step further — it doesn't just make delicious pancakes, it does so by only using two simple ingredients. The only things you'll need are a little over 10 minutes of time and some eggs and cream cheese to make these fantastic 2-ingredient keto cream cheese pancakes.
Just 2 Ingredients? You Bet!
Eggs are one of my favorite things to have for breakfast whether I'm following a keto diet or not, so I'm super happy that they're one of the two ingredients needed to make these keto pancakes. While many people think they're better off limiting their egg intake due to their cholesterol and fat content, recent research has indicated that a diet including more eggs than commonly recommended can be safely enjoyed as part of a balanced and healthy diet. (1) I'm glad more people are starting to realize all of the benefits of including eggs in their diet, as they're an excellent source of protein, healthy fat, and they provide an abundance of vitamins and minerals.
The second ingredient used is another rather common keto staple: cream cheese. There are many recipes we've featured on this site that make use of cream cheese because it's such a fantastic ingredient for keto cooking. It tastes extremely good and it adds an absolute ton of calories from fats while keeping carbs to a minimum. It even provides a moderate amount of protein — it's truly a quintessential keto food. Used in this particular recipe, it helps to form your pancake "batter" while increasing the fat content. All you have to do is mix it together with your two eggs and cook the batter over a skillet. Once small bubbles begin to form on the top, carefully flip them and cook for an additional 30-60 seconds.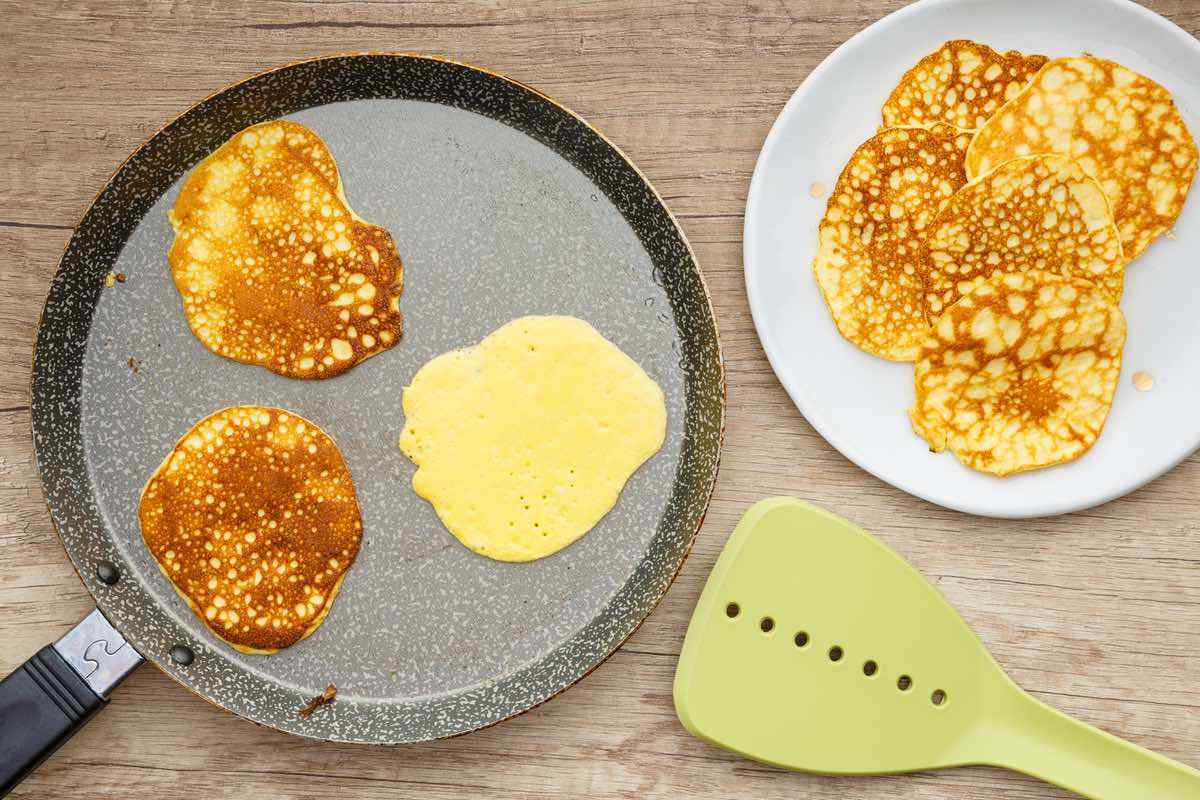 I don't think I've ever seen a simpler pancake recipe than this one. In spite of the fact these pancakes are made with only two ingredients, they turn out incredibly tasty as well. You'll notice the cream cheese with every bite, making this a heavenly breakfast option for fans of cream cheese. I also like to add a bit of heavy whipped cream when I make these, as it's a yummy way to add even more fats to my morning meal. When served with bacon and some fried eggs, you end up with a complete, well-rounded keto breakfast. Enjoy!
To add to your repertoire of no-fuss recipes, be sure to check out our keto cloud bread and 90-second keto bread. Also, this keto mug bread recipe is crazy good for something cooked in mug!
Print Recipe
2-Ingredient Keto Cream Cheese Pancakes
Author:
Prep Time:

2 minutes

Cook Time:

10 minutes

Total Time:

12 minutes

Yield:

2

1

x
FREE KETO RECIPES + 5-INGREDIENT KETO COOKBOOK

Make sure to sign up for free to get instant access to the 5-Ingredient Keto Cookbook, which includes my favorite 20+ keto recipes of all-time, all under 5 ingredients.
Scale
¼ cup cream cheese
2 eggs
Place the cream cheese and eggs in a bowl and mix well to combine.
Lightly grease a non stick skillet.
Heat the skillet over medium low heat until hot.
Drop 1/8 cup of batter for each pancake onto the hot skillet.
Cook until small bubbles begin to form on the top.
Carefully flip the pancakes and cook on the other side 30-60 seconds or until cooked through.
Serve warm.