Keto Recipes
Make-Ahead Keto Pancake Mix
This make ahead keto pancake mix is perfect for being able to quickly make a healthy breakfast on those rushed early mornings. The low carb pancake mix is incredibly easy to make, high in protein, and only requires adding a single egg along with some butter when you're ready to cook them.

If you're more of a waffle person you can also try this make-ahead keto waffle mix. Or if you're looking for a quick low carb pancake recipe to make now, these 2-ingredient keto pancakes are so, so easy to make (and really tasty).
---
How to Make Keto Pancake Mix
The pancake mix is actually incredibly easy to prepare in advance. Simply place your vanilla whey protein powder, almond flour, baking powder, and a pinch of salt into a bowl and make sure they're mixed well. You can then keep this mixture stored in a sealable container or a jar until you're ready to make the pancakes.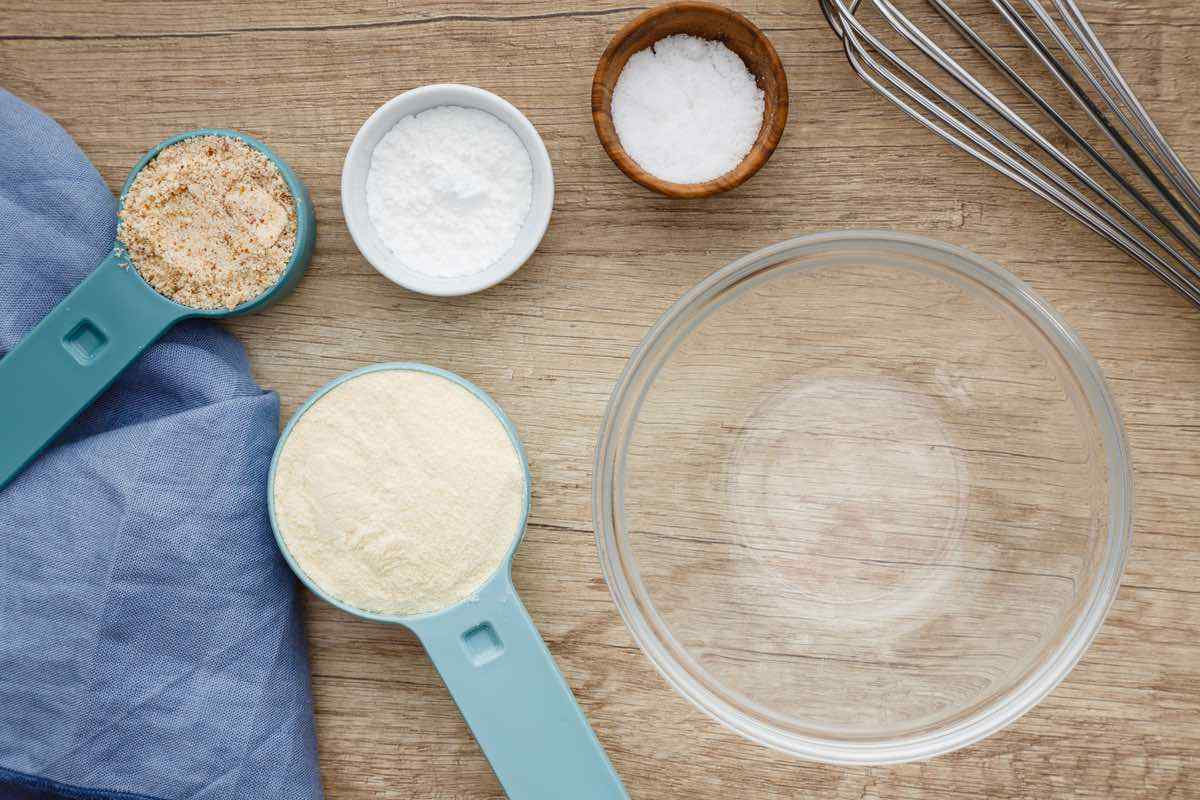 The vanilla whey helps to make these pancakes extra filling as well, making it an ideal choice for a before school breakfast. Many studies have been conducted that have found eating a high protein breakfast in the morning has many incredibly beneficial effects for children and adolescents. Some of these benefits include regulating hormonal function and helping to suppress appetite and hunger throughout the day. (1)
You may also like: Keto Pumpkin Spice Pancakes
---
When it comes time to actually make the pancakes, simply grab your pre-prepared pancake mix and add it into a bowl containing a single large egg and one tablespoon of melted butter.
I try to always use grass fed butter with all of my recipes whenever possible, as it has a higher concentration of antioxidants and vitamins compared to butter from grain fed cows. (2) I would strongly recommend readers to do the same. I also find that it just tastes better as well!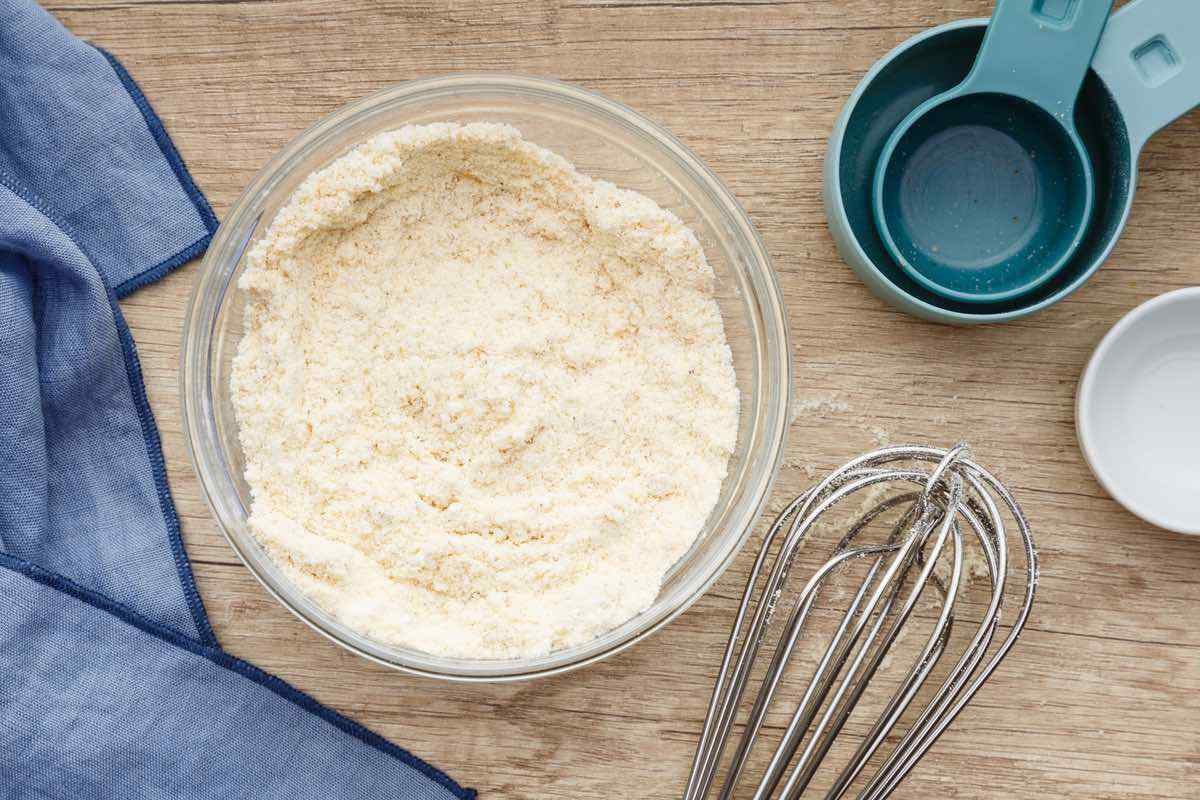 After combining all of your ingredients, pour the batter onto a hot skillet and cook until small bubbles form on the top. Carefully flip the pancakes over and continue to cook them for another 30-60 seconds or so, and then voila! Your very own keto-friendly pancake breakfast is ready to go as easy as that.
---
I'd also recommend making your own healthy, homemade pancake syrup ahead of time as well to enjoy with these.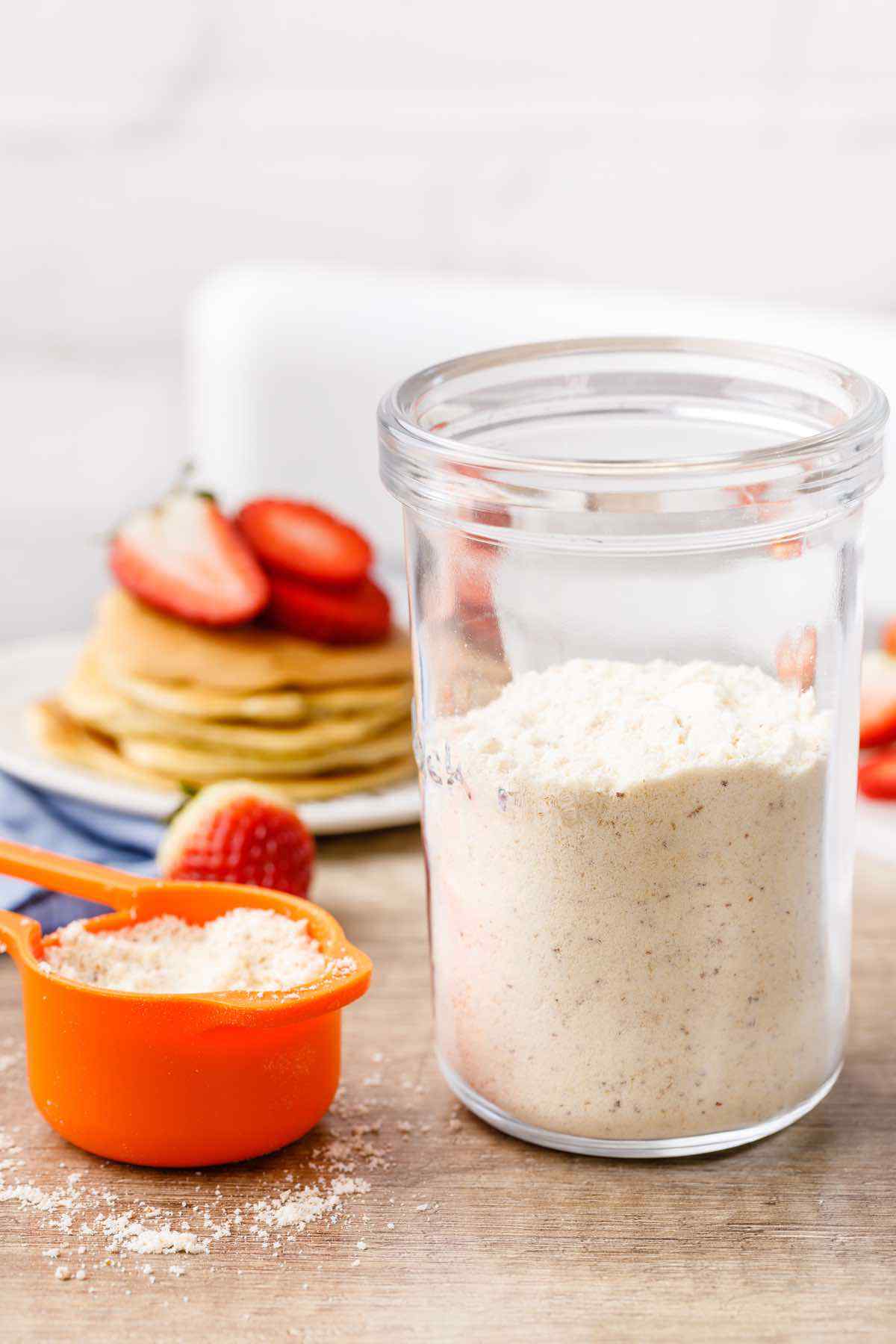 Keto Pancake Toppings
Sugar-free Keto Chocolate Chips – You can actually make your own keto chocolate chips to make sure it's low in carbs and contains no sugar. Most of the chocolate you'll find in the store will still have some simple carbs, so it's best to avoid them.
Slivered Almonds – Almonds are a great source of healthy fats and add some crunch to your pancakes. They go great with this particular pancake base since it's made of vanilla whey protein powder and almond flour.
Cream Cheese – Cream cheese needs no further introduction. It's rich, it's creamy, and it transforms regular pancakes into a delectable dessert. Yum!
Crumbled Bacon – If you're a fan of sweet and salty flavor combos like I am, you need to try adding some crumbled bacon to these pancakes. Or, you can go full on keto bomb and have these pancakes with bacon and eggs on the side.
Homemade Nut Butters – Nothing beats homemade nut butters because you know for sure there aren't added carbs from sugar or thickeners. Nut butter will add a distinct flavor to your pancakes, so pair them accordingly. My personal favorite is cashew butter, but you can use almond butter, peanut butter, coconut butter, etc.
Desicated Coconut – Desicated coconut is low in carbs, high in fat, and has a sort of grainy texture. If you're looking for something to mix with the smoothness and fluffiness of your pancakes, this is your best low-carb option.
P.S. If you're looking for the perfect topping for your pancakes, give this yummy homemade keto pancake syrup a try: https://ketopots.com/homemade-keto-pancake-syrup
---
Print