Keto Recipes
5-Ingredient Egg Drop Soup (Low Carb)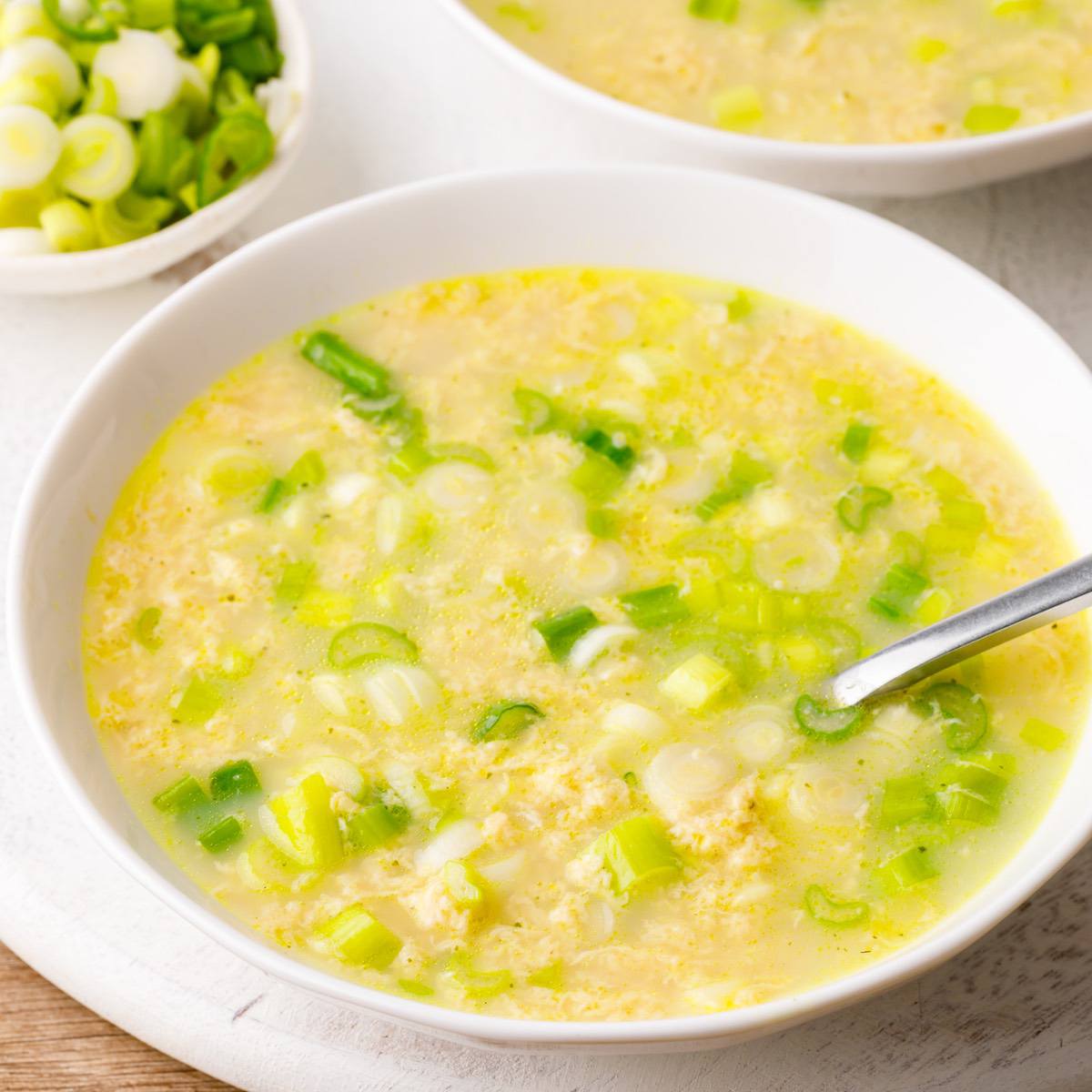 Egg drop soup is one of my favorite soups to make because it packs a lot of nutrients in one, easy recipe, and it's so comforting and soul-satisfying! Here's how to make a simple 5-ingredient keto egg drop soup.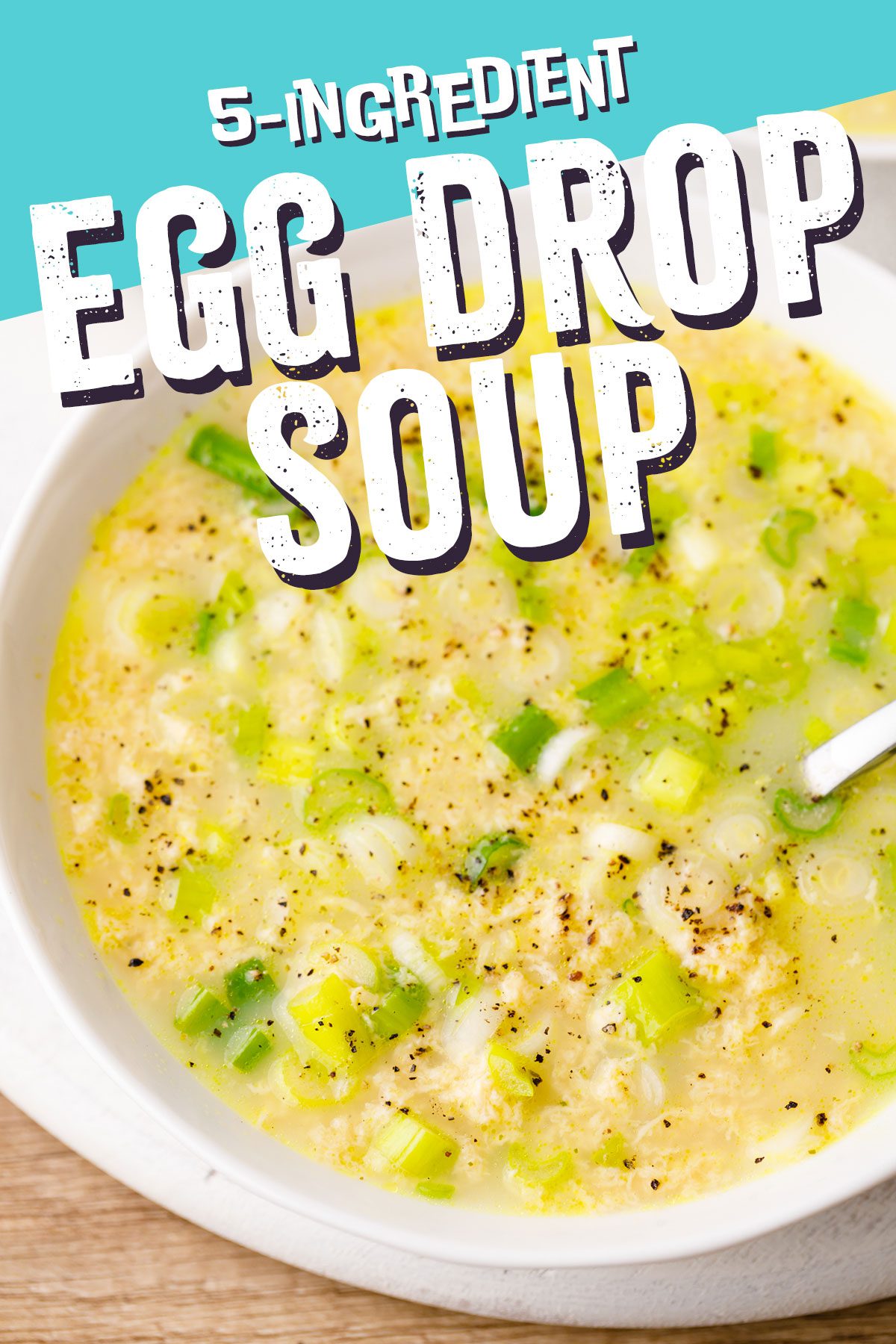 If you're looking for more great low carb egg recipes, also try this low carb egg loaf bread, these 5-minute coddled eggs and these deviled egg BLT bites.
---
Egg drop soup is a popular low carb soup that is typically made with eggs, chicken or veggie stock, chopped scallions, and either black or white pepper. It also tends to pair amazingly well as a side dish with a variety of yummy low carb dishes. But is egg drop soup keto?
What Makes Egg Drop Soup Such a Popular Choice for Low Carb Diets?
We'll start out by first taking a look at a few of the main reasons why egg drop soup is so popular with low carb dieters in particular:
Egg drop soup is a healthy soup meal that's quick and easy to prepare from scratch.
With less than 5 grams of net carbs per 100 gram serving size, egg drop soup is one of the most low carb soup options available to you if you're following a low carb diet like the keto diet.
You can easily tweak egg drop soup to add in more protein, or even more essential micronutrients by adding in other low carb herbs and vegetables.
Related: Mongolian Beef Stir Fry
---
Is Egg Drop Soup Keto?
Egg drop soup is absolutely a 100% keto-friendly soup.
It's made with nourishing whole food ingredients that are all low carb and keto-friendly; most classic egg drop soup recipes only call for a handful of eggs, chicken stock, chopped scallions, and black pepper. Using choice low carb ingredients like those naturally manages to keep things keto approved.
Beyond that, egg drop soup offers up a modest amount of protein from the egg content (and you can always up it by adding in an extra egg or two) with trace amounts of dietary fat.
It can also be an excellent source of essential vitamins and minerals, depending on other ingredients added: green onion, garlic, and other healthy green veggies are solid candidates.
All in all, with only 27 calories and 4 grams of carbs per serving, egg drop soup is most definitely an easy soup dish to recommend to any and all keto dieters.
---
How to Make Keto Egg Drop Soup
Preheat the olive oil then saute the garlic and ginger. Cook for about 30 seconds or until slightly softened.
Add the chicken broth.
Let simmer. Cover the soup and bring it to a simmer.
Beat the eggs. Lightly beat the eggs with a pinch of salt and black pepper.
Add the eggs. Add the beaten eggs into the hot broth mixture slowly, stirring the whole time.
Cook. Cook the soup until it's clear and slightly thickened, still stirring constantly.
Finish it off. Remove the soup from the heat and stir in the chopped green onions.
Serve. Serve warm.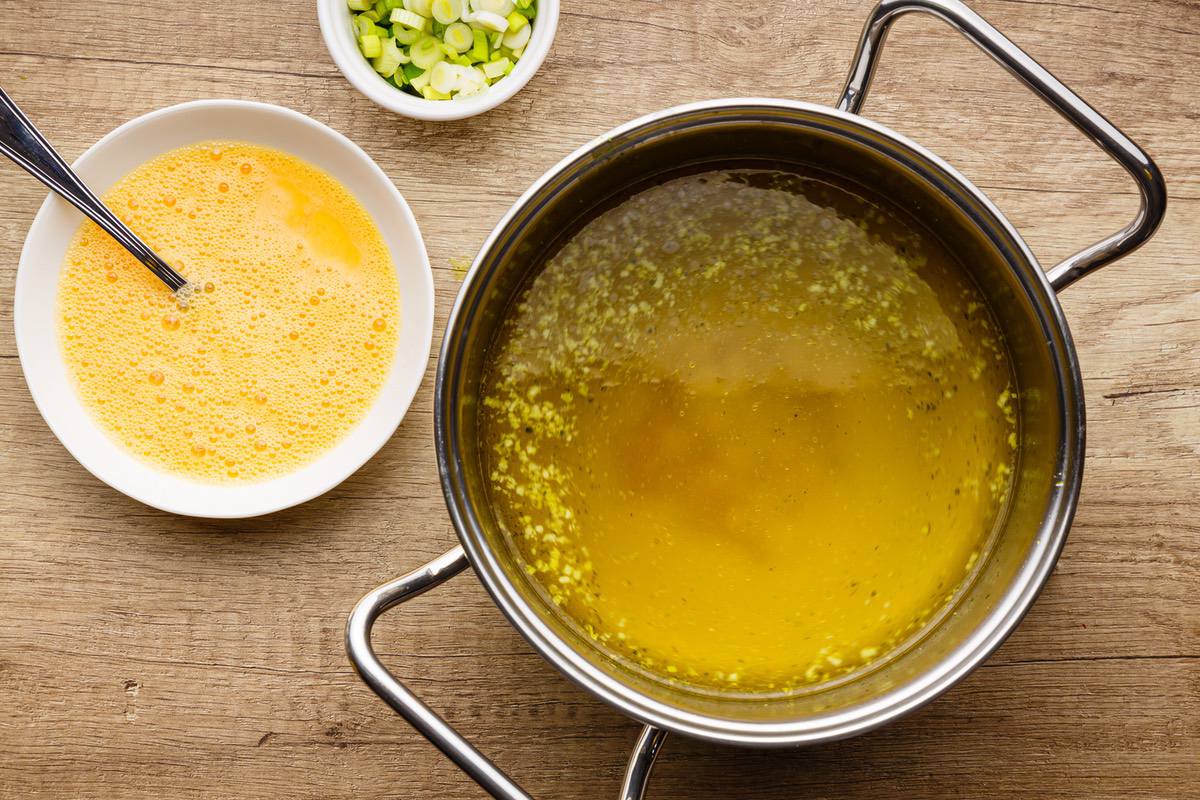 ---
Is Keto Egg Drop Soup Healthy?
This particular 5-ingredient keto egg drop soup is incredibly healthy. As a matter of fact, here are 3 proven health benefits that this egg drop soup offers:
Rich source of antioxidants. This egg drop soup is made with a variety of ingredients that are loaded with disease fighting properties. Garlic, ginger, green onion, and olive oil are all especially rich sources of antioxidants that have been found to help protect against various types of disease.
Promotes heart health. This egg drop soup also goes a long way towards keeping your heart healthy. Fresh garlic and ginger have both been found to be particularly beneficial when it comes to preventing cardiovascular disorders like heart disease and stroke. (1)(2)
Eggs are a legitimate 'superfood'. It goes without saying that egg drop soup will provide all of the same great benefits offered up by eggs in general. I'm of course referring to the fact that eggs are ridiculously nutrient-dense; they're a great source of protein, quality fat, dietary cholesterol, choline, and other essential vitamins and minerals. (3)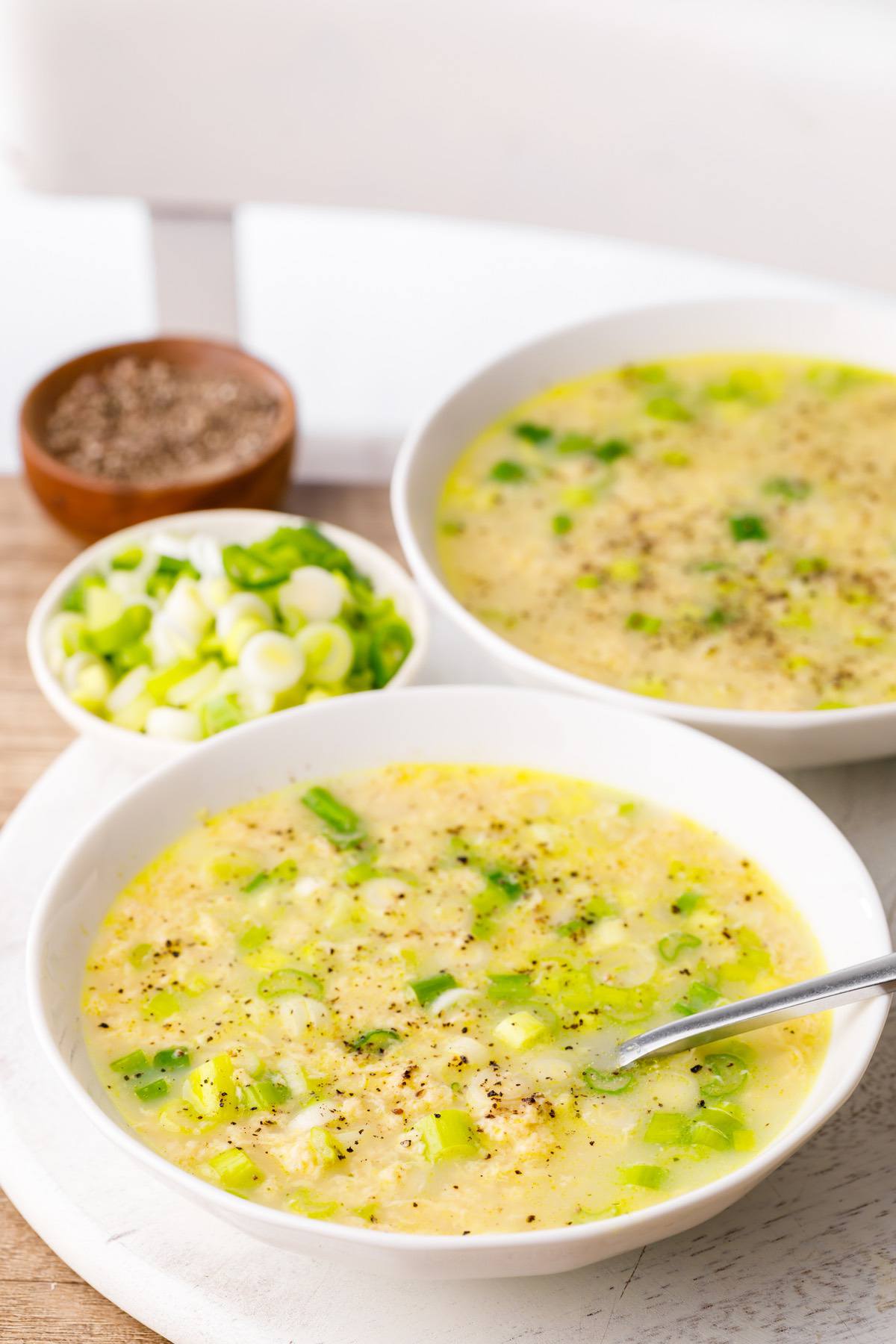 Egg Drop Soup Nutrition Facts
Here is the approximate nutritional breakdown for a 100 gram serving size of a typical egg drop soup, made with eggs, chicken broth, chopped scallions, and black pepper:
52 calories
2.9 grams fat
4.8 grams protein
2 grams carbs
0.1 grams dietary fiber
1.4 grams sugar
Health Benefits of Egg Drop Soup
Since egg drop soup is typically made with nothing but nourishing, whole food ingredients, it ends up providing you with a couple of rather impressive health benefits as well:
Provides joint protection. Most egg drop soup recipes are made with chicken stock as a base. Chicken stock is actually highly nutritious in its own right, as it's a solid source of both protein, essential amino acids, and collagen. The collagen content in particular is noteworthy, as collagen can help to protect both your bone and joint health. (1)
May help to relieve chronic inflammation in the body. Chicken stock also contains nutrients that are known for their anti-inflammatory properties. Considering the established link between chronic inflammation and disease, it's prudent to do everything you can in order to keep inflammation at bay, and egg drop soup can definitely help you to do just that. (2)
3 of Our Top Tips for Making the Tastiest Keto Soups
Making your own soups from scratch is a great opportunity to flex your creative keto muscles.
---
You can easily customize most keto soup recipes by either adding or subtracting ingredients in order to come up with your own out of this world soup flavorings. With that in mind, here are some of my top tips for making the tastiest keto soups:
Experiment with different types of broth. Chicken broth offers a much different soup flavor than beef or vegetable broth would.
Experiment with using both fresh and dried herbs. Fresh herbs obviously work great for garnishment but don't sleep on how savory your soups can end up with even just a little bit of dried herb seasoning added.
Don't be afraid to take constant taste tests! As your soup is cooking, you should be constantly tasting it and adjusting seasoning amounts as necessary.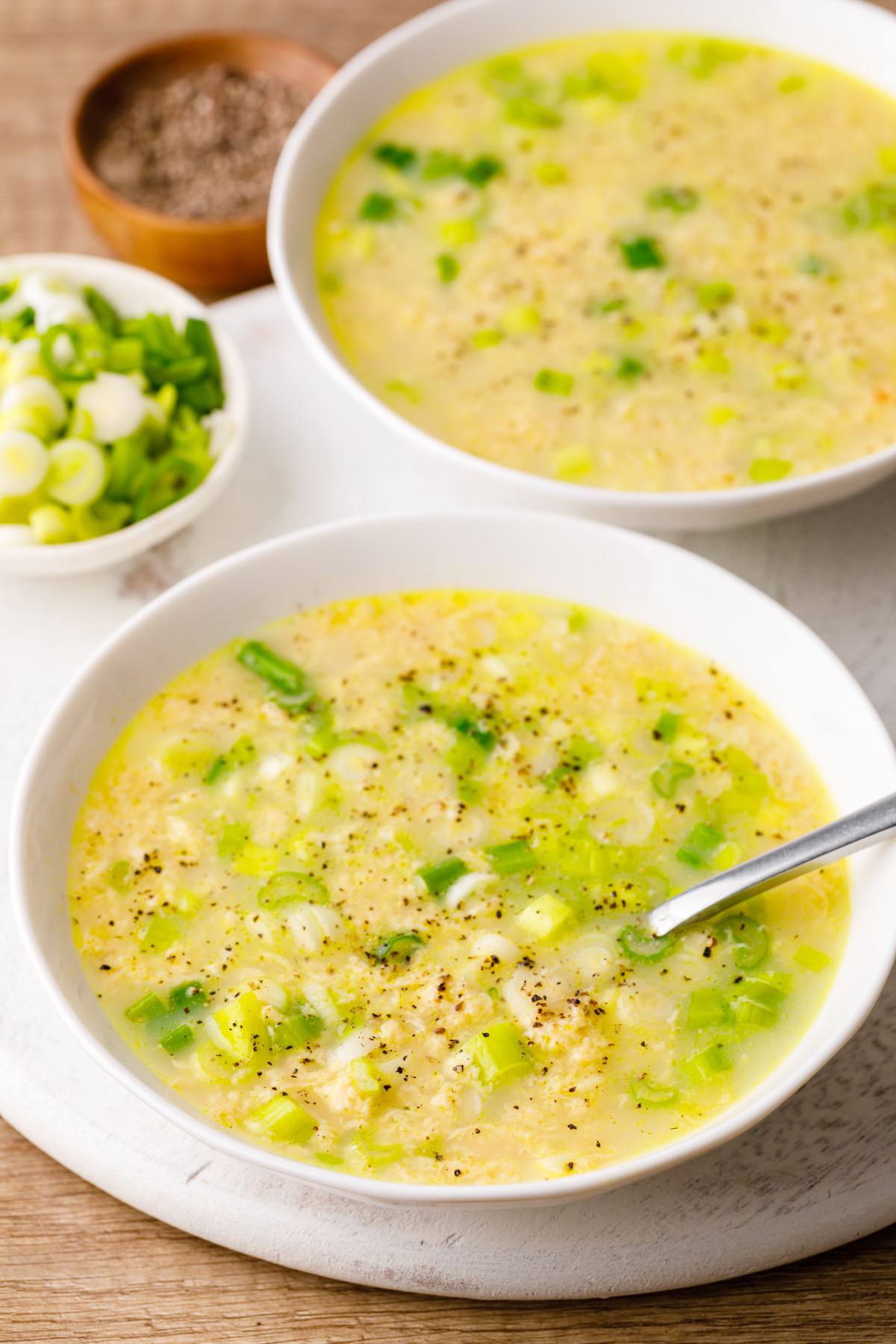 P.S. If you're looking for another healthy soup, but more in the mood for something with Mexican flavors, try this easy keto taco soup: https://ketopots.com/keto-taco-soup
---
Print
Print Recipe
5-Ingredient Egg Drop Soup
Author: Bree
Prep Time:

5 minutes

Cook Time:

5 minutes

Total Time:

10 minutes

Yield:

4

1

x
Category:

Soup, Dinner

Cuisine:

American
Scale
1

garlic clove, minced 

1 tsp

grated fresh ginger 

4 cup

chicken broth

2

large eggs 

1/3 cup

chopped green onions

1 tbsp

olive oil 

salt and black pepper to taste   
In a pot heat the olive oil over medium heat. 

Add the garlic and ginger and cook for 30 seconds. 

Add the chicken broth. 

Cover the soup and bring it to a simmer. 

Lightly beat the eggs with pinch of salt and black pepper. 

Add the beaten eggs into hot broth slowly, stirring all the time. 

Cook until clear and slightly thickened, stirring constantly. 

Remove from the heat. 

Stir in the chopped green onions. 

Serve warm.
FREE KETO RECIPES + 5-INGREDIENT KETO COOKBOOK

Make sure to sign up for free to get instant access to the 5-Ingredient Keto Cookbook, which includes my favorite 20+ keto recipes of all-time, all under 5 ingredients.