Keto Recipes
Slow Cooker Keto Cabbage Weight Loss Soup (Low Carb and Nourishing)
This recipe makes a slow cooker keto cabbage weight loss soup that manages something quite remarkable: it can help you achieve your weight loss goals while being tasty and nourishing enough to not feel like a 'diet soup'.

How to Make Slow Cooker Keto Cabbage Weight Loss Soup
One of the best ways to lose weight on a diet is by following an eating plan that doesn't feel like you're on a diet. And one of the best ways to accomplish that is by making nourishing, wholesome meals like this slow cooker cabbage weight loss soup.
Prepare the vegetables and herbs for cooking. Chop up your ingredients like the cabbage, celery, parsley and carrot. Next, dice your green bell pepper and onion. Finally, mince the garlic cloves.
Combine the ingredients. Add the cabbage, celery, carrot, green bell pepper, garlic, onion, chicken (or vegetable) broth, a can of diced tomatoes with basil, dried oregano, dried basil, chili flakes, and salt and black pepper to taste into a slow cooker and stir to combine.
Cook. Cover the slow cooker with a lid and cook on high for 4 hours (or cook on low for 6 hours).
Add the parsley. Stir in the chopped parsley.
Serve. Serve the soup warm.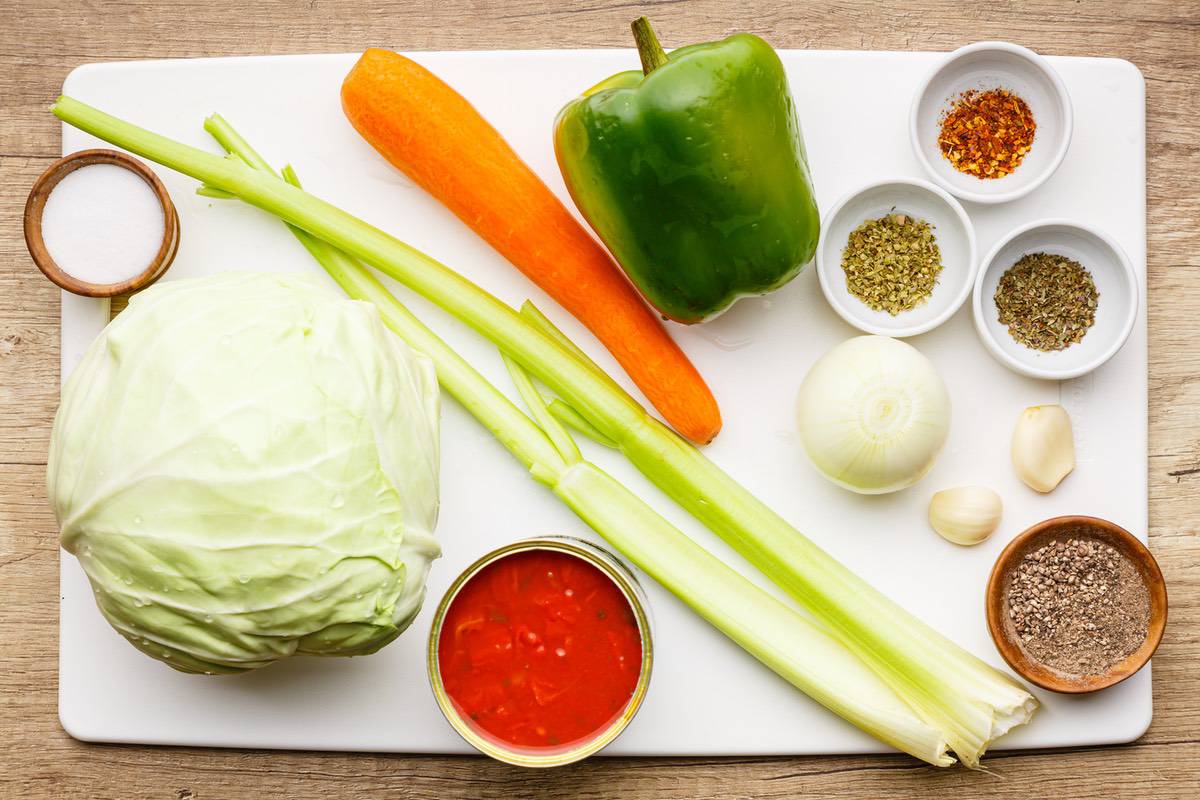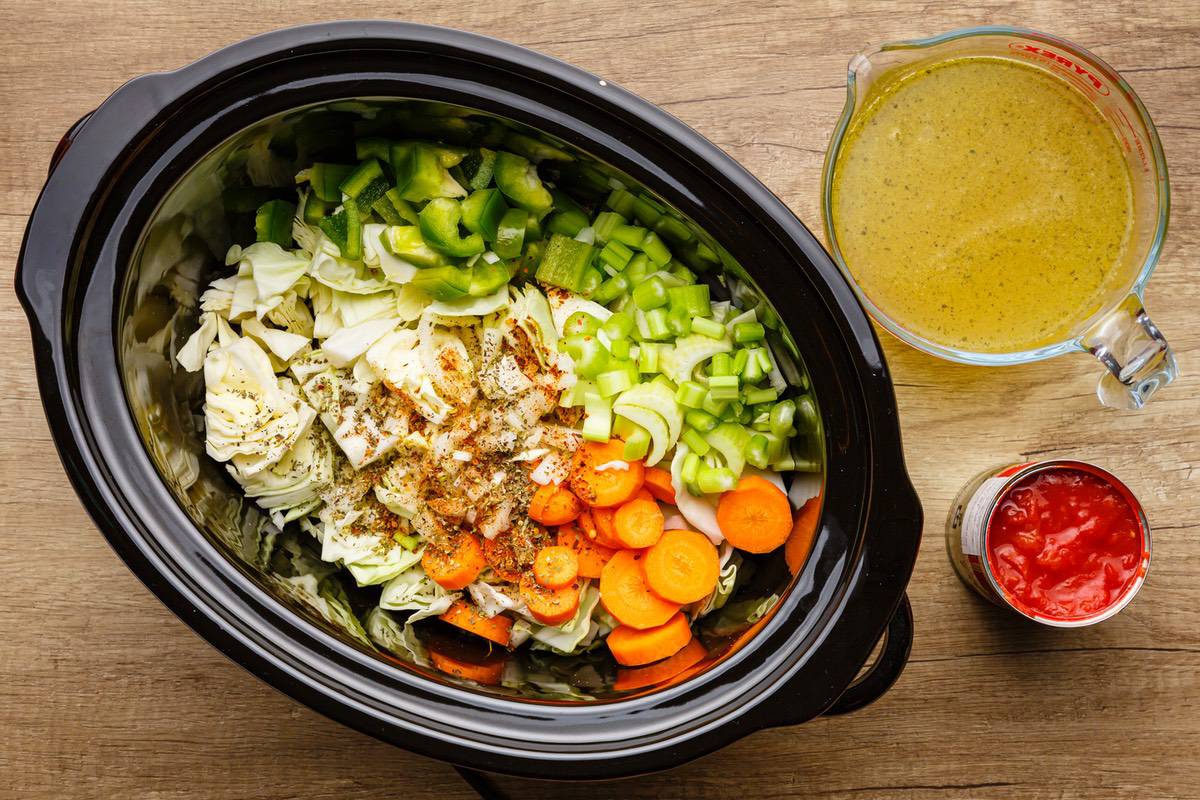 Is Cabbage Soup Good for Weight Loss?
It's completely understandable if you're a little skeptical about whether or not cabbage soup can actually help you to lose weight.
It's a rather low calorie soup and since weight loss boils down to calories in vs calories out, weight loss is a natural byproduct of eating low calorie meals like cabbage soup.
The liquid content of the soup helps to prevent dehydration. Many times when people feel hungry, they're really feeling the effects of thirst and dehydration instead. By making sure that your body is properly hydrated, you should notice a marked decrease in hunger pangs and cravings.
Cabbage soup is incredibly nutrient-dense thanks to the sheer variety of vegetables and herbs used. Each bowl of this soup offers an abundance of essential vitamins, minerals, and antioxidants that give your body everything it needs to function at its best.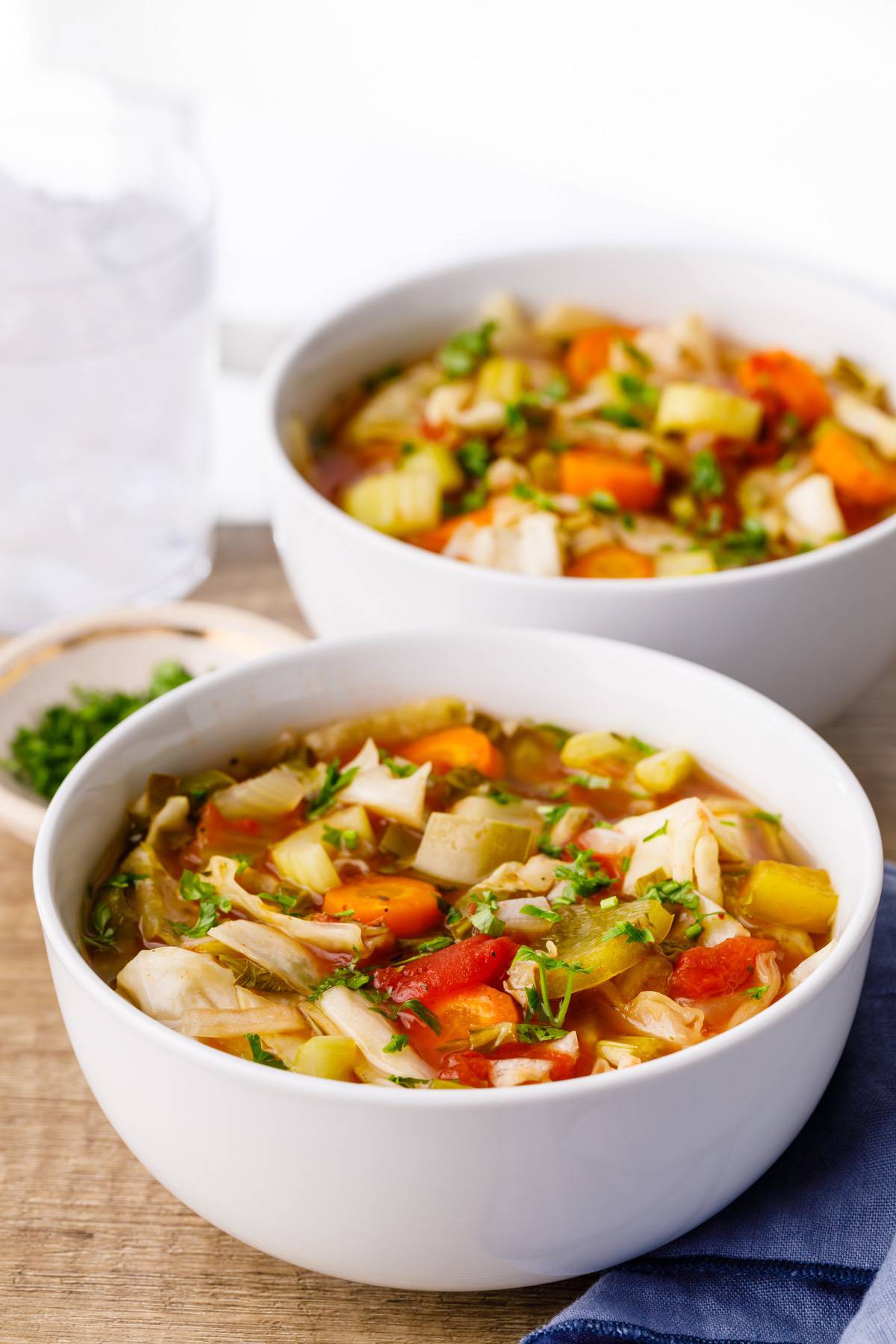 Can I Freeze This Cabbage Soup?
If you plan on freezing any leftover cabbage soup, you'll first want to make sure that you allow the soup to cool completely after cooking. You can then transfer the soup into airtight freezer-safe containers before storing them in the freezer.
You'll be able to keep this keto cabbage soup frozen for up to 3 months when stored like this.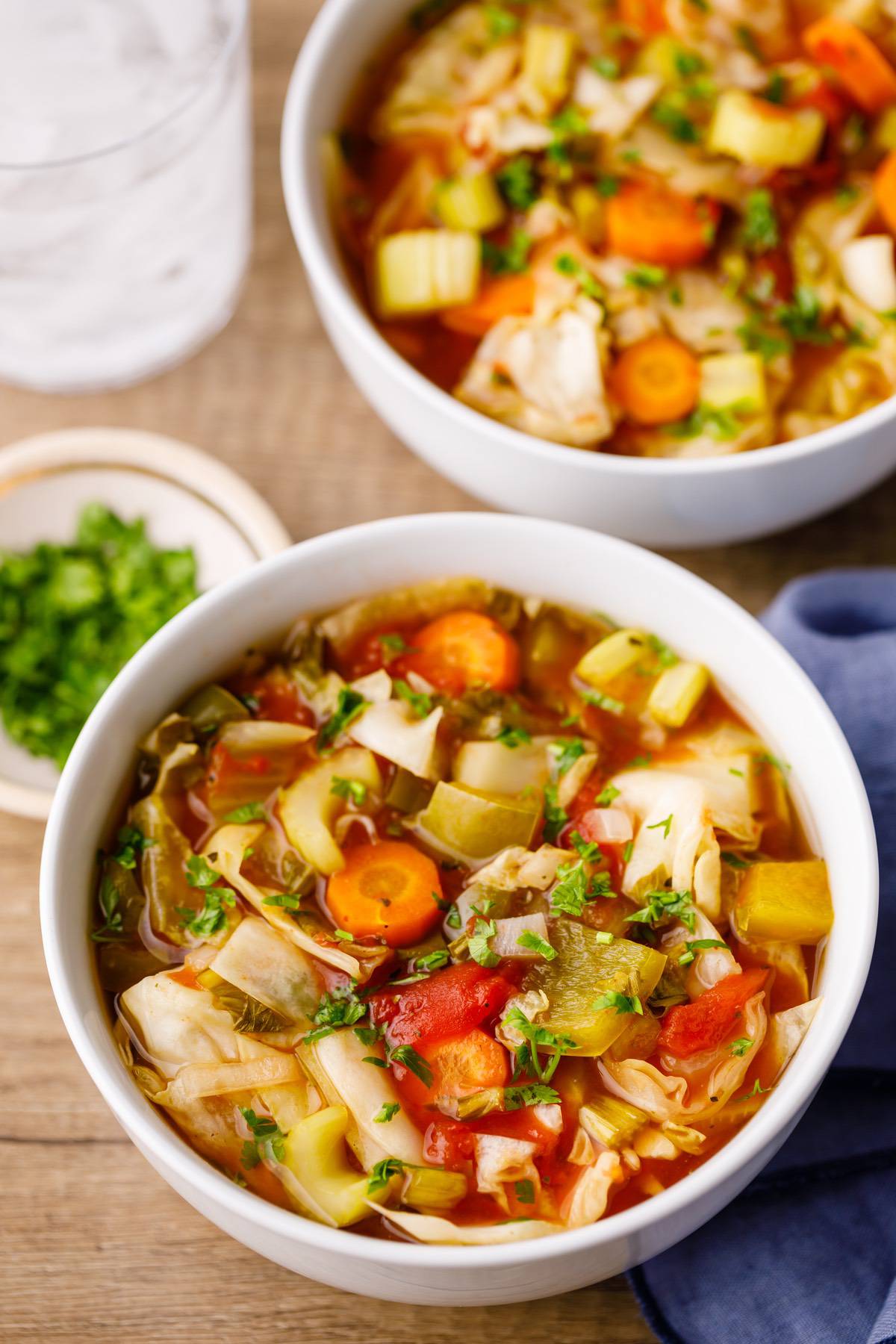 How to Reheat This Keto Cabbage Weight Loss Soup
When you're ready to thaw it out, I would recommend leaving it in the fridge overnight to thaw before reheating on the stove.
Before heating it on the stove, make sure to separate the vegetables from the broth. This way, you can heat the soup without cooking the vegetables further.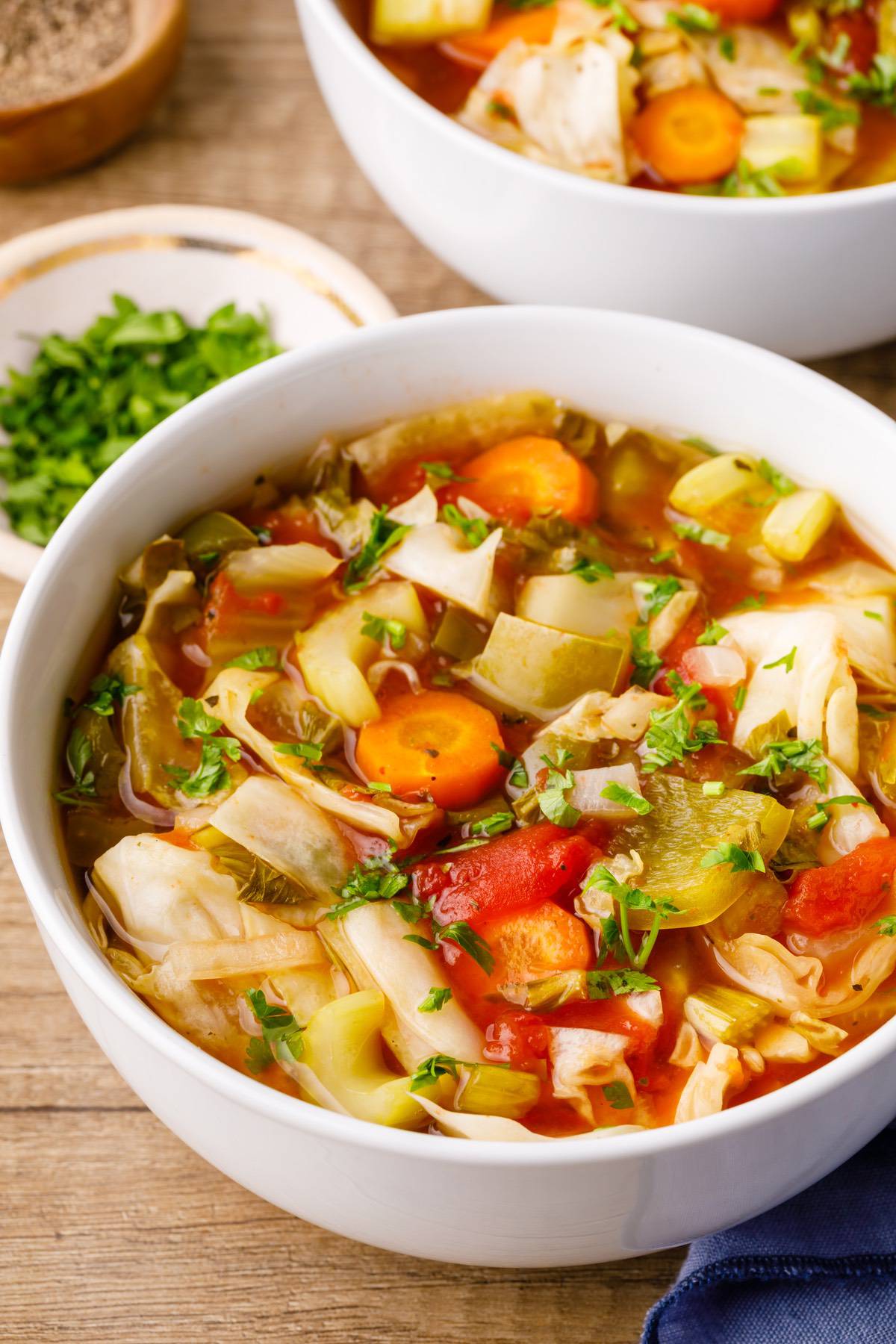 (You may also like: Crockpot Keto Cheeseburger Soup)
Print Recipe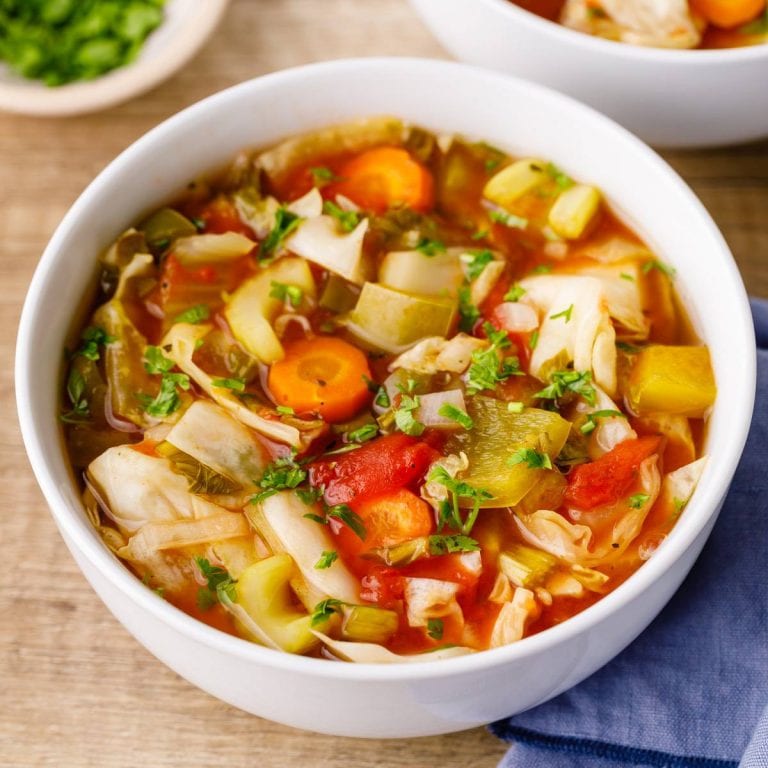 Slow Cooker Keto Cabbage Weight Loss Soup (Low Carb and Nourishing)
Author:
Prep Time:

15 minutes

Cook Time:

4 hours

Total Time:

4 hours, 15 minutes

Yield:

6

1

x
FREE KETO RECIPES + 5-INGREDIENT KETO COOKBOOK

Make sure to sign up for free to get instant access to the 5-Ingredient Keto Cookbook, which includes my favorite 20+ keto recipes of all-time, all under 5 ingredients.
Scale
1

pound cabbage, chopped 

2

celery stick, chopped 

1

carrot, peeled and chopped 

1

green bell pepper, diced 

2

garlic cloves, minced 

1

small onion, diced 

5 cups

chicken or vegetable broth 

1

(14 oz) can diced tomatoes with basil

1 tsp

dried oregano 

1 tsp

dried basil 

½ tsp

chili flakes 

salt and black pepper to taste 

¼ cup

fresh parsley, chopped (for serving)
Add all the ingredients except parsley to a slow cooker and stir to combine. 

Cover with a lid. 

Cook on high for 4 hour or low for 6 hours. 

Stir in chopped parsley and serve warm.
More Good Keto Soup Recipes: