Keto Foods
21 Easy Homemade Keto Ice Cream Recipes and The Best Low Carb Brands
Kids and adults alike probably agree that some days call for a creamy, smooth, velvelty ice cream treat to make the day just a bit better, so you'll be delighted to know that keto exists so you can stay on your nutrition plan while indulging just a bit. Since ice cream is typically high in added sugars, we want you to provide you with some direction as to how to work keto ice cream into your dietary plan without having to worry about it negatively impacting your health or sending your blood sugar on a wild ride. Whether you are looking to purchase your ice cream or whip up a creamy cool treat from home, keep reading so you can understand the best keto ice cream brands to have on hand and recipes to have in your tool box to satisfy your ice cream cravings.
3 Best Low Carb Store-Bought Keto Ice Cream Brands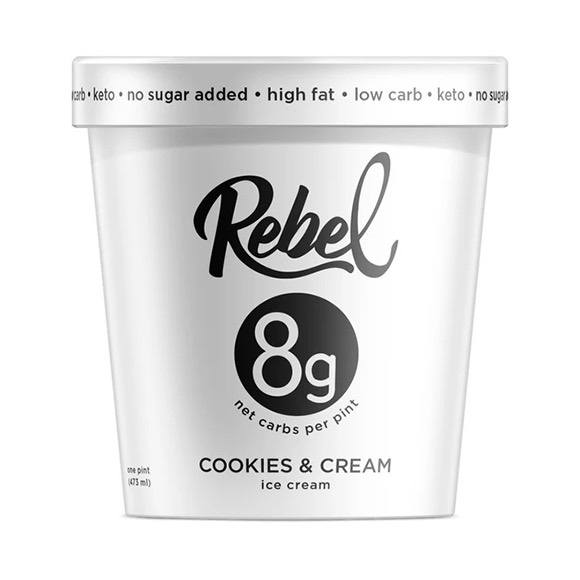 Rebel Creamery Keto Ice Cream (4-8g net carbs/pint)
If you are looking for the lowest glycemic index ice cream on the market today, Rebel Ice Cream should be at the top of your list to try. This company does not use any glycemic fibers or sweeteners. In addition, 85-90% of the calories in Rebel Ice Cream come from healthy animal fats.
Enlightened Keto Ice Cream (1g net carbs/pint)
You'll have a hard time deciding which of the keto ice cream varieties to try with Enlightened. Once you decide on a flavor or two, you'll also be thrilled to know that you are choosing the lowest net carb ice cream option on the market today.
Halo Top Ice Cream (5-8g net carbs/pint)
Although Halo Top first hit the market as a lower calorie, higher protein alternative to ice cream, they've now expanded their line to please those who choose to follow the keto diet. The company has definitely found a way to avoid sacrificing flavor while formulating the macros to fit a higher fat, lower carbohydrate diet.
18 Easy Keto Ice Cream Recipes You Need to Try
Creamy Avocado Chocolate Keto Ice Cream (7.3g net carbs/serving)
You won't believe how creamy and delicious this avocado ice cream is. Even better, it only takes 10 minutes to prep and prepare this delicious dessert, and in a matter of 4 hours you'll have this ice cream on hand.
Bulletproof Coffee Ice Cream (2g net carbs/serving)
If you love ice cream, this recipe is a must try. Think of bulletproof coffee turned into a delicious dessert, so if you make bulletproof coffee as part of your morning routine, you'll have every ingredient on hand to throw this together in a pinch.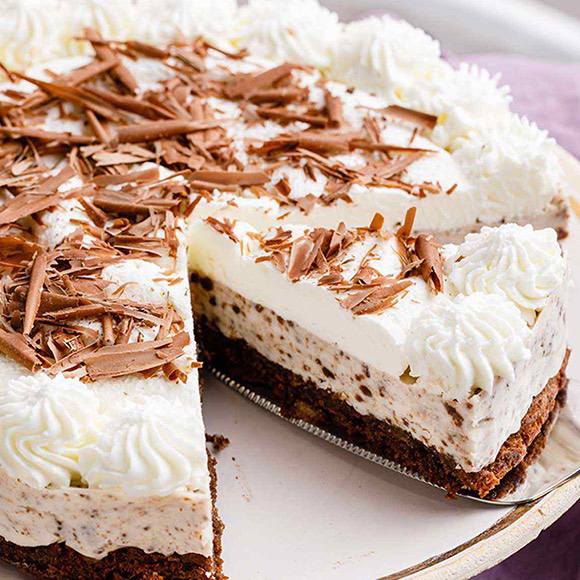 Cookies and Cream Keto Ice Cream Cake (3g net carbs/serving)
Definitely bookmark this recipe if you ever need a keto fried ice cream or cake, though this recipe combine the best of both worlds. The cocoa and dark chocolate combo will have you questioning how this recipe could be keto friendly.
Easy No Churn Keto Ice Cream (2.7g net carbs/serving)
What could be better than a no churn keto ice cream? Almost all of the calories come in the form of fat, too, so no need to worry about it affecting your blood sugar or knocking you out of ketosis in most cases.
Fat Bomb Coconut Keto Ice Cream (7.2g net carbs/serving)
This recipe reminds me of coconut cream pie in the form of a keto ice cream. The combo of egg yolks, MCT oil, ghee or butter, and of course coconut gives you a hearty dose of favorable fats so you can stay in ketosis and still enjoy a sweet treat.
Double Dark Chocolate Keto Ice Cream (8.8g net carbs/serving)
If you love chocolate, one look at the picture illustrating this recipe will have you drooling and you'll be happy to hear the taste will not disappoint. The recommended sweetener, stevia, will not add any carbs or sugar so your blood sugar won't spike after eating this ice cream.
Classic Keto Vanilla Ice Cream (1.3g net carbs/serving)
This recipe is for the OG of ice cream – vanilla. If you are actually looking for a higher protein ice cream option this is one to try due to the addition of Greek yogurt to the ingredient list. And given its versatility, you can have fun topping it with a plethora of keto-friendly toppings.
Chocolate Mason Jar Ice Cream (2.2g net carbs/serving)
This low carb mason jar ice cream is the ideal replacement for Halo Top ice cream. You'll not only save money by making this ice cream instead of purchasing a store brand, but on top of that even if you were to eat all 4 servings of this ice cream, you'd only be taking in 9 grams of carbs.
Butter Pecan Ice Cream (2g net carbs/serving)
For an enjoyable butter pecan ice cream option that is pleasing to the palate and your keto-friendly diet, this recipe will soon become your go-to. No worries if you don't own an ice cream machine, either. There is a no-churn instructional section included as well.
Creamy Keto Orange Creamsicle Ice Cream (.5g net carbs/serving)
Creamy keto orange creamsicle ice cream is the ideal choice on a hot summer day, but if you are craving a juicy citrus fruit, this will fill the void. The secret ingredient included with the recipe will also boost your collagen consumption.
5-minute Raspberry Keto Ice Cream (9.7g net carbs/serving)
With only 3 ingredients required, this creamy treat can be whipped up in a snap. Since this is a low carb ice cream it will melt pretty quickly if left out but my guess is you'll have finished your bowl (or more) before that becomes a concern.
Blueberry Cheesecake Keto Ice Cream (4.4g net carbs/serving)
If you are looking for a lower lactose option, bookmark this keto blueberry cheesecake ice cream recipe. Though it isn't fully lactose-free, the almond milk used in this recipe definitely helps to lower the lactose load without sacrificing any flavor.
Vegan Mint Chocolate Chip Ice Cream (5g net carbs/serving)
Here's a dairy-free, gluten-free, vegan, and Paleo-friendly ice cream option. It's refreshingly minty, creamy, and full of melt-in-your mouth chocolate chips, so it will appeal to adults and kids alike.
Blueberry Ice Cream (9g net carbs/serving)
This recipe was developed after years of experimenting without much success. If you so choose, you can also spice up this blueberry ice cream recipe with a dash of booze. It may soon become your party-pleasing treat when hosting an adult gathering.
Chocolate Covered Peanut Butter Ice Cream Bars (5g net carbs/serving)
There's nothing quite as magical as the combo of peanut butter and chocolate, and how amazing that you can now enjoy keto-friendly chocolate covered peanut butter ice cream bars. The convenience can't be beat once they are frozen and ready to eat since you can simply grab a bar and enjoy.
Keto Fudgesicles (2g net carbs/serving)
These low carb fudge popsicles may bring back childhood memories since these are a traditional favorite for chocolate ice cream lovers. The smooth, velvety texture can't be beat and chances are these will become a family favorite no matter the dietary preference.
Raspberry Ripple Ice Cream Bars (3.7g net carbs/serving)
These raspberry ripple ice cream bars can easily be turned into a dairy-free and Paleo option if you prefer. No matter the variation you choose, these are the perfect treat when you are craving a fruity treat as a way to cool off.
Homemade Snickers Ice Cream Bars (5g net carbs/serving)
This recipe for snickers ice cream bars is a copycat version of what you can find at your local grocery stores only with a lot less sugar and a lot more keto-friendly flavor. One bite and you'll be hooked on this nutty, caramel, chocolate dessert.
5 Ingredients to Avoid in Keto Ice Cream
1. Artificial Sweeteners
Be careful of buying anything that contains sugar alcohols, which almost end in "ol" when looking at the ingredient label (i.e. erythritol, xylitol, manitol). Although sugar alcohols don't impact blood sugar, they can cause digestive distress and upset. In addition while the USDA has labeled sugar alcohols as safe for consumption, safety does not equal tolerance and it is simply best to avoid ingestion.
Aside from sugar alcohols, avoid other artificial sweeteners such as sucralose or aspartame. If the ingredient label includes stevia, monk fruit, or Swerve, you are making a smarter purchase. These sweeteners are keto-friendly and are generally free from any negative impacts in terms of digestion or overall tolerance.
2. Dairy with Added Hormones
Although the keto diet doesn't generally involve following a dairy-free diet, you do want to be smart about the types and sources of dairy you are choosing to eat. Even if you aren't following a keto diet, it is best to choose dairy products that are labeled as organic, hormone-free, or come from "grass-fed" sources.
When dairy cows are injected with growth hormones or antibiotics, ingesting these substances go on to disrupt your hormones. Clearly that is less than ideal. In addition, dairy produced from grass-fed cows are higher in anti-inflammatory omega-3 fatty acids and conjugated linoleic acid when compared to dairy from grain-fed cows.
3. Fats Made From Low Quality Oils
A keto-friendly ice cream should not be low in fat, but all fats are not created equally. For example, trans-fats are actually modified chemically and are linked to elevated heart disease risk, so they should be avoided by everyone not just those following a keto diet.
Although you'll typically find trans-fats in processed foods such as cakes, cookies, or pastries, a quick review of the ingredient label will reveal if trans-fats are contained within the product. Just look for the terms "partially hydrogenated" or "shortening" and if those are listed on the label, don't purchase or consume that item.
Also avoid any product that contains vegetable oil, which is high in omega-6 fatty acids. When omega-6 fatty acids are not balanced with sufficient omega-3s, negative health effects result including inflammation since these fats are easily oxidized. As a result, damaging free radicals are released into your system and that is never a good thing.
4. Ingredients You Can't Pronounce
Reading the nutrition label when buying keto ice cream off the shelf is critical since some ice cream is labeled as "keto friendly" or "low carb" but are then filled with artificial sweeteners, artificial colors or dyes, and other fillers that are far from healthy.
Food manufacturers today are particularly smart about how to use additives and fillers as a way to enhance the flavor, shelf-life, or texture of your creamy treats. It's really pretty simple to know if you are choosing a product that has added dyes, colors, sweeteners and other fillers – if you can't pronounce it, don't eat it.
5. Dairy-free Alternatives with Added Sugar
Many products on the market today claiming to be "dairy free" are filled with sugar so always choose non-dairy products with minimal ingredients that do not contain added sugar.
A quick glance at a label of almond milk or coconut milk will let you know if there is added sugar, but you can also glance at the total carbs or net carbs as a way to assess if your non-dairy item is also sugar free. In most cases, the box or carton will also clearly state that it is either an "unsweetened" product or contains "no added sugars".
Keto Ice Cream FAQ
Is Ice Cream Keto?
Not all ice cream on the market today is keto-friendly, but there are ways to create a keto-friendly ice cream from home or buy off the shelf. By following the ingredient guidelines listed above, you'll easily be able to tell if the ice cream you are considering purchasing is keto-friendly or off limits.
Can You Make Low Carb Ice Cream Without an Ice Cream Maker?
Yes, you can. When reading through your low carb ice cream recipes, you should see either an instructional section on how to make your keto ice cream without an ice cream maker, though some may turn out differently or even better when churned in an ice cream maker. If you read to the end of the FAQ section, you'll see we provide you with a bit of instruction on how to make ice cream using bags or jars.
Is Enlightened Ice Cream Keto?
Not all Enlightened Ice Cream varieties are keto, but Enlightened has expanded its line to include keto-friendly options. Just be sure to review the label of the Enlightened flavor purchased to ensure it is a keto-friendly option.
Is Halo Top Ice Cream Keto?
Not all Halo Top Ice Cream varieties are keto, but Halo Top has expanded its line to include keto-friendly options. Just be sure to review the label of the Halo Top flavor purchased to ensure it is a keto-friendly option.
How Do I Make Ice Cream In a Bag or Jar?
To make ice cream in a bag, you'll need a couple of good quality ziploc-type bags and some salt, in addition to the ingredients required for the actual ice cream recipe. One smaller bag will be used to mix and hold all of the ingredients, while the second larger bag will be filled with ice. The smaller bag is placed inside the larger bag, and while wrapped in a towel to help protect your fingers from the extreme cold, you will shake both bags. Believe it or not, that will produce a delicious ice cream texture, but most recipes that use the bag method will walk you through these steps or something very similar.
To make ice cream in a jar, specifically a Mason jar, it is almost a no brainer. When following a recipe, typically instructions will be provided, but most often you simply place all of the mixed ingredients into your jar of choice and freeze for about 3-5 hours. You may need to set out the ice cream on a counter for a bit before eating to allow it to soften slightly.