Keto Foods
Is Dark Chocolate Keto or Too High in Sugar? – Net Carbs + Alternatives
Have you recently started the keto diet? Are you wondering if it's possible to still satisfy your chocolate sweet tooth after cutting out those carbs? What's all the fuss about dark chocolate, anyway? If that sounds like you, then you're in luck today. We're going to be taking an in-depth look at dark chocolate in order to answer the question, "Is dark chocolate keto?"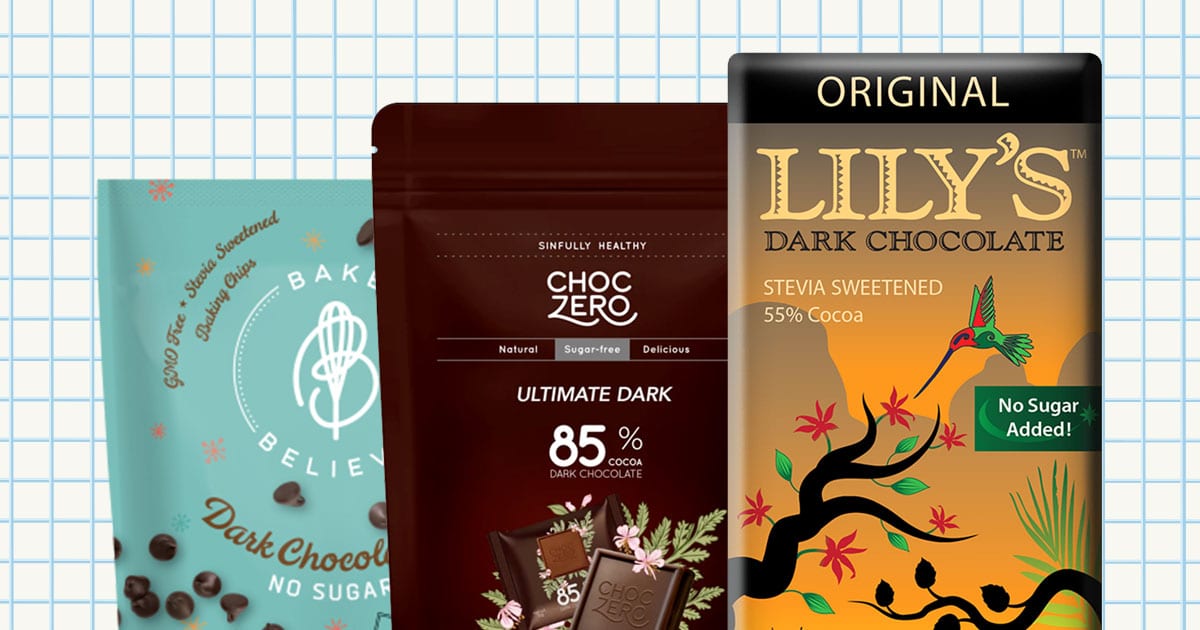 Let's get right into it.
What Makes Dark Chocolate a Popular Choice for Low Carb Diets?
Here are a few of the main reasons why dark chocolate is so incredibly popular with people on low carb diets:
Dark chocolate can help to satisfy your chocolate cravings without going overboard on the sugar content.
It's also an abundant source of heart healthy fats, with a single 162 gram bar of dark chocolate providing a whopping 51 grams of dietary fat.
It can be used to make a variety of low carb chocolate dessert recipes in place of milk chocolate (dark chocolate chips is a great example).
Dark chocolate also happens to be incredibly nutrient-dense; it's also a rich source of disease-fighting antioxidants.
There's significant evidence that dark chocolate can help to reduce your risk of heart disease and stroke as well.
Is Dark Chocolate Keto?
Dark chocolate can indeed be a 100% keto-friendly way to satisfy your sweet tooth – so long as you keep a few important guidelines in mind.
Firstly, you should be aiming for dark chocolate that is at least 85% cocoa; but higher is better. This helps to make sure that the dark chocolate you're eating has the absolute minimum amount of sugar.
On top of that, moderation is incredibly important when eating a calorie-dense food like dark chocolate. A single dark chocolate bar contains almost 80 grams of sugar, which is why it's commonly recommended to indulge in dark chocolate only occasionally when on the keto diet. Think 1-2 squares of the bar instead of the entire bar.
So long as you're buying dark chocolate with a minimum of 85% cocoa and enjoying it in moderation, there's no reason you can't include it as part of your keto diet.
Dark Chocolate Nutrition Facts
A typical dark chocolate bar weighs in at about 162 grams; so with that in mind, here's what that looks like nutrition wise:
884 calories
51 grams fat
8 grams protein
99 grams carbs
11 grams dietary fiber
78 grams sugar
13 mg cholesterol
38.9 mg sodium
905.6 mg potassium
Keto Chocolate Recipes
---
---
---
---
---
---
---
---
---
---
---
---
---
---
---
---
---
---
---
---
---
---
---
---
---
---
---
---
---
---
---
---
---
---
---
---
---
---
---
Dark Chocolate Health Benefits
Unlike milk chocolate, dark chocolate actually provides you with quite a few impressive health benefits. Here are three of the biggest benefits that can be gained by including it in your diet:
Rich source of dietary antioxidants. Dark chocolate is one of the best sources of antioxidants that you could hope to include in your diet. Antioxidants play a key role in protecting against harmful cellular damage and protecting against diseases like cancer, which makes it incredibly important to include a variety of antioxidant-rich foods like dark chocolate as part of your diet. (1)
Reduced risk of cardiovascular disease. Certain flavonoids in dark chocolate have been found to be linked with lower rates of heart disease. As a matter of fact, studies have found that cocoa consumption can result in lower blood pressure, reduced cholesterol levels, and increased insulin sensitivity. (2)
May help to improve cognitive functioning. Along with keeping your heart healthy, those same flavonoids found in dark chocolate can also help to give your brain a significant boost as well. Studies have found that these flavonoids can improve both memory and mood, and they may even help to protect against Alzheimer's disease and other neurological disorders as well. (3)
What are the Best Keto-Friendly Dark Chocolate Brands?
Lily's Sweets Original Dark Chocolate – Lily's Sweets boasts a "less sugar" chocolate line that's botanically sweetened with Stevia as a natural alternative. Along with the popular dark chocolate variant, extra dark chocolate and milk chocolate variants are also available in multiple flavor profiles.
Choczero 85% Dark Chocolate Squares – Choczero is a keto-friendly chocolate brand that has everything from sugarfree chocolate syrup, to chocolate squares and baking chips. The 85% dark chocolate squares are highly recommended as a healthy treat and keto-friendly snack.
Bake Believe Dark Chocolate Baking Chips – It goes without saying that baking with dark chocolate is an absolute delight, especially for keto dieters who love to indulge in a sweet treat every now and then. Bake Believe's dark chocolate baking chips have a lovely bold flavor–perfect for keto recipes.
Keto Dark Chocolate Alternatives
If you're looking to satisfy your chocolate sweet tooth while on the keto diet, but dark chocolate won't work with your macros due to its sugar content, you have a few alternatives. The good news is that it's an excellent option that can be used to make a ton of delicious and nutritious chocolate keto treats:
Unsweetened cocoa powder (or cacao powder)
Cacao nibs
(Read next: Is Coffee Keto?)