Keto Recipes
Incredible Cookies and Cream Keto Ice Cream (Family Friendly)
When I was growing up, cookies and cream was one of my very favorite treats to enjoy. Whether it was the classic candy bar or cookies and cream ice cream, I couldn't get enough of that classic taste. Even after starting my own keto journey and seeing just how many things you could adapt to be keto friendly, cookies and cream was one of those things that I just sort of assumed I'd have to go without. Thankfully, that's no longer the case. This incredible cookies and cream keto ice cream recipe lets me enjoy one of my all-time favorite treats guilt-free thanks to keto-friendly ingredients and my trusty ice cream maker.

The Best Keto Cookies and Cream Ice Cream Ever
There are two steps to making this ice cream: getting your cookie crumbs ready to go, and then preparing the keto ice cream. To start, you're going to combine the almond flour, cocoa powder, baking soda, and salt together in a bowl. Considering that refined wheat flour is obviously off the menu so as not to knock you out of ketosis, you'll be glad to know that almond flour makes a fantastic replacement. It adds a nice nutty taste to the cookie dough, while also offering up a lot of calories in the form of fats. It even has a nice assortment of vitamins and minerals to help round it all out. And unlike refined wheat flour, which is known to cause inflammation in many people, almond consumption has actually been shown to provide many cardiovascular health benefits. (1)
In a separate bowl, beat together your choice of zero calorie sweetener together with a single egg, and then add in the melted coconut oil and vanilla extract. All of these ingredients work together to help keep your cookies sugar-free, low in carbs, and high in fat–exactly what you want out of any good keto snack. After mixing everything together, combine it with your almond flour mixture, and voila! Your very own keto cookie dough is ready to go. From here, it's a simple matter of baking it, and then breaking the resulting cookies into crumbs to add to your ice cream.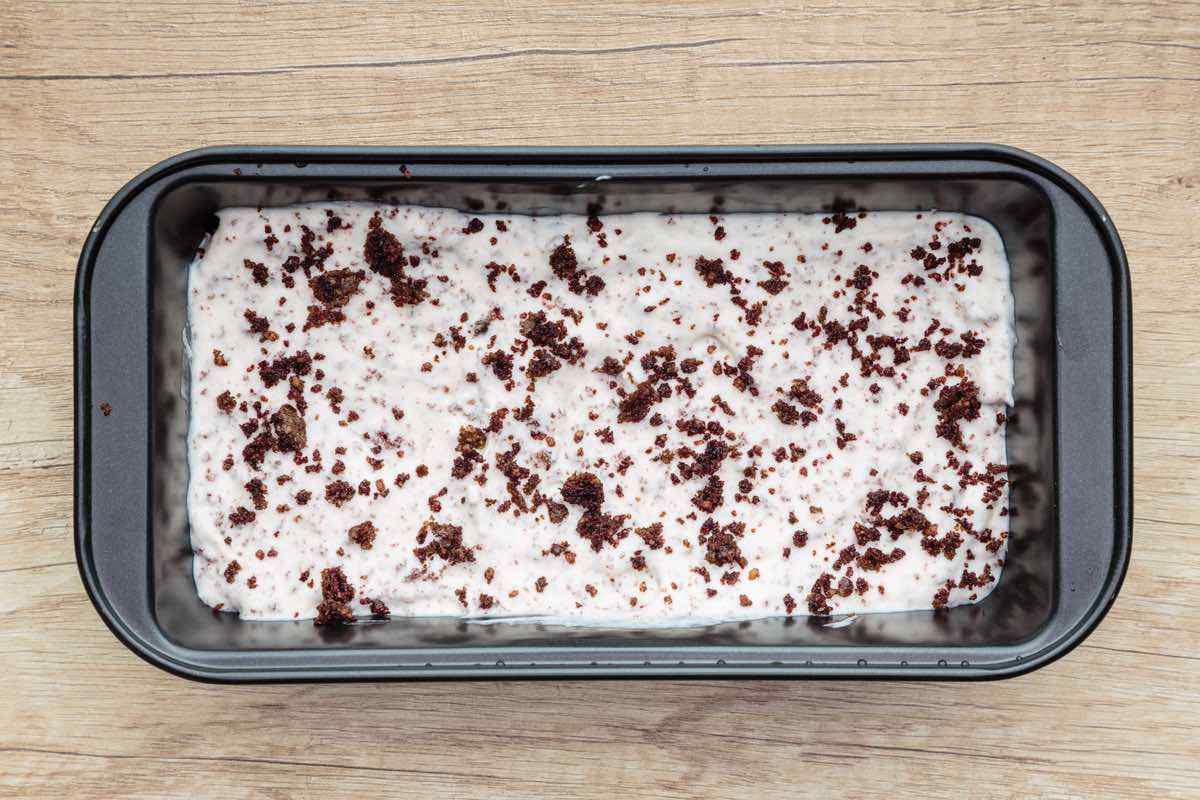 And speaking of your ice cream, it's rather simple to prepare as well. If you've ever made keto style ice cream before or if you've seen our no-churn ice cream recipe, this is fairly similar. You'll be mixing together heavy whipping cream, cream cheese, and milk to give the ice cream its texture and fat content. Pure vanilla extract and Stevia are also added to help sweeten things up.
The final step to making this tasty keto ice cream is to fold in your cookie crumbles before freezing the whole thing in order to actually turn it into ice cream. I would strongly recommend using an ice cream maker (the model that I personally use and recommend can be bought from here) but it's also possible to just place the mixture in a container to freeze for a few hours. Once your ice cream is ready to serve, I hope you're ready to enjoy a fantastic treat that will surely bring back some of your fondest childhood memories.
More Keto Ice Cream Recipes:
Creamy and Guilt-Free Keto Avocado Ice Cream
Life-Changing Keto Bulletproof Coffee Ice Cream
Fat Bomb Coconut Keto Ice Cream
The Easiest No Churn Keto Ice Cream Ever (No Hassle)
Classic Keto Vanilla Ice Cream Everyone Will Love
Double Dark Chocolate Keto Ice Cream (Ridiculously Good)
Print Recipe
Incredible Cookies and Cream Keto Ice Cream
Author:
Prep Time:

10 minutes

Cook Time:

7 minutes

Total Time:

17 minutes

Yield:

1

2

1

x
FREE KETO RECIPES + 5-INGREDIENT KETO COOKBOOK

Make sure to sign up for free to get instant access to the 5-Ingredient Keto Cookbook, which includes my favorite 20+ keto recipes of all-time, all under 5 ingredients.
Scale
For cookies:
¾ cup almond flour
1 ½ tbsp unsweetened cocoa powder
½ tsp baking soda
1 egg
3 tbsp granulated Stevia or other low carb granulated sweetener
1 tbsp melted coconut oil
1 tsp vanilla extract
pinch of salt

For cream:
2 cups heavy whipping cream
1 tbsp vanilla extract
½ cup or to taste granulated Stevia or other low carb granulated sweetener
¼ cup milk
¼ cup cream cheese, softened
Preheat oven to 350°F.
Line a baking sheet with parchment paper. Set aside.
In a bowl combine the almond flour, cocoa powder, baking soda and pinch of salt.
In another bowl beat the egg and sweetener until pale.
Add the melted coconut oil and vanilla extract and whisk to combine.
Add the wet ingredients to the dry ingredients and mix with spatula until well incorporated.
Place the dough on the prepared baking sheet and flatten to 1/4 -inch-thick giant cookie.
Bake in preheated oven for 12-15 minutes or until crispy.
Remove from the oven and allow to cool completely.
Break the cookie into small pieces and set aside.
To make the ice cream, in a large chilled bowl add the heavy whipping cream, vanilla extract and sweetener and whip until soft peaks form.
Add the cream cheese and milk and mix until combined.
Pour the mixture into an ice cream maker and freeze according to the manufacturer's instructions.
Fold in the crushed cookie and serve.
Notes
If you don't have an ice cream maker, transfer the mixture to a container and freeze for minimum 4 hours or until set.
When ready to serve, thaw for 5-10 minutes then scoop with an ice cream scoop.