Keto Recipes
Cookies and Cream Ice Cream
Here's how to make the best homemade cookies and cream ice cream that will bring back all the childhood nostalgic vibes (but without the sugar rush).

If you're in love with cookies and cream as much as I am, make sure to try this cookies and cream ice cream cake recipe as well.
---
How to Make Homemade Cookies and Cream Ice Cream
There are two steps to making this ice cream: getting your cookie crumbs ready to go, and then preparing the keto ice cream. To start, you're going to combine the almond flour, cocoa powder, baking soda, and salt together in a bowl.
Considering that refined wheat flour is obviously off the menu so as not to knock you out of ketosis, you'll be glad to know that almond flour makes a fantastic replacement.
Related: Cookies and Cream Fudge
---
It adds a nice nutty taste to the cookie dough, while also offering up a lot of calories in the form of fats. It even has a nice assortment of vitamins and minerals to help round it all out.
And unlike refined wheat flour, which is known to cause inflammation in many people, almond consumption has actually been shown to provide many cardiovascular health benefits. (1)
In a separate bowl, beat together your choice of zero calorie sweetener together with a single egg, and then add in the melted coconut oil and vanilla extract. All of these ingredients work together to help keep your cookies sugar-free, low in carbs, and high in fat–exactly what you want out of any good keto snack.
---
After mixing everything together, combine it with your almond flour mixture, and voila! Your very own keto cookie dough is ready to go. From here, it's a simple matter of baking it, and then breaking the resulting cookies into crumbs to add to your ice cream.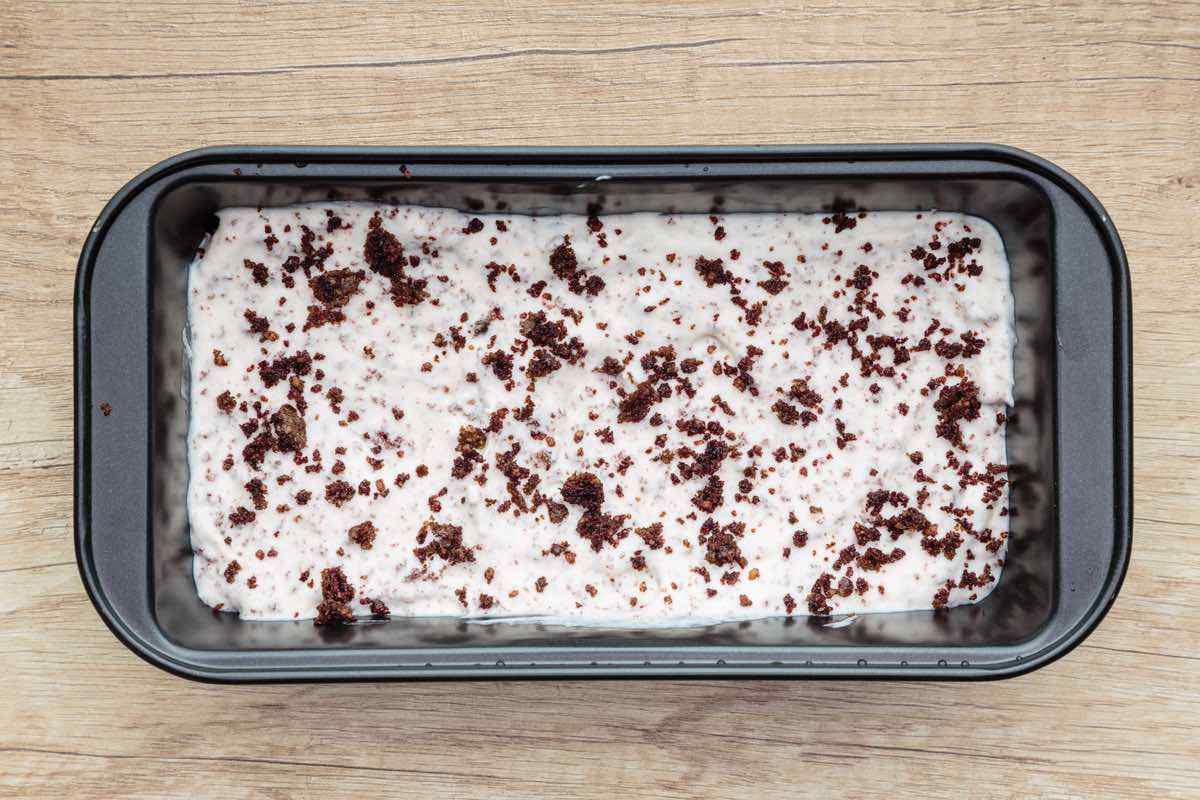 And speaking of your ice cream, it's rather simple to prepare as well. If you've ever made keto style ice cream before or if you've seen our no-churn ice cream recipe, this is fairly similar.
You'll be mixing together heavy whipping cream, cream cheese, and milk to give the ice cream its texture and fat content. Pure vanilla extract and Stevia are also added to help sweeten things up.
---
The final step to making this tasty keto ice cream is to fold in your cookie crumbles before freezing the whole thing in order to actually turn it into ice cream.
I would strongly recommend using an ice cream maker (the model that I personally use and recommend can be bought from here) but it's also possible to just place the mixture in a container to freeze for a few hours.
Once your ice cream is ready to serve, I hope you're ready to enjoy a fantastic treat that will surely bring back some of your fondest childhood memories.
P.S. If you're a fan of rich, creamy ice cream, also be sure to try this Wendy's copycat peanut butter frosty: https://ketopots.com/keto-peanut-butter-frosty
---
Print