Keto Recipes
Zucchini Noodle Shrimp Alfredo Keto Pasta
Shrimp alfredo keto pasta might just be the most soul-satisfying keto pasta of all. It uses zucchini noodles in place of traditional pasta noodles in order to provide a keto spin on a classic comfort food, and everything is made completely from scratch.
How to Make Shrimp Alfredo Keto Pasta
When you stop to consider just how easy it is to make this recipe, it's genuinely amazing how this keto pasta dish turns out to be such an incredibly gourmet style meal.
Preheat the cooking skillet. Heat a single tablespoon of butter in a non stick skillet over medium heat. Keep an eye on it that it doesn't burn.
Cook the shrimp. Add the shrimp and cook for 3-4 minutes or until they turn pink. Remove from the heat and set aside.
Cook the garlic in another skillet. Use a separate skillet to heat the remaining butter over medium heat. Add the garlic and cook for 30 seconds.
Add the cream and cheese. Add the heavy cream and freshly grated Parmesan cheese and stir to combine. Continue to stir as you cook until the sauce has thickened to your liking.
Add the noodles. Add the zucchini noodles and cook for 1-2 minutes.
Prepare for serving. Divide the zucchini pasta and sauce between serving plates (this recipe makes 4 servings) and top with the cooked shrimp.
Sprinkle. Sprinkle with chopped fresh parsley.
Serve. Serve warm.
How to Make Keto Zucchini Pasta Noodles
There are several methods you can use to make zucchini noodles out of your zucchini. Some of the more popular methods include:
Spiralizer (handheld spiralizers will work just as well)
Mandoline slicer
Julienne peeler
You'll of course want to also make sure that you're thoroughly washing, drying, and removing any stems and leaves from your zucchini before cutting it into noodles as well. And for bigger pieces of zucchini, you may also want to cut them into halves or quarters before slicing.
More Low Carb Things You Can Make with Zucchini
Can I Freeze This Keto Pasta?
I wouldn't recommend freezing zucchini vegetable noodles. They can end up losing a lot of their texture once you thaw them out due to the high water content in zucchinis, even when properly drained.
On the other hand, you can definitely freeze the alfredo pasta sauce. Just allow it to cool completely before transferring into freezer-safe airtight containers. You can freeze the sauce for up to 3 months like this.
Thankfully it only takes a few minutes to prepare zucchini noodles so it's no trouble to just whip up a fresh batch whenever you're ready to thaw out the sauce.
---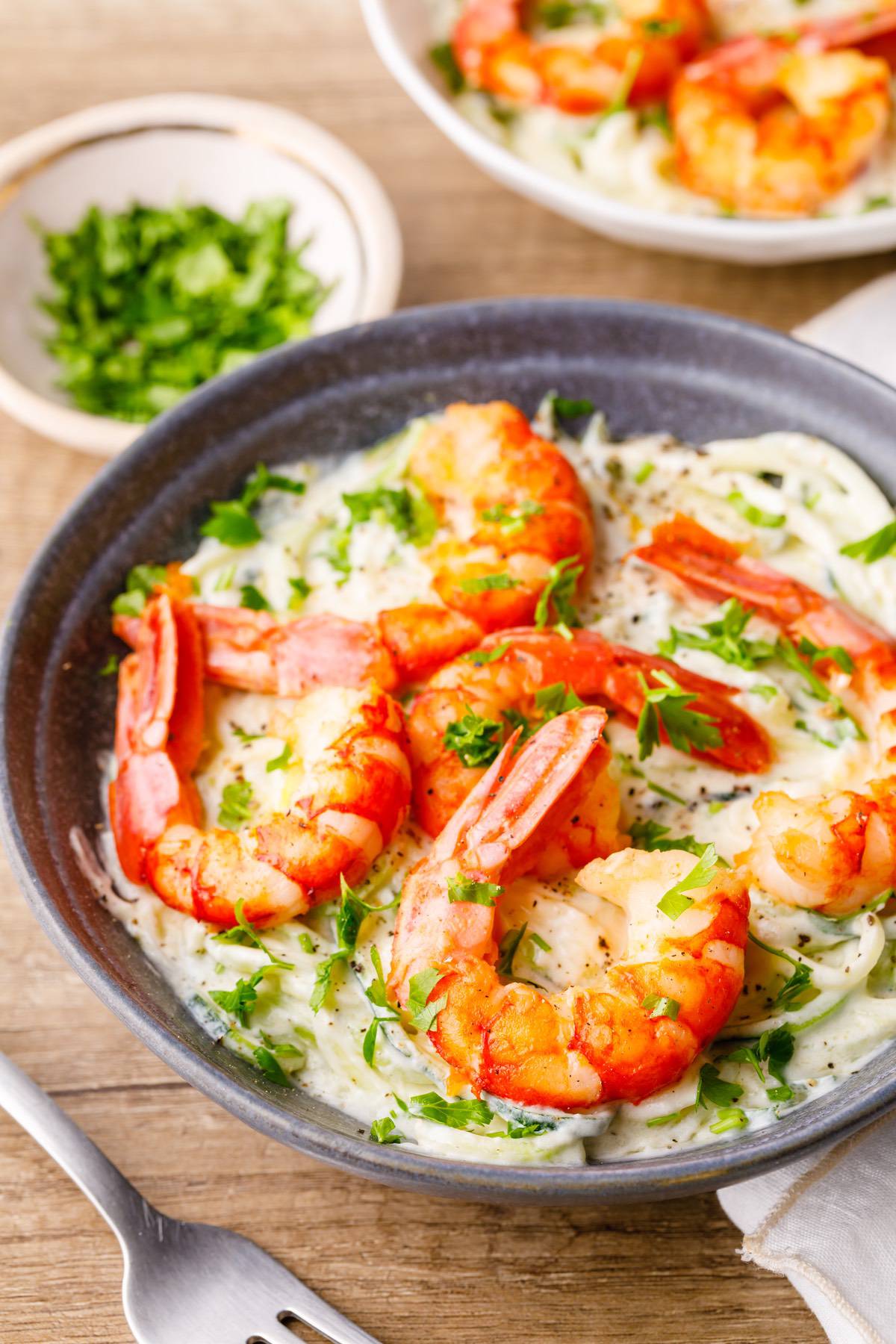 Veggie Pasta Noodles vs. Regular Pasta Noodles – Why It's Better
In my opinion, making veggie noodles like the zucchini noodles used in this recipe is way better for your health than making regular pasta noodles. Here are a couple of big reasons why:
Veggie noodles have less calories and net carbs compared to regular pasta noodles, which makes them a better option to help with weight loss efforts.
They're also incredibly nutrient-dense. Zucchini noodles are particularly rich in essential vitamins, minerals, and antioxidants.
(You may also like: 5-Ingredient Keto Alfredo Sauce)
More Good Keto Shrimp Recipes: