Keto Recipes
OMG-worthy Philly Cheesesteak Stuffed Bell Peppers (Keto-friendly)
If you live philly cheesesteak sandwiches, give this these low carb philly cheesesteak keto stuffed peppers a try! They're absolutely addictive, but very low carb and completely keto-friendly.
How to Make Keto Stuffed Bell Peppers
Pre-cook the bell peppers. Place your bell pepper halves on a baking sheet or pan. Brush it with some olive oil.
Bake. Bake for 15 minutes and remove from the oven.
Cook the steak. To make the filling, cook the steak until it's no longer pink. Set aside.
Cook the rest of the filling. Saute your onion and add the mushrooms. Add the steak back in.
Season. Season with salt and pepper.
Stuff the bell peppers. Spoon your steak mixture into the bell peppers.
Top with cheese.
Bake. Bake for about 20 minutes. Remove from the oven.
Serve! Sprinkle some chopped parsley on top.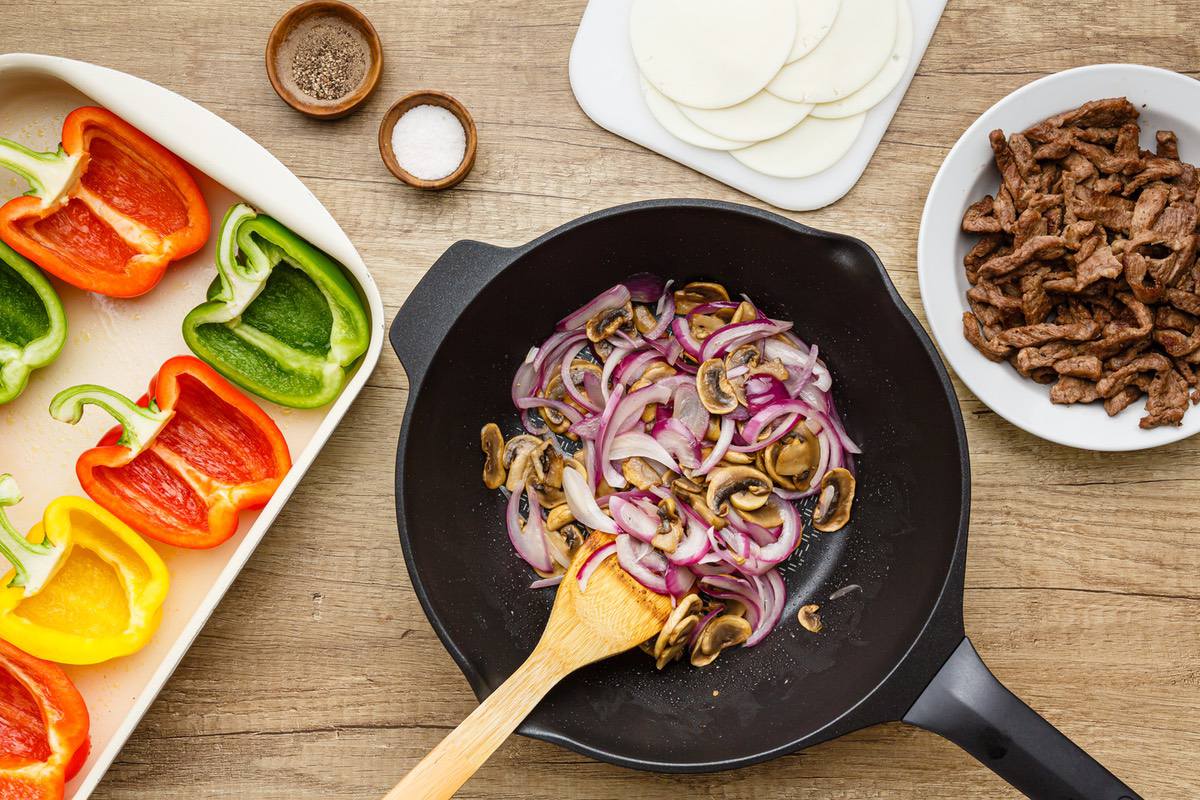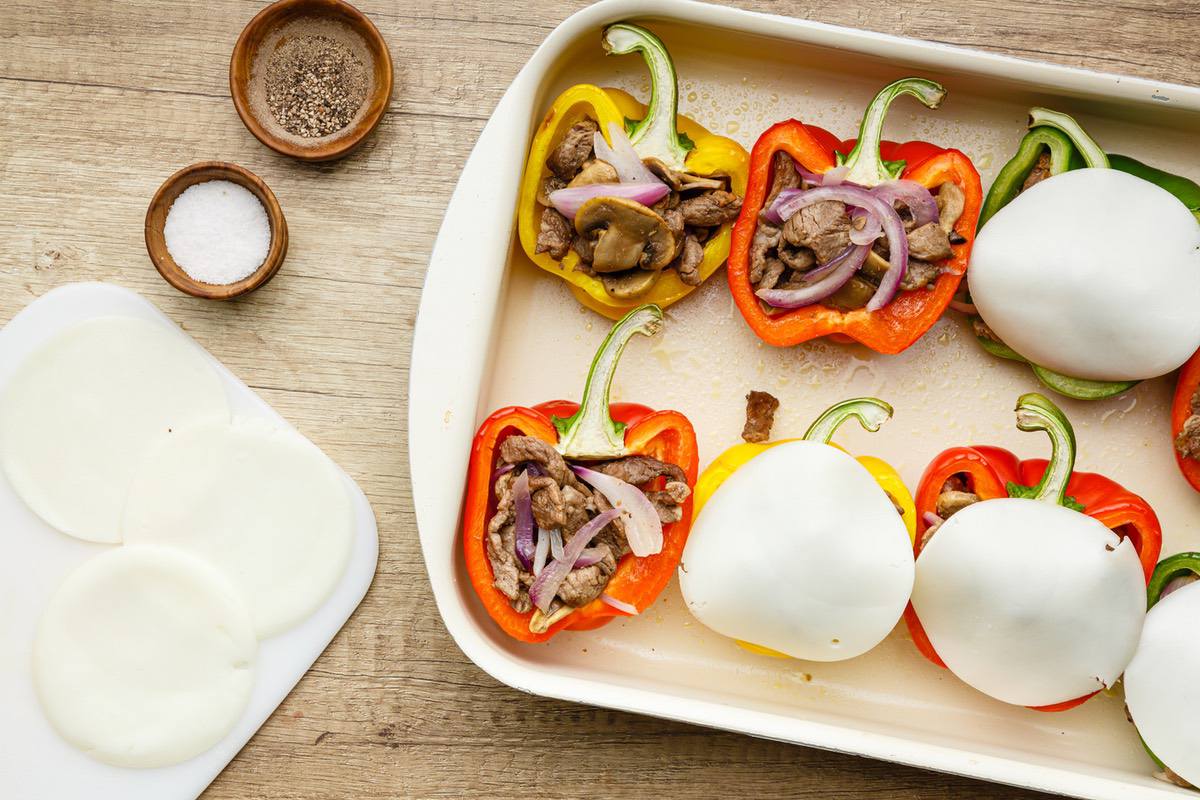 (Learn more: Are Bell Peppers Keto-friendly?)
Can You Freeze Philly Cheesesteak Stuffed Bell Peppers?
Since bell peppers have such a high water content, freezing them may have an effect on the overall texture. Not to worry because here are some tips that will help you avoid the mushy texture and spoilage:
Drain any oils or juices. During cooking the meat and cheese may cause juices and oils to leak out of the bell pepper. Make sure to discard these before freezing the stuffed peppers.
Cool the peppers down completely. Before you freeze your bell peppers, make sure they're cooled down completely, even on the inside.
Freeze as soon as you can after cooking. Don't bake it on day 1, store it in the refrigerator on day 2-4, and then freeze on day 5. It's best to freeze it soon after it's cooked to ensure freshness.
Can You Make Stuffed Bell Peppers Ahead?
You can certainly make stuffed bell peppers ahead if you're going to serve them within the next day or two. These would keep well in the refrigerator as long as they're stored in an air-tight container to avoid drying out.
For longer than a couple of days, I recommend freezing the stuffed bell peppers as soon as they're cooled down from baking. Another alternative is to prepare the meat mixture ahead and then just stuff your bell peppers once you're ready to bake them.
(You may also like: Keto Taco Stuffed Bell Peppers)
Print Recipe
OMG-worthy Philly Cheesesteak Stuffed Bell Peppers (Keto-friendly)
Author: Bree - KetoPots.com
Prep Time:

15 minutes

Cook Time:

40 minutes

Total Time:

55 minutes

Yield:

4

1

x
FREE KETO RECIPES + 5-INGREDIENT KETO COOKBOOK

Make sure to sign up for free to get instant access to the 5-Ingredient Keto Cookbook, which includes my favorite 20+ keto recipes of all-time, all under 5 ingredients.
Scale
4

bell peppers, halved and seeded 

2 tbsp

olive oil

1

medium onion, sliced

8 oz

mushrooms sliced

1

pound steak (flank, rib eye or sirloin), thinly sliced

8

slices provolone cheese

1 tbsp

chopped fresh parsley

salt and pepper to taste
Preheat oven to 400°F. 

Lightly brush a baking pan with 1 teaspoon of olive oil. 

Place the bell pepper halves on the prepared pan. 

Brush the bell peppers with 2 teaspoon of olive oil. 

Bake in preheated oven for 15 minutes. 

To make the filling, in a non-stick skillet, heat the remaining olive oil over medium heat. 

Add the steak and cook until no longer pink. 

Remove the beef and set aside. 

In the same skillet, add the onion and cook for 5 minutes. 

Add the mushrooms and cook until soft. 

Return the steak to the skillet.

Season to taste with salt and black pepper.  

Remove the pan from the oven. 

Scoop the steak mixture into the bell peppers.

Top with cheese slices. 

Bake in preheated oven for 20 minutes. 

Remove from the oven. 

Sprinkle with fresh parsley and serve.
What to Serve with Keto Stuffed Bell Peppers
Cheesy Garlic Roasted Asparagus – Crisp asparagus smothered with melted cheese and garlic–what's not to love?
Keto Mashed Cauliflower – This mashed cauliflower recipe is so smooth and buttery, you won't believe it's keto friendly. The texture is spot-on too–very similar to real potatoes!
Keto Roasted Cauliflower – Quick and easy recipes with simple ingredients really help the main ingredient shine, which is totally the case with this roasted cauliflower recipe.