Keto Recipes
Keto Philly Cheesesteak Casserole (yum!)
Today I'm going to be sharing a recipe for making a Philly cheesesteak keto casserole that will absolutely change the way you approach keto casseroles. It's packed full of protein and quality fats, not to mention the flavorful combination of herbs and seasonings.

When i'm craving a comfort food, and want an easy meal, I love deconstructing a classic recipe and turning it into a casserole like this keto cheesesteak casserole. If you're looking for more 'classics turned casserole', also try my Cheeseburger Casserole, Buffalo Chicken Casserole and Keto Big Mac Casserole (yes, you heard me right, lol).
How to Make a Philly Cheesesteak Keto Casserole
I love recipes that combine two or more of my favorite foods into one mega delicious superfood. That's exactly what the recipe I'm sharing today does. Here's my recipe:
Preheat the oven. Preheat your oven to 350℉ and prepare the cooking skillet. Heat some olive oil in the skillet.
Cook the onion and beef. Saute the onion first for about 2-3 minutes then add the ground beef. Cook the beef until it's brown, then add the bell peppers.
Add the cream cheese. Add the cream cheese and stir to combine.
Season the mixture. Add your Italian seasoning, garlic powder, smoked paprika, and salt and black pepper to taste.
Stir. Stir everything together until well combined.
Prepare for baking. Transfer the mixture to a baking dish and top with Provolone cheese.
Bake. Bake the casserole for 15-20 minutes or until the cheese has melted.
Cool. Remove from the oven and allow the casserole to cool for 10 minutes before serving.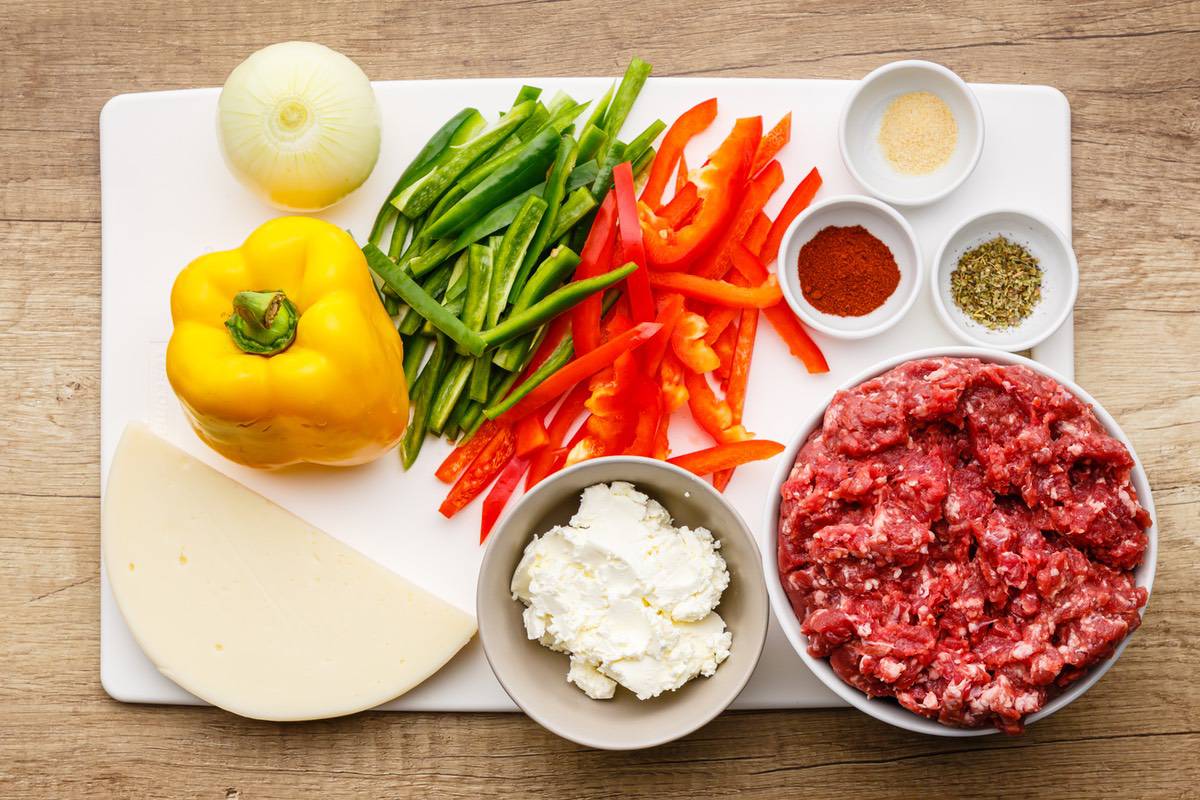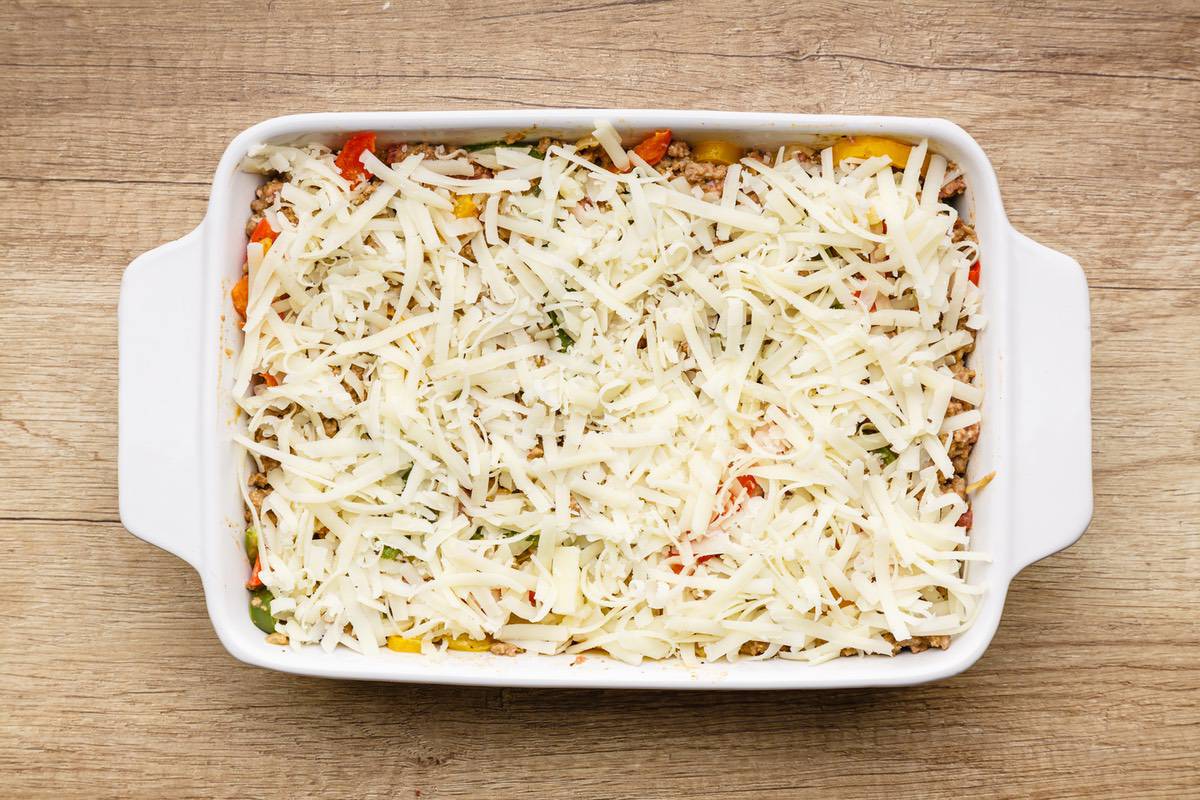 (Also try: Philly Cheesesteak Stuffed Bell Peppers)
Can I Freeze This Keto Casserole?
In the unlikely event that you have any leftovers of this casserole (once you get your first taste you'll see exactly what I mean!), you can definitely freeze them. It's also a great candidate to make ahead and then freeze until you're ready to cook it.
If you're freezing leftovers, you'll want to follow these steps to store and reheat:
Make sure you have allowed them to cool completely. Leave it in the dish while it's cooling.
Divide the casserole into meal sized portions. Transfer into airtight containers and label them with the day you cooked them. You'll be able to keep your leftovers frozen like this for up to one month.
To reheat, leave the container out to thaw for 3-4 hours. Simply leave it out at room temperature.
Heat it for 1-3 minutes. Microwave it on high for 1 minute, or put it in the oven on broil for 2-3 minutes or until the cheese has melted again.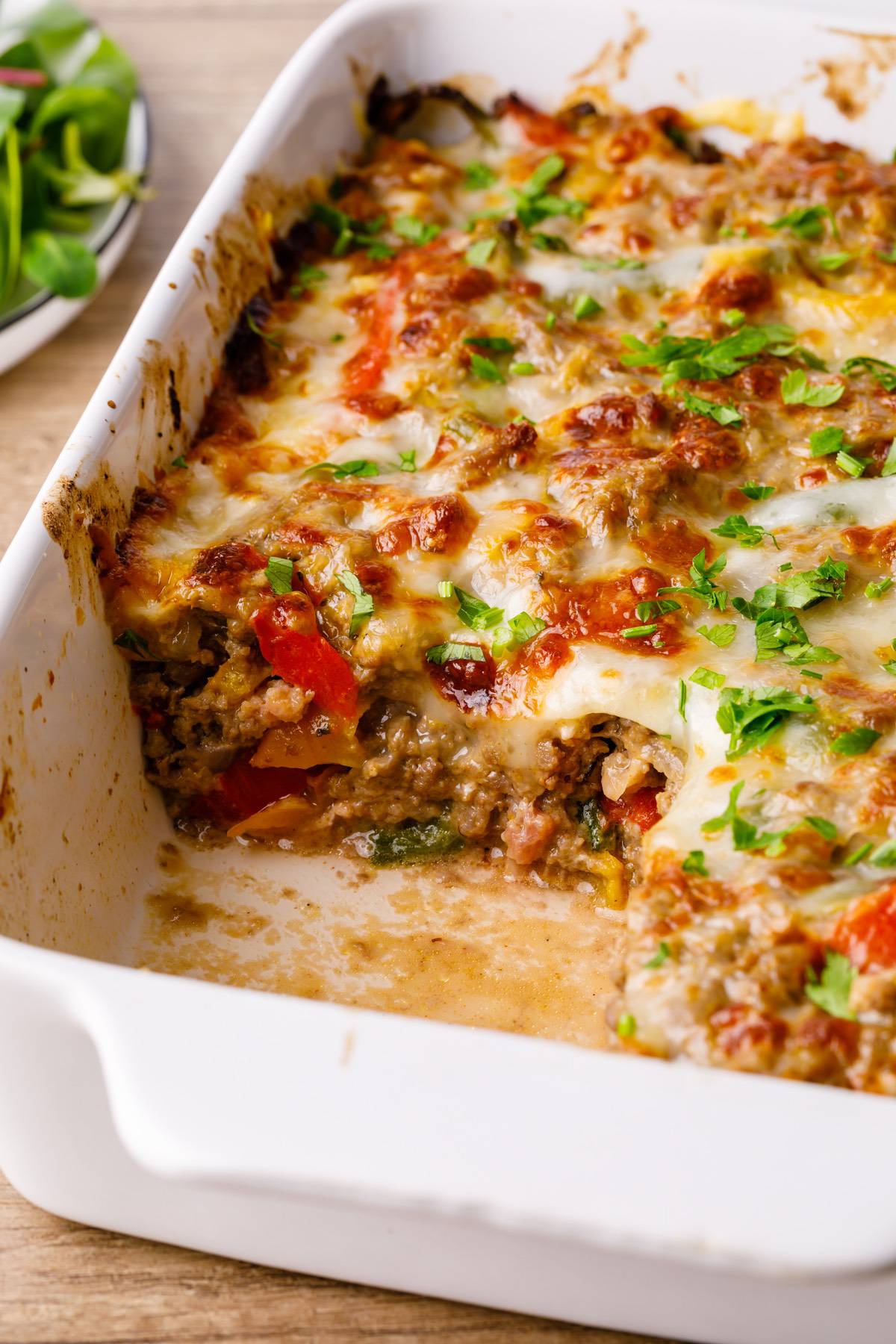 More OMG-Good Keto Casseroles
Are Keto Casseroles Like This Healthy?
Casserole can just as easily be a healthy, nutrient-dense dish as it can be an unhealthy, carb-loaded dish. It all comes down to the ingredient selection used in any specific recipe. By using low carb keto-friendly foods, it can be rather easy to make a healthy casserole dish.
As for this particular Philly cheesesteak casserole recipe, you can breathe a sigh of relief right now because it's indeed good for you. As a matter of fact, here are a few benefits it offers:
Excellent source of antioxidants. This casserole is loaded with ingredients that are rich in disease-fighting antioxidants. The olive oil, bell peppers, onion, and the herbs and seasonings used to make this recipe are all great sources of antioxidants.
Packed full of protein. Adding lean ground beef into this casserole doesn't just provide it with a ton of protein. It also provides an abundance of saturated animal fats, dietary cholesterol, B-complex vitamins, and essential minerals like zinc.
Incredibly satiating. Eating nutrient-dense meals like this casserole that are made with nothing but real, whole foods works great for satiating hunger. You definitely won't be feeling hungry again for quite a while after eating this casserole.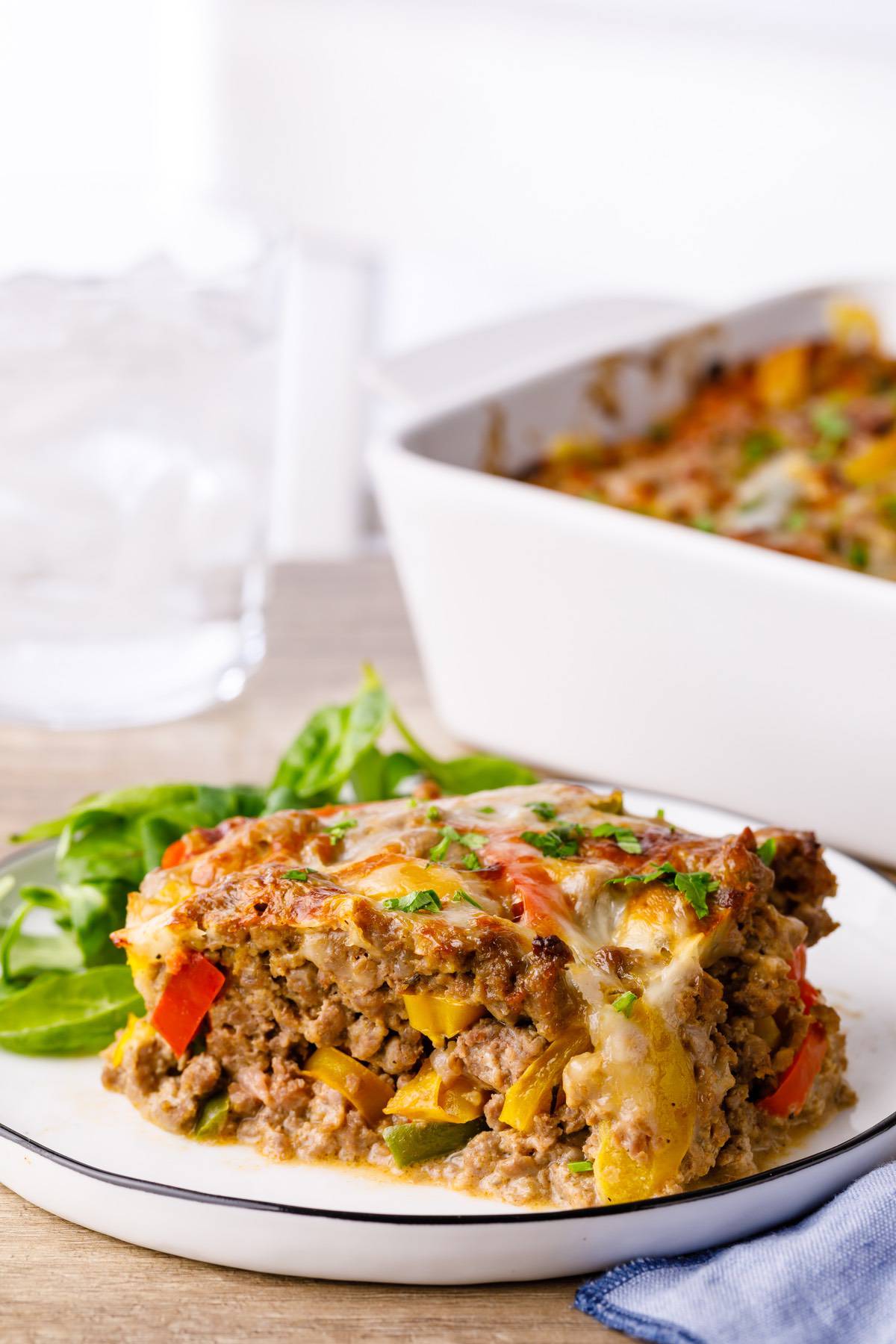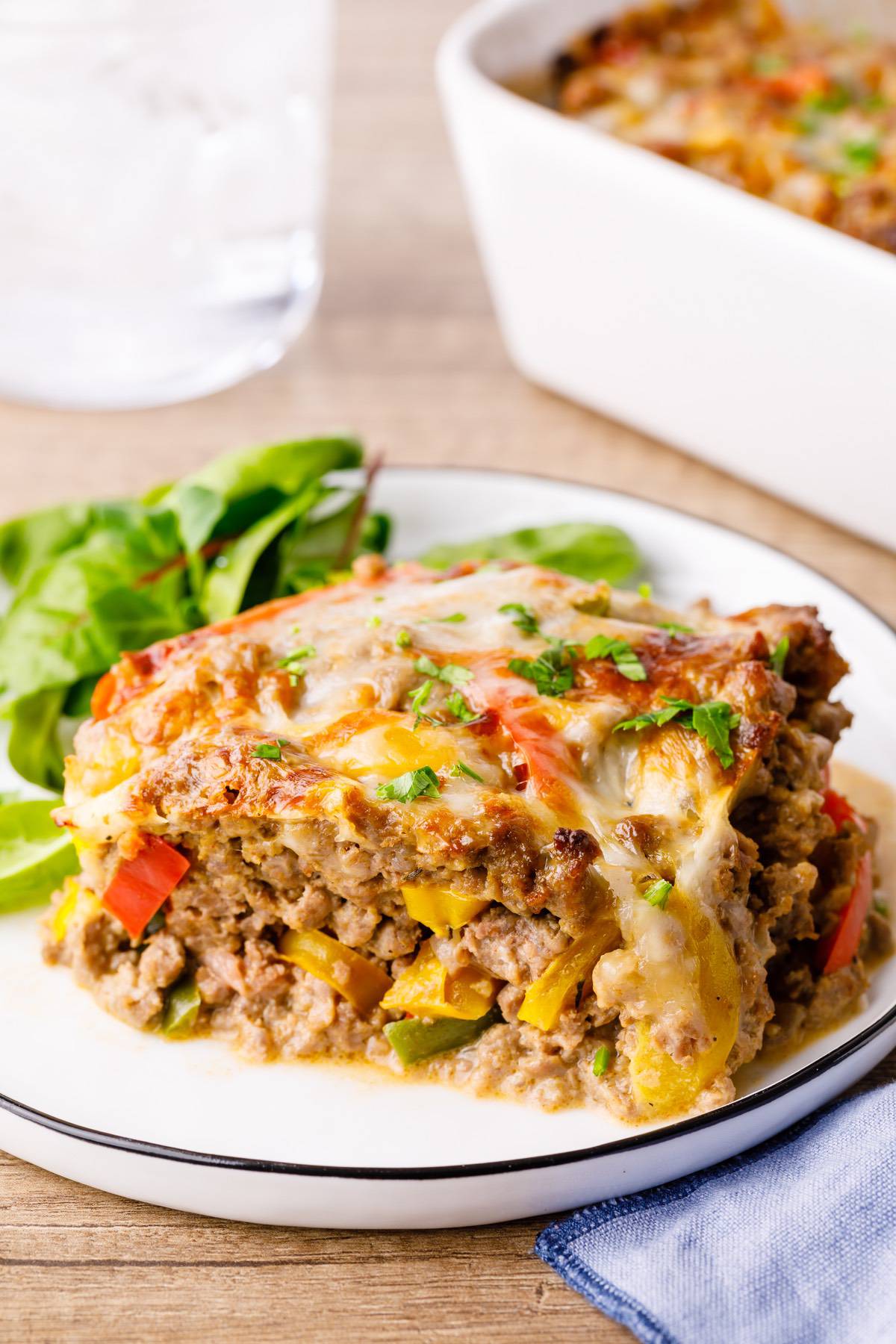 (View more: Keto Casseroles)
Print Recipe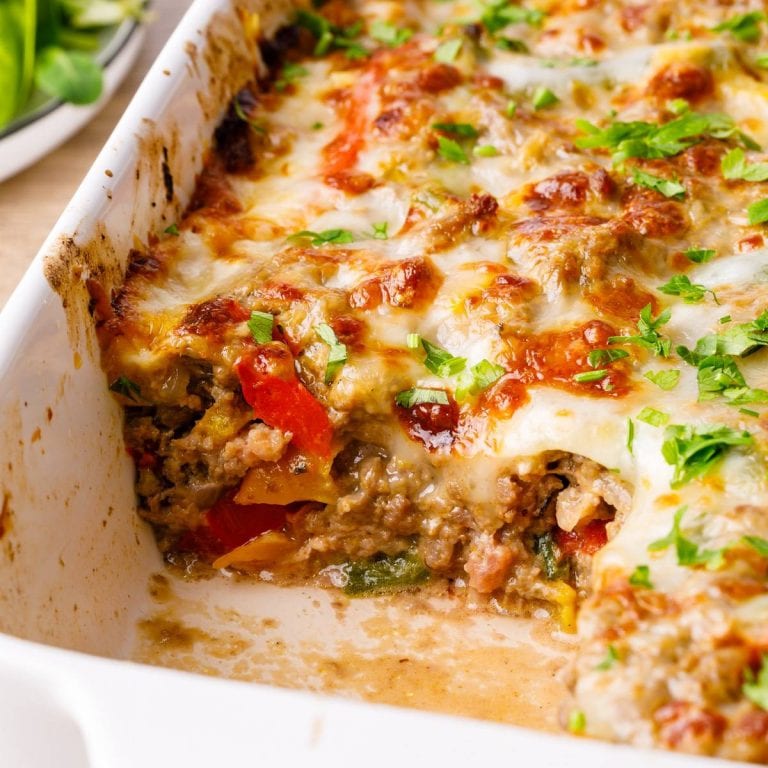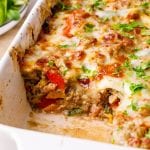 Gooey Philly Cheesesteak Keto Casserole (yum!)
Author:
Prep Time:

15 minutes

Cook Time:

40 minutes

Total Time:

55 minutes

Yield:

6

1

x
FREE KETO RECIPES + 5-INGREDIENT KETO COOKBOOK

Make sure to sign up for free to get instant access to the 5-Ingredient Keto Cookbook, which includes my favorite 20+ keto recipes of all-time, all under 5 ingredients.
Scale
1 tbsp

olive oil 

2

pounds lean ground beef

3

large bell peppers, seeded and sliced into strips 

1

large onion, chopped 

1 tsp

smoked paprika

1 ½ tsp

Italian seasoning

½ tsp

garlic powder

4 oz

cream cheese

4 oz

Provolone cheese, shredded or sliced

salt and black pepper to taste
Preheat oven to 350ºF.

In a large skillet heat the olive oil over medium heat. 

Add the onion and cook for 2-3 minutes. 

Add the beef and cook until browned. 

Add the peppers and cook for 10-15 minutes. 

Add the cream cheese and stir to combine. 

Add the Italian seasoning, garlic powder, smoked paprika and salt and black pepper to taste. 

Stir to combine. 

Transfer the mixture to a baking dish. 

Top with Provolone cheese. 

Bake in preheated oven for 15-20 minutes or until cheese is melted.