Keto Recipes
Gooey Peanut Butter and Chocolate Mug Brownies (Keto-friendly)
I think I might have found my new favorite keto dessert with this recipe for making peanut butter and chocolate keto mug brownies. These brownies provide an addictive blend of peanut butter and chocolate in a low carb package that you can have ready to go in less than 2 minutes.

How to Make Peanut Butter and Chocolate Keto Mug Brownies
Making these mug brownies is quick and easy. It should only take about one minute to prep your batter and then an extra minute to microwave your brownie.
Whisk the egg and Stevia. Add a single large egg and a low carb sweetener like Stevia into a small bowl and whisk together.
Add the peanut butter. Add the creamy natural peanut butter (ensure you're using a brand with no salt, sugar, or palm oil added) and mix to combine. Add the cocoa powder after.
Fold. Fold in the sugar free dark chocolate chips.
Microwave. Divide the mixture between 2 microwave-safe ramekins and microwave on high for 50-60 seconds or until a toothpick inserted into the center comes out clean.
Serve. Serve warm.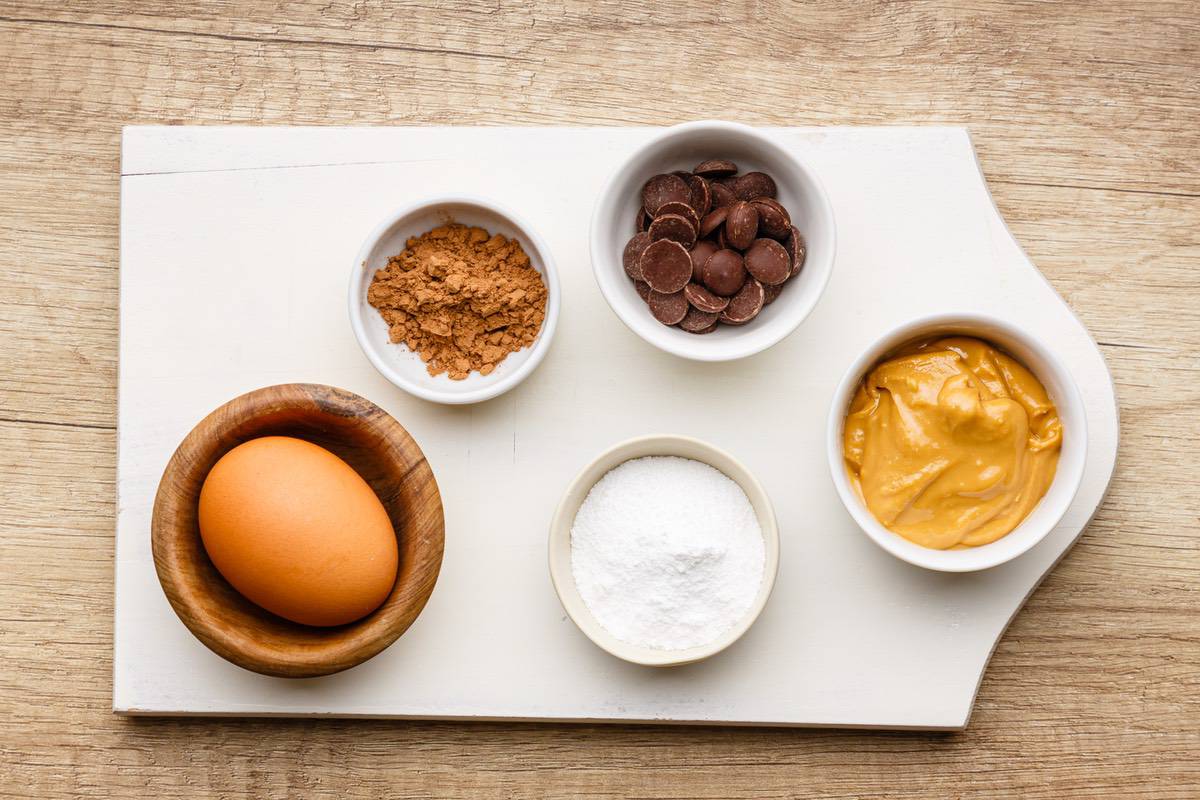 How to Keep Your Mug Brownies Moist and Gooey
Since you're making these mug brownies in the microwave, here are some tips to make sure that your mug brownies are always turning out perfectly moist and gooey:
If your mug brownies are constantly turning out dry, then you may want to consider adding a single tablespoon of water on top of the mug cake mixture before microwaving. It will evaporate while cooking, adding a bit of extra moisture to the brownie.
If your mug brownies are coming out of the microwave and they're still wet, then keep microwaving them in 5-10 second intervals until the brownie is only slightly sticky. It should also still look a little bit wet in the center.
Are Keto Mug Brownies Healthier than Regular Brownies?
Even though I wouldn't recommend eating 3 or 4 keto mug brownies per day, they're still a healthier option than regular brownies. Here are a just a handful of reasons why:
Lower in both calories and carbs
Rich source of heart healthy dietary fats
Provides a modest amount of protein
Proven antioxidant benefits
Can I Bake This Mug Brownie Instead?
Unfortunately, mug brownie recipes can't really be easily adapted into brownies that you can bake.
With that being said, if you're dead set on baking your own brownies (and keeping them low carb and keto-friendly), then this list of 13 fudgy keto brownie recipes is exactly what you're looking for.
(You may also like: Fudgy Keto Cream Cheese Brownies)
Print Recipe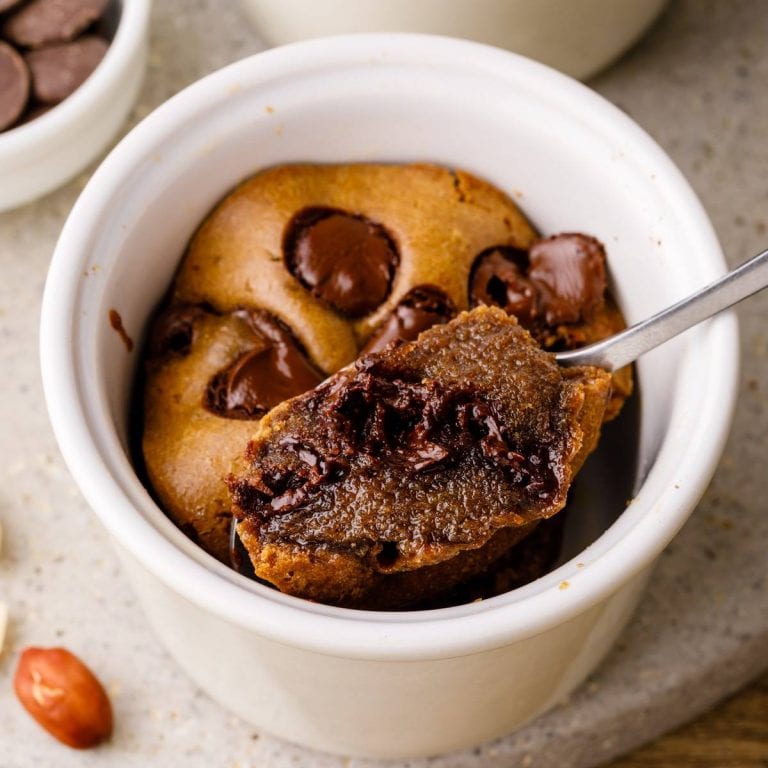 Gooey Peanut Butter and Chocolate Mug Brownies (Keto-friendly)
Author: Bree
Prep Time:

1 minute

Cook Time:

1 minute

Total Time:

2 minutes

Yield:

2

1

x
Scale
3 tbsp

creamy natural peanut butter no salt, sugar or palm oil added

1/2 tbsp

unsweetened cocoa powder

1

large egg

2 tbsp

granulated Stevia or other low carb sweetener 

1 ½ tbsp

sugar free dark chocolate chips
In a bowl whisk the egg and sweetener. 

Add the peanut butter and mix to combine. 

Add the cocoa powder and mix to combine. 

Fold in the chocolate chips. 

Divide the mixture between 2 ramekins. 

Microwave on high for 50-60 seconds. 

Serve warm. 
FREE KETO RECIPES + 5-INGREDIENT KETO COOKBOOK

Make sure to sign up for free to get instant access to the 5-Ingredient Keto Cookbook, which includes my favorite 20+ keto recipes of all-time, all under 5 ingredients.