Keto Recipes
Thick Cut Teriyaki Keto Beef Jerky (Easy Oven Baked Recipe)
In this recipe, you'll learn how to make the best homemade oven baked keto beef jerky, including- the marinade recipe and how to make beef jerky in the oven without completely drying it out. If you've never had homemade beef jerky before you are seriously missing out! See how easy it is and you'll never want to buy store-bought jerky again.

How to Make Keto Beef Jerky In the Oven (+ Why It's Better Than a Dehydrator)
Making your own beef jerky at home is as easy as popping it into the oven for a few hours until you reach your desired texture.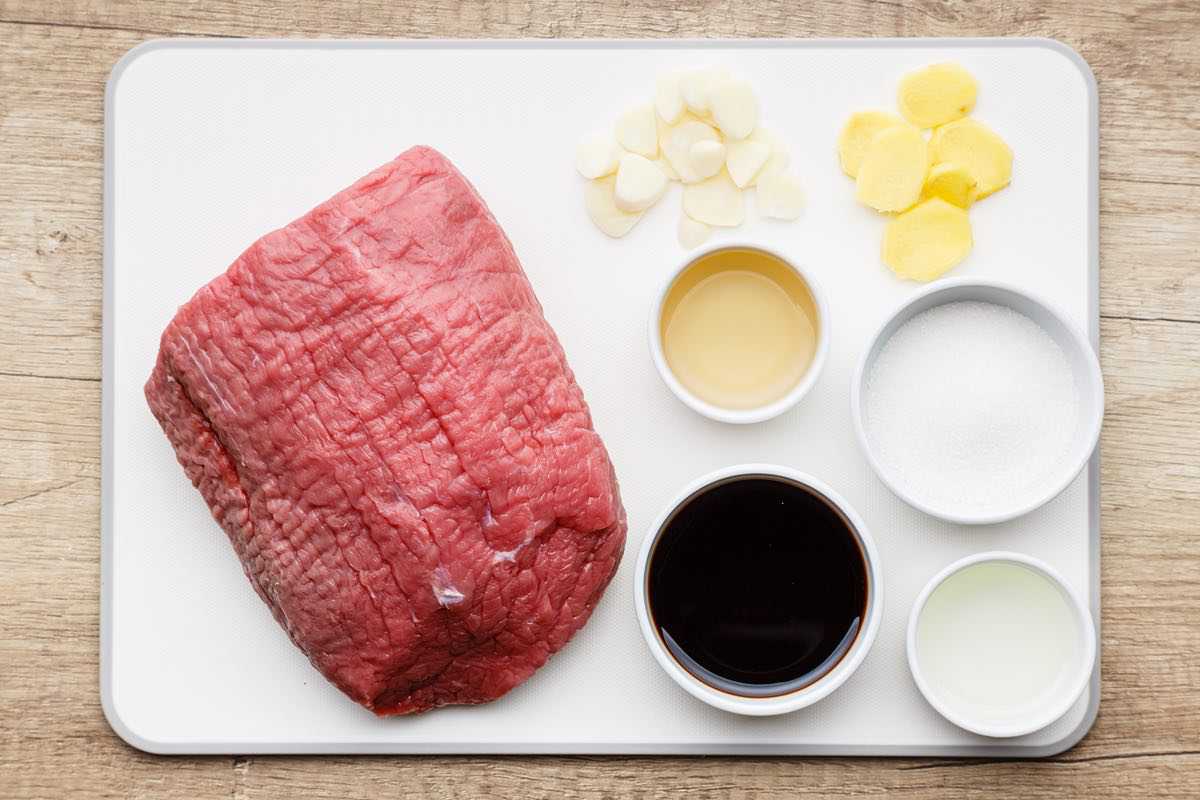 Dehydrators, while effective at dehydrating everything from meats to fruits and vegetables, can be pricey and bulky to store. If you only need it every 6 months or once a year, you are better off with using your standard oven.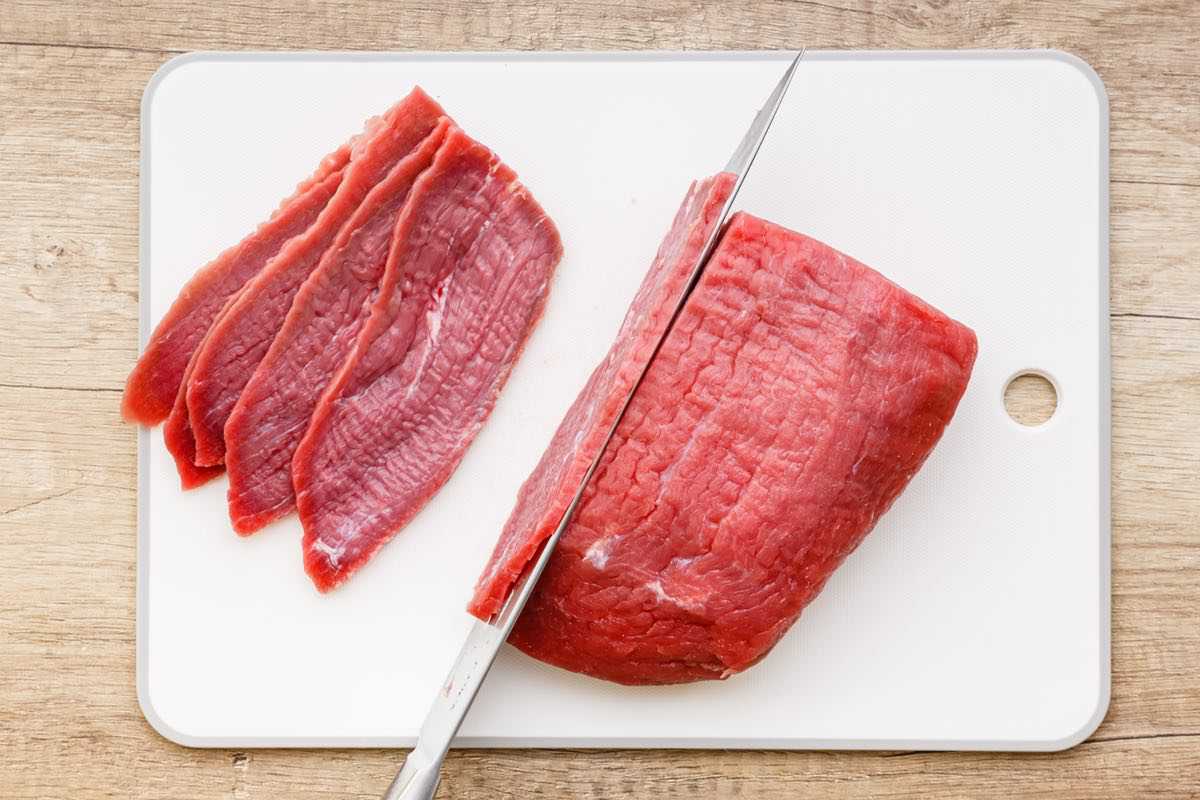 Ovens also give you more control over the process. This can help prevent the meat from spoiling before it is fully dried. Also, some ovens already come with a dehydrator setting.
The Best Cuts of Beef to Use for Homemade Beef Jerky
Leaner cuts of beef are preferred for making homemade beef jerky because you don't have to trim off the fat anymore when preparing the meat. Here are some of the preferred cuts:
Top Round – a lean cut that's cut from the rump and hind legs of the cow and considered one of the tastiest cuts of beef
Flank – taken from the stomach of the cow but may be tougher than the top round cut depending on how it's cut
Sirloin – another tasty cut and a good balance of flavor and texture, making it ideal for beef jerky
Note: For tougher, chewier beef jerky, make sure to slice your meat in the same direction as the grain or with the grain. For more tender beef jerky, slice your meat against the grain, cutting across the fibers.
Low Carb Beef Jerky Marinade Alternatives
Your seasoning and marinade are everything when it comes to beef jerky. Most times, you can even get away with an average cut of beef if your flavors are on point. Here are some of my favorite combos:
chipotle lime beef jerky
garlic black pepper beef jerky
beef jerky with habanero
hickory smoke beef jerky
island woodfire-flavored beef jerky
When using store-bought marinades, make sure to watch out for ingredients like high fructose corn syrup, refined sugar or honey, as these add to the overall carb content of the marinade.
If the marinade is sweetened with Stevia, it's still considered low carb and should be fine.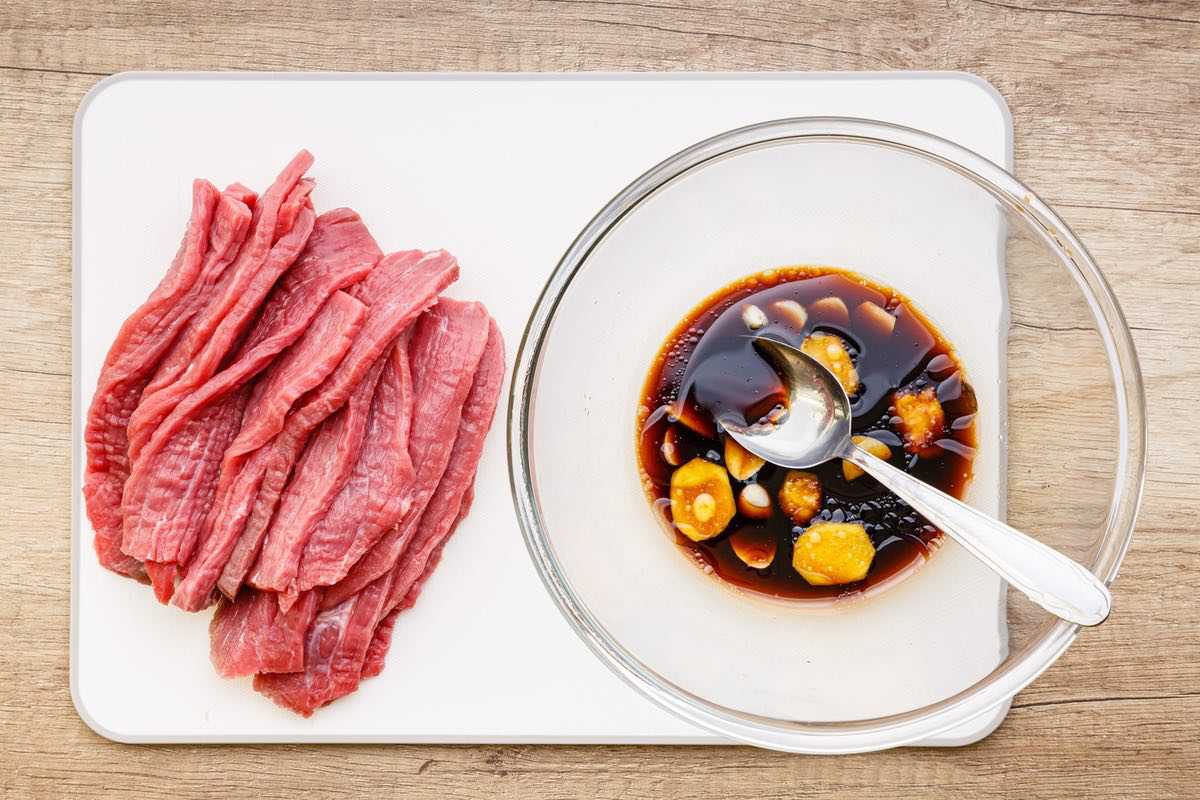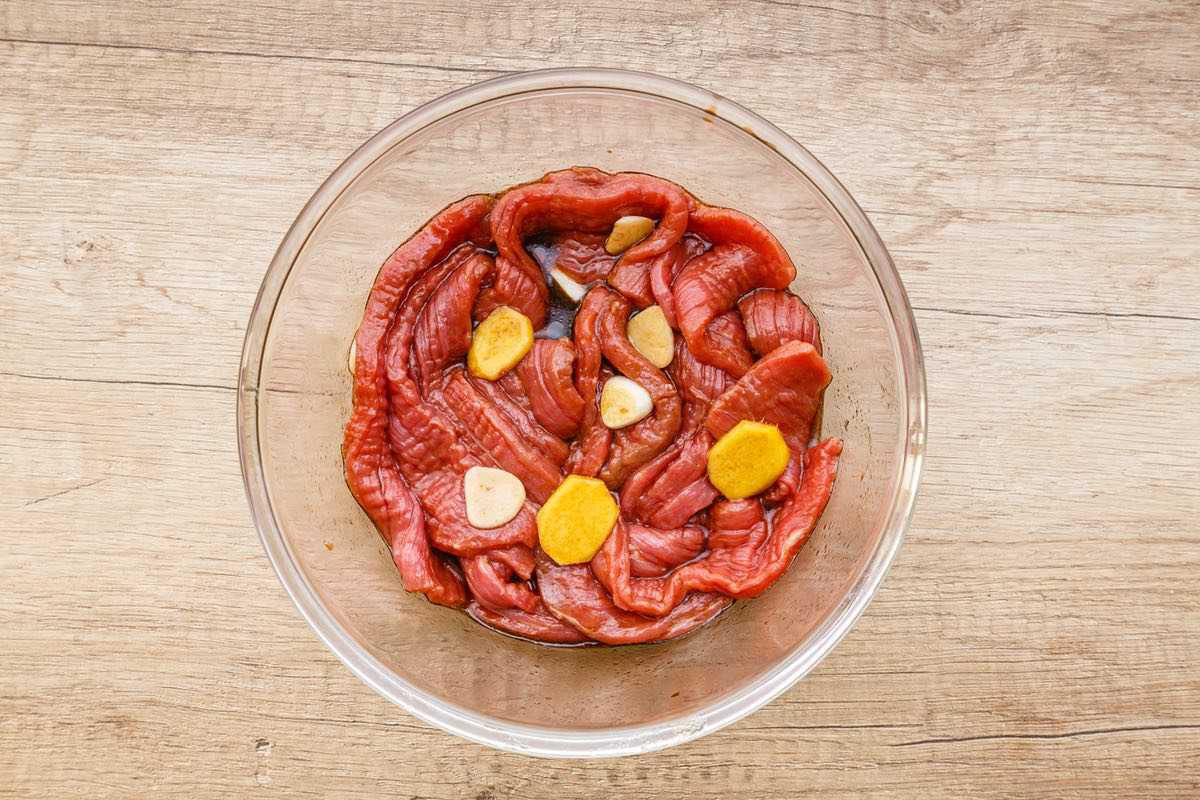 Is All Beef Jerky Keto-Friendly? (Ingredients to Avoid)
If you make your own beef jerky at home, it's easy to make it keto-friendly since you're in control of the ingredients.
However, be sure to keep an eye out for these ingredients when using store-bought marinades because you could be adding a lot of carbs to your jerky without realizing it.
High fructose corn syrup/refined sugar/honey – These are added to marinades to sweeten the beef jerky while also helping to give it that darker brown color, but they do add carbs so add sparingly, if at all. If you can, use the all-natural sweetener, Stevia instead.
Lemon juice or lime juice – Adding some lemon juice or lime juice for flavor is definitely an option, but be sure to not add too much as it could make the meat tough and dry. Also, straight lemon or lime juice is recommended, not lemon or lime syrups as these are loaded with sugar.
Monosodium Glutamate (MSG) – Monosodium Glutamate (MSG) is a common additive in many marinades because of its flavor enhancing properties, but it has been shown to have toxic effects. (1) Avoid it when you can because you really don't need it.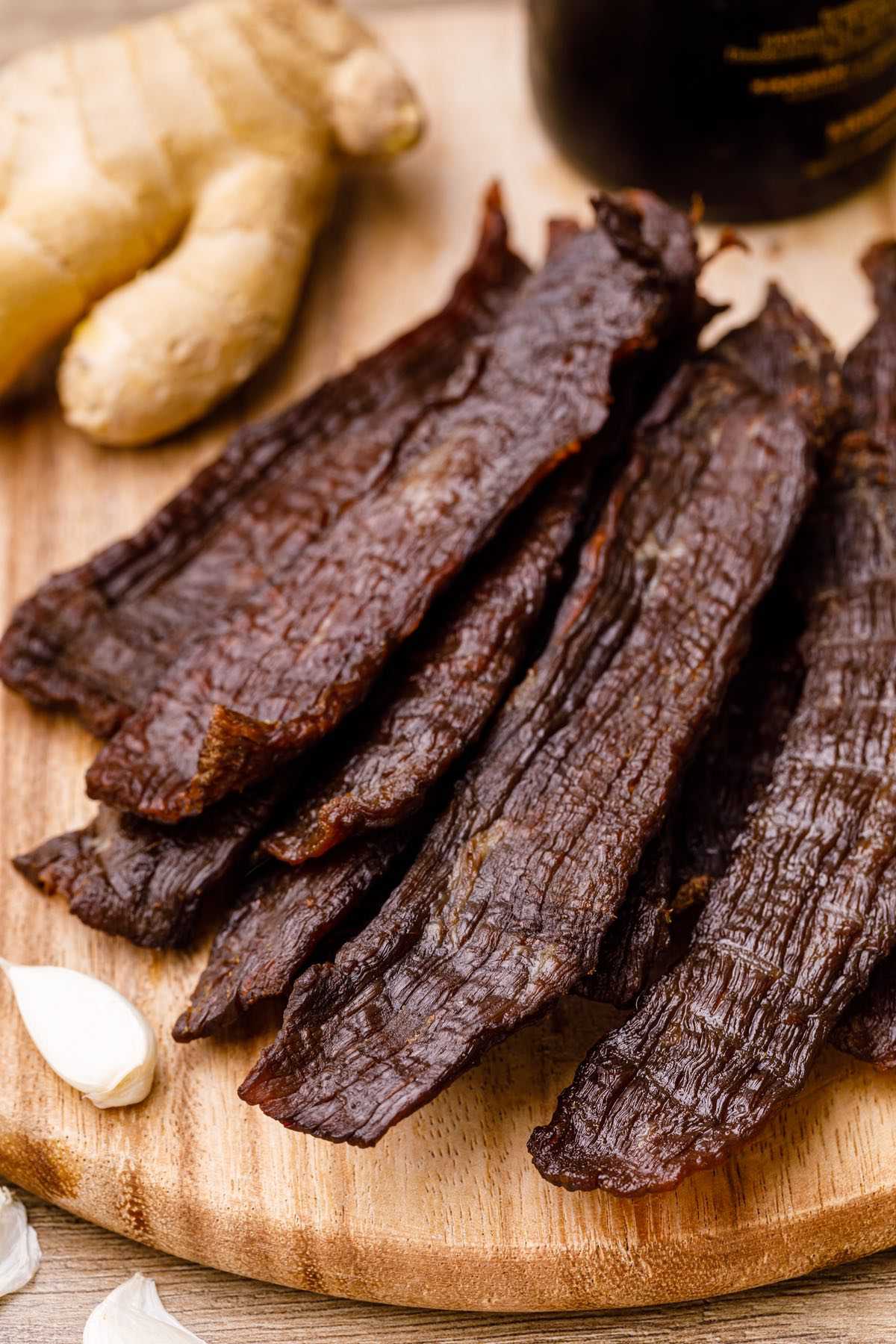 Print Recipe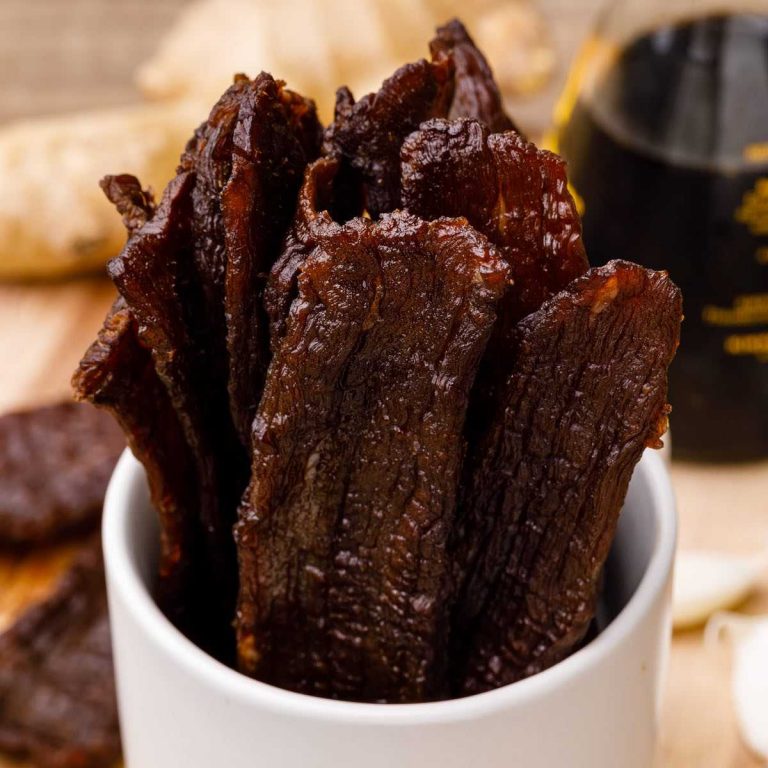 Thick Cut Teriyaki Keto Beef Jerky (Easy Oven Baked Recipe)
Author: Bree - KetoPots.com
Prep Time:

15 minutes

Cook Time:

6 hours

Total Time:

6 hours, 15 minutes

Yield:

1

6

1

x
Scale
1

pound lean beef, cut into

¼

inch thick strips 

1 tbsp

sesame oil 

4 tbsp

soy sauce 

2

garlic cloves, sliced 

1

inch fresh ginger, peeled and sliced 

3 tbsp

sugar free, unseasoned rice vinegar 

2 tbsp

granulated low carb sweetener of choice 

salt, black pepper to taste
In a bowl combine the sesame oil, soy sauce, rice vinegar, garlic, ginger,  sweetener and salt and black pepper to taste. 

Add the steak and toss until the steak is evenly coated.

Cover and marinate in the refrigerator for 8 hours or overnight. 

Preheat oven to 175°F.

Line a baking sheet with aluminum foil and place a wire rack over the foil.

Lay the beef strips out in a single layer on the wire rack. 

Bake the beef in the preheated oven until dry, about 5 to 6 hours. 

Remove from the oven and allow to cool completely. 

Transfer in a container and refrigerate for up to 1 month.
3 Best Keto Beef Jerky Brands to Buy If You Don't Want to Make It Yourself
Strive Original Sliced Bittong Beef Jerky – Per serving (28 grams): 0 grams carbs, 16 grams protein
For high quality beef jerky made with no-nonsense ingredients, Strive is my brand of choice. Their biltong beef jerky is made with 100% premium grade beef that's all-natural and free of nitrates and preservatives, unlike so many other beef jerky brands on the market.
The biltong way is a process of preserving meat that's been around for centuries, and is their secret to tender, flavorful beef. There's no junk, and no sugar–an ideal keto-friendly beef jerky option. One bite and you'll be able to taste the difference between regular beef jerky and premium quality beef jerky that's actually good for you.
Keto Carne Beef Jerky – Per serving (28 grams): 0 grams carbs, 16 grams protein
When it comes to beef jerky, Keto Carne understands just how important it is to use top-tier beef. Their products contain minimal ingredients, containing just beef, seasonings, and water because well… that's all you really need to make excellent beef jerky. No need for added extenders and fillers. The extra fat and marbling on the beef gives it that rich flavor that pays off in spades.
Chomps Beef Sticks – Per serving (32 gram/stick): 0 grams carbs, 9 grams protein
Simple and straightforward, Chomps beef sticks are an excellent choice for those who are looking for quality jerky without the strong seasonings–just pure, unadulterated beef flavor. They have everything from the milder, more classic beef sticks to the spicier variants that make on-the-go high protein snacks more convenient and palatable.
P.S. If you're looking for more easy homemade keto beef jerky recipes and teriyaki isn't your thing, take a look at these great low carb beef jerky recipes:
FREE KETO RECIPES + 5-INGREDIENT KETO COOKBOOK

Make sure to sign up for free to get instant access to the 5-Ingredient Keto Cookbook, which includes my favorite 20+ keto recipes of all-time, all under 5 ingredients.