Keto Recipes
Mozzarella Stuffed Keto Meatballs with Homemade Marinara Sauce
My go-to recipe for get-togethers is this keto mozzarella stuffed meatball recipe because, well, who wouldn't want to make these when it's so easy? Plus, everyone loves it! Here's my super simple recipe.
How to Make Mozzarella Stuffed Keto Meatballs
Preheat the oven to 400 degrees Fahrenheit.
Make the meatballs. Combine your ground meats, seasonings, herbs and Parmesan cheese, of course. Mix well to combine.
Form the meatballs. Each meatball should be about 2 tablespoons in size.
Add the cheese. Press a cube of cheese into each meatball and cover the cheese cube completely in the meatball mixture.
Place the meatballs on the baking sheet.
Bake. Bake for 20-25 minutes or until the meatballs are cooked through.
Make the marinara sauce. In a saucepan, saute the garlic and onion, then add the crushed tomato, dried oregano and dried basil. Simmer until it thickens, about 20 minutes.
Remove the meatballs from the oven.
Toss the meatballs in the marinara sauce. Coat each meatball in the marinara sauce. Season with salt and pepper to taste.
Serve!
Low-Carb Pasta Alternatives That Pair Well with Mozzarella Stuffed Meatballs
Zucchini Noodles
Spaghetti Squash
Shirataki Noodles
Can You Make Keto Meatballs Without Breadcrumbs?
Yes! There are a lot of substitutes out there, but for this particular recipe we'll be using cheese as a substitute.
Parmesan cheese melts at a higher temperature compared to other types of cheese with a higher moisture content, so it acts like breadcrumbs for this recipe.
Other Ground Meats You Can Use for Meatballs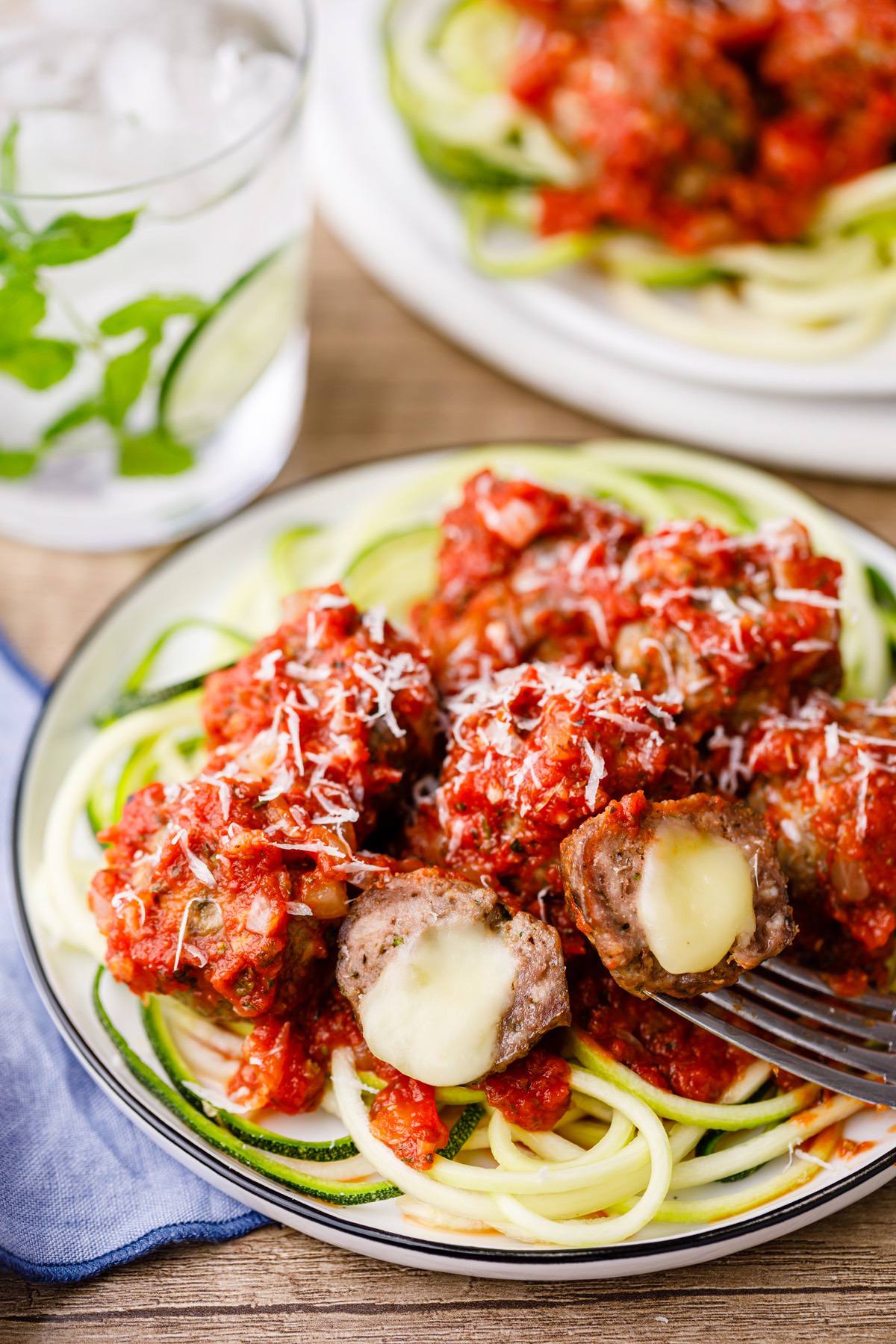 Can You Freeze Meatballs?
Yes, absolutely! I almost always have a batch or two of this in the freezer because it's such a filling dish, and it goes with a lot of side dishes.
It's always best to freeze different components of a dish separately, but there shouldn't be a problem if you freeze the meatballs and sauce together.
Best Way to Store Mozzarella Stuffed Meatballs with Marinara Sauce
Just store in an airtight container once completely cooled, but do keep them in portioned containers so you don't have to thaw and reheat the entire batch. When frozen, this dish can keep for up to 2 months.
More OMG-worthy Keto Meatball Recipes You'll Love
Keto Spaghetti and Meatballs – This recipe isn't mozzarella stuffed, but it's an equally satisfying spin on an old classic.
Keto Crockpot Swedish Meatballs – This warm and comforting dish has everything you'd want in a meatball recipe: a flavorful protein coupled with a deliciously creamy sauce.
Keto Sausage Balls – I think this is one of the first recipes I got hooked on when I transitioned to keto, and you'll see why: incredible flavor and so filling, too!
Print Recipe
Mozzarella Stuffed Keto Meatballs with Homemade Marinara Sauce
Author: Bree - KetoPots.com
Prep Time:

15 minutes

Cook Time:

30 minutes

Total Time:

45 minutes

Yield:

6

1

x
FREE KETO RECIPES + 5-INGREDIENT KETO COOKBOOK

Make sure to sign up for free to get instant access to the 5-Ingredient Keto Cookbook, which includes my favorite 20+ keto recipes of all-time, all under 5 ingredients.
Scale
For the meatballs: 
1

pound lean ground beef

½

pound lean ground pork 

2 tsp

Italian seasoning

1 tsp

garlic powder 

1 tsp

onion powder 

¼ cup

freshly grated Parmesan

1 tbsp

chopped fresh parsley

12 oz

mozzarella cheese, cut into small cubes

salt and black pepper to taste 
For the sauce: 
1 tbsp

olive oil 

14 oz

crushed tomato

½

medium onion, chopped 

2

garlic cloves, minced

½ tsp

dried basil

¼ tsp

dried oregano

salt and black pepper to taste
Preheat your oven to 400°F.

Line a baking sheet with parchment paper. 

To make the meatballs, in a bowl place the ground beef, ground pork, Italian seasoning, Parmesan, parsley, garlic powder, onion powder and salt and black pepper to taste. 

Mix to combine. 

Form the meatballs into 2 tablespoons sized balls. 

Press 1 cube of cheese into each meatball, covering cheese completely. 

Place the meatballs on the prepared baking sheet.

Bake in preheated oven for 20-25 minutes or until fully cooked through.

To make the sauce, in a large skillet, heat the olive oil over medium heat. 

Add the onion and cook for 5 minutes. 

Add the garlic and cook for 30 seconds. 

Add the crushed tomato, dried oregano and dried basil. 

Simmer over low heat for 20 minutes or until thicken to your liking. 

Remove the baking sheet from the oven. 

Add the meatballs to the skillet and toss to coat.

Remove the skillet from the heat. 

Season to taste with salt and black pepper. 

Serve with zucchini noodles.