Keto Recipes
Protein-Packed Low Carb Oatmeal (Keto-friendly Oatmeal Substitute)
When it comes to keto breakfast options, you can't go wrong with some protein-packed low carb oatmeal. The recipe uses a variety of healthy, keto approved ingredients to make one incredibly nourishing meal that's perfect for those mornings where you're in a hurry.
How to Make Low Carb 'Oatmeal'
You'll first need to mix together all of your oatmeal ingredients before refrigerating the mixture overnight before you can enjoy this tasty low carb breakfast.
Combine the ingredients. Add the hemp seeds, ground flaxseed, chia seeds, unsweetened shredded coconut, a low carb granulated sweetener like Stevia, hot water, and unsweetened almond milk to a bowl and mix to combine.
Refrigerate. Refrigerate overnight.
Serve. Serve with your favorite toppings.
What If I Didn't Soak the Ingredients Overnight?
The preferred way to make this oatmeal is to mix everything together and allow it to soak overnight in the fridge. This way you'll have a ready made breakfast all ready to go first thing in the morning.
With that being said, if you forgot to do the prep work the night before or you're just in a hurry to whip up a healthy breakfast in the morning, you can also make this recipe and then quickly warm it up in the microwave to make a more traditional hot bowl of oatmeal.
That's the great thing about keto recipes like this one. You can modify them quite easily to suit your dietary preferences!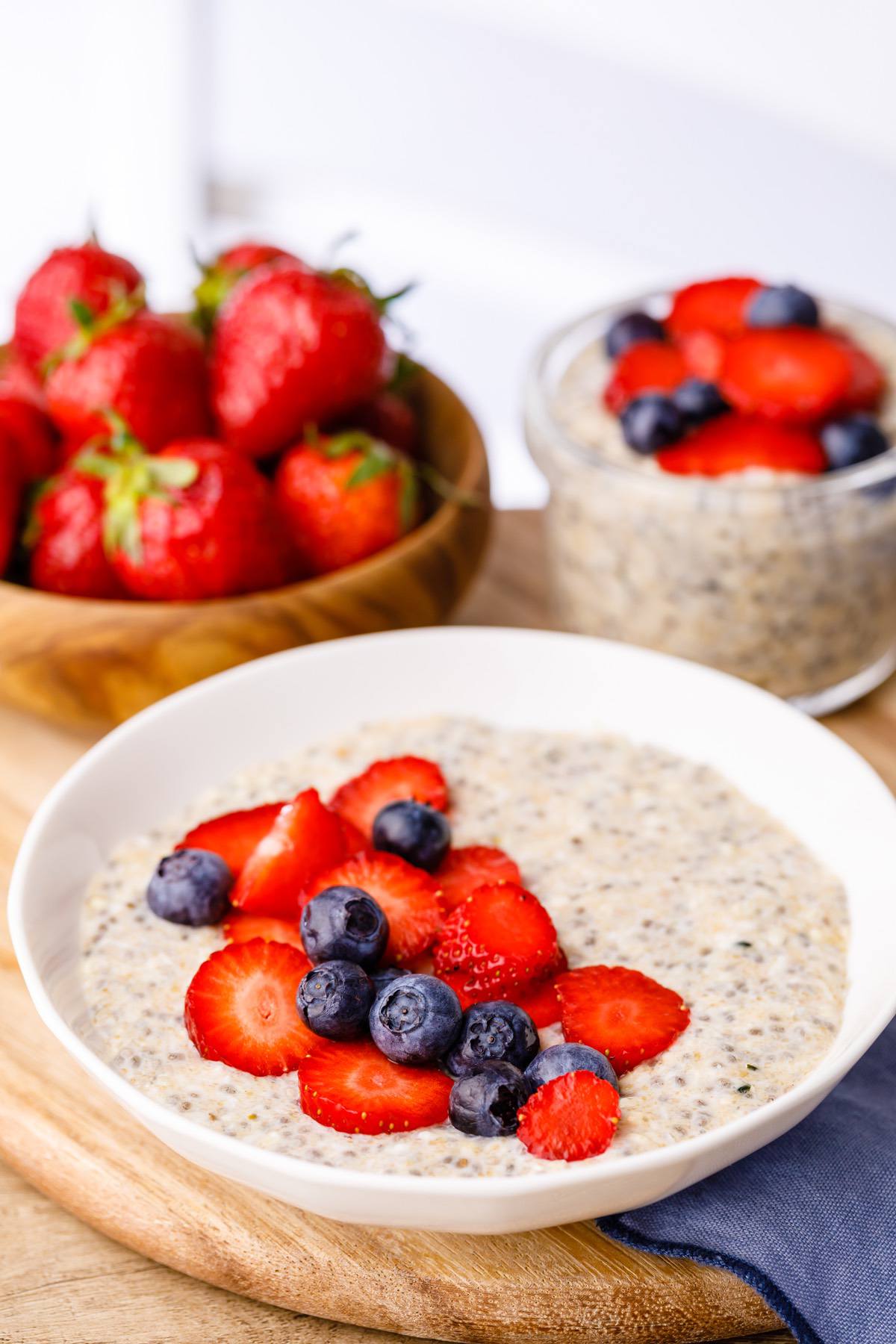 Why Low Carb Oatmeal Substitutes Are Good for You
This oatmeal recipe doesn't just provide you with an impressive amount of protein. It also offers up some fantastic health benefits as well. Here are 2 reasons why this oatmeal is so good for you:
Excellent source of omega-3 fatty acids. Many of the ingredients used in this oatmeal mixture are excellent sources of heart healthy omega-3 fatty acids. Chia seeds, flaxseeds, and hemp seeds are all great sources of this essential dietary fat, which has been proven to relieve inflammation, protect against heart disease, and more. (1)
Excellent source of dietary fiber. Along with an outstanding amount of protein and fat, the two main keto macros, this oatmeal recipe also provides you with a great amount of dietary fiber as well. Dietary fiber helps with everything from normalizing bowel movements, to protecting against certain types of cancer, to helping to improve overall digestion. (2)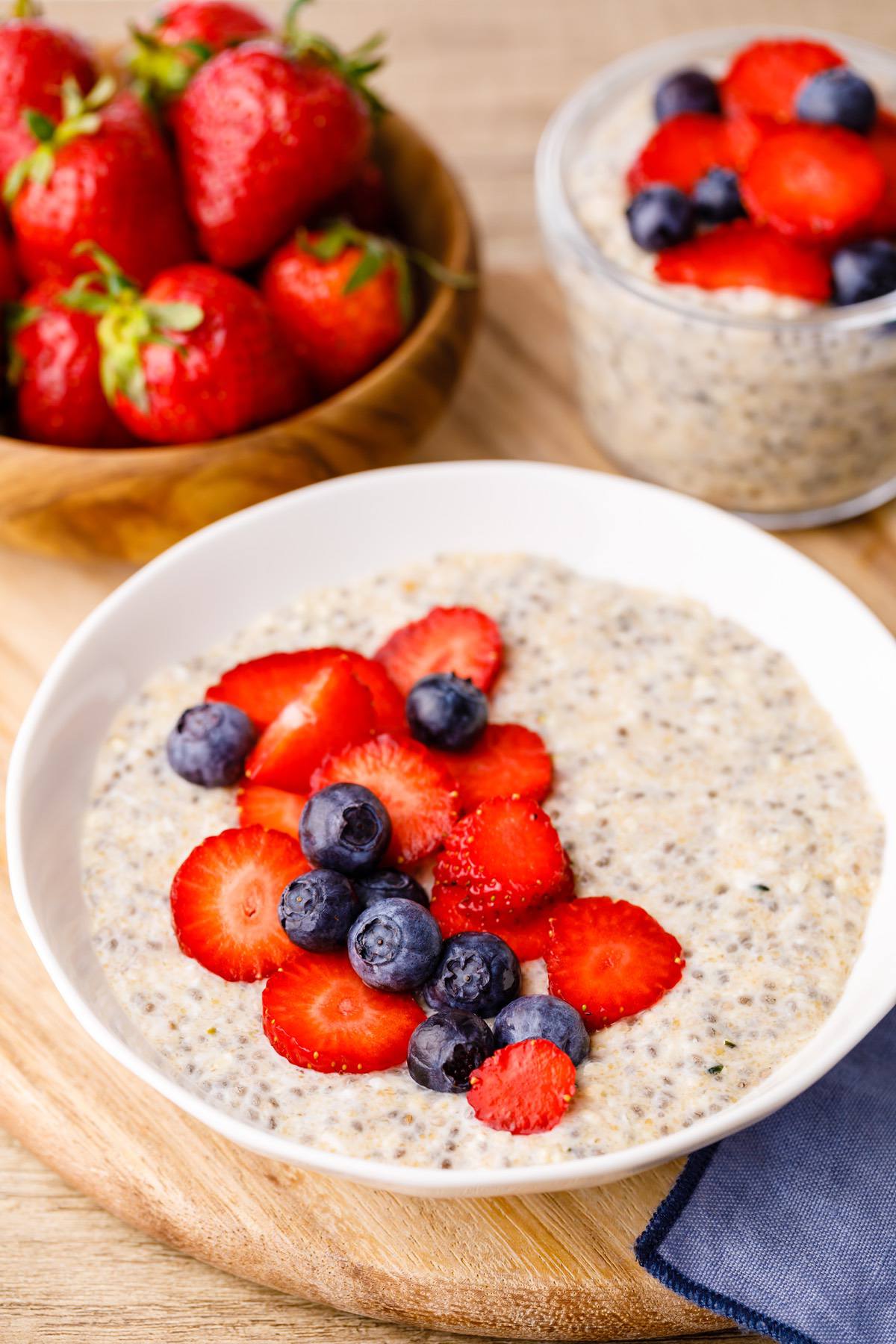 What Kind of Toppings Can I Serve With This Keto Oatmeal Substitute?
Wondering what to add to your keto oatmeal for toppings? Here are a few of our top keto approved suggestions:
Fresh berries (blueberries, raspberries, blackberries)
Chopped nuts (walnuts, pecans, almonds)
Greek yogurt
(You may also like: Maple Pecan Keto Oatmeal)
(More breakfast ideas: 62 Easy and Crave-worthy Keto Breakfast Ideas)
Print Recipe
Protein-Packed Low Carb Oatmeal (Keto-friendly Oatmeal Substitute)
Author: Bree
Prep Time:

5 minutes

Total Time:

5 minutes

Yield:

1

1

x
Scale
2 tbsp

hemp seeds 

2 tbsp

ground flaxseed

2 tbsp

chia seeds

2 tbsp

unsweetened shredded coconut

2 tbsp

granulated Stevia or other low carb granulated sweetener 

½ cup

hot water

½ cup

unsweetened almond milk
In a bowl combine all the ingredients. 

Refrigerate overnight. 

Serve with your favorite toppings.
FREE KETO RECIPES + 5-INGREDIENT KETO COOKBOOK

Make sure to sign up for free to get instant access to the 5-Ingredient Keto Cookbook, which includes my favorite 20+ keto recipes of all-time, all under 5 ingredients.