Keto Recipes
Low Carb Keto Granola Bars That Don't Suck
No, your eyes are not deceiving you. This really is a healthy keto granola bar recipe that doesn't suck! In fact, not only do these granola bars not suck, they also might be the best-tasting keto granola bar that you will ever have. If you are wondering how such a thing is possible, then read on. There's a fantastic combination of yummy ingredients that go into making these granola bars so darn good. There's a mix of healthy seeds, almonds, hazelnuts, coconut, dark chocolate, cinnamon, and so much more.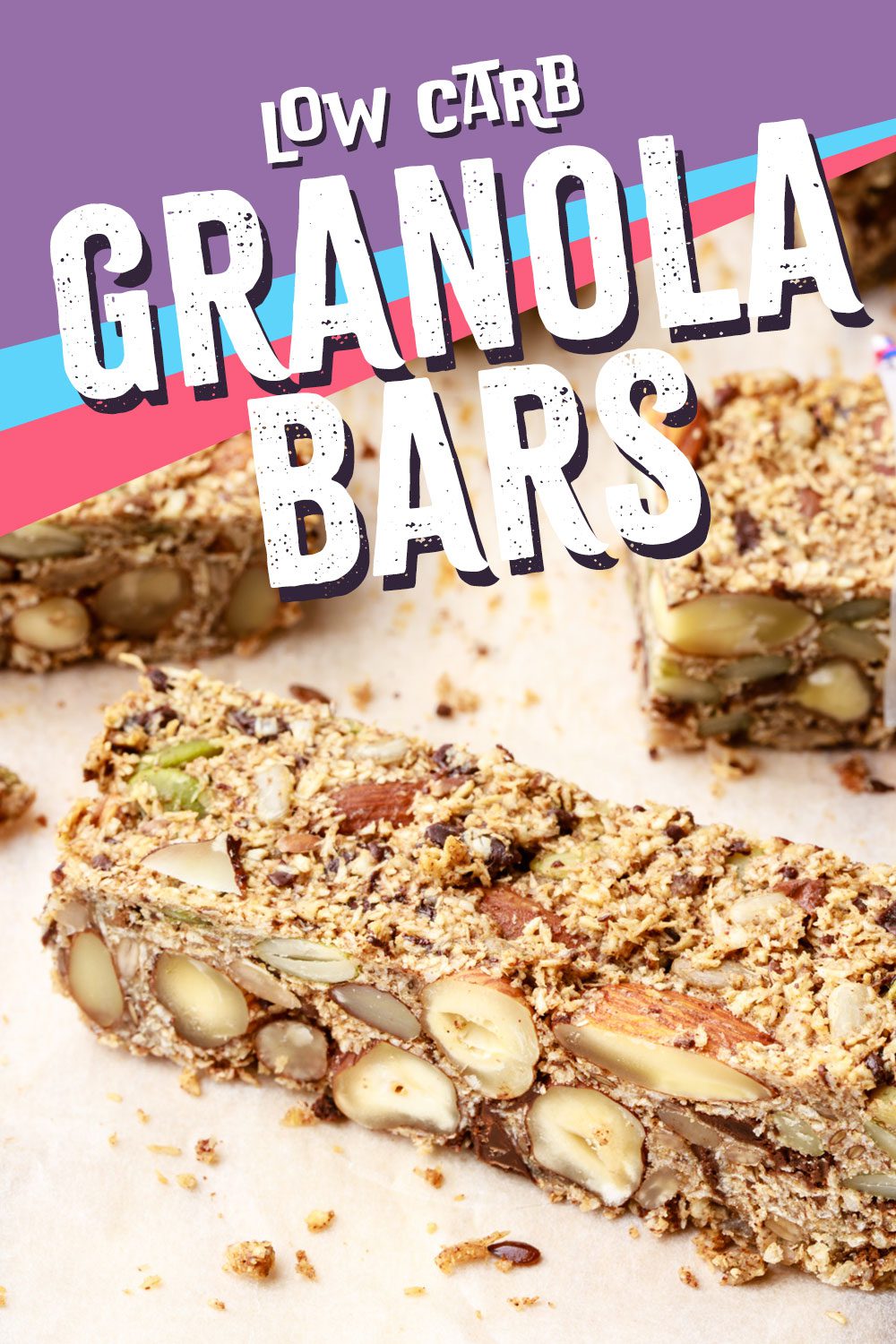 If you're looking for more options for a low carb breakfast, try these homemade keto protein bars and these strawberry banana breakfast bars.
---
How to Make Low Carb Keto Granola Bars
In order to demonstrate just why these low carb keto granola bars are so good, I thought it would be a good idea to take a closer look at some of the specific ingredients that go into them.
Hazelnuts – These are some of my favorite nuts to snack on. They taste amazing, they're full of heart healthy fats, and they're also high in vitamins and minerals. Interestingly enough, studies have also found that regular consumption of hazelnuts can assist with healthy aging and keeping your memory sharp. (1)
Almonds – My other favorite nut to enjoy as a healthy snack, I could easily enjoy almonds every day for the rest of my life. It's a good thing too, as they are absolutely packed full of fiber, protein, healthy fats, vitamins, and minerals.
You may also like: 5-Ingredient Keto Clusters
---
Almonds are also proven to lower your blood cholesterol levels, making them an important food in helping to prevent heart disease. (2)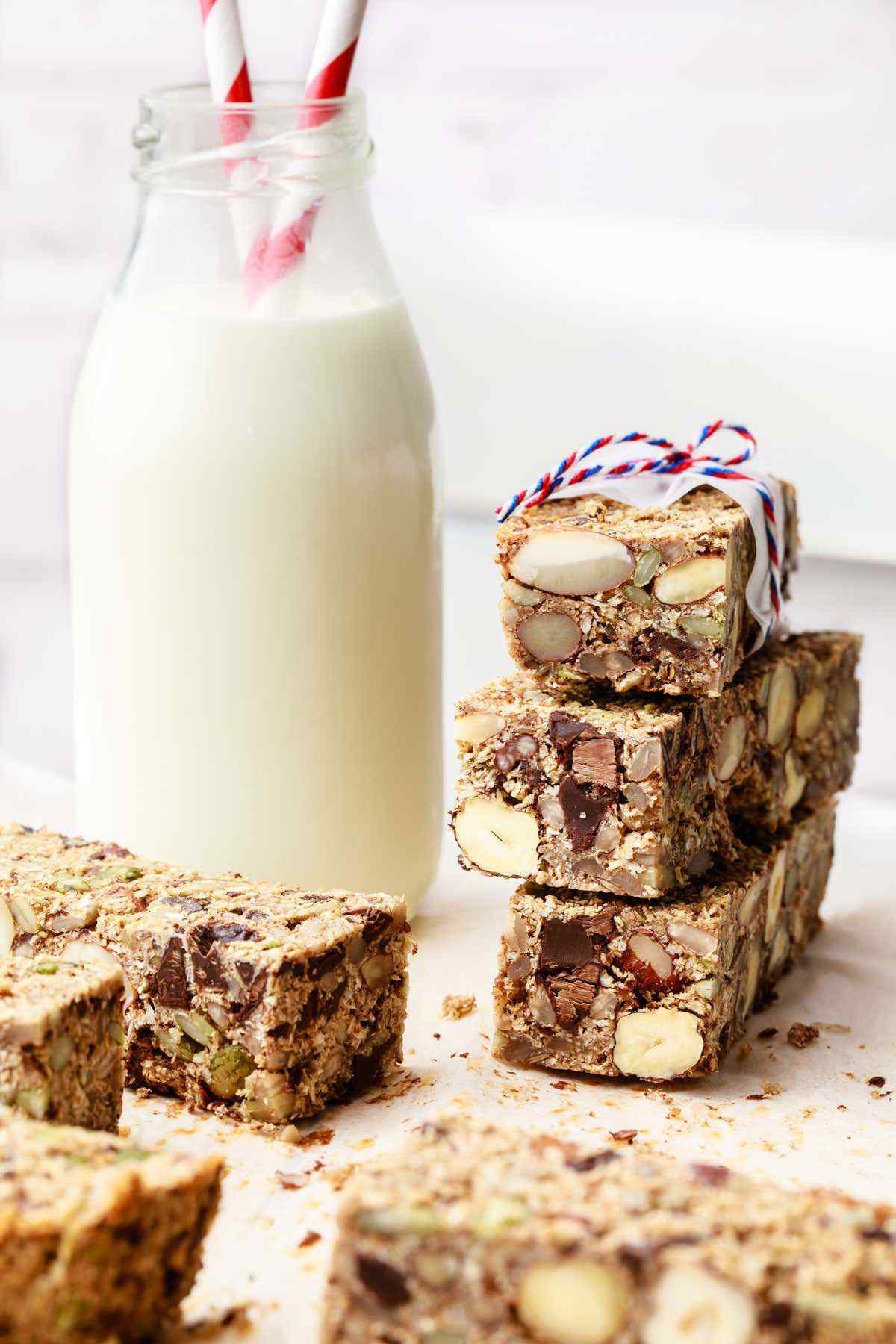 Pumpkin Seeds, Sunflower Seeds, & Flax Seeds – Just like the almonds and hazelnuts, this trio of plant seeds all offer some excellent benefits for your cardiovascular health by providing plenty of fiber, omega-3 fatty acids, and other essential nutrients. (3) They are also just plain yummy as well, and go a long way in helping to make sure these granola bars don't suck!
Coconut – Adding shredded coconut flakes shouldn't surprise anyone who has been eating keto for any length of time, as it's super easy to add coconut to just about everything to both improve the taste and add more healthy fats.
Not only do the coconut flakes help to boost the taste of your granola bars even more, but they also add even more cholesterol-lowering health benefits as well. (4)
Dark Chocolate – Now we're really getting to the good stuff going into these granola bars. If you're a fan of chocolate, you'll be happy to see that these bars include two ounces of dark chocolate, which keeps them 100% sugar free. It also adds a solid amount of antioxidants and other great cardiovascular benefits. (5)
---
Cinnamon – I told you guys from the beginning that these granola bars would taste great, and adding a little bit of cinnamon spice on top of everything else mentioned virtually guarantees it.
In addition to tasting great, cinnamon also keeps with the underlying "healthy granola bar" theme by being an excellent food for fighting inflammation within your body as well, helping to reduce your risk of chronic disease. (6)
In addition to all of these fantastic ingredients I've already mentioned, there are also a few 'wet' ingredients that you'll be mixing in as well. You'll be needing some melted coconut oil, natural peanut butter, and two eggs, all of which add even more great healthy fats and flavor to these granola bars.
I'm sure you can already tell by this point that these low carb granola bars came out fabulously. They're perfect for enjoying for a quick and healthy breakfast or as an afternoon snack when you're feeling like you need a "pick me up".
P.S. If you're looking for a high fat, high energy protable keto breakfast or snack to help keep you in ketosis, you need to try these incredibly good cinnamon roll keto fat bombs: https://ketopots.com/keto-cream-cheese-cinnamon-roll-fat-bombs
---
Print
Print Recipe
Low Carb Keto Granola Bars
Author: Bree
Prep Time:

10 minutes

Cook Time:

15 minutes

Total Time:

25 minutes

Yield:

1

6

1

x
Category:

Snack

Cuisine:

American
Scale
3 oz hazelnuts
3 oz almonds
2 oz pumpkin seeds
2 oz sunflower seeds
1 tbsp flaxseeds
2 oz unsweetened finely shredded coconut
2 oz sugar free dark chocolate, chopped
1 ¼ tsp ground cinnamon
pinch of salt

6 tbsp coconut oil, melted
4 tbsp natural peanut butter (or almond butter), at room temperature
1 tsp vanilla extract
2 eggs
Preheat the oven to 350°F.
Line an 8×8 inch baking pan with parchment paper and set aside.
In a bowl place the almonds, hazelnuts, pumpkin seeds, sunflower seeds, flaxseeds, finely shredded coconut, chopped chocolate, cinnamon and pinch of salt and mix to combine.
In another bowl combine the eggs, peanut butter, coconut oil and vanilla extract.
Add the wet ingredients to the dry ingredients and mix well using your hands.
Pat the mixture evenly into the prepared pan.
Bake in preheated oven for 15-20 minutes or until golden brown.
Let cool in pan for 5 minutes before removing to a wire rack.
Allow to cool completely before slicing.
Keep the bars in an airtight container in the refrigerator.
FREE KETO RECIPES + 5-INGREDIENT KETO COOKBOOK

Make sure to sign up for free to get instant access to the 5-Ingredient Keto Cookbook, which includes my favorite 20+ keto recipes of all-time, all under 5 ingredients.