Keto Foods
13 Fudgy Keto Brownies Recipes and Store-bought Brownie Mixes
If you've suddenly become bored with keto cookies or fat bombs as a way to satisfy your sweet cravings on a lower carb diet, keto brownies to the rescue. In this post, you'll find links to some great tasting ready-to-eat brownies, as well as links to recipes that are sure to delight your taste buds while adding variety to your keto baking. Whether you prefer fudgy, dense, light, or cake-like, we've got the best brands to try for keto brownies and the tastiest recipes to prepare to add a dose of deliciousness to your life.

13 Save-worthy Keto Brownie Recipes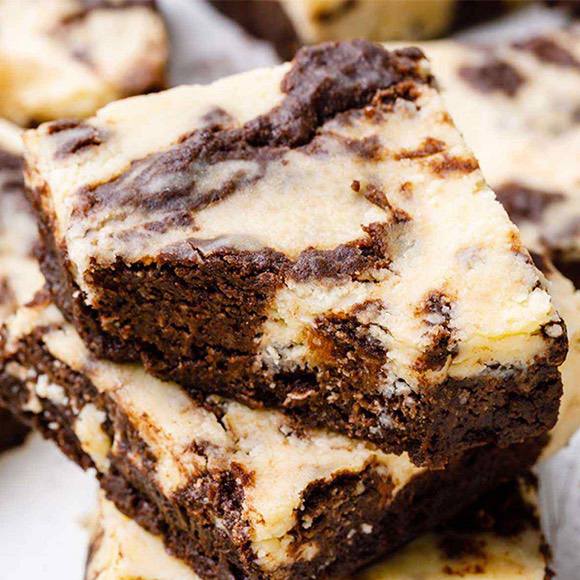 Fudgy Keto Cream Cheese Brownies (4g net carbs/serving)
What could be better than super duper fudgy keto cream cheese brownies? If you want to take things up a notch, within the recipe you'll find suggestions for so yummy option tweaks and toppings, too.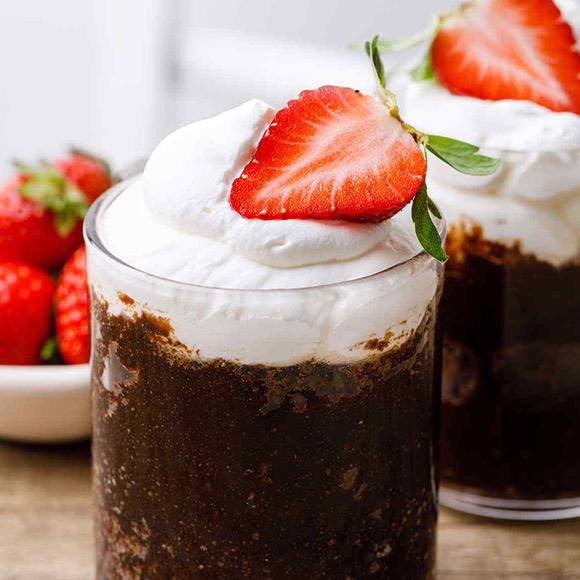 90 Second Keto Mug Brownies (6.1g net carbs/serving)
If you prefer simplicity when making, and have enjoyed mug cakes in the past, you'll have to try this 90 second keto mug brownie recipe a try. This is the perfect option for late night sweet cravings that require an instant fix.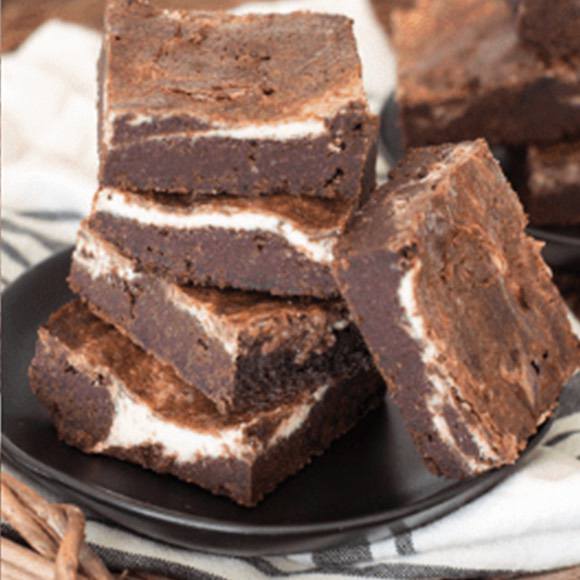 Keto Cheesecake Brownies (2.4g net carbs/serving)
For the cheesecake lovers out there, these fudgy, rich brownies with a sweet, thick cheesecake swirl are divine. One look at the picture included recipe will have your mouth watering, so don't be surprised if you need to make these immediately after checking out the link.
Keto Chocolate Walnut Brownies (2g net carbs/serving)
Dessert literally can't get any simpler than these keto walnut brownies, prepared with one bowl and ready to eat in about 15 minutes. Although the recipe calls for walnuts, you can definitely substitute them with some other favorite nuts such as macadamia or pecans for even more variety.
Keto Brownie Bites (2g net carbs/serving)
The recipe for keto brownie bites was created for those of you who are wanting to watch your weight or work towards weight loss through adding in more portion control. You'll still have all the enjoyment of an indulgent dessert without the feelings of guilt or deprivation.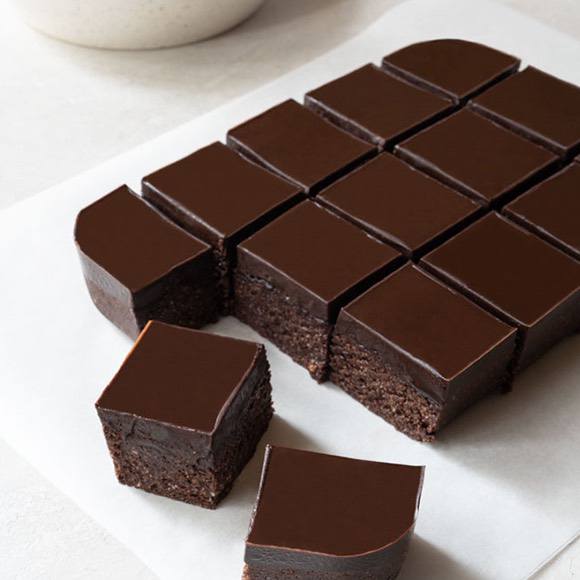 Raw Keto Brownies (2g net carbs/serving)
Who even knew there was a recipe for chewy, gooey, chocolate-y raw vegan brownies? Now that you know these are a thing, the next time you choose to bake up some brownies, give this recipe a try as a way to delight your taste buds.
Chocolate and Hazelnut Keto Brownies (4g net carbs/serving)
The brownies are described as "fudgy but not dense, rich but not overly sweet and just super decadent". For the nutella lovers out there, they are also drizzled with sugar free Nutella and a dollop of whipped cream, creating your own keto heaven.
Keto Avocado Brownies (7g net carbs/serving)
Keto avocado brownies may sound a bit weird or out there, but trust us when we say how amazing this recipe tastes. Some days call for eating adventures, and these keto-friendly brownies definitely fall into that category.
Caramel Macchiato Keto Brownies (3g net carbs/serving)
Imagine a caramel macchiato in brownie form that is also keto-friendly – this recipe is it. We dare you to eat just one of these brownies topped with coffee buttercream and caramel sauce.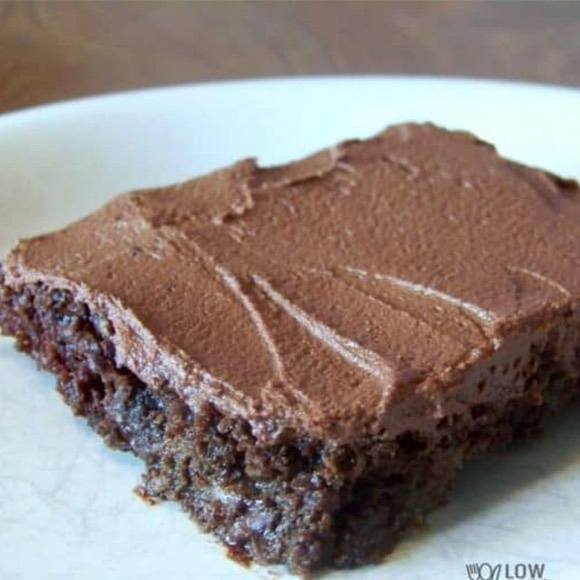 Chocolate Zucchini Brownies (4g net carbs/serving)
If you've ever tried and enjoyed zucchini bread, you'll want to give this recipe for chocolate zucchini low carb brownies a try. Topped with a sugar-free frosting, too, don't be surprised if this becomes a favorite for the whole family to indulge in.
Velvety No Bake Keto Brownie Balls (1.7g net carbs/serving)
Here's another no-bake recipe for velvety keto brownie bites. While fat bombs are pretty popular in the keto world, they can get a bit boring. With this recipe, you'll eliminate that boredom while satisfying your sweet tooth.
Thick and Fudgy Brownie Cookies (3.7g net carbs/serving)
These super thick keto double chocolate chip cookies are so fudgy and delicious. As a heads up, these can be stored in the freezer after baking, so you can pull one out and eat it frozen or heat it up for a warm and gooey treat.
Keto Brownie Brittle (2g net carbs/serving)
You'll have this recipe on hand for keto brownie brittle, particularly when you need a little crunch, a little sweet, and a whole lot of flavor. And if you've never baked with gelatin before, you'll be amazed at the kind of texture it can add to your desserts.
Keto Brownie FAQ's
Coconut Flour vs Almond Flour: Which is Better for Keto Brownies?
Coconut flour and almond flour are two of the most commonly used flour alternatives in low carb cooking and baking, and over time you'll probably develop your own preference for one or the other. You may need to avoid coconut flour or almond flour due to allergies or a sensitivity, though you may also notice differences with each of the alternatives when it comes to flavor or texture. According to this resource, almond flour may be the better choice due to its many health benefits, as well as its ability to keep blood sugar in better control.
What Are Some Healthy Substitutes for Flourless Keto Brownies?
In order to make flourless keto brownies, you'll often need ingredients that create more of a dense brownie that is able to maintain moisture while avoiding the tendency to crumble. Often you'll see flourless keto brownie recipes call for butter or coconut oil, eggs, cocoa powder or melted dark chocolate, and possibly cream cheese or avocado Flourless keto brownies often fall into the "no-bake" category as well, so you may be able to avoid using eggs if you have an allergy or intolerance. You'll notice that some of the recipes linked as part of this post are for flourless brownies, so be sure to give them a try.
Can You Freeze Keto Brownies?
Yes, you can definitely freeze keto brownies whether you buy them off the shelf or make a recipe at home on your own. Oftentimes you can actually freeze the dough before baking, and some individuals actually prefer to eat prepared brownies right out of the freezer. On the other hand, if you prefer to have more portion control built into your brownies before freezing, you can cut your brownies up into individual squares and wrap well before freezing.
I Hate the Taste of Stevia. Are There Any Other More Neutral Tasting Low Carb Sweeteners for Brownies?
There are actually quite a few options aside from stevia to use for baking your keto brownies. This link has a fantastic visual and list of keto-approved sweeteners that you can test out with any recipes of your choice to see if you prefer them over stevia.
Are Fiber One Brownies Keto-Friendly?
Fiber one brownies are not compatible with a keto diet even though they have less net carbs than some of the other popular brands. Once you give some of our recommendations a try for brands that are ready to eat or recipes that are simple and easy, you won't miss Fiber One brownies at all.
Are Black Bean Brownies Keto-Friendly?
Beans are generally not recommended as part of a keto-friendly diet due to their higher net carb count, so it is best to avoid black bean brownies. On the other hand, it is possible to find lower carb, keto-friendly black bean brownie versions such as this one, that may not impact your blood sugar as much. We are confident you'll fall in love with the recipes provided through this link, but if you want to experiment with black bean brownies, be sure to monitor your individual blood sugar response.
Are Pillsbury Sugar-Free Brownies Keto?
The simplest answer here is that Pillsbury sugar-free brownies should be avoided as part of a keto-friendly diet given the ingredient list and net carb count. We have provided some links to keto-friendly brownie mixes that are ideal alternatives so be sure to read on.
8 Best Store-Bought Keto Brownie Mixes and Brownies
HighKey Chocolate Chip Fudge Keto Brownie Mix (2g net carbs/serving)
This keto-friendly chocolate chip brownie mix makes a deliciously rich, low-carb sweet treat. You'll also love the list of natural ingredients including almond flour, organic cocoa, and low sugar chocolate chips!
Good Dee's Brownie Mix (1g net carbs/serving)
Good Dee's has come out with new and improved brownie mix allows you to create a fudge-like or cake-like brownie, so you can customize the texture to your liking. Made with sunflower seed flour, the mix is an amazing option for those of you who follow a nut-free diet.
Keto and Co Brownie Mix (1.1g net carbs/serving)
Check out this impressive fudgy brownie mix contains 94% less sugar than the other leading brands. In addition, they are healthy and filling due to having a whopping 8g of dietary fiber that is gut friendly and contains prebiotics.
Highkey Keto Blondie Brownie Mix (1g net carbs/serving)
If you prefer the "blondie" version of brownies, definitely give this baking a mix a try. Sweetened with raw, natural monk fruit extract, stevia, allulose and erythritol, this product is low on the glycemic index, so your blood sugar won't spike after having dessert.
Chocolate Almond Keto Brownies (4g net carbs/serving)
These keto-friendly chocolate almond brownies are ready to eat, though you can certainly heat up if you prefer a fresh-out-of-the-oven brownie. We won't tell if you choose to grab this as your on-the-go breakfast as part of your busy morning rush.
Brownie Cookie Bites (2g net carbs/serving)
For those of you who love bite-sized snacks, these brownie bites may become a new pantry staple as a way to satisfy your sweet cravings. You'll have nothing to lose should you choose to give these a try since the company offers products that are backed by a 100% guarantee.
Atkins Nutty Fudge Brownie Bar (2g net carbs/serving)
Although Atkins products have been around for quite some time, their latest line of baked goods is much improved in terms of the ingredients used and the resulting taste. These moist, chewy walnut brownies with walnuts and a chocolatey coating also contain 7 grams of protein and 6 grams of fiber.
Quest Nutrition Chocolate Brownie Protein Bar (4g net carbs/serving)
Depending on the version of keto or low-carb diet you follow, you may enjoy having this higher protein brownie bar on hand. Not only does it contain 20 grams of protein, but it also only has 4 grams of net carbs, 1 gram of sugar, and a hearty 17 grams of fiber per bar.