Keto Recipes
Creamy Homemade Instant Pot Keto Yogurt (The Easy Way)
When I first bought my Instant Pot, I had a feeling that I would be able to make quite a few tasty keto friendly recipes with it. Even with that in mind going in, I was still completely blown away by the sheer amount of keto recipes available to make with an Instant Pot. Nearly everything you can think of can be made in one–even yogurt! Yes folks, keto yogurt! I was skeptical myself but as soon as you check out the recipe that I'm going to be sharing today, you'll be a believer as well. The recipe will show you how to make the best Instant Pot keto yogurt, the easy way.

Homemade Full Fat Yogurt Is the Best Yogurt
I'm not joking when I say that this just might be the easiest way I know of to make keto friendly yogurt. It only takes 10 quick minutes of prep work (followed by eight hours of cook time) to have the yogurt ready to go, and you'll only be needing three simple ingredients: whole milk, heavy cream, and plain yogurt (just make sure that the yogurt you use as a starter contains live and active cultures).
Using both whole milk and heavy cream adds a ton of quality fat calories into the yogurt. Four cups of whole milk ends up providing 32 grams of fat, while four cups of heavy cream adds a whopping 184 grams of fat into the mix.
On top of the calories from fat, both the whole milk and heavy cream also add modest amounts of protein and essential vitamins and minerals, including vitamin A, calcium, and magnesium. In addition, using two tablespoons of yogurt provides you with even more protein and essential nutrients, on top of live and active bacteria cultures.
How to Make Instant Pot Keto Yogurt
Making keto yogurt with your instant pot is incredibly easy, and I was pleasantly surprised with the finished product–it's amazing. Here's exactly how you can make your own from scratch using only 3 simple ingredients and the trusty Instant Pot: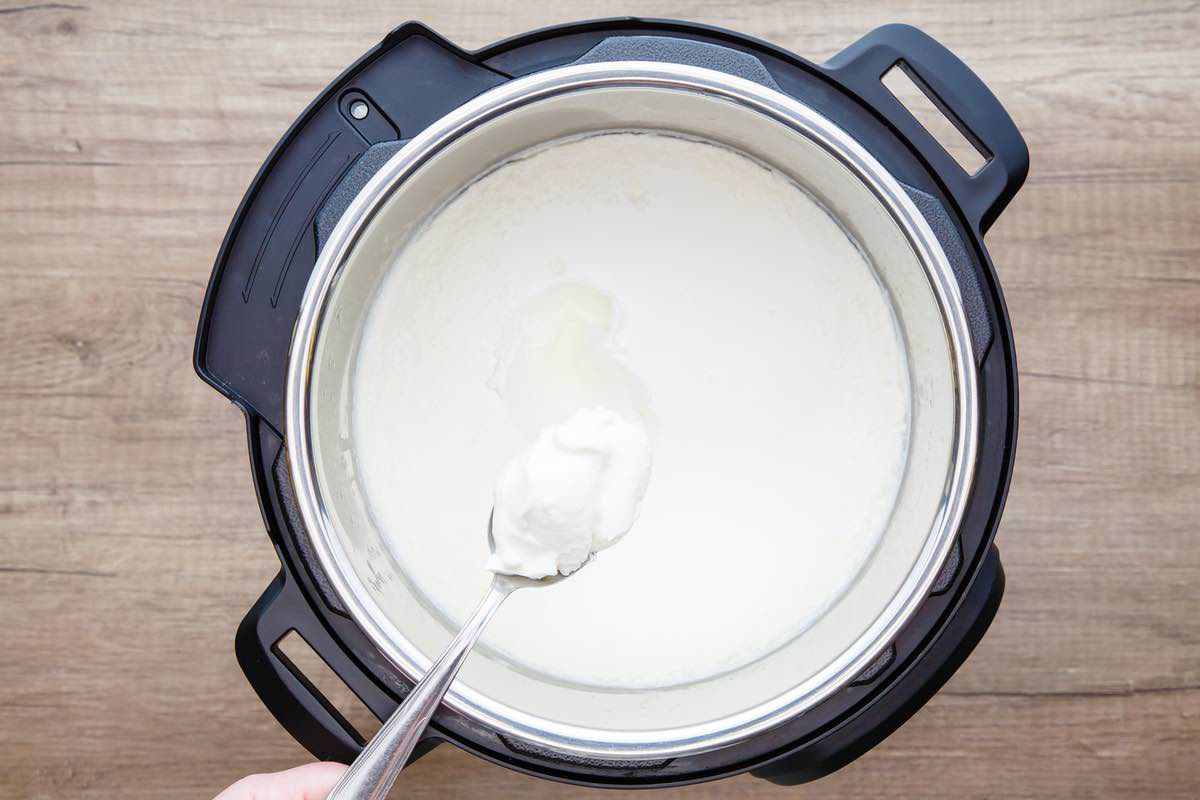 What are the Nutritional Benefits of Eating Yogurt While on a Keto Diet?
A 7 ounce serving of yogurt can contain anywhere between 7.9 grams of carbohydrate to 37 grams of carbohydrate.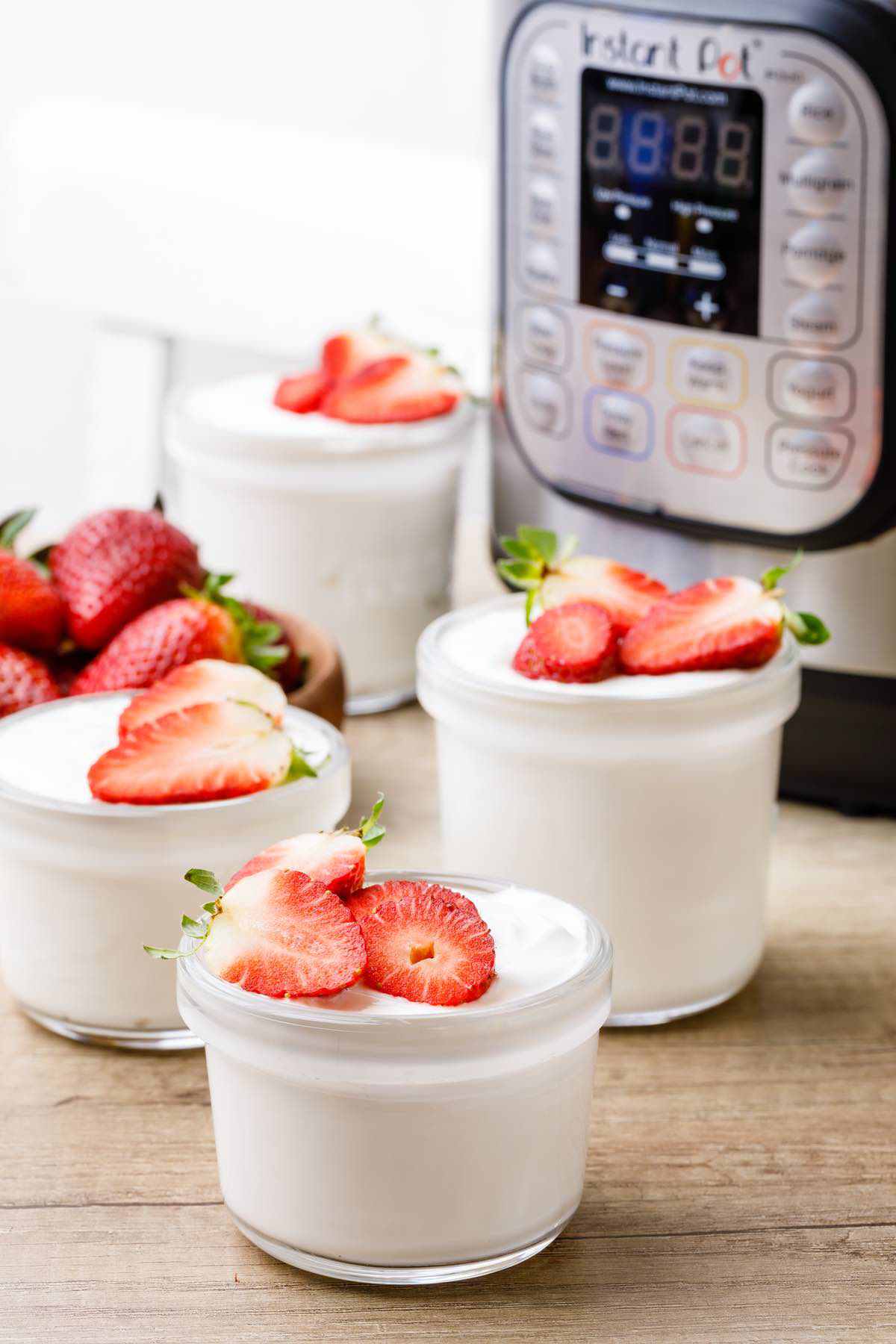 3 Great Health Benefits From Making Homemade Low Carb Keto Yogurt
Making low carb instant pot yogurt like this is actually pretty good for your health on top of tasting great. Here are just 3 of the great health benefits you can gain from making this recipe:
How Long Does This Homemade Yogurt Stay Good For?
You can expect this Instant Pot yogurt to last for up to five days if properly stored in an airtight container or jar in the fridge. After a while, the yogurt may appear to separate, resulting in a watery layer on top and a thicker layer on the bottom. This is normal for homemade yogurt and shouldn't be taken as a sign that it has spoiled. Just stir it before serving and it should be good as new.
Can Homemade Yogurt Be Frozen?
While yes, it's possible to freeze your homemade yogurt, it also happens to be one of those foods that loses a lot of its consistency when you thaw it out – which is to say I definitely would not recommend freezing it if you're planning on just thawing it out and eating it normally after.
However, with that being said, there are still some instances where freezing your homemade yogurt could be appropriate. If you make a lot of recipes with yogurt as an ingredient, or even if you make a lot of smoothies, keeping a batch of frozen yogurt on hand can be an incredibly convenient option.
Keto Yogurt Toppings
(You may also like: Instant Pot Keto Greek Yogurt)
Print Recipe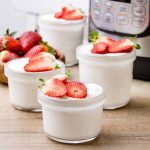 How to Make the Best Instant Pot Keto Yogurt (The Easy Way)
Author: Bree - KetoPots.com
Prep Time:

10 minutes

Cook Time:

8 hours

Total Time:

8 hours, 10 minutes

Yield:

1

6

1

x
Scale
4 cups whole milk
4 cups heavy cream
2 tbsp plain yogurt (see note*)
Pour the milk and heavy cream into the Instant pot. 

Mix to combine. 

Press the YOGURT button on the Instant Pot repeatedly to select More mode.

After 10 seconds, the Instant pot will beep and screen will read "BOIL".

Close the lid and walk away. 

After the boil cycle is complete, the screen will read "YOGT" and the Pot will turn off. 

Remove the lid. 

Stir the milk and check the temperature using a cooking thermometer. 

The milk must reach a temperature of at least 180°F.

Allow the milk to cool until it reaches a temperature of 110 to 115 °F. 

Place ½ cup of the milk in a small bowl. 

Add the plain yogurt and stir to combine. 

Stir the yogurt mixture back into the milk mixture in the pot.

Close the lid. 

Press the "Yogurt" button and adjust to Normal mode. 

Set the time for 8 hours. 

Close with a lid. 

When finished, the Instant Pot will beep and screen will read "YOGT". 

Remove the lid. 

Transfer the yogurt to storage containers. 

Cover and chill until cold, about 4-6 hours, or up to 5 days.
Notes
*Make sure the yogurt you use as starter contains live and active cultures.
More Homemade Keto Yogurt Recipes:
FREE KETO RECIPES + 5-INGREDIENT KETO COOKBOOK

Make sure to sign up for free to get instant access to the 5-Ingredient Keto Cookbook, which includes my favorite 20+ keto recipes of all-time, all under 5 ingredients.