Keto Recipes
Quick 3-Minute Keto Whipped Cream (Fluffy and Thick)
This easy and fluffy homemade keto whipped cream goes phenomenally well with so many different low carb treats and only takes less than 3 minutes to make. Here's exactly how you can whip it up for yourself (pun fully intended)!

Is whipped cream keto? That's a fair question, considering many commercially available options these days are laden with sugars and flavorings. Those who are new to keto dieting may be unsure about what type of whipped cream is allowed and which ones are best left on the store shelves.
What Makes Whipped Cream a Popular Choice for Low Carb Diets?
There are several different reasons why whipped cream is such a popular choice for low carb dieters. Here are a few of the more common ones:
Whipped cream can be a low calorie, low carb option as long as you're opting for heavy whipped cream, which tends to be sugar-free.
It's easy to make your own low carb whipped cream from heavy whipping cream.
Whipped cream is a popular keto-friendly topping for many low carb dessert options.
Is Whipped Cream Keto?
Whipped cream can be 100% keto-friendly.
As long as you're using sugar-free whipped cream, or even if you're making your own whipped cream and leaving out the sweeteners, then it's definitely keto-friendly.
The key thing to keep in mind is to avoid brands that are obviously full of added sugars, preservatives, and other unwanted additives. Things like Cool Whip would definitely be off limits, for example.
While it's possible to use heavy cream to make whipped cream, you're going to be better off using a dedicated sugar-free whipping cream if you plan on making it from scratch yourself.
The good news is that the overwhelming majority of whipped cream brands found on store shelves are sugar-free and perfectly keto viable.
To recap, as long as you avoid the obvious non-keto options (like Cool Whip) and stick with low calorie, sugar-free options (or homemade whipped cream), then it's perfectly possible to enjoy whipped cream with your dessert while on the keto diet.
How to Make Homemade Keto Whipped Cream
Combine the ingredients. Pour the heavy cream into a large bowl. Add the sweetener and pure vanilla extract.
Whisk. Whisk on medium high speed for 2-3 minutes or until medium to stiff peaks form.
Refrigerate. Either use the whipped cream immediately or cover it and chill in the refrigerator.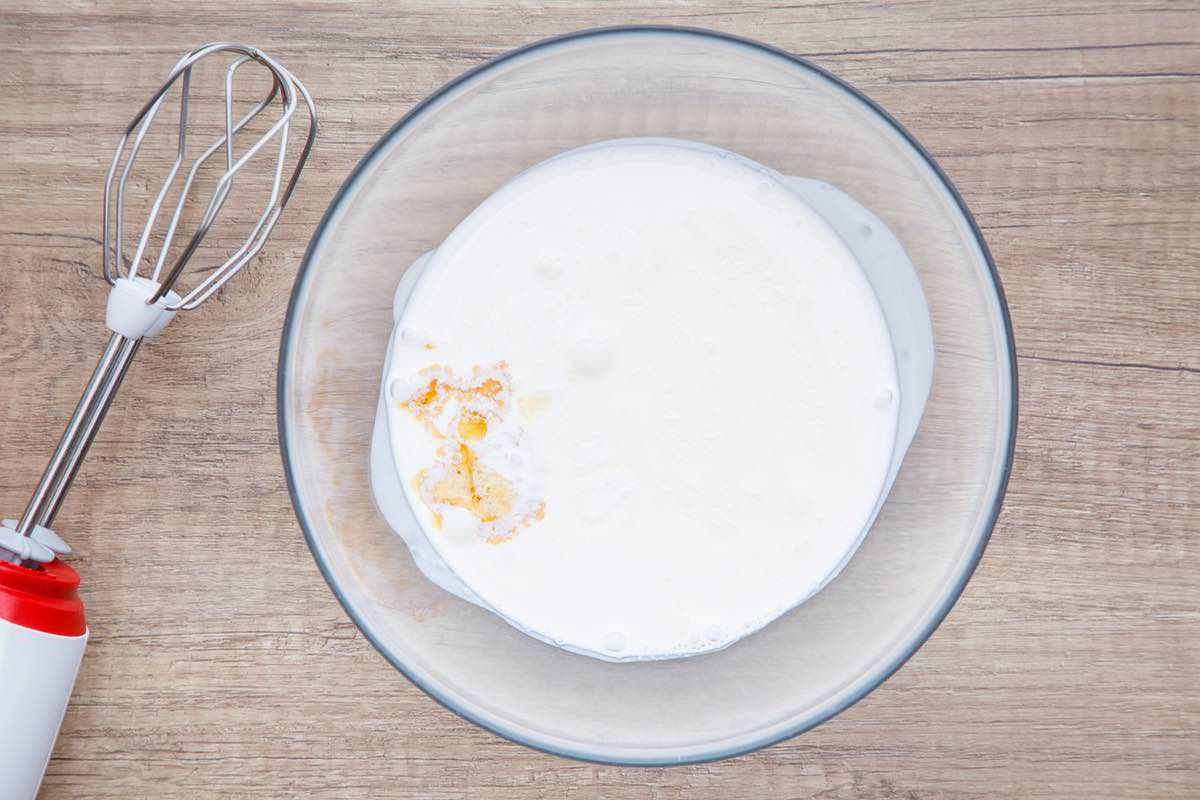 What Can I Pair with Keto-friendly Whipped Cream?
Where do I start? Whipped cream goes with pretty much anything sweet. Although, my kids would agree that whipped cream is something you can eat even straight out of the bowl! If you're looking for ideas, here are some that would benefit from a giant dollop of whipped cream: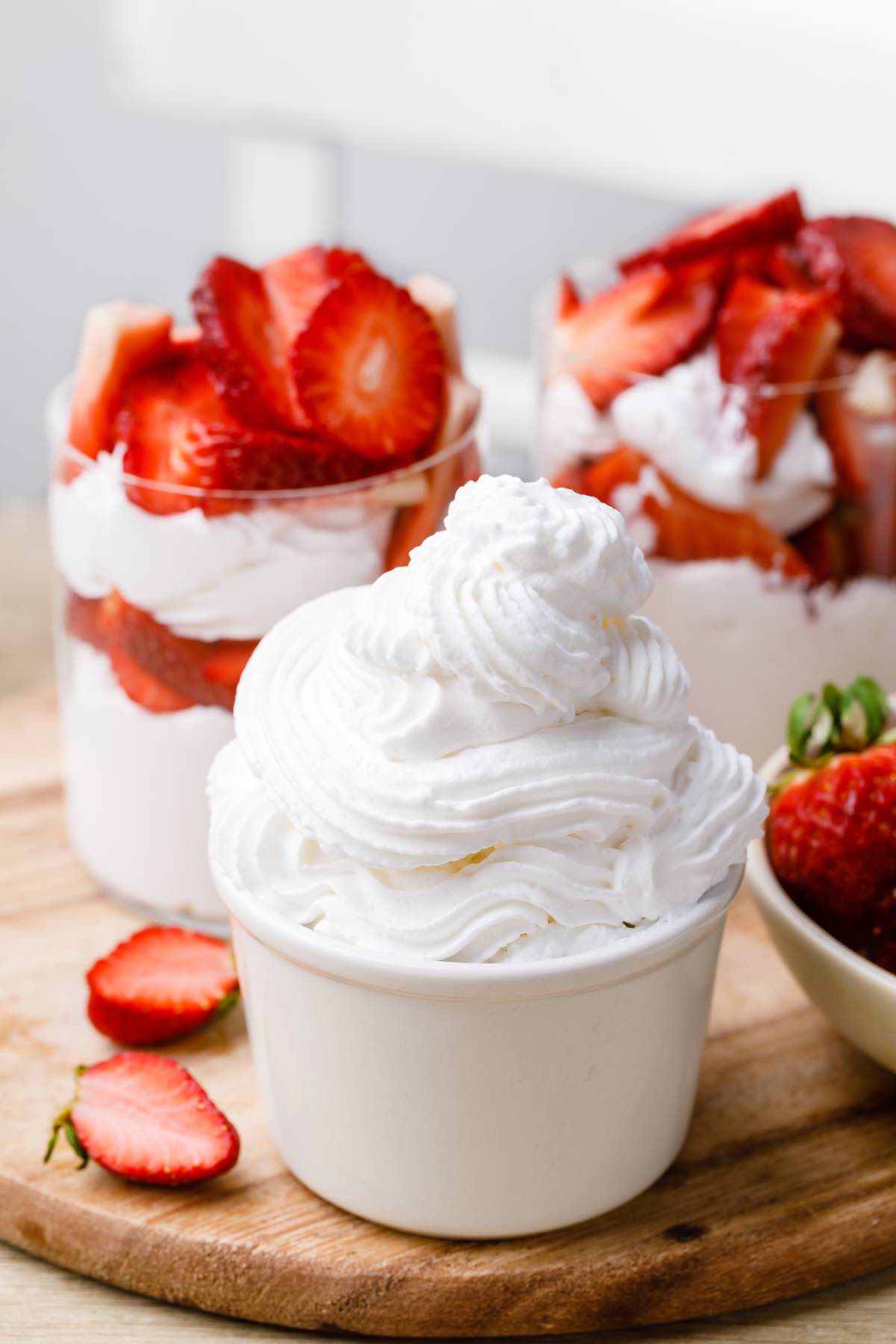 How to Make Flavored Keto Whipped Cream
Classic whipped cream needs nothing more than a bit of vanilla extract, but there's nothing stopping you from making flavored whip as well. Just be sure to follow these guidelines:
Don't add any liquids. To avoid flat, runny whipped cream, you want to avoid adding liquids as much as possible. If you have to, keep it to a drop or two only.
Flavor concentrates add a lot of flavor. If you must add liquid, flavor extracts pack a lot of flavor in just a drop or two. These are fine to add to your cream.
A pinch or two of spice goes a long way. Cinnamon whipped cream, anyone? Add it to your cream or sprinkle it on top–both are fabulous.
Why Does My Whipped Cream End Up Runny?
If your keto whipped cream ends up runny when you make this recipe, the first thing I would recommend is trying a different brand of heavy cream. You're also going to want to make sure you avoid using all-purpose cream because it's usually too heavy and runny.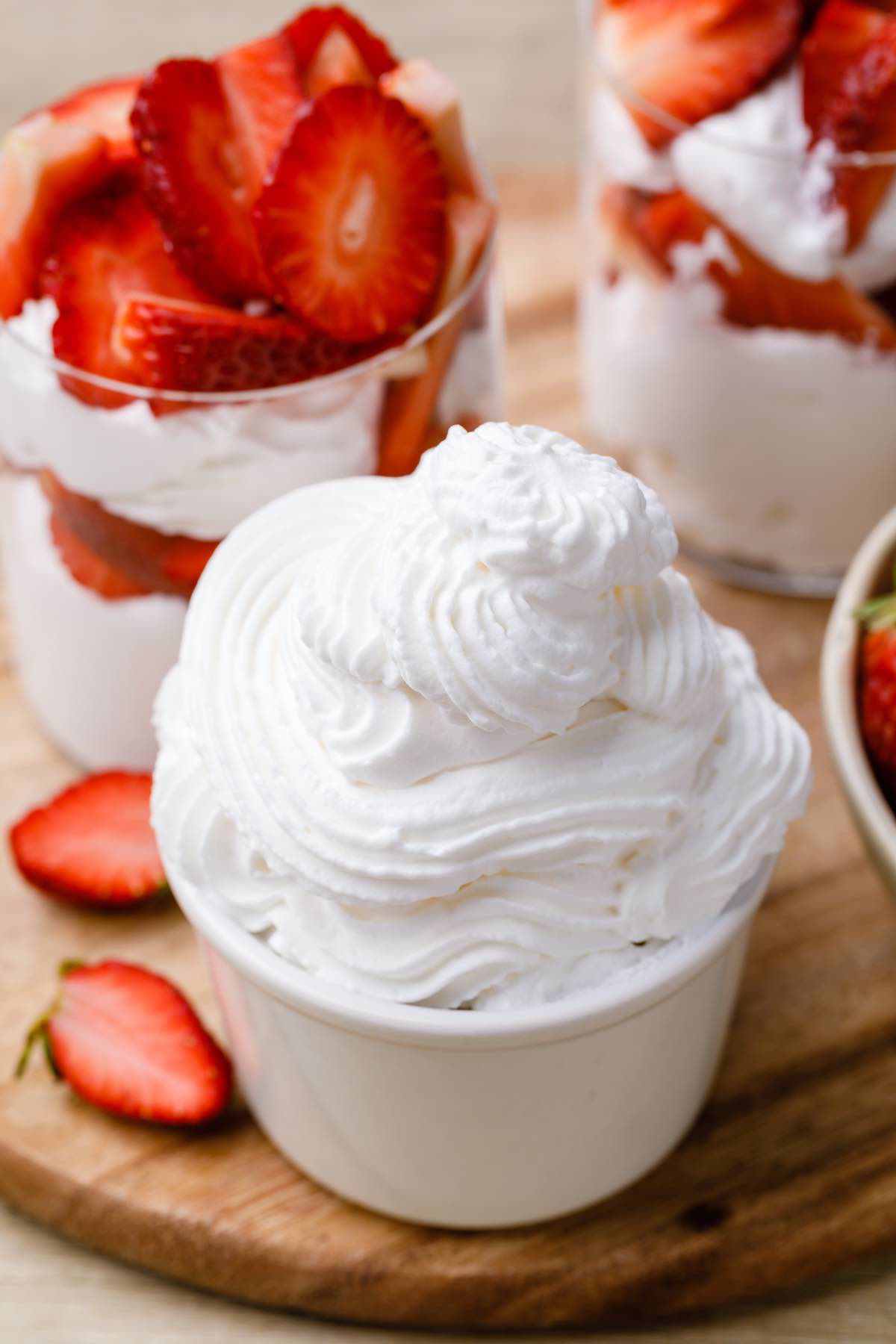 How Long Will This Whipped Cream Keep For In The Fridge?
Once you have whisked together the ingredients, you can expect this low carb whipped cream to last in the fridge for up to 24 hours before it starts to lose most of its volume. Once this begins to happen you're going to have to give it a re-whisk.
Can I Use a Whipped Cream Canister With This Recipe?
Whipped cream canisters actually work amazingly well with this recipe. As a matter of fact, using a canister will infuse the mixture with air, meaning you'll end up with a light and fluffy keto-friendly whipped cream without having to whisk it yourself. Consider this a pro tip!
(You may also like: Homemade French Vanilla Keto Coffee Creamer)
Keto Whipped Cream Alternatives
If you would prefer to use an alternative ingredient option other than whipped cream, you can try any of the following keto-friendly options. They should work as a solid replacement for whipped cream in most keto recipes.
Heavy coconut cream
Combine ⅓ cup of melted butter with ¾ cup of milk.
Combine mashed banana and egg whites.
Chilled evaporated milk
(Learn more: Is Cool Whip Keto?)
Print Recipe
Quick 3-Minute Keto Whipped Cream (Fluffy and Thick)
Scale
1 cup heavy cream, chilled
2 tsp granulated Stevia or other low carb sweetener to taste 
1 tsp vanilla extract
Pour the heavy cream in a large bowl. 

Add the sweetener and vanilla extract. 

Whisk on medium high speed for 2-3 minutes or until medium to stiff peaks form.

Use immediately or cover and chill in the refrigerator for up to 24 hours.
FREE KETO RECIPES + 5-INGREDIENT KETO COOKBOOK

Make sure to sign up for free to get instant access to the 5-Ingredient Keto Cookbook, which includes my favorite 20+ keto recipes of all-time, all under 5 ingredients.