Keto Recipes
No Fail Southwest Keto Turkey Chili (One of My Go-To's)
It seems like chili made with ground beef gets all of the attention these days. Don't get me wrong. I'm definitely a huge fan of a good keto-friendly beefy chili. However, I'm also a firm believer that chili lovers should branch out and try new things. Chili's like this no fail southwest keto turkey chili recipe for example. More than deserving of a spot on your dinner table, this keto chili pairs ground turkey with a savory mix of herbs, spices, and other tasty ingredients that all work to keep it low carb and ridiculously tasty.
It's Turkey Time
You'll be kicking things off by using a large pan to heat up two tablespoons of olive oil over a medium heat. As you're all probably aware of by now, olive oil is my preferred cooking oil of choice, especially for keto recipes. It's an easy and tasty way to squeeze in a few extra fat calories. You'll want to cook your ground turkey in the pan until it's nice and brown, breaking it apart with a spatula. Once the turkey has browned, you can begin adding in the rest of the savory ingredients, starting with the diced red onion.
Along with the onion, you can add in both your jalapeno pepper and poblano pepper. I was never really big on cooking with poblano peppers until I started experimenting with more and more chili recipes, and now I simply can't get enough of them. Not only do both peppers help to ramp up the element of heat in this recipe, but they both provide a solid amount of vitamin C, along with other disease-fighting antioxidant and anti-inflammatory properties thanks to their capsaicin content. (1)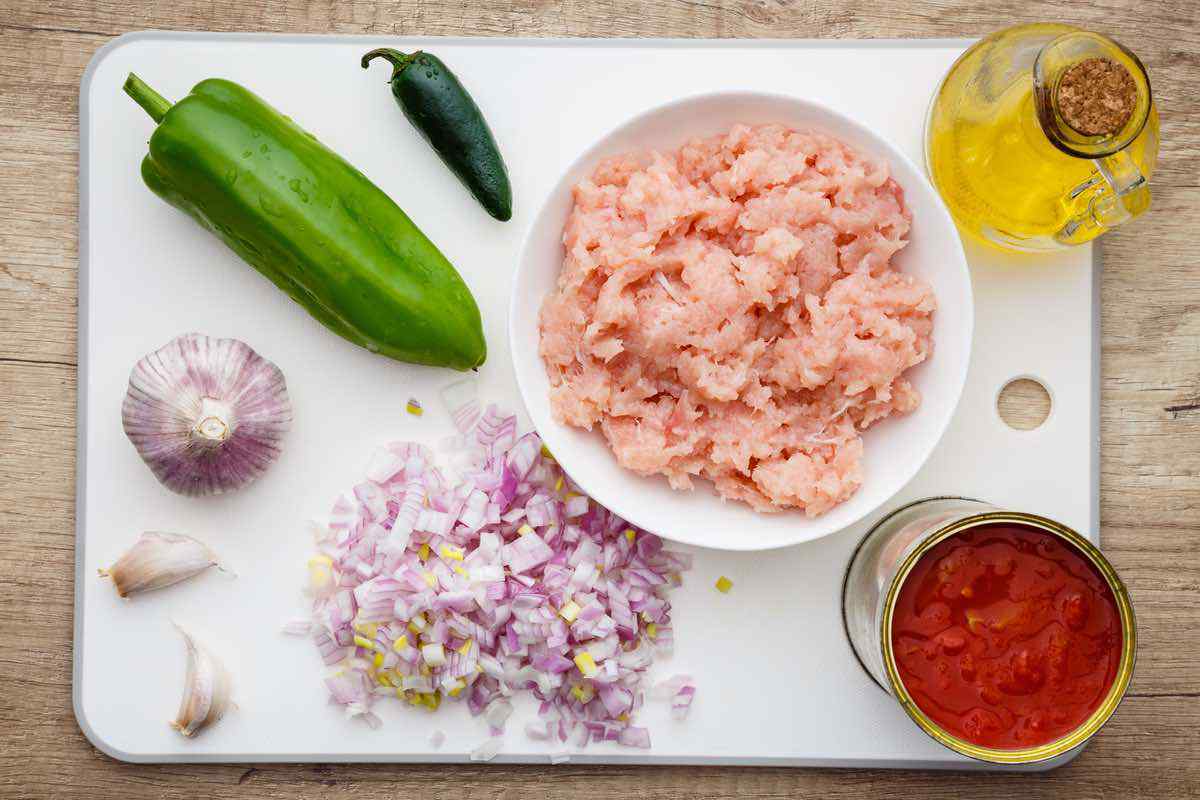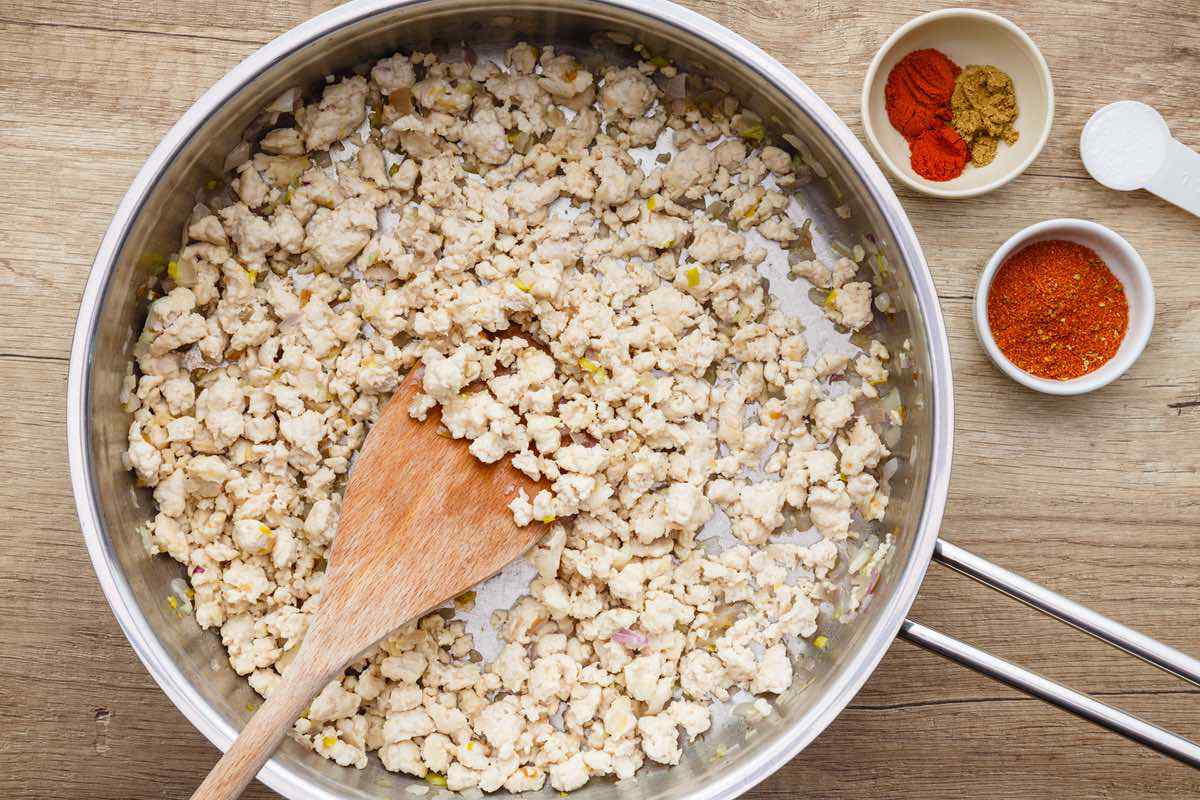 Once your veggies are nice and tender, you can then add in one of my other favorite cooking herbs, the garlic. Allow the garlic to cook for about 30 seconds, long enough to let it infuse the chili mix with its distinct aromatic flavor. I've used garlic in my cooking for as long as I can remember, ever since my dad successfully used it to help bring his high blood pressure down. Relieving hypertension is just one of the many incredible health benefits that this potent herb provides. (2)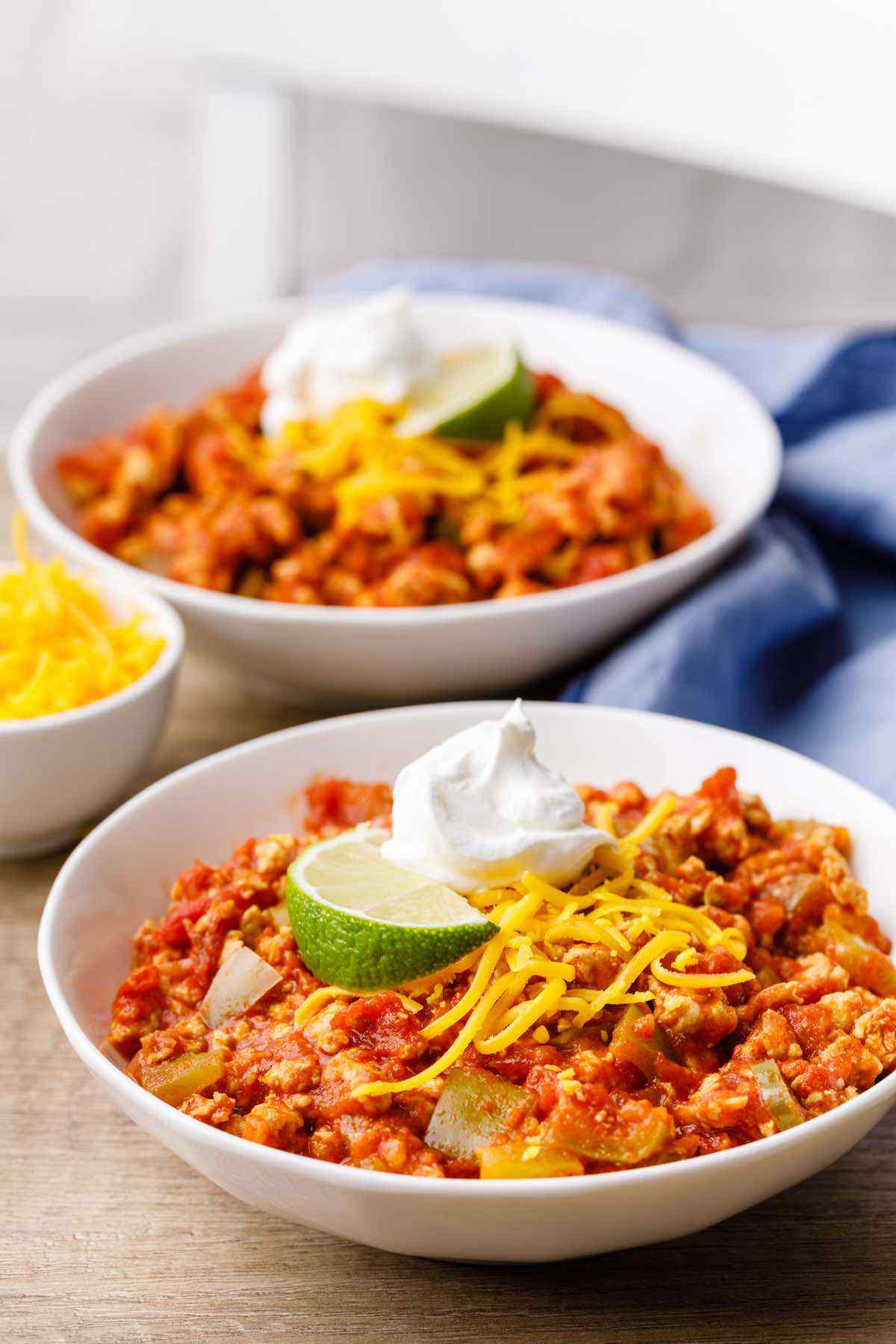 After cooking the garlic, you can then add in the rest of the ingredients that will be helping to give your turkey chili its spicy kick. There's a savory mix of herbs and spices on offer here, including chili powder, cumin, paprika, and cayenne pepper. Using ingredients like these is one of the main reasons that I love to make chili dishes. They make a fantastic spicy meal that doubles as an incredibly healthy dish as well. Herbs and spices like the ones used in this recipe possess potent antioxidant properties that have actually been found to help prevent certain types of cancer. (3)
You can also add in the chicken broth, apple cider vinegar, Stevia, and the diced tomatoes at the same time as you add in the herbs and spices. They all help to complete the chili, adding a slightly sweet and tangy flavor to it that meshes well with the spiciness. As with some of our other chili recipes, I'd recommend serving this southwest turkey chili with some shredded cheddar cheese, sour cream, and lime wedges as a garnishment.
More Keto Chili Recipes:
Extra Beefy Caveman Crockpot Keto Chili (Mom-Approved)
Print Recipe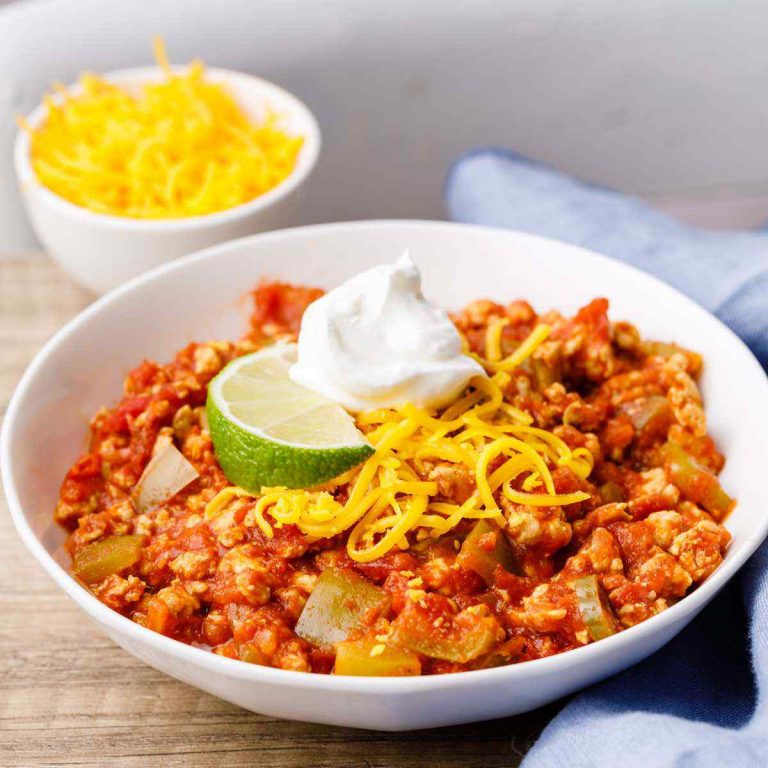 Southwest Keto Turkey Chili
Author: ketopots.com
Prep Time:

15 minutes

Cook Time:

1 hour, 15 minutes

Total Time:

1 hour, 30 minutes

Yield:

6

1

x
Scale
2 tbsp olive oil
1 ½ pounds ground turkey
½ red onion, diced
2 garlic cloves, minced
1 poblano pepper, diced
1 jalapeno pepper, seeded and minced
1 tbsp chili powder
½ tbsp cumin
½ tsp paprika
¼ tsp cayenne pepper
1 can (15 oz) diced tomatoes
1 tbsp granulated Stevia or other low carb granulated sweetener
1 tbsp apple cider vinegar
1 cup chicken broth
salt, black pepper to taste
For garnish (optional):
shredded cheddar cheese
sour cream
lime wedges
In a large pan heat the olive oil over medium heat.
Add the ground turkey and cook, breaking apart with a spatula, until browned.
Add the onion, poblano pepper and jalapeno and cook until vegetables are tender.
Add the garlic and cook for 30 seconds.
Add the remaining ingredients and mix to combine.
Cover with a lid, reduce the heat to low and simmer for 1 hour, stirring occasionally.
Season with salt and black pepper to taste.
Ladle into serving bowls, garnish with cheddar cheese, sour cream and lime (if desired) and serve.
FREE KETO RECIPES + 5-INGREDIENT KETO COOKBOOK

Make sure to sign up for free to get instant access to the 5-Ingredient Keto Cookbook, which includes my favorite 20+ keto recipes of all-time, all under 5 ingredients.