Keto Recipes
Homemade Keto Tortilla Chips and Fresh Salsa
Like many of the most enjoyable things in life, enjoying a snack consisting of tortilla chips and salsa comes with its share of pros and cons. Pro: it's a classic snacking option that's just bursting with tons of flavor. Con: it's also unfortunately on the higher end of things when it comes to carb content, which doesn't exactly make it an ideal snack for anyone on a keto diet. However, it would be a shame to not be able to enjoy this yummy snack just because of dietary restrictions, so I'm pleased to present this recipe that makes homemade authentic keto tortilla chips and fresh salsa. The tortilla chips are made with mozzarella cheese and almond flour keeping them 100% grain-free, while the homemade salsa is delightfully low carb and oh so flavorful.

Homemade Is the Way To Go
Before making the tortilla chips, you should take a few minutes to prepare the fresh salsa. It's super easy to make, simply requiring you to place all of the ingredients — the diced tomatoes, cucumber, spring onions, jalapeno pepper, lime juice, and parsley — into a bowl and mixing to combine. The veggies used in the salsa are all terrific low carb options that combine to make one incredibly flavorful salsa mixture, and the two jalapeno peppers give it a nice spicy kick. The capsaicin found in jalapeno peppers has many proven health benefits, but of particular interest for many people on the keto diet in particular is its ability to help shed unwanted pounds. (1)
Place the salsa in the fridge until you're ready to serve it, and then go ahead and microwave your mozzarella cheese on high, stirring it at 30 second intervals, until it's completely melted. Next, mix in the almond flour and salt (plus a few optional ingredients that we'll discuss in just a moment) while the cheese is still hot. Using almond flour is a great way to keep the tortilla chips grain-free and low carb. It's probably my favorite keto baking flour to use, as not only is it a great tasting source of heart healthy fats, but it could even help to make you smarter as well. Studies have found that almonds can increase brain acetylcholine levels and enhance overall memory function. (2)
As I briefly mentioned, you can also feel free to add a few optional ingredients into your chip mixture if you'd like to add even more flavor to them. In fact, I strongly recommend that you do so! Feel free to mix in some chili powder, garlic powder, and onion powder. The chili powder contains capsaicin, offering the same beneficial properties as the jalapenos used in the salsa, while garlic and onion have each demonstrated some rather potent cancer prevention properties (3), making all three powders some truly delicious and nutritious additions to make to this recipe.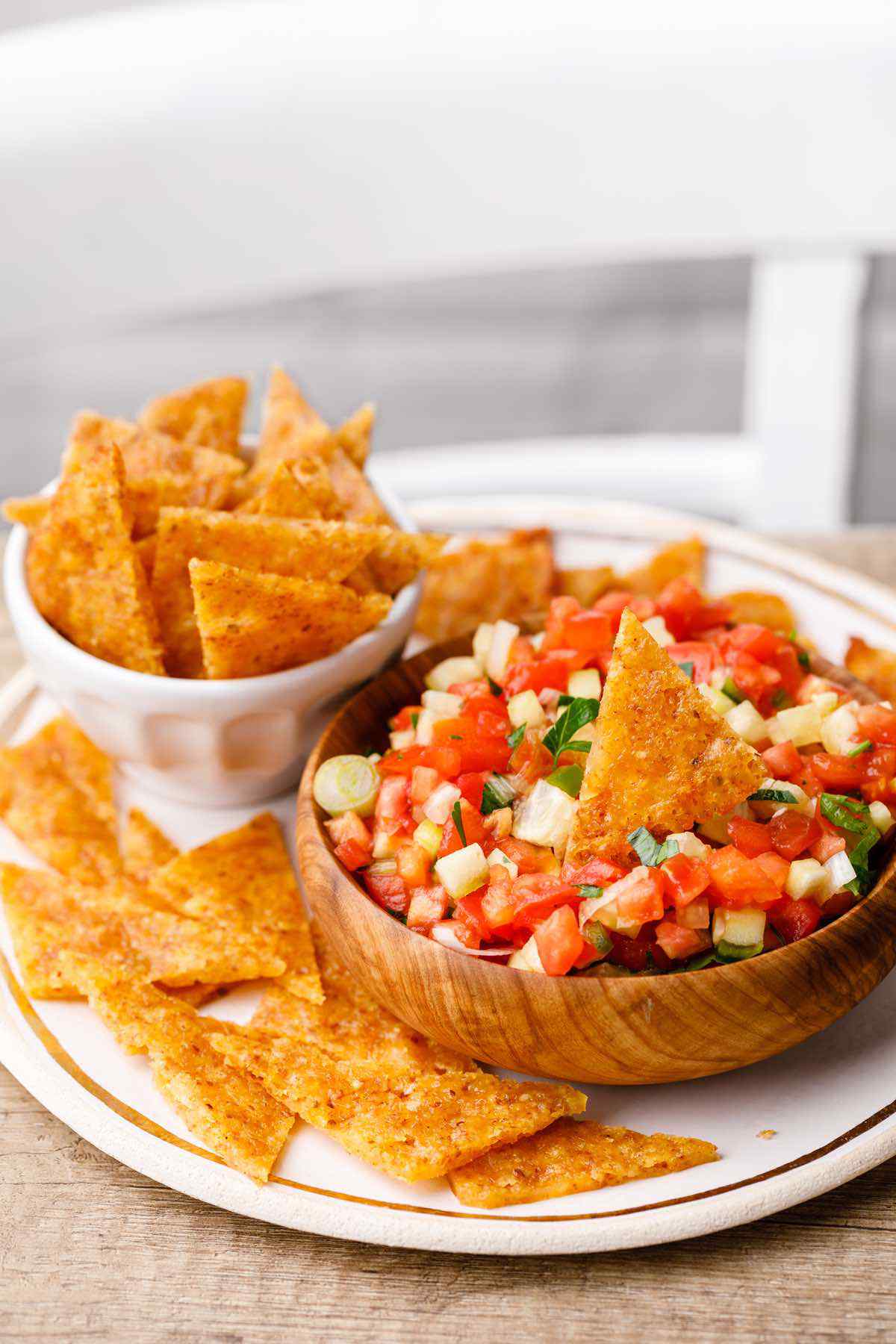 You're only going to want to bake the tortilla chip dough for about 5-8 minutes, just long enough for it to be crisp and golden. Let it cool off slightly once it comes out of the oven and then remove the dough from the pan. Give it a few more minutes to cool and then you can cut it into triangle-shaped tortilla chips to enjoy with your salsa. Speaking of the homemade salsa, it also goes incredibly well with the last keto-friendly chip recipe that we shared for double cheese chips, so be sure to try that out as well!
More Keto Chip Recipes:
Double Cheese Keto Chips (Crunchy and Dippable)
Print Recipe
Homemade Keto Tortilla Chips and Fresh Salsa
Author: Bree - KetoPots.com
Prep Time:

5 minutes

Cook Time:

10 minutes

Total Time:

15 minutes

Yield:

6

1

x
Scale
For the tortilla chips:
1 cup grated mozzarella cheese
6 tbsp almond flour
¼ tsp salt
½ tsp chili powder or to taste (optional)
¼ tsp garlic powder (optional)
¼ tsp onion powder (optional)
For the salsa:
2 medium tomatoes, diced
½ small cucumber, peeled and diced
2 tbsp sliced spring onions
2 jalapeno peppers, seeded and minced
¼ lime, juiced
2 tbsp chopped parsley
salt, black pepper to taste
To make the salsa, place all the ingredients in a bowl and mix to combine.
Season to taste with salt and black pepper.
Refrigerate until ready to serve.
To make the tortilla chips, preheat oven to 375ºF.
Place the mozzarella in a microwave safe bowl and microwave on high.
Stir every 30 seconds until the cheese is completely melted.
Add the almond flour, salt, chili powder, garlic powder and onion powder and mix to combine.
Allow to cool slightly, then kneed the dough to completely mix the ingredients.
Place the dough between two pieces of parchment paper and roll out to 1/6″ thick.
Remove the top piece of parchment paper.
Place the bottom piece of parchment containing the dough on a baking sheet.
Bake for 5-8 minutes or until crisp and golden.
Remove from the oven and allow to cool slightly.
Carefully lift the dough out using the parchment paper.
Allow to cool a little more then cut into triangles.
Serve with salsa.
FREE KETO RECIPES + 5-INGREDIENT KETO COOKBOOK

Make sure to sign up for free to get instant access to the 5-Ingredient Keto Cookbook, which includes my favorite 20+ keto recipes of all-time, all under 5 ingredients.