Keto Recipes
Thin and Crispy Keto Pizza Crust Recipe (Low Carb)
In my opinion, all of the best kinds of pizza crusts have two key traits in common: they are perfectly thin and crispy. I'm sure many of you will disagree with me on that, and that's totally fine. But as far as I'm concerned a thin and crispy pizza crust with just the right assortment of toppings is one of the greatest meals known to man. So with that in mind, I wanted to share a low carb pizza crust recipe with you guys today that makes just such a crust. More importantly, I wanted to share a recipe that works to make a pizza crust that's both tasty AND keto-friendly. This thin and crispy keto pizza crust fits the bill perfectly, and I'm positive that after you take your first bite of it, you'll be just as big a fan of it as I am.
How to Make Low Carb Keto Pizza Crust From Scratch
Whenever I'm in the mood for a family pizza night, I turn to this convenient recipe for making a low carb, crispy and thin keto pizza crust from scratch. It's so easy to make and always turns out fantastic!
Get everything ready. Place a pizza stone in a cold oven on the lowest rack and then preheat the oven to 425℉.
Combine some of the ingredients. Combine the almond flour, psyllium husk, garlic powder, Italian seasoning, and salt in a bowl. Mix to combine.
Add in the other ingredients. Add in the egg, softened cream cheese, and shredded mozzarella cheese. Mix until well combined.
Roll the dough. Roll the dough out between two pieces of parchment paper until it's about ¼" thick. Remove the top piece of parchment paper.
Transfer to the pizza stone. Use the backside of a baking sheet and slide the crust (with the parchment paper) onto the hot pizza stone.
Bake the crust. Bake the crust for approximately 10 minutes.
Remove from the oven and add your desired toppings. Bake for an additional 5-10 minutes.
Serve. Remove the pizza from the oven and allow to cool slightly before cutting into slices and serving.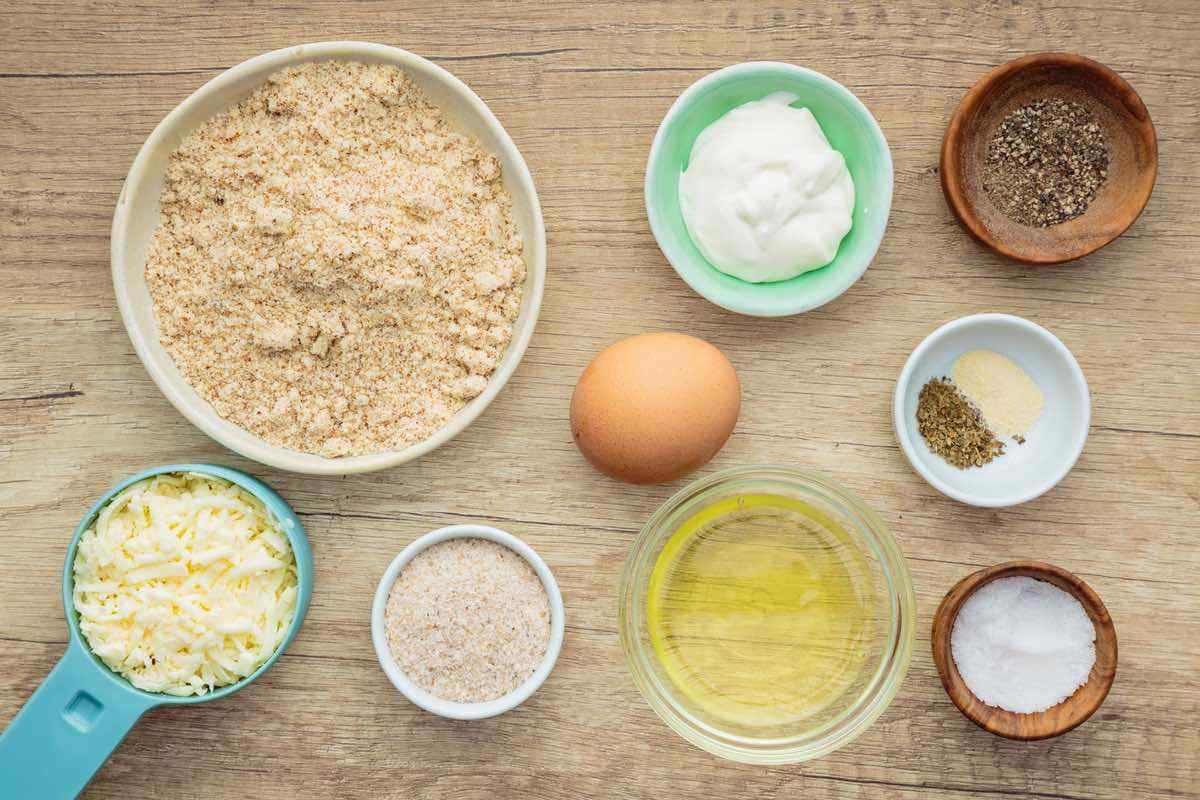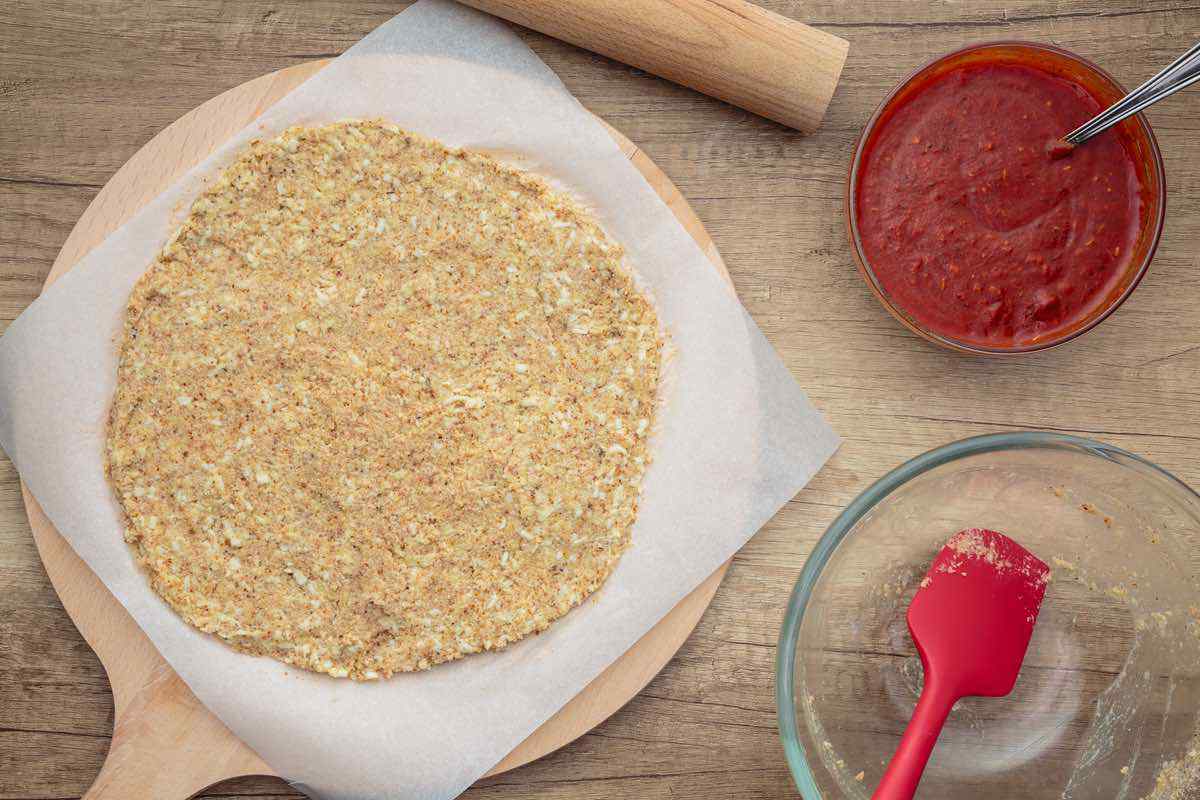 3 Reasons Why This Keto Pizza Crust Is So Good for You
Here are 3 great reasons why making your own low carb pizza crust using recipes like this is such a great option for your health:
Cardiovascular health. Using almond flour as a replacement for refined wheat flour provides many great benefits for your heart health since almonds have been found to help protect against heart disease by lowering blood pressure and LDL cholesterol levels. (1)
Digestive health. Psyllium husk is high in fiber, which provides you with numerous benefits for your gut health. (2)
Disease prevention. Garlic is a potent herb that's packed full of both antioxidants and anti-inflammatory compounds, which help protect against chronic inflammatory diseases.
How to Make Sure You End Up With Perfectly Crispy Pizza Crust Every Time
I don't know about you, but a good pizza crust makes the pizza. To ensure you get the right texture, make sure to follow these tips:
Pre-bake the crust. The best way to make sure that your pizza crust turns out perfectly crispy every time is to bake it before adding the toppings instead of all together at once.
Use a pizza stone. Using a pizza stone is another easy way to make sure you end up with crispy pizza crust because the stone conducts and holds heat, which helps maintain a consistent temperature all throughout.
You used frozen ingredients. Make sure none of the ingredients you use for the crust are frozen. Once this thaws, it will leak excess moisture from the dough, creating a soggy texture.
What Are Some Good Low Carb Pizza Toppings To Use With This Pizza Crust?
Here are a few good topping suggestions for you to pair up with this pizza crust. They all will still keep this pizza recipe nice and low carb:
Goat cheese and tomato
Pepperoni, ham and salami
Bacon or Pancetta
Italian sausage and mushrooms
Green peppers, onion, mushrooms
If you're looking for a really good (and super easy) low carb pizza sauce recipe, try my 5-Minute Homemade Keto Pizza Sauce
More Good Keto Pizza Recipes
Print Recipe
Thin and Crispy Keto Pizza Crust
Author: ketopots.com
Prep Time:

5 minutes

Cook Time:

15 minutes

Total Time:

20 minutes

Yield:

4

1

x
Scale
⅔ cup almond flour
2 tbsp psyllium husk
1 egg, beaten
1 egg white
2 tbsp cream cheese, softened
½ cup shredded mozzarella cheese
¼ tsp garlic powder
¼ tsp Italian seasoning
salt to taste
Place pizza stone in a cold oven on the lowest rack.
Preheat the oven to 425°F.
In a bowl combine the almond flour, psyllium husk, garlic powder, Italian seasoning and salt.
Add the remaining ingredients and mix until well combined.
Place the dough between two pieces of parchment paper and roll out to 1/4″ thick.
Remove the top piece of parchment paper.
Using the back side of a baking sheet, slide the crust with the parchment paper onto the hot pizza stone.
Bake for 10 minutes.
Remove from the oven and add desired toppings.
Bake for an additional 5-10 minutes.
FREE KETO RECIPES + 5-INGREDIENT KETO COOKBOOK

Make sure to sign up for free to get instant access to the 5-Ingredient Keto Cookbook, which includes my favorite 20+ keto recipes of all-time, all under 5 ingredients.