Keto Recipes
Authentic Homestyle Texas Chili (Low Carb and Keto-Friendly)
I had what I can honestly say is the best chili that I've ever tried in my entire life when I visited Texas a few years ago. It was made with what I can only describe as the most perfect mixture of ingredients that combined to make an incredible chili dish that was full of flavor while not being TOO spicy. Today I'm pleased to share with everyone an authentic homestyle Texas chili recipe that perfectly recaptures the great taste of that chili meal from a few years ago. Featuring everything you'd want in a good homestyle Texas chili, there's plenty of beef, herbs, spices, and of course, some tasty hot peppers to be found in this dish. But the real secret ingredient of this chili recipe lies in the use of lard to add an immense amount of flavor to the whole thing.

Old Fashioned Texas Quality
So what exactly goes into this chili recipe to give it that great tasting authentic Texan flavor? It starts with using six dried guajillo chiles, a yummy pepper commonly used in a lot of Tex-Mex dishes that adds a moderate amount of heat to meals. Yes, it's spicy, but it's not too spicy. As with nearly all other types of peppers, guajillo chiles get their spiciness from their capsaicin content, which means they also provide the same great benefits for your health. Capsaicin is a potent anti-inflammatory that is commonly used for topical pain relief, and there's also ongoing research investigating its potential usefulness as a tool for treating cancer. (1)
After quickly frying your guajillo chiles, clean them from their seeds and stems and then add them into a blender with some water, ground cumin, salt, and black pepper. Mixing your chiles with the cumin provides this Texas chili with a fantastic one-two punch spicy combo. Cumin is also similar to chili peppers in that it doesn't just provide a nice kick to your meals. It's also a potent medicinal spice as well. It's been widely used to treat several types of disease, including cancer, diabetes, and hypolipidemia. (2) Blend this mixture together, scraping down the sides of the jar when necessary, and set this chili mix to the side.
You've got a couple of options when it comes to tackling the next step of the recipe. You're going to need to use a Dutch oven and heat up either your choice of two tablespoons of lard or olive oil. I prefer to use lard because of the delicious flavoring that it adds to the chili, helping to give it that authentic Texas flavor. However, if you don't like lard, olive oil definitely makes for an acceptable alternative. Either way, heat whatever you choose in the Dutch oven and then add half of your beef into it, lightly browning it on all sides. Place the browned beef into a bowl and then repeat the browning with the remaining half. Once this is done, go ahead and add the remaining lard (or olive oil) into the Dutch oven.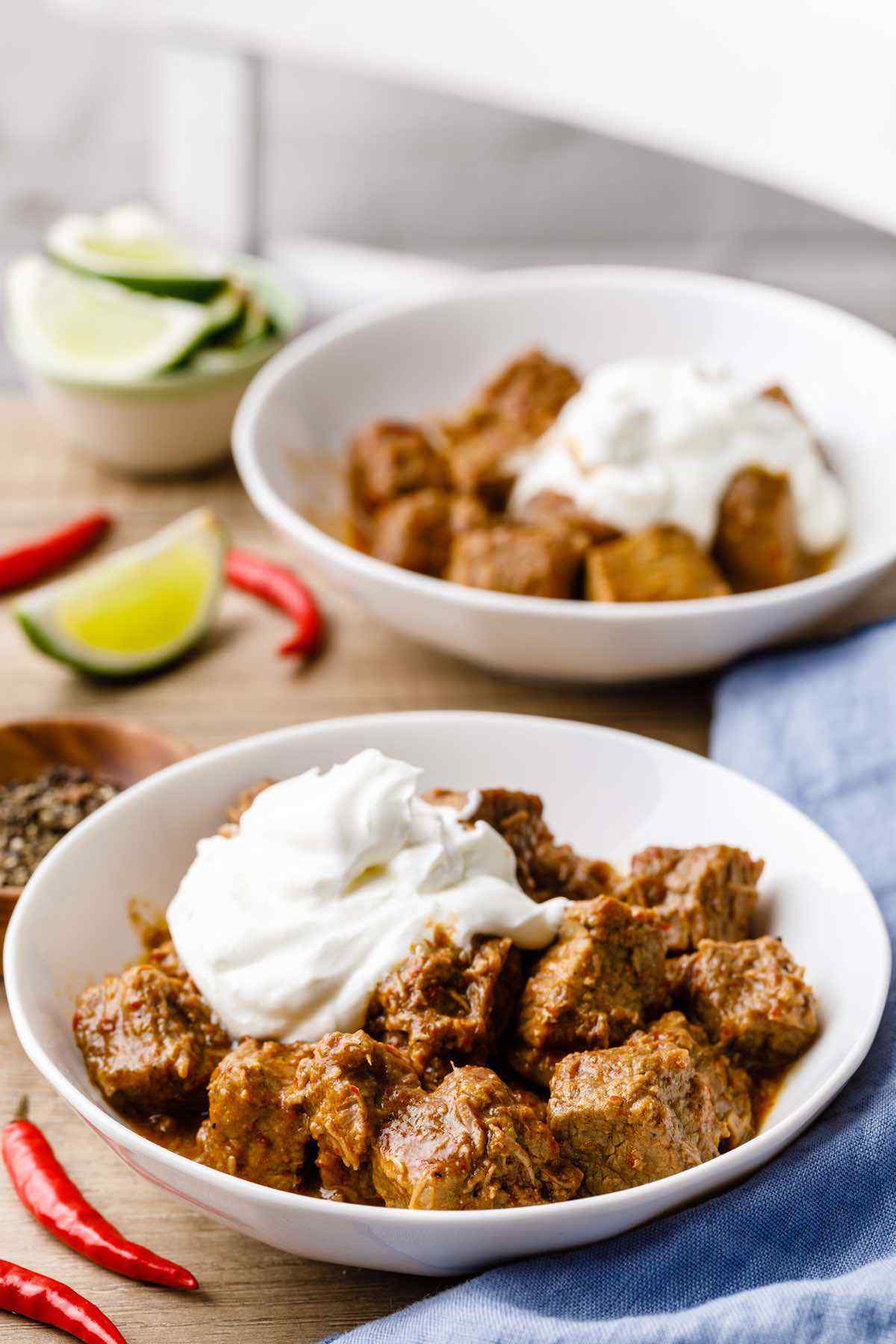 Next, add in the onion, followed by the garlic. Let the garlic cook for about 30 seconds, long enough to definitely notice its distinct aroma, and then you can gradually mix your browned beef back in along with some beef broth, water, and the chili mixture that you prepared. Allow the chili to simmer for two hours before finally stirring in the apple cider vinegar and your choice of zero calorie sweetener — I'd recommend using a natural option like Stevia. Give the chili about 10 more minutes to simmer, and then take a quick taste to evaluate your next step.
Too dry? Just add some more water or beef broth. Too wet? Simply let it simmer for a few minutes more. Tastes just right? Perfect! Go ahead and pour it out to serve along with some sour cream and lime wedges and get ready to enjoy what will quite possibly be the tastiest chili that you'll ever try.
More Keto Chili Recipes:
Life-changing Keto Chili Verde (Green, Spicy and Yummy)
No Fail Southwest Keto Turkey Chili (One of My Go-To's)
Extra Beefy Caveman Crockpot Keto Chili (Mom-Approved)
Print Recipe
Authentic Homestyle Keto Texas Chili
Author: ketopots.com
Prep Time:

20 minutes

Cook Time:

2 hours, 30 minutes

Total Time:

2 hours, 50 minutes

Yield:

6

1

x
Scale
6 guajillo dried chilies
1 ½ tsp ground cumin
½ tsp ground black pepper
salt to taste
4 tbsp lard or olive oil
2 pounds boneless beef chuck, cut into 3/4-inch cubes
½ medium onion, finely chopped
3 garlic cloves, minced
2 cups beef broth
2 cups water
2 tsp granulated Stevia or other low carb granulated sweetener
1 tbsp apple cider vinegar
sour cream, for serving
lime wedges, for serving
In a cast iron skillet gently fry the chilies over medium-low heat for 2-3 minutes per side, until fragrant.
Remove the chilies from the skillet and let them cool slightly.
Clean the chilies from seeds and stems.
Place them in a blender along with cumin, black pepper, 1 teaspoon of salt and ½ cup water.
Blend until smooth, occasionally scraping down the sides of the blender jar. Set aside.
Heat 2 tbsp of lard in a large Dutch oven over medium-high heat.
Add half of the beef and lightly brown on all sides, 2-3 minutes per side.
Transfer to a bowl and repeat with the remaining beef. Reserve.
Add the remaining lard and heat it over medium heat.
Add the onion and cook until translucent.
Add the garlic and cook for 30 seconds.
Add the browned meat and chili mixture, beef broth and remaining water and mix to combine.
Reduce the heat to medium low and simmer for 2 hours or until the meat is tender.
Stir in the sweetener and vinegar and season to taste with salt and black pepper.
Simmer for 10 minutes more, then remove from the heat.
If the mixture seems too dry add more water or broth.
If the mixture seems wet, simmer a bit more.
Serve with sour cream and lime wedges.
FREE KETO RECIPES + 5-INGREDIENT KETO COOKBOOK

Make sure to sign up for free to get instant access to the 5-Ingredient Keto Cookbook, which includes my favorite 20+ keto recipes of all-time, all under 5 ingredients.