Keto Recipes
OMG-Good Keto Teriyaki Chicken Thighs and Drumsticks
If you're a fan of teriyaki chicken, then you absolutely must try this recipe for making OMG-good keto teriyaki chicken thighs and drumsticks. You'll be making your own keto approved marinade from scratch that's simply to die for; it's the perfect mix of salty and sweet for that stunning teriyaki glaze.
How to Make Keto Teriyaki Chicken Thighs and Drumsticks
Here's everything that you'll need to know when it comes to both making the homemade teriyaki sauce and cooking the chicken:
Preheat the oven. Preheat your oven to 375℉.
Prepare the chicken. Place the chicken legs in a shallow dish.
Prepare the sauce. Add the soy sauce, minced garlic cloves, and freshly grated ginger to a bowl and mix well to combine. These flavors will make up the base of your marinade.
Pour. Pour the sauce mixture over top of the chicken legs.
Marinate. Allow the chicken legs to marinate for a minimum of 2 hours.
Finish off the sauce. Remove the chicken legs from the marinade and xanthan gum. Mix to combine. The xanthan gum helps thicken the sauce.
Pour. Pour the finished sauce over top of the chicken legs again.
Bake. Bake in the preheated oven for one hour, turning the legs over halfway through.
Garnish. Remove the chicken from the oven and sprinkle with sesame seeds and sliced scallions.
Serve. Serve immediately.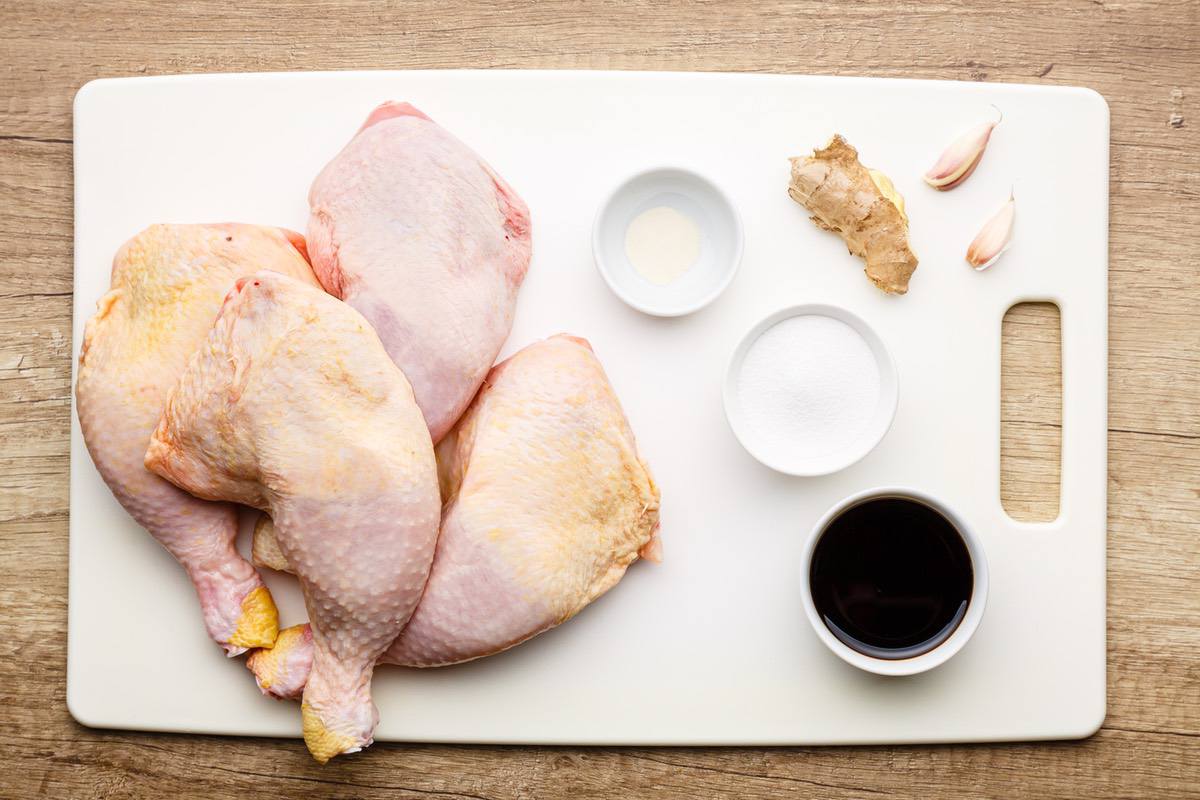 What to Serve with Keto Teriyaki Chicken
Here are a few of my favorite keto approved side dishes to serve with this yummy teriyaki chicken recipe:
Mashed cauliflower 'potatoes'
Cauliflower rice
Low carb steamed veggies (asparagus, broccoli, etc.)
Can I Use Chicken Breasts and Wings Instead?
You can absolutely use chicken breasts or even chicken wings when making this recipe if you would prefer to. I just like to use thighs and drumsticks as a simple matter of preference; the dark meat cuts just provide more dietary fat for hitting macros, that's all.
You don't have to change anything with the recipe; just swap in your preferred cut of chicken meat and follow it as per usual.
How to Store Your Keto Teriyaki Chicken Leftovers
The best way to store any leftover teriyaki chicken that you have on hand is to simply transfer it into an airtight container and then keep it stored in the fridge. It will keep for up to 3-4 days when stored like this.
You can also store the teriyaki marinade in an airtight container in the fridge as well. The sauce will keep for up to 2 weeks. Make sure not to store the leftover marinade that has already been used to soak the chicken; this needs to be thrown out after each use.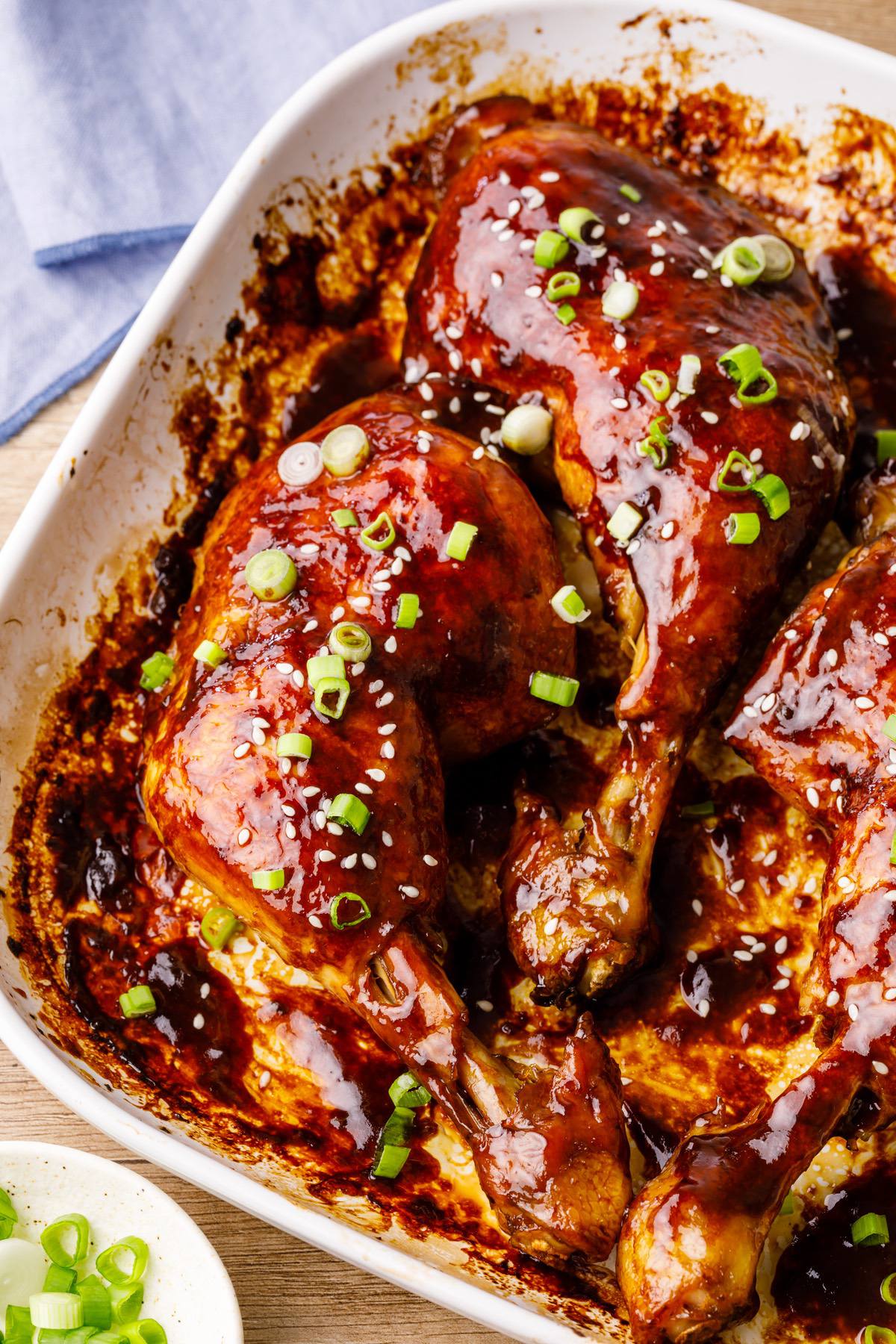 Best Way to Reheat Keto Teriyaki Chicken
I find that the best way to reheat chicken that has been marinated like this is to reheat it in the oven at 375℉. I usually like to add a little bit more marinade sauce for moisture first and then just reheat it until it's warmed through.
If you're pressed for time or slightly less concerned with your chicken drying out, you can also opt to simply warm it up in the microwave.
(You may also like: Crispy Skin Oven Baked Chicken Drumsticks)
Print Recipe
OMG-Good Keto Teriyaki Chicken Thighs and Drumsticks
Author: Bree
Prep Time:

20 minutes

Cook Time:

1 hour

Total Time:

1 hour, 20 minutes

Yield:

4

1

x
FREE KETO RECIPES + 5-INGREDIENT KETO COOKBOOK

Make sure to sign up for free to get instant access to the 5-Ingredient Keto Cookbook, which includes my favorite 20+ keto recipes of all-time, all under 5 ingredients.
Scale
4

bone in, skin on chicken legs 

¼ cup

soy sauce 

1

–

2

tbsp granulated Stevia or other low carb granulated sweetener 

2

garlic cloves, minced 

1 tsp

grated fresh ginger 

¼ tsp

xantan gum 

¼ cup

sliced scallions

 ½ tsp sesame seeds
Preheat oven to 375ºF. 

Place the chicken legs in a shallow dish.  

In a bowl combine the soy sauce, garlic and ginger. 

Pour the mixture over the legs. 

Marinate for 2 hours. 

Remove the legs from the marinade.

Add the xantan gum to the marinade and mix to combine. 

Pour over the chicken legs. 

Bake in preheated oven for 1 hour, turning the legs over halfway through.

Remove from the oven. 

Sprinkle with sesame seeds and scallions and serve.