Keto Chicken Recipes
Creamy Garlic Spinach Stuffed Chicken Breast (Keto, Low Carb)
If you're anything like me and you love experimenting with different cooking techniques, you'll find that this keto stuffed chicken breast recipe is something that you'll be making quite often because it's versatile, doesn't require that much prep time and really comforting.
How to Make Stuffed Keto Chicken Breast
Also, there's an endless combination of ingredients and flavors that you can play around with! Here's how I make my famous stuffed chicken breast:
Prepare the stuffing. The stuffing is everything, and this one certainly doesn't disappoint. It has everything from cream cheese, to garlic powder, to Parmesan cheese, and of course spices.
Add the spinach and season to taste. Don't worry about how much spinach you're adding, it will all wilt down.
Butterfly the chicken breast. Once the chicken breast is sliced and has a pocket, fill it with the spinach stuffing.
Secure the chicken breast. Fold the other half of the chicken breast over the stuffing, keeping it securely tucked. Tip: If your stuffing looks to be spilling out of your chicken breast, you can secure the ends of the chicken with a toothpick.
Arrange the stuffed chicken breasts on a baking sheet. Drizzle some olive oil on top of each chicken breast.
Bake. Bake in the oven for about 25-30 minutes.
Make the sauce. Cook your garlic, heavy cream and Parmesan cheese until melted and well incorporated.
Remove the chicken from the oven. Plate it on your favorite skillet or serving dish and drizzle the sauce over it.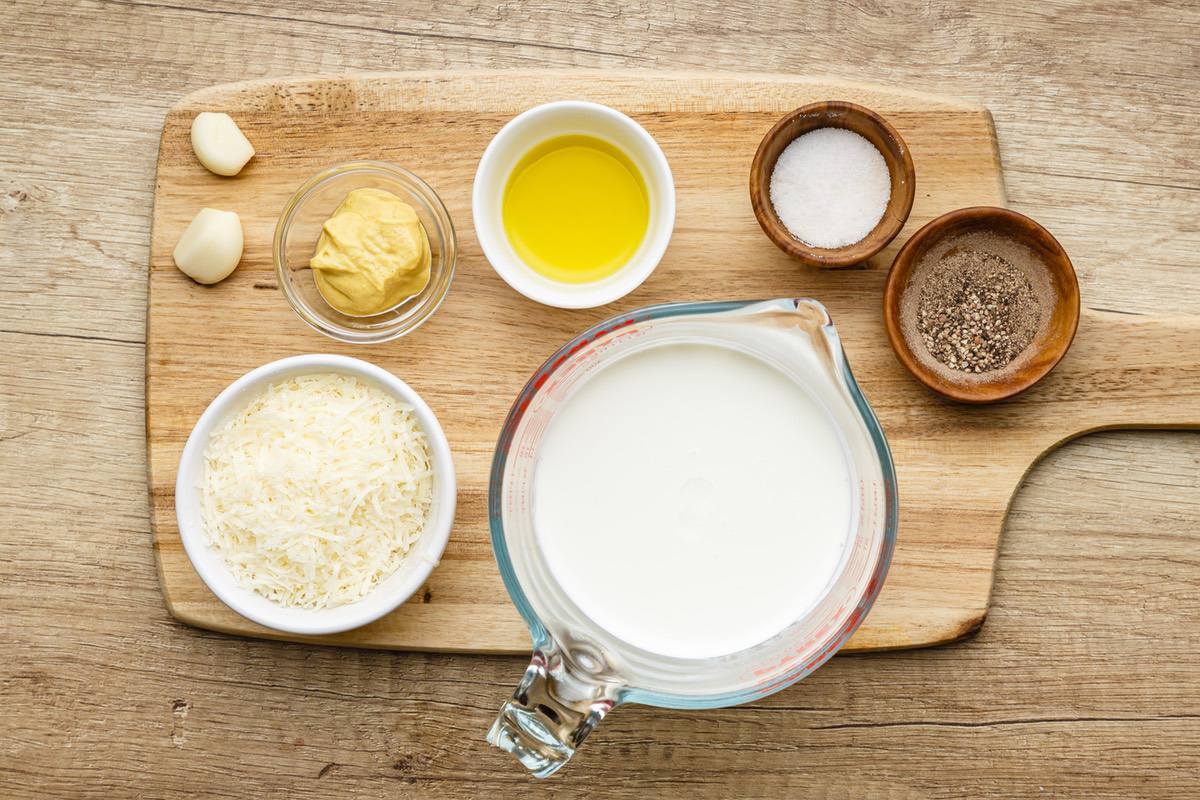 Other Keto-Approved Ingredients You Can Stuff Your Chicken Breasts With
Prosciutto
Asparagus
Ham
Cream Cheese
Sun-Dried Tomatoes
Can You Make Stuffed Chicken Breast Ahead? (+How to Store Them)
Absolutely! This is one of my favorite recipes to meal prep because it keeps very well and it can be frozen, so you can save it for weeks and it'll be just as excellent even when reheated.
Speaking of storage, make sure you store these portioned out already so that you don't have to reheat and refreeze a big batch. I find that having to thaw and refreeze anything drastically reduces its shelf life, so freezing in portions is recommended.
When you're ready to reheat, make sure to leave your chicken out to thaw completely before popping it into the oven for 3-5 minutes at 400 degrees Fahrenheit. An extra half teaspoon of butter on top of each breast before reheating will help keep it moist.
Can You Use Chicken Thighs Instead?
Chicken breasts are larger in size than chicken thighs, which is why we're using breasts for this recipe. As tasty as chicken thighs are and the higher fat content is certainly keto-friendly, there's just not enough room in a chicken thigh for the filling.
What to Pair with Your Stuffed Keto Chicken Breast
Zucchini Noodles – A favorite among keto dieters, zucchini noodles are a light and fresh addition to any meal.
Mashed Cauliflower – For those who love their mashed potatoes, I highly recommend trying our recipe for mashed cauliflower. It's so creamy and buttery, you won't even notice the difference.
Creamy Tomato and Basil Soup – Keep the meal light and fresh with this incredibly tasty version of the classic tomato soup using fresh basil and tomatoes.
(You may also like: Keto Garlic Chicken Skillet with Red Onions and Mushrooms)
Print Recipe
Creamy Garlic Spinach Stuffed Chicken Breast (Keto, Low Carb)
Author: Bree - KetoPots.com
Prep Time:

10 minutes

Cook Time:

20 minutes

Total Time:

30 minutes

Yield:

4

1

x
Scale
4

chicken breasts (skinless and boneless) 

2 tbsp

olive oil 

1 tsp

paprika

¼ tsp

garlic powder

¼ tsp

onion powder

½ tsp

red pepper flakes

4 oz

cream cheese, softened

¼ cup

finely grated fresh Parmesan cheese

2 cups

chopped fresh spinach

salt and black pepper to taste 
For the sauce: 
1 tbsp

olive oil

2

garlic cloves, minced

1 tbsp

Dijon mustard

1 ½ cups

heavy cream 

½ cup

finely grated fresh Parmesan cheese

1 tbsp

chopped fresh parsley 
Preheat oven to 400°F.

In a large skillet, heat 1 tablespoon of olive oil over medium heat. 

Add the spinach and cook, stirring frequently, until the spinach is wilted. 

Remove from the heat and allow to cool slightly. 

Add the cream cheese, onion powder, garlic powder, Parmesan cheese, red pepper flakes and paprika to a bowl and mix to combine. 

Add the spinach and mix to combine. 

Season with salt and black pepper to taste. 

Butterfly each chicken breasts and lay open like a book.

Season with salt and black pepper to taste. 

Place ¼ of stuffing on one side of each chicken breast half.

Fold remaining half of each chicken breast over stuffing, and secure with a toothpick, if necessary.

Place the chicken into a lightly greased baking dish.

Drizzle the chicken with 1 tablespoon of olive oil. 

Bake in preheated oven for 25-30 minutes. 

To make the sauce, in a skillet, heat the olive oil over medium heat. 

Add the garlic and cook for 30 seconds. 

Add the heavy cream and parmesan and simmer until the parmesan cheese has melted. 

Remove the chicken from the oven. 

Place the chicken into a skillet and drizzle with sauce. 

Sprinkle with fresh parsley and serve. 
FREE KETO RECIPES + 5-INGREDIENT KETO COOKBOOK

Make sure to sign up for free to get instant access to the 5-Ingredient Keto Cookbook, which includes my favorite 20+ keto recipes of all-time, all under 5 ingredients.