Keto Recipes
Fat Burning Strawberry and Peanut Butter Keto Smoothie
The smoothie recipe that I'm going to be sharing today is an incredibly useful recipe to add to your repertoire when it comes to helping you achieve your weight loss goals. It makes a super tasty fat burning strawberry and peanut butter keto smoothie using a few choice ingredients that will really help to get your metabolism revving in the mornings. It provides plenty of protein, the strawberries are low carb enough to not knock you out of keto, while the peanut butter and MCT oil help to really ensure that your body is efficiently burning those ketones and keeping that excess fat away.

A Berry Good Smoothie
I'm definitely a big fan of making keto smoothies using berries. That's one of the main reasons that I enjoy this recipe so much, especially considering that strawberries are probably my favorite berry to enjoy. They taste amazing, they're nice and low carb, and they're a perfect fruit to add to smoothies when it comes to helping with weight loss. Studies have found that strawberries can help reduce several types of cardiovascular risk factors, such high blood pressure and chronic inflammation due to their potent antioxidant content. (1)
I also found it rather surprising that the flavor of strawberries also matches perfectly with peanut butter. Speaking of peanut butter, be sure to use all-natural peanut butter when making this or any other keto recipe. For this smoothie in particular, the peanut butter definitely makes it a bit more satiating, and it may even help to reduce your risk of developing type 2 diabetes by improving glucose and insulin homeostasis according to one study. (2) This is due to the high monounsaturated and polyunsaturated fat content of peanut butter, which is also the main reason it helps to make sure that you won't go hungry after making this smoothie.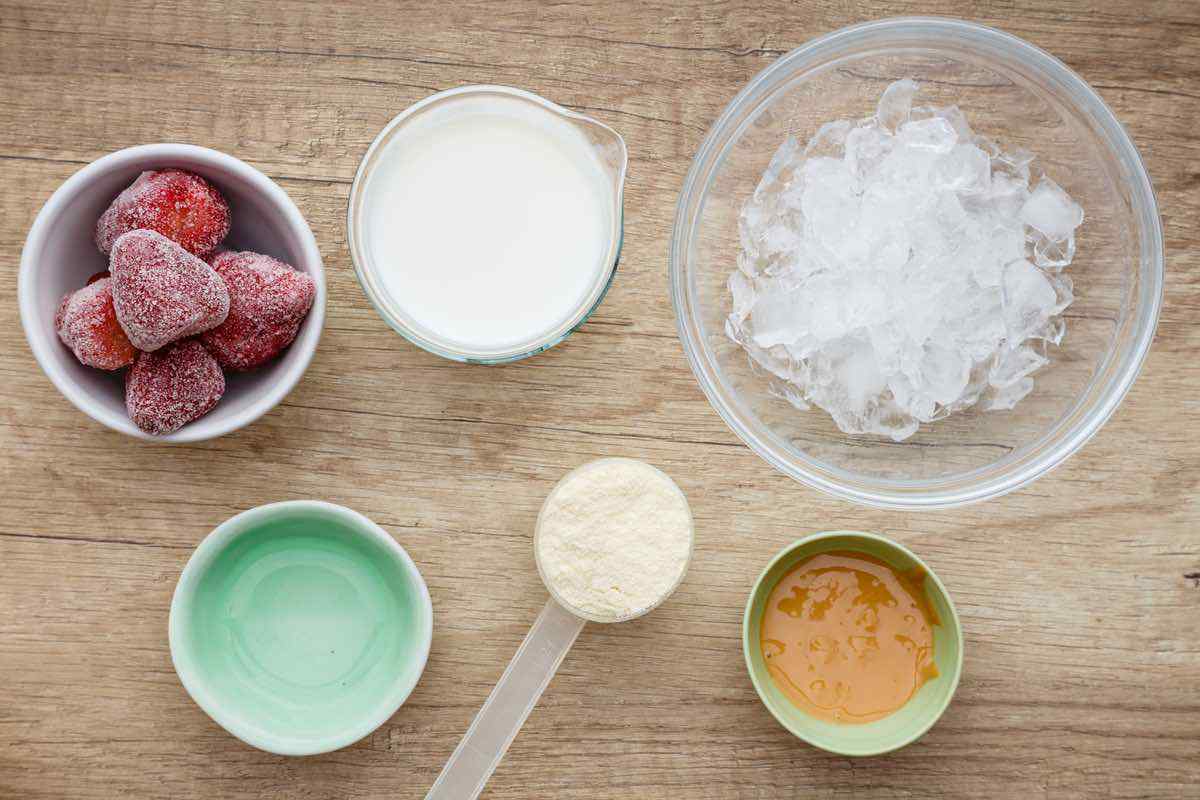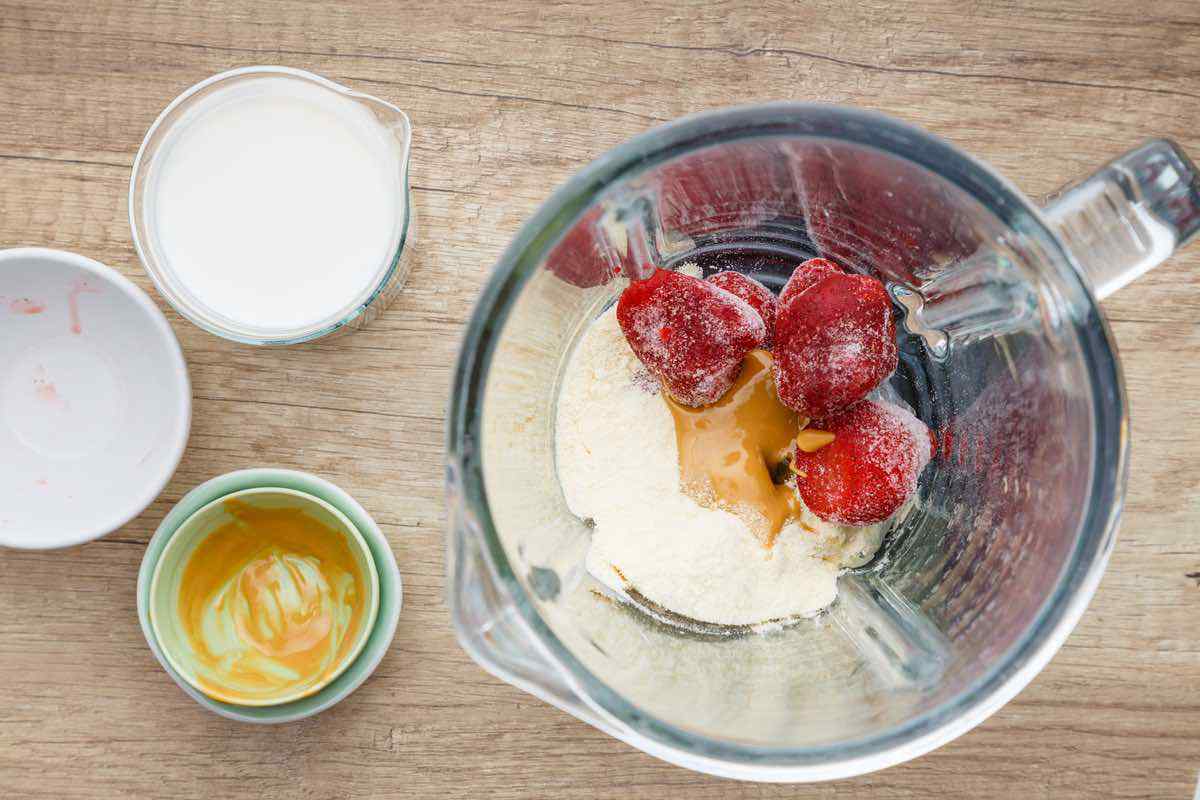 And while we're on the topic of fat content, you'll also be adding one tablespoon of MCT oil into the smoothie, which is an absolute godsend when it comes to getting into (and staying) in ketosis. In fact, it's so incredibly beneficial that I actually recommend using a protein powder made specifically for keto dieting that has added in MCT powder and grass-fed collagen. You can order the vanilla flavored keto protein powder brand that I use and recommend by clicking here. Not only is it an outstanding powder when it comes to keto benefits, but it tastes delicious as well, making it a definite win-win.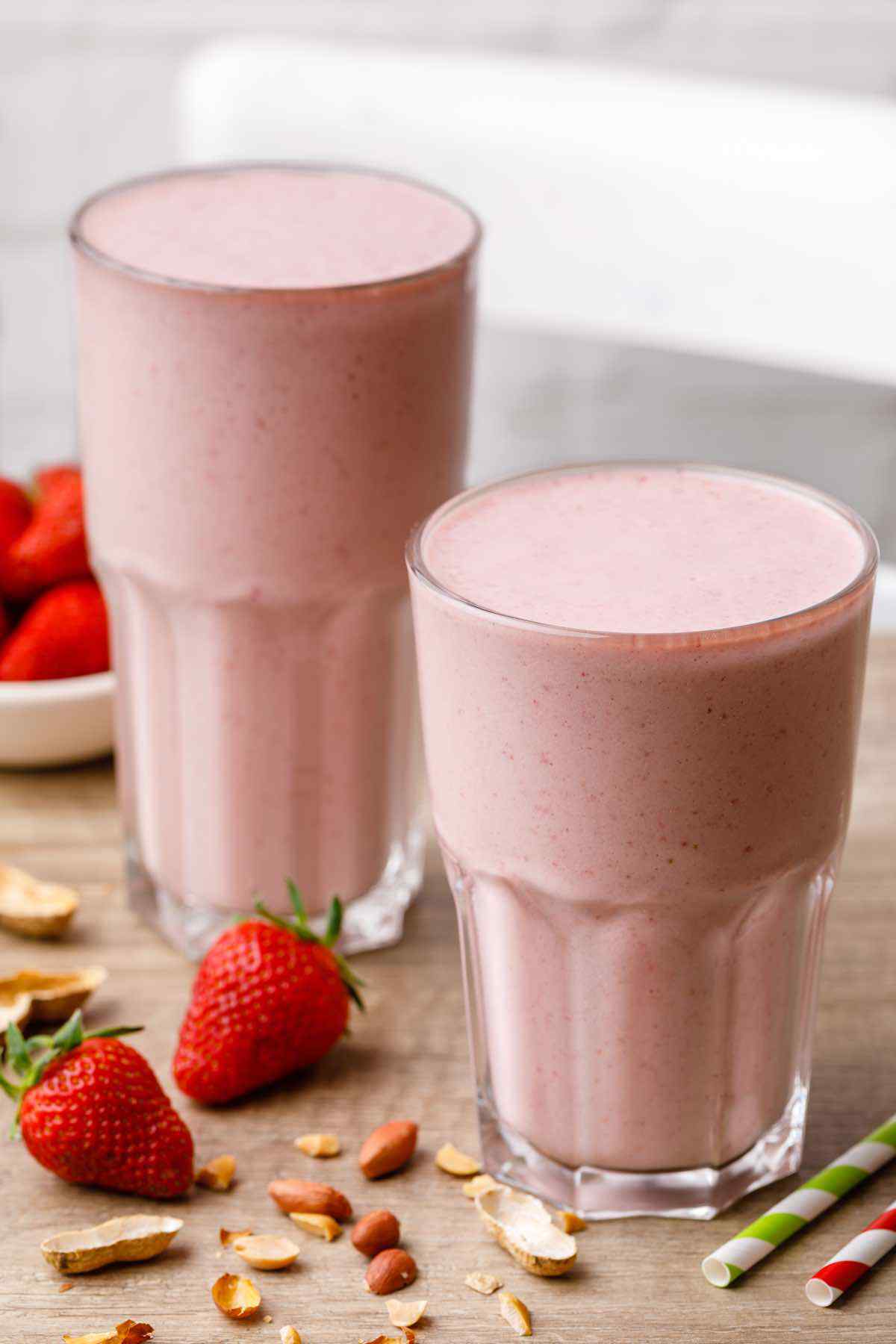 More Keto Smoothie Recipes:
Very Berry Keto Fruit Smoothie (Creamy and Refreshing)
Double Chocolate and Peanut Butter Keto Smoothie
The Best Keto Green Breakfast Smoothie Ever (Packed with Avocado)
Easy and Quick Keto Smoothie Recipe – Low Carb and High in Healthy Fats
Print Recipe
Strawberry and Peanut Butter Keto Smoothie
FREE KETO RECIPES + 5-INGREDIENT KETO COOKBOOK

Make sure to sign up for free to get instant access to the 5-Ingredient Keto Cookbook, which includes my favorite 20+ keto recipes of all-time, all under 5 ingredients.
Scale
1/3 cup frozen strawberries
½ cup crushed ice
1 tbsp peanut butter
1 scoop vanilla protein powder
1 tbsp MTC oil
1 cup unsweetened almond milk
liquid Stevia to taste
Place all the ingredients in a blender and blend until smooth.
Serve immediately.