Keto Recipes
Cream Cheese Keto Squash Casserole with Pork Rinds
This cream cheese keto squash casserole with crispy pork rinds might just be the best keto casserole recipe that I've come across yet. The casserole is loaded with nourishing whole food ingredients that you can easily find in your pantry for an effortless lunch or dinner prep.

This keto squash casserole reminds me of some of my other favorites, like my Broccoli Casserole, Loaded Cauliflower Casserole and Tuna Casserole. It's comforting, homey and completing soul-satisfying.
How to Make a Keto Squash Casserole
You'll be making this keto squash casserole with cream cheese like a pro in no time. Here's the recipe:
Preheat the oven. Preheat your oven to 400℉.
Prepare the cooking skillet. Add the butter to a large skillet and melt over medium heat.
Cook the squash. Add the cubed summer squash and cook, stirring occasionally, until tender. Use a fork to check the texture of the squash.
Cook the onion. Add the chopped green onion and cook for approximately 3-5 minutes.
Remove from heat. Remove the squash and onion from the heat.
Combine ingredients. Combine one egg and the heavy cream in a bowl.
Toss. Add one cup of shredded cheddar cheese and the summer squash to the egg mixture and toss to combine.
Prepare for baking. Transfer the mixture to an 8 inch round baking dish and top with the remaining ¼ cup of shredded cheddar cheese.
Prepare the topping. In a separate bowl, combine the pork rind crumbs with the Parmesan cheese.
Sprinkle. Sprinkle the pork rind mixture over top of the summer squash casserole.
Bake. Bake the casserole in the preheated oven for 20 minutes or until brown and bubbly.
Garnish. Top the casserole with extra green onion.
Serve. Serve warm.
Are Pork Rinds Keto?
You don't have to worry about adding pork rinds to your keto casserole. Pork rinds are definitely a 100% keto approved food and make a wonderful addition to many savory keto dishes.
If you're not familiar with pork rinds, they're basically just pieces of crispy fried pork skin with added salt. Not only are pork rinds a zero carb food, they also happen to be an excellent source of both dietary fat and protein.
On top of that, pork rinds are also a surprisingly good source of collagen, which provides numerous benefits, especially when it comes to your skin health.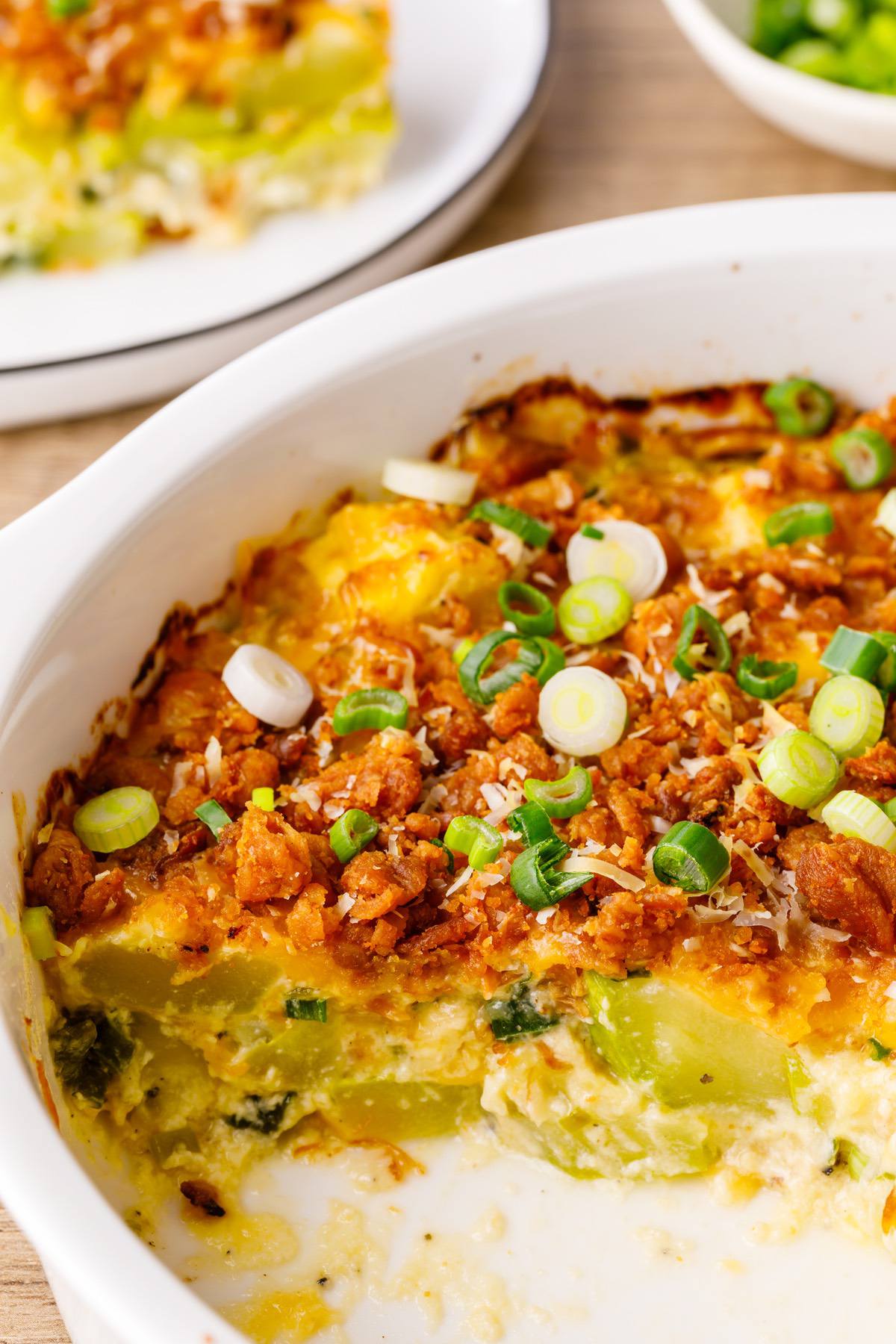 How to Make Pork Rind Crumbs
While you can easily just go and buy pork rinds from your local grocery store, it's also possible to make them yourself from scratch. Here's how you can make your own homemade baked pork rind crumbs:
Preheat the oven. Preheat your oven to 120℉.
Prepare the pork skin. Use a knife to trim any excess fat off the pork skin that you will be using; I usually like to cut the skin into pieces that are about 1-2 inches thick.
Prepare for baking. Arrange the pork skin pieces in a single layer on a baking sheet.
Bake. Bake for 4-6 hours or until the pork skin is dehydrated.
Drain. Drain any excess lard from the baking sheet into a frying pan.
Fry. Fry the pork rinds in the lard for approximately 30-60 seconds.
Cool. Use a spoon to scoop the pork rinds out of the lard and place them on a plate to cool off.
Can I Freeze Keto Squash Casserole?
If you won't be able to finish any leftovers of this squash casserole within a few days, then you can definitely freeze it in order to extend the shelf life.
Just allow the casserole to cool completely after cooking if you do plan on freezing it. You'll then want to transfer it into a freezer-safe container before putting in the freezer.
This cream cheese squash casserole will keep in the freezer like this for up to 2-3 months.
(You may also like: Cream Cheese Keto Chicken Cordon Bleu Casserole)
Print Recipe
Cream Cheese Keto Squash Casserole with Pork Rinds
Author: Bree
Prep Time:

15 minutes

Cook Time:

30 minutes

Total Time:

45 minutes

Yield:

4

1

x
FREE KETO RECIPES + 5-INGREDIENT KETO COOKBOOK

Make sure to sign up for free to get instant access to the 5-Ingredient Keto Cookbook, which includes my favorite 20+ keto recipes of all-time, all under 5 ingredients.
Scale
2 tbsp

butter

4 cups

cubed summer squash

½ cup

chopped green onion plus extra for garnish 

1

egg

½ cup

heavy cream

1 ¼ cup

shredded cheddar cheese

¼ cup

pork rind crumbs

¼ cup

Parmesan cheese

salt and black pepper to taste
Preheat oven to 400ºF. 

Melt the butter in a large skillet over medium heat. 

Add the summer squash and cook, stirring occasionally, until tender. 

Add the green onion and cook for 3-5 minutes. 

Remove from the heat.

In a bowl combine the egg and heavy cream. 

Add 1 cup of cheddar cheese and summer squash and toss to combine. 

Transfer the mixture in an 8 inch round baking dish. 

Top with remaining shredded Cheddar cheese. 

In a small bowl combine the pork rind crumbs and Parmesan cheese. 

Sprinkle the pork rind – Parmesan mixture over the top of the squash casserole.

Bake in preheated oven for 20 minutes until browned and bubbly. 

Top with extra sliced green onion and serve. 
More Good Keto Casseroles