Keto Dinner
The Best Homemade Keto Spaghetti and Meatballs (Low Carb)
Spaghetti and meatballs is, and will always be, a comfort food for me. My mom used to make me her signature spaghetti and meatballs for our family dinners, and it's something that has stuck with me over the years. I do let the kids have regular pasta with this recipe, but for those of us who are on low carbs, my keto spaghetti and meatballs is such a delicious alternative and so, so good.

How to Make Homemade Low Carb Keto Spaghetti
Melt the cheese. Add the mozzarella cheese to a microwave-safe bowl. Microwave for 60 seconds or until melted.
Add the egg. Add egg yolks and beat to combine.
Refrigerate. Roll out the dough between 2 parchment sheets until it's about ⅙" thick and then refrigerate overnight.
Cut into noodles. Remove from the fridge and cut into noodle strips.
Cook. Place the noodles in boiling water and cook for one minute.
Rinse. Drain and rinse the noodles under cold running water.
Serve. Serve immediately with homemade meatballs and sauce.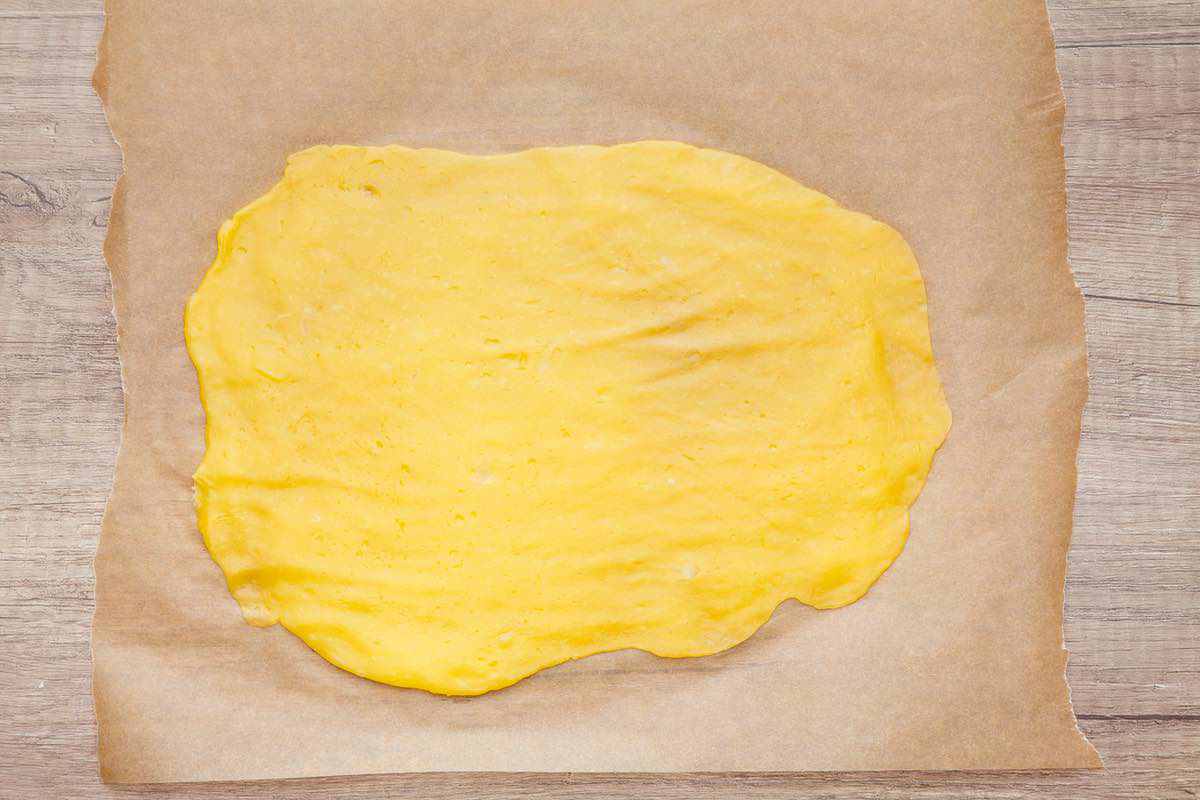 (Also try: Keto Pasta Carbonara)
How to Make Keto Meatballs
Before you cook your low carb spaghetti noodles, you'll want to start preparing the homemade meatballs and sauce. This is a simple recipe that packs a lot of flavor:
Combine the ingredients. Add the ground beef, Parmesan cheese, cream cheese, egg, parsley, onion, garlic, salt, and black pepper to a bowl. Mix to combine.
Form meatballs. Roll the beef mixture into tablespoon sized balls.
Cook. Heat the olive oil in a large non-stick skillet. Cook the meatballs until they're golden on all sides.
Simmer. Add the marinara sauce and cover, allowing the mix to simmer for 8-10 minutes. Remove from the heat and set aside.
Serve. Serve with your homemade keto spaghetti noodles!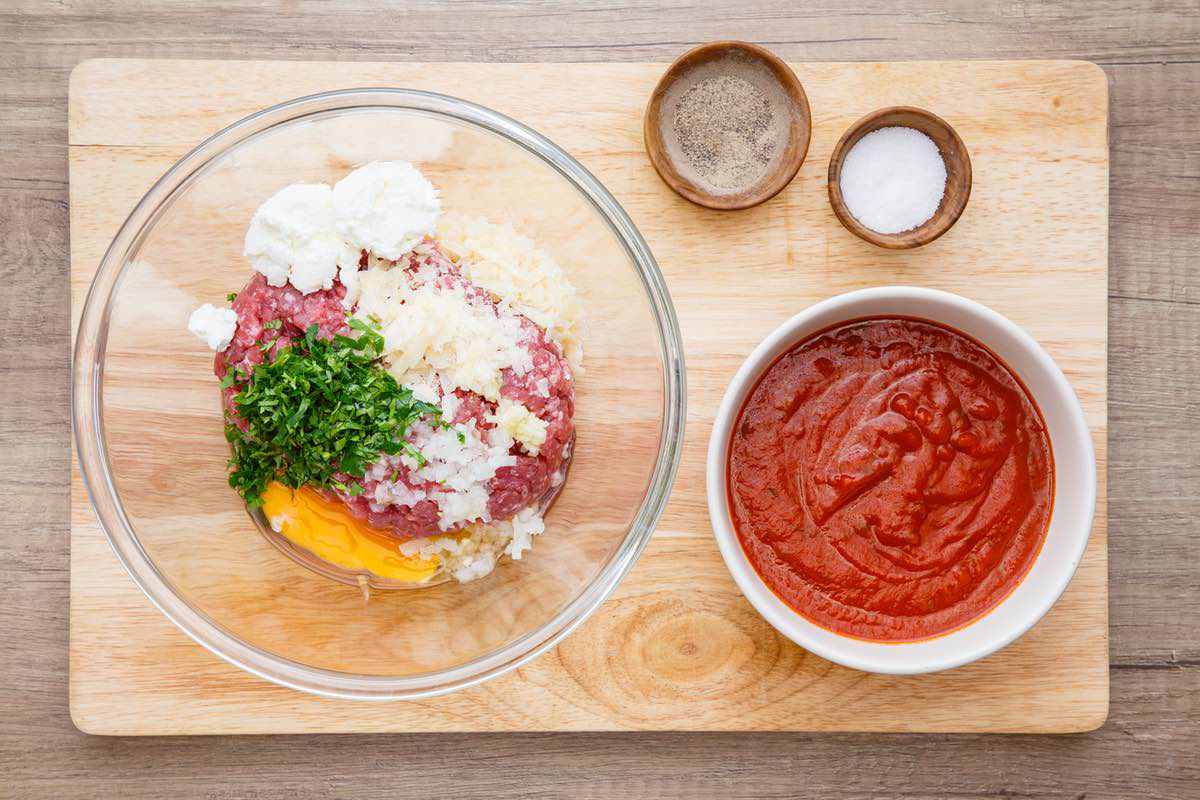 (Also try: Mozzarella Stuffed Keto Meatballs with Homemade Marinara Sauce)
Do I Really Need To Refrigerate the Pasta Dough Overnight?
Yes, you're going to need to refrigerate the keto pasta dough mixture overnight in order to help it firm up. Around 8 hours is the ideal amount of time, but in a pinch, you could probably cut the refrigeration time down to between 4-6 hours.
One thing that you definitely don't want to do is try to place the pasta in the freezer to try and cool it down faster; doing this will change the overall texture of your pasta.
Can I Add Any Of My Favorite Herbs In With This Recipe?
Adding either fresh or dried herbs in with the keto spaghetti sauce is perfectly acceptable when you're making this recipe. They're all zero carb and can end up adding a ton of flavor into the mix when you use them.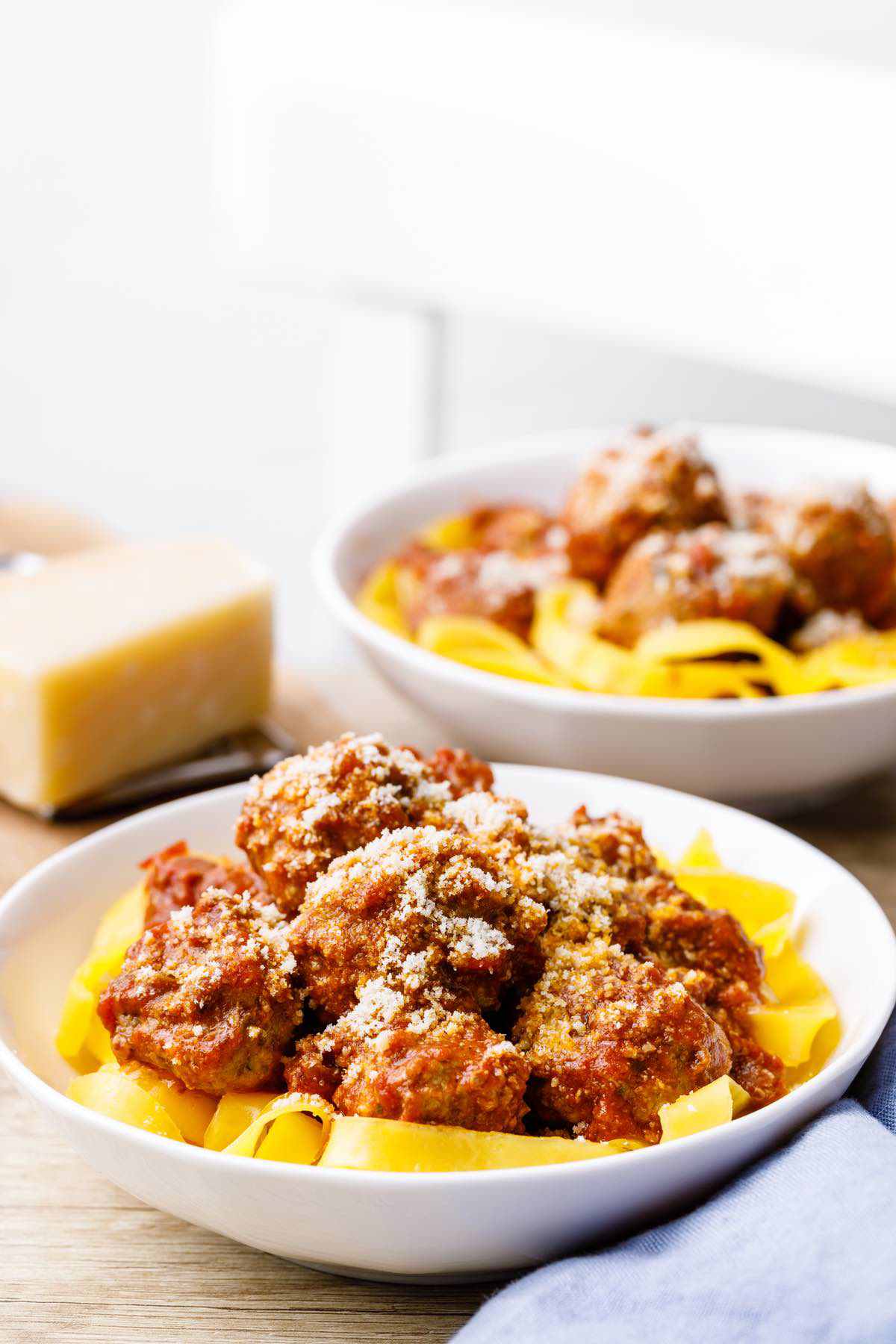 Also try this incredibly easy (and SO, so good keto pasta carbonara recipe:):
---
Why Did My Spaghetti Noodles Turn Out Mushy?
You most likely ended up rinsing your keto noodles under running water for longer than the recommended one minute. Any longer than one minute under water can result in noodles that disintegrate easily or turn out mushy in texture.
It's also important to make sure that you're actually taking the time to rinse the noodles after cooking. This is done in order to lower the temperature of the pasta so that it stops cooking otherwise it may turn out mushy.
How Long Will Keto Spaghetti Keep in the Refrigerator?
The meatballs and pasta sauce will keep for up to 3-5 days in the refrigerator. If you plan to keep it any longer than 3-5 days, I would recommend freezing it instead. Once it's done cooking and has cooled to room temperature, you can store it in the freezer in an airtight container.
The noodles, however, are meant to be eaten fresh so we recommend making a fresh batch when you can. Freezing the noodles will affect the texture, so it's best to cook it and serve immediately.
Can I Cook Keto Pasta in the Microwave?
I don't recommend using the microwave to cook your pasta in case you can't cook it on the stovetop, the reason being you have to maintain the boil while you're cooking the noodles, which is something you can't really do using a microwave.