Keto Dinner
The Best Homemade Keto Spaghetti and Meatballs (Low Carb)
Spaghetti and meatballs is, and will always be, a comfort food for me. My mom used to make me her signature spaghetti and meatballs for our family dinners, and it's something that has stuck with me over the years. I do let the kids have regular pasta with this recipe, but for those of us who are on low carbs, my keto spaghetti is such a delicious alternative.

Keto Spaghetti? Sign Me Up!
Sign me up, indeed. This recipe is so tasty while still being relatively straightforward. It's made with keto pasta, but I know of a few recipes that incorporate some other keto pasta alternatives. Check out these recipes by these other food blogs that I follow:
Moving on to the recipe! You'll start with the 'pasta' which is made from mozzarella cheese and egg yolks. That's right, no flour required. Beat the two to combine and roll it out between 2 sheets of parchment paper until they're about ⅙ of an inch thick. Refrigerate this overnight and try to forget about it for the time being.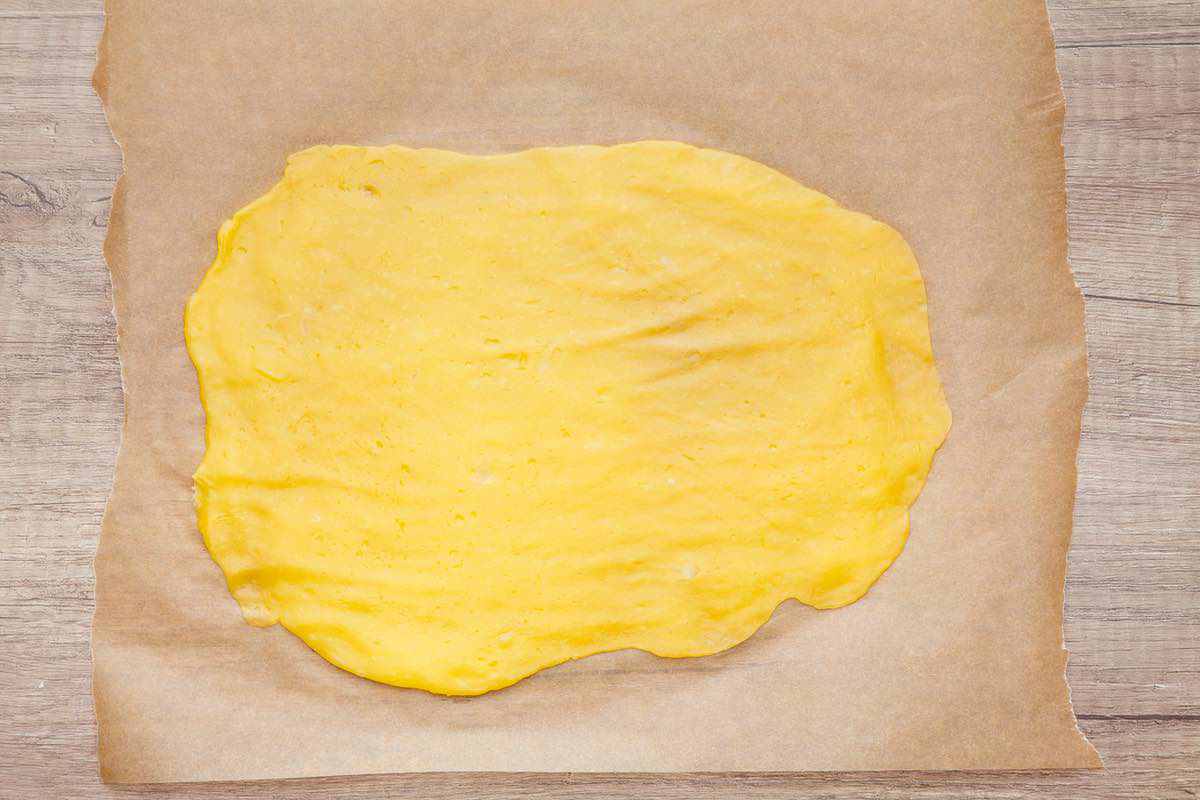 Next up are the meatballs. Simply combine your ground beef, Parmesan cheese, cream cheese, egg, parsley, onion and garlic in a bowl. Season with some salt and black pepper and mix well. Form them into balls that are about the size of a tablespoon.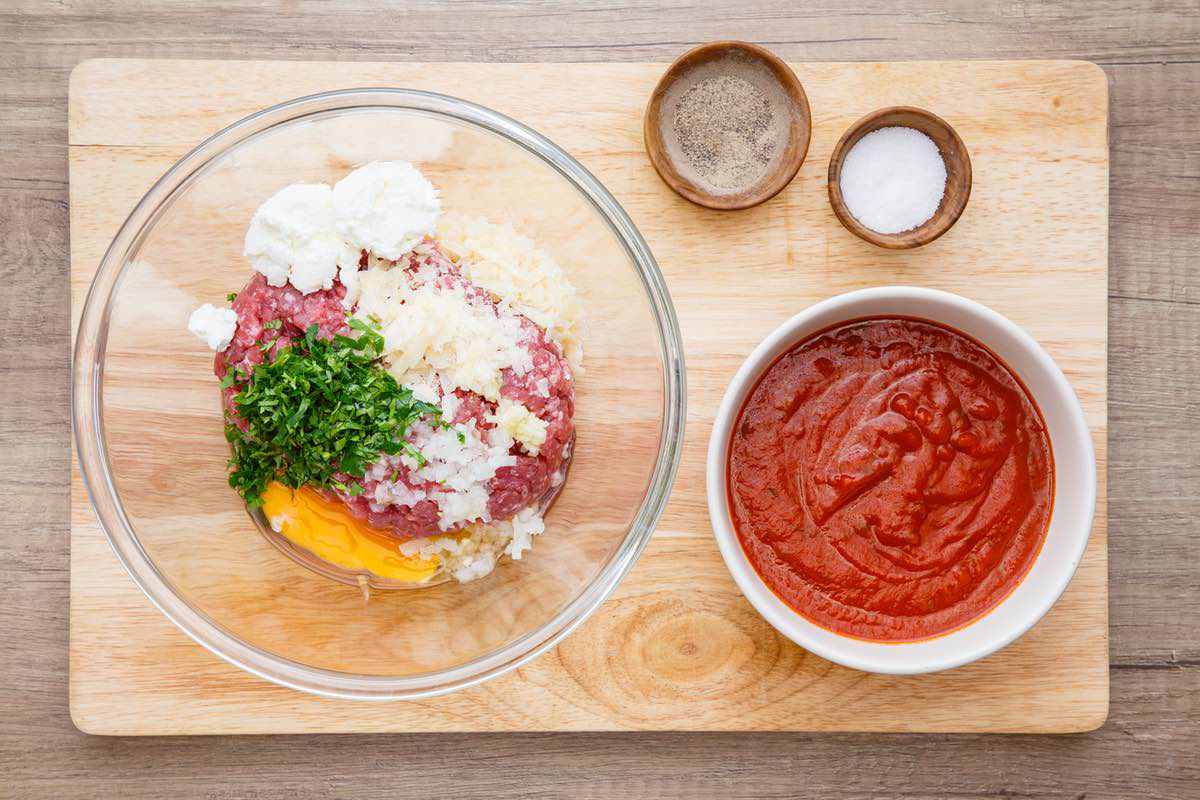 Next, you'll want to sear the meatballs in a skillet until they're golden brown on all sides. Add your sauce and let simmer for 8 to 10 minutes. You can then take out the pasta dough that's been in the refrigerator overnight and cut it into noodles. Place the noodles in boiling water for just one minute and drain.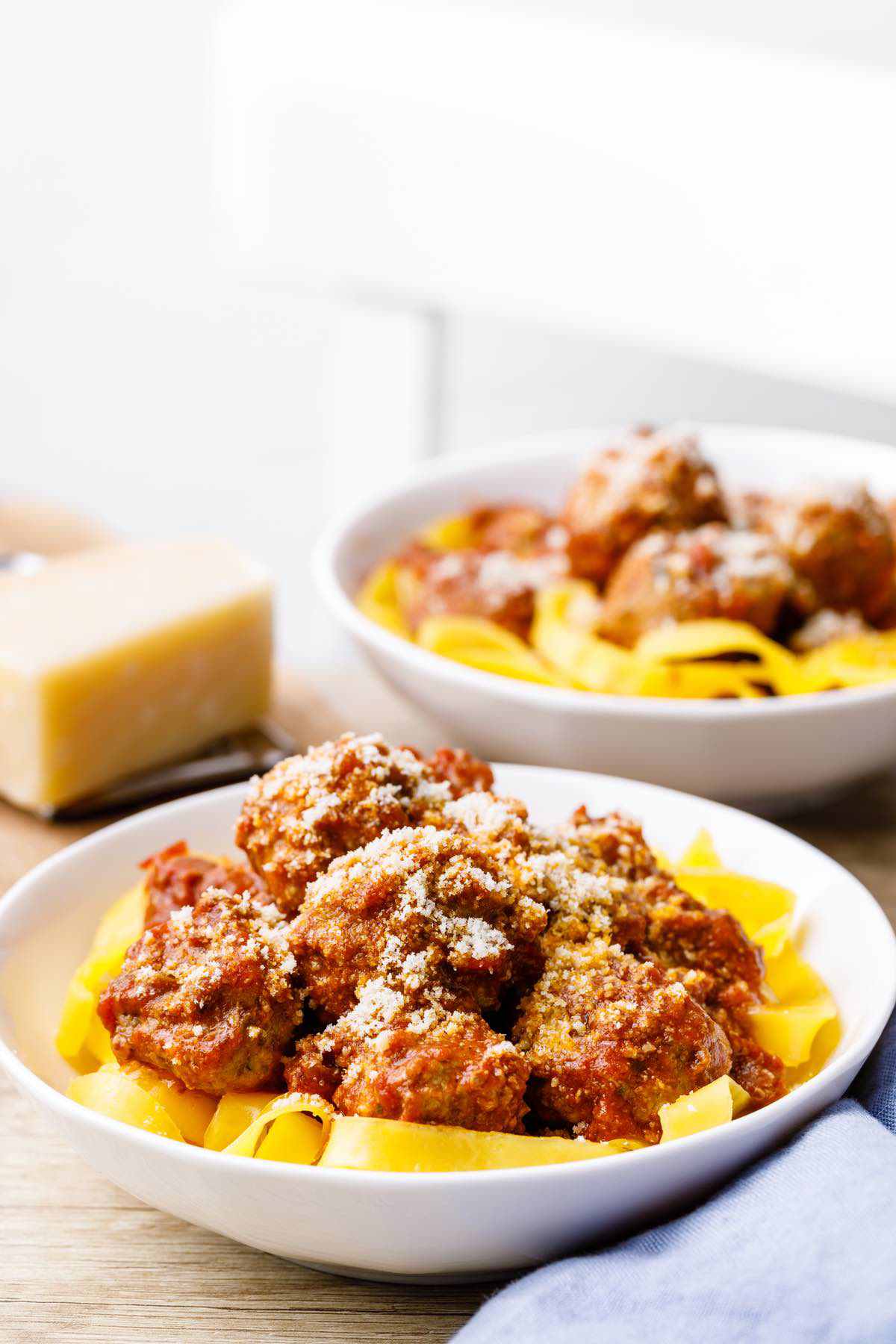 Serve the noodles with the pasta sauce and you've got yourself one hearty meal!
Do I Need to Refrigerate the Pasta Dough Overnight?
Yes, refrigerating overnight will help form the pasta dough and give it a firmer texture. About 8 hours is ideal, but if you had to, you could cut it down to 4-6 hours.
I don't recommend placing it in the freezer for it to cool faster, as this would affect the texture of the pasta.
Can I Add Herbs to the Meatballs or Pasta Sauce?
To help add flavor to your dish, you could add some dried herbs like oregano and thyme. Fresh herbs would work as well. Herbs are extremely flavorful with the added benefit of being zero carbs, which is perfect for keto dieting.
Why Did My Keto Spaghetti End Up Mushy?
I recommend cooking your noodles for just one minute in boiling water. Any longer than that won't really benefit the texture of your pasta. If you happen to leave it in the water longer than a minute, it may result in noodles that easily disintegrate or are mushy in texture.
Also, be sure to rinse your noodles in cold running water after cooking. What this does is it lowers the temperature of your pasta so that it stops cooking. If you don't rinse it in cold water after cooking, then it's likely that's also causing the mushy texture.
How Long Will Keto Spaghetti Keep in the Refrigerator?
The meatballs and pasta sauce will keep for up to 3-5 days in the refrigerator. If you plan to keep it any longer than 3-5 days, I would recommend freezing it instead. Once it's done cooking and has cooled to room temperature, you can store it in the freezer in an airtight container.
The noodles, however, are meant to be eaten fresh so we recommend making a fresh batch when you can. Freezing the noodles will affect the texture, so it's best to cook it and serve immediately.
Can I Cook Pasta in the Microwave?
I don't recommend using the microwave to cook your pasta in case you can't cook it on the stovetop, the reason being you have to maintain the boil while you're cooking the noodles, which is something you can't really do using a microwave.
Print Recipe
The Best Homemade Keto Spaghetti and Meatballs (Low Carb)
Author:
Prep Time:

30 minutes

Cook Time:

20 minutes

Total Time:

50 minutes

Yield:

4

1

x
FREE KETO RECIPES + 5-INGREDIENT KETO COOKBOOK

Make sure to sign up for free to get instant access to the 5-Ingredient Keto Cookbook, which includes my favorite 20+ keto recipes of all-time, all under 5 ingredients.
Scale
For the meatballs: 
1 tbsp olive oil 
1 pound ground lean beef
¼ cup grated Parmesan cheese plus extra for serving
2 tbsp cream cheese
1 large egg
2 tbsp minced fresh parsley
1 tbsp finely minced onion 
1 garlic clove, minced 
2 cups low carb marinara sauce 
salt, black pepper to taste 
For pasta: 
4 cup shredded mozzarella cheese 
4 egg yolks
Add the mozzarella cheese to a microwave safe bowl. 

Microwave for 1 minute or until melted.

Add the egg yolks and beat to combine. 

Roll out the dough between 2 parchment sheets until about 1/6" thick.

Refrigerate overnight. 

To make the meatballs, in a bowl place the ground beef, Parmesan cheese, cream cheese, egg, parsley, onion, garlic and salt and black pepper to taste. 

Mix to combine. 

Form the meatballs into 1 tablespoon sized balls. 

Heat the olive oil in a large non stick skillet. 

Add the meatballs and cook until golden on all sides.

Add the sauce and cover. 

Simmer for 8-10 minutes. 

Remove from the heat and set aside. 

Remove the pasta dough from the fridge. 

Cut into noodles. 

Place the noodles into a boling water and cook for one minute. 

Drain and rinse the noodles under cold running water.

Serve immediately with meatballs and sauce.
More Low Carb Keto Pasta Ideas: