Keto Recipes
Refreshing Homemade Grapefruit Keto Soda (Low Sugar and Low Carb)
This homemade keto grapefruit soda is healthy, very refreshing and so much better than any keto-friendly soda you can buy. It's perfectly tart and sweet with all the fizzy bubbles you crave.

5 Reasons Homemade Grapefruit Soda is Better (And Healthier for You) Than Store-bought Sodas
It's low in sugar. Grapefruit soda has barely even 1 gram of sugar while a typical can of soda has anywhere between 25 grams to 40 grams of sugar.
Grapefruit contains vitamins and minerals. Grapefruit is an excellent source of vitamin C, vitamin A, potassium and calcium. (1)
Grapefruit is rich in antioxidants. Antioxidants help protect us against free radical damage.
Grapefruit may have anti-cancer properties. Phytonutrients in grapefruit have been found to have anti-tumor properties. (2)
Homemade grapefruit soda can help promote healthy weight management. Since this recipe is low-carb and does not contain the other chemicals and ingredients found in regular soda, it doesn't spike blood glucose levels and doesn't cause sugar cravings.
How to Make the Best Homemade Keto Grapefruit Soda (Low Carb, Low Sugar)
Making your own homemade soda is incredibly easy. Here's how:
Make the syrup. Boil together your water, sweetener and grapefruit zest. Remove the grapefruit zest once done.
Squeeze the juice out of your grapefruit. Use a juicer or manually extract the juice.
Compose your homemade soda. Divide the syrup and grapefruit juice between 2 glasses and then add seltzer water and ice cubes to each glass.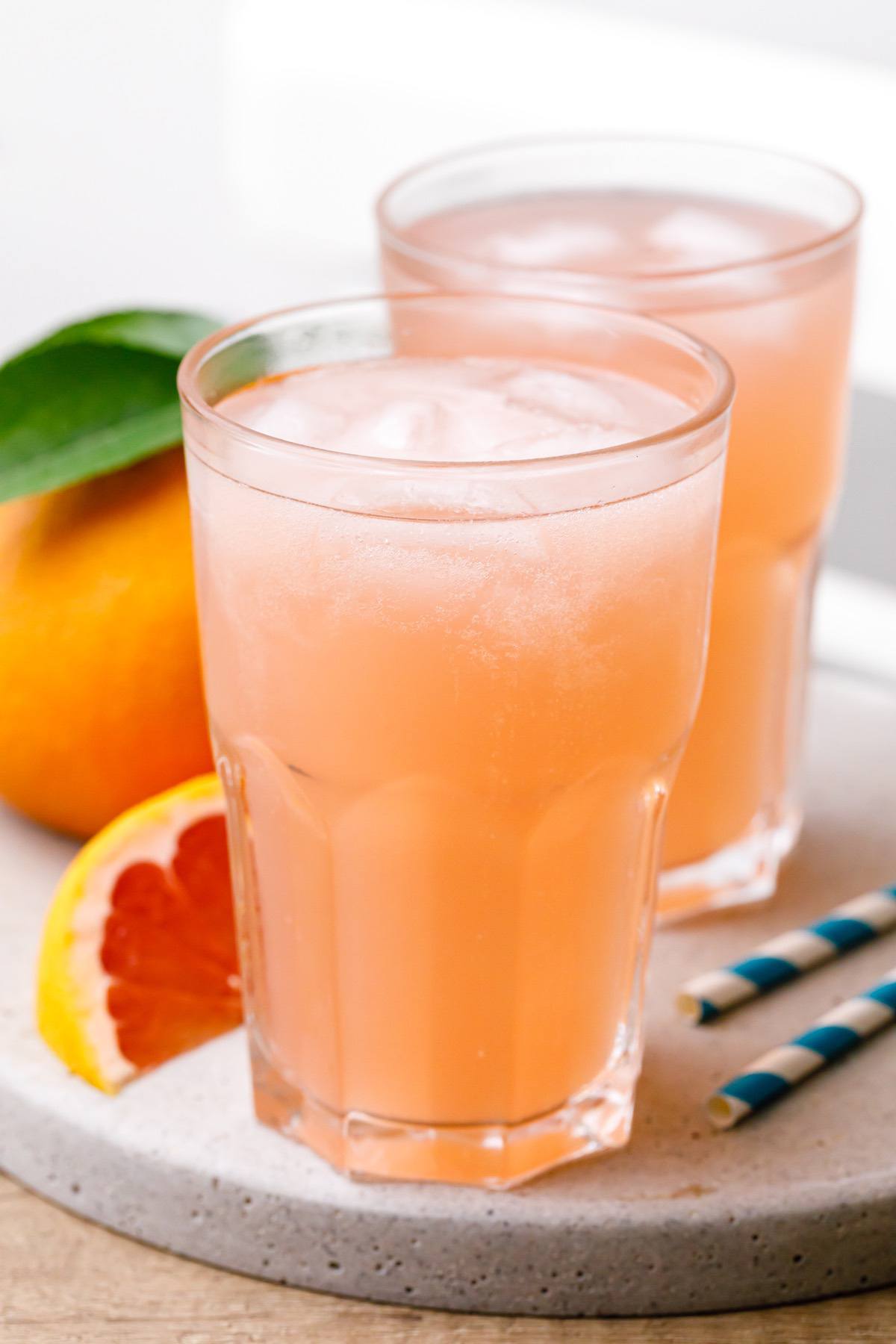 Alternative Homemade Keto Soda Flavors to Try
Be sure to give these other flavor combos a try! Simply replace the grapefruit juice and zest in this recipe with:
Raspberry and Lemon – This is my favorite lemonade flavor and also one of my top homemade soda flavors.
Use ½ cup raspberry juice with 3 tablespoons of lemon juice and 3 strips of lemon zest.
Blueberry, Orange, and Mint – This is so refreshing and really wakes up the senses.
Use ¼ cup orange juice, ⅛ cup crushed blueberries, 2 sprigs of mint.
Kiwi and Watermelon – One of my favorite combos when I have ripe watermelon on hand.
Use ½ cup crushed watermelon and ⅛ cup of crushed kiwi.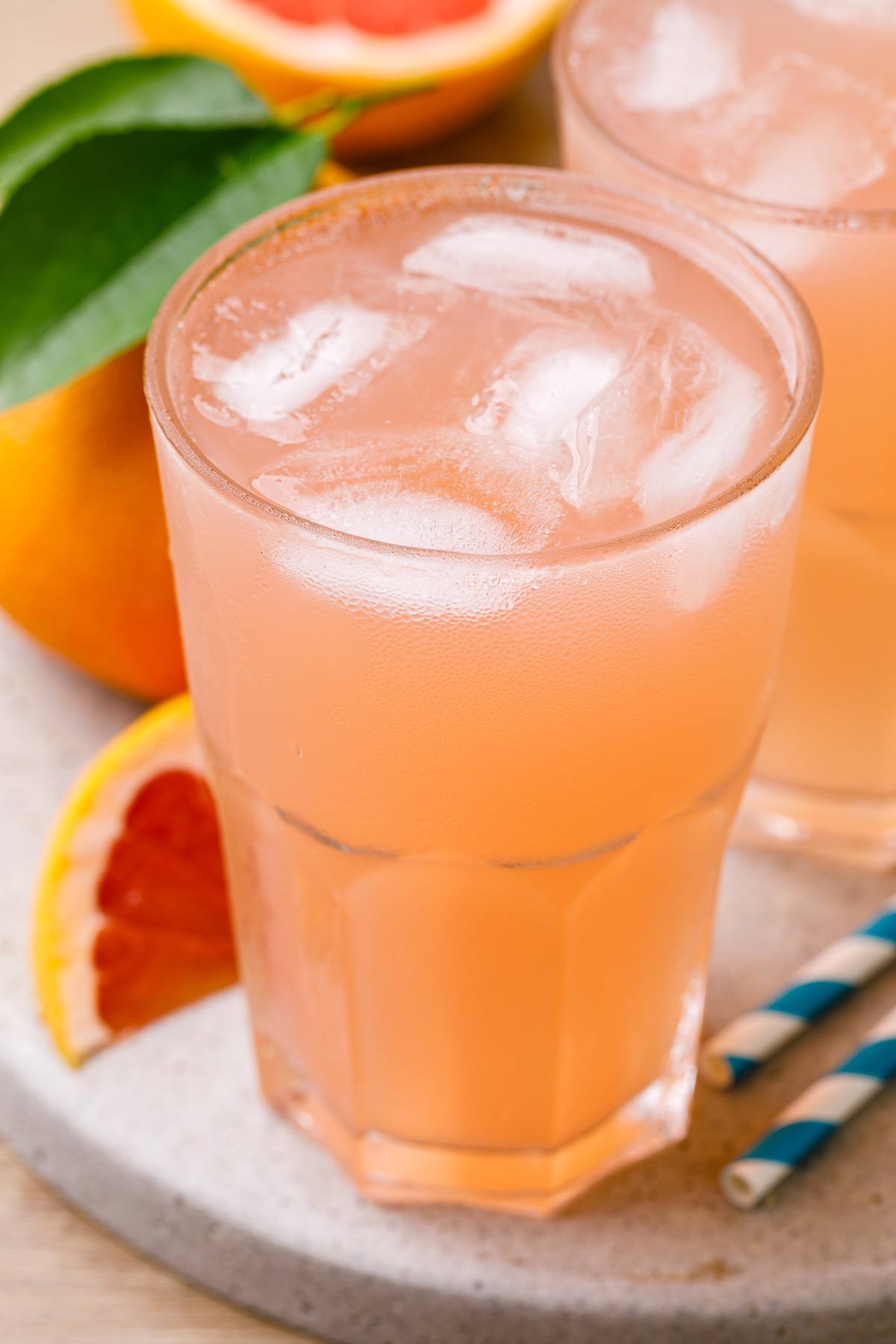 Important Disclaimer on Grapefruit If You're Diabetic and for Some RX Medications
Consult your physician if you are taking any medications to avoid any potential interactions when consuming grapefruit, as it has been shown to interact with certain classes of drugs.
More Keto-friendly Drinks You'll Love
Print Recipe
Refreshing Homemade Grapefruit Keto Soda (Low Sugar and Low Carb)
FREE KETO RECIPES + 5-INGREDIENT KETO COOKBOOK

Make sure to sign up for free to get instant access to the 5-Ingredient Keto Cookbook, which includes my favorite 20+ keto recipes of all-time, all under 5 ingredients.
Scale
2 tbsp

granulated Stevia or other low carb granulated sweetener 

¼ cups

water

¾ cups

freshly squeezed grapefruit juice

3

–

4

strips grapefruit zest 

1 cup

chilled seltzer water

a few ice cubes
Add the water, sweetener and grapefruit zest to a saucepan. 

Bring to a boil over medium heat. 

Remove from the heat. 

Discard the grapefruit zest. 

Let the syrup cool completely. 

Divide the syrup and grapefruit juice between 2 glasses. 

Stir to combine. 

Add the seltzer water and ice cubes and serve immediately.
P.S. Can't use grapefruit? Try these refreshing low carb keto soda recipes instead: