Keto Recipes
Creamy Sun Dried Tomato Smothered Keto Pork Chops
If you're looking for a comforting and hearty keto pork chop recipe, give this yummy (and soul-satisfying) creamy sun dried tomato smothered pork chop recipe a try! It also makes the best leftovers.

How to Make Smothered Keto Pork Chops
Season. Season your pork loins with some salt and pepper.
Cook the pork chops. In a skillet with some olive oil, cook the pork chops for about 3 to 4 minutes each sider over medium heat.
Remove from the heat and set aside.
Saute the onion, sun dried tomatoes and garlic. Use the same skillet to saute the rest of these ingredients.
Add in the soup and heavy cream. Then stir in the parmesan cheese.
Season. Season with salt and pepper.
Add the pork chops back in.
Reduce the sauce. Let the sauce simmer for a few more minutes or until the sauce has thickened.
Remove from the heat.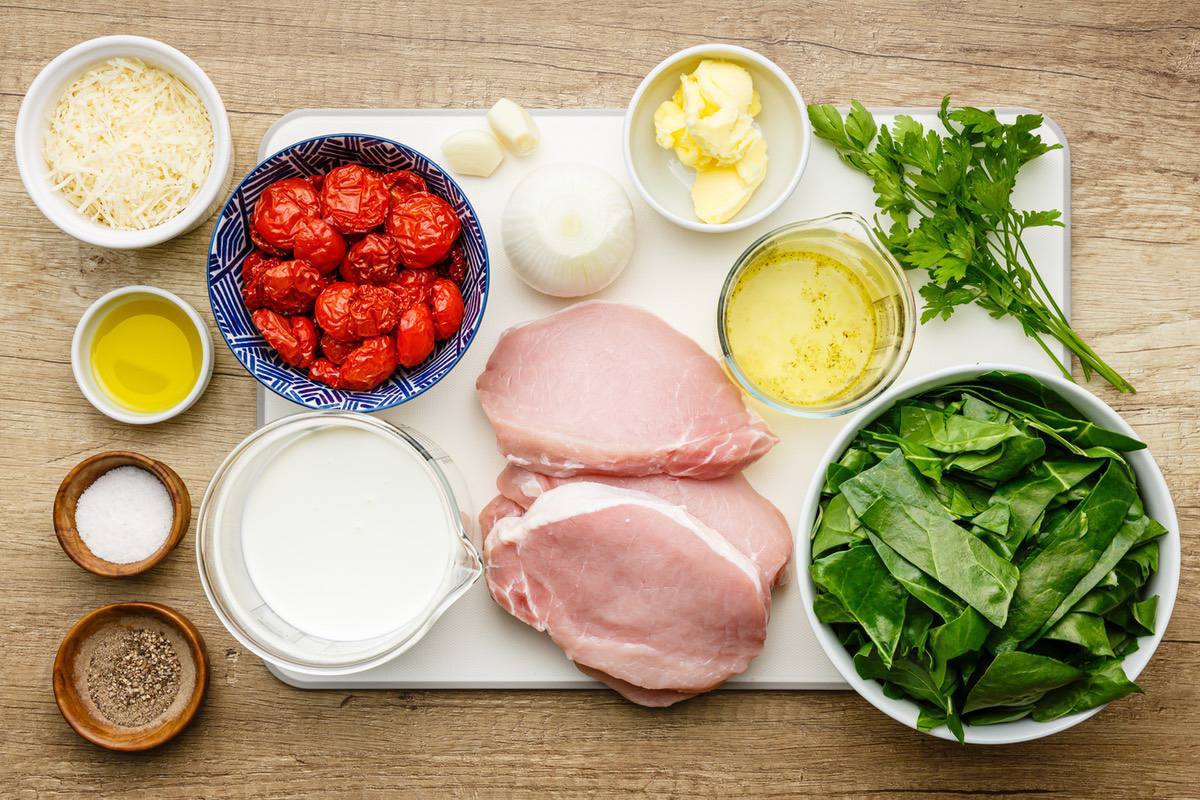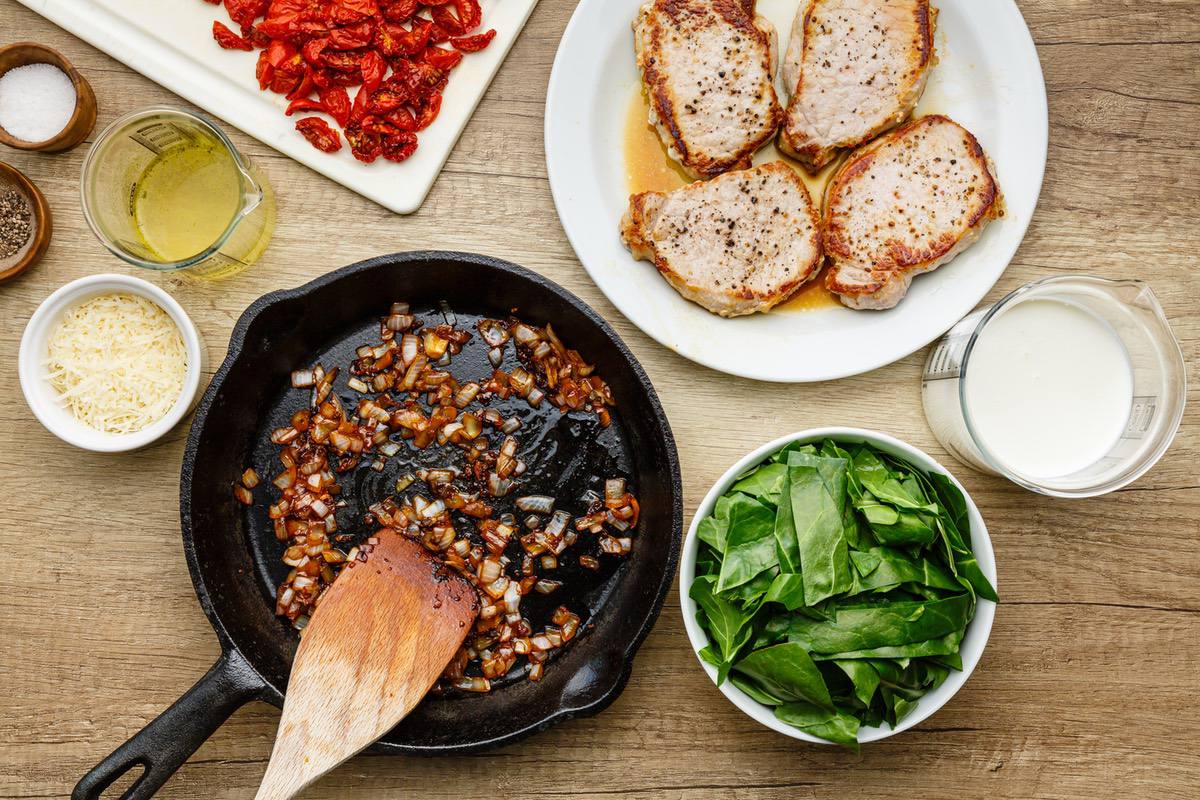 Can You Freeze Smothered Keto Pork Chops for Later?
Yes, keto pork chops freeze well if you'd like to save some leftovers for later. This recipe in particular is one of my favorites to meal prep because it stays moist, and the pork chops really soak up the flavors of the other ingredients.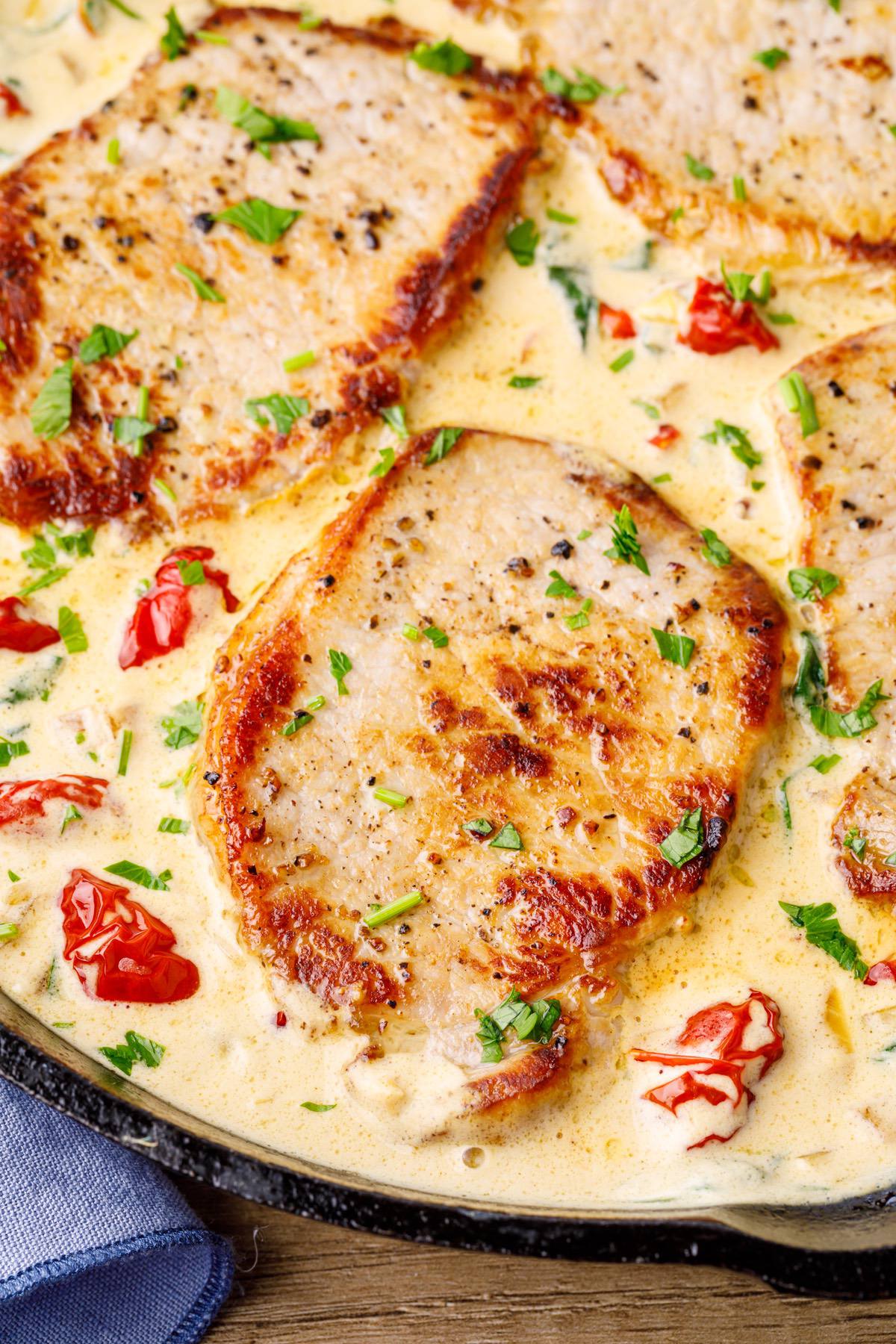 How Long Should You Cook Pork Chops in a Skillet?
First, you'll want to sear your pork chops for about 2 to 3 minutes on each side. Then once your sauce is prepared, you'll simmer it for anywhere between 5 to 7 minutes more.
The cooking time varies depending on the heat you use and the thickness of the pork chop. To speed up the cooking time, you can cover the skillet, but not if you're still trying to reduce the sauce.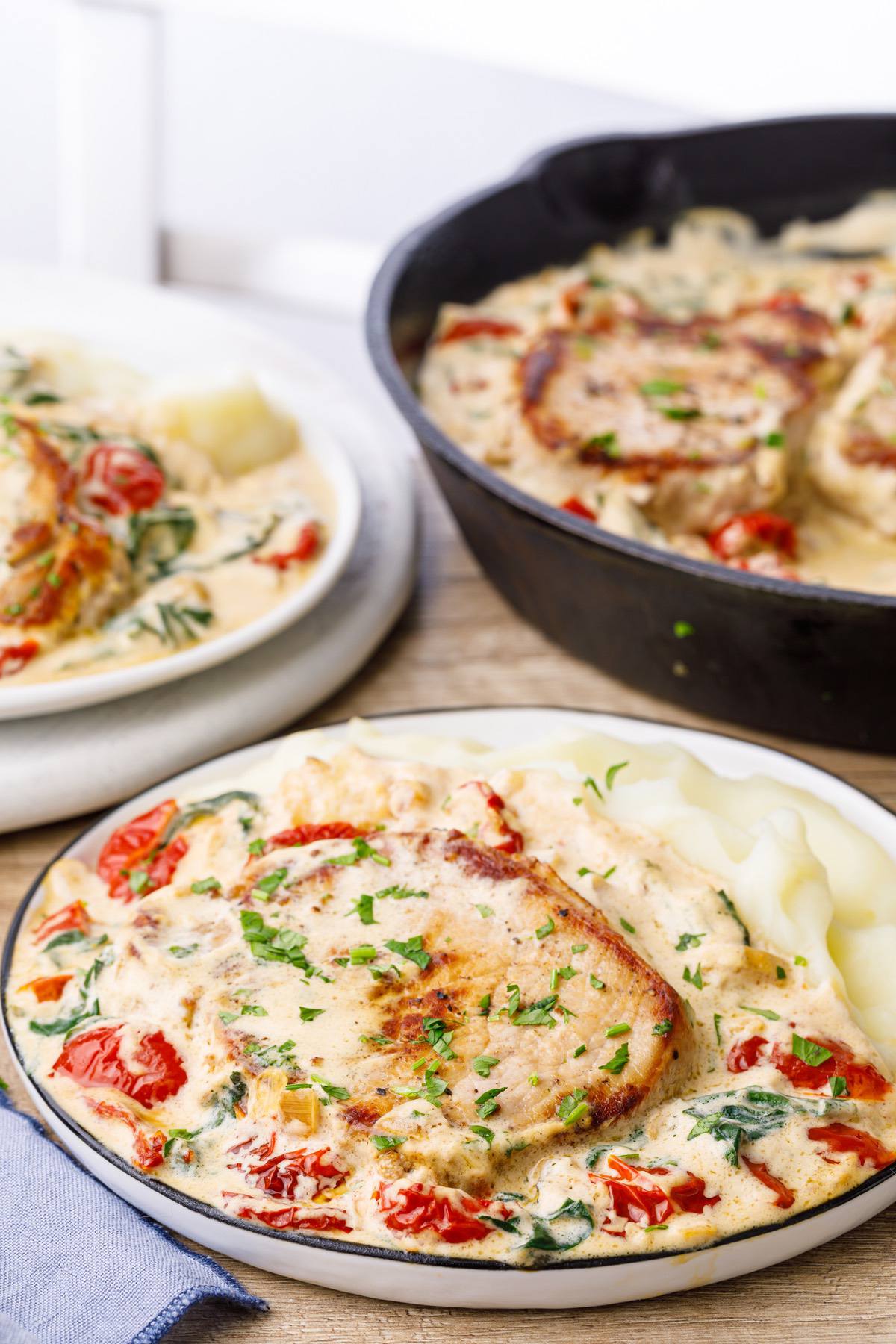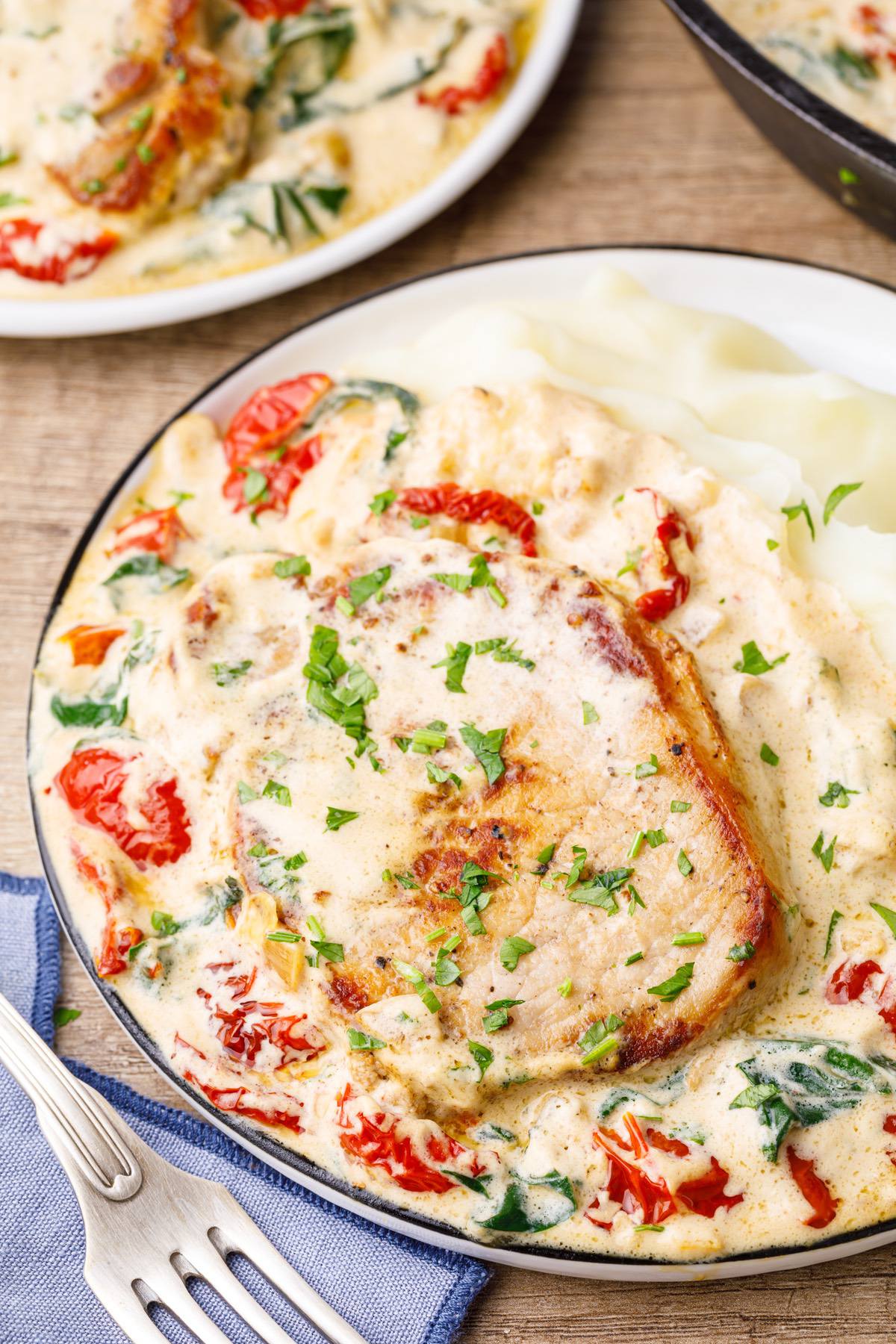 Why Are My Pork Chops Tough?
Since the cooking time varies depending on your cooking method, it's important that you avoid overcooking your pork chops because they will end up tough.
To avoid this, you can start simmering the sauce first until it's about halfway to the thickness that you're aiming for. Once you've reached this point, you can add the pork chops so that it won't cook for too long.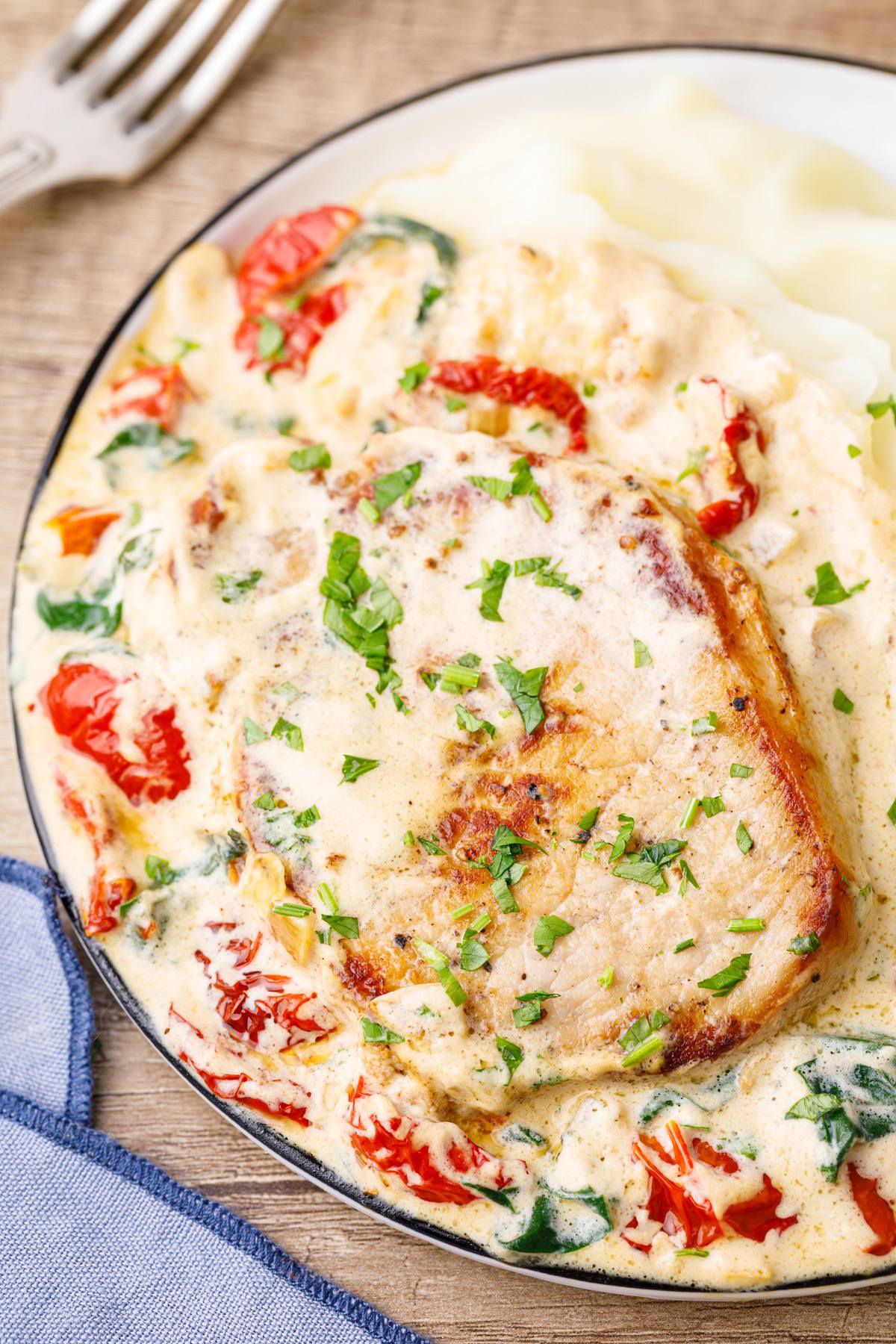 Print Recipe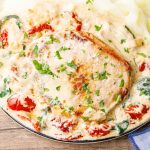 Creamy Sun Dried Tomato Smothered Keto Pork Chops
Author: Bree - KetoPots.com
Prep Time:

15 minutes

Cook Time:

30 minutes

Total Time:

45 minutes

Yield:

4

1

x
Scale
4

pork loin chops, boneless 

1 tbsp

olive oil

2 tbsp

butter

2

garlic cloves, minced

1

small onion, diced

1/3 cup

vegetable broth

5 oz

jarred sun-dried tomato in oil, well drained and chopped 

1 ¾ cups

heavy cream

3 cups

chopped spinach

½ cup

grated Parmesan cheese

1 tbsp

fresh parsley, chopped

salt and pepper, to taste
Season the pork with salt and black pepper. 

In a skillet, heat the olive oil over medium heat. 

Add the chops and cook 3-4 minutes per side. 

Remove the chops from the skillet. 

In the same skillet add the butter. 

Add the onion and cook for 5 minutes. 

Add the sun dried tomatoes and cook for 1-2 minutes. 

Add the garlic and cook for 30 seconds. 

Pour in the soup and heavy cream. 

Stir in the parmesan cheese. 

Season to taste with salt and black pepper. 

Return the pork chops to the skillet. 

Allow the sauce to reduce in a gentle simmer until thickened to your liking.

Add spinach cook for 1-2 minutes until wilted

.

Remove from the heat. 

Sprinkle with parsley and serve. 
Make Sure to Try These Other Keto Pork Dishes
FREE KETO RECIPES + 5-INGREDIENT KETO COOKBOOK

Make sure to sign up for free to get instant access to the 5-Ingredient Keto Cookbook, which includes my favorite 20+ keto recipes of all-time, all under 5 ingredients.