Keto Recipes
The Ultimate Keto Smoothie Bowl (Good for Any Keto Meal)
As much as I love the convenience of being able to quickly chug down a healthy smoothie for breakfast before rushing out the door in the mornings, there's definitely a time and place for sitting down and enjoying a good smoothie bowl. For times like that, there's this ultimate keto smoothie bowl recipe. You'll be filling your bowl with delicious keto-friendly ingredients like avocado, frozen berries, and acai powder to make a smoothie meal that's perfect at absolutely any time of day.

Fill 'Er Up!
Two of the main contributing factors of nearly all types of modern diseases are chronic inflammation and oxidative stress caused by harmful free radicals. One of the best things about the keto diet is that by drastically reducing your net carb intake, you end up eating meals that are full of ingredients that are full of antioxidants and anti-inflammatory properties, helping to reduce your risk of disease. This smoothie recipe provides a double-dose of antioxidants by using both frozen mixed berries and one tablespoon of acai powder. If you remember the acai craze from a couple of years ago, rest assured that these berries are more than just hype. They're an extremely rich source of antioxidants that have been shown to have both anti-inflammatory and anti-tumorigenic effects in certain studies. (1)
Along with the abundance antioxidants in the smoothie bowl, it wouldn't be a keto recipe without some quality fat sources, so you'll also be throwing in half of a medium avocado. This helps to make your smoothie bowl extra creamy while also loading up the dietary fiber and monounsaturated fat content. Aside from their fat content, avocados are also known to be a major dietary source of antioxidants as well, giving you even more of a disease-fighting buffer with this meal. (2)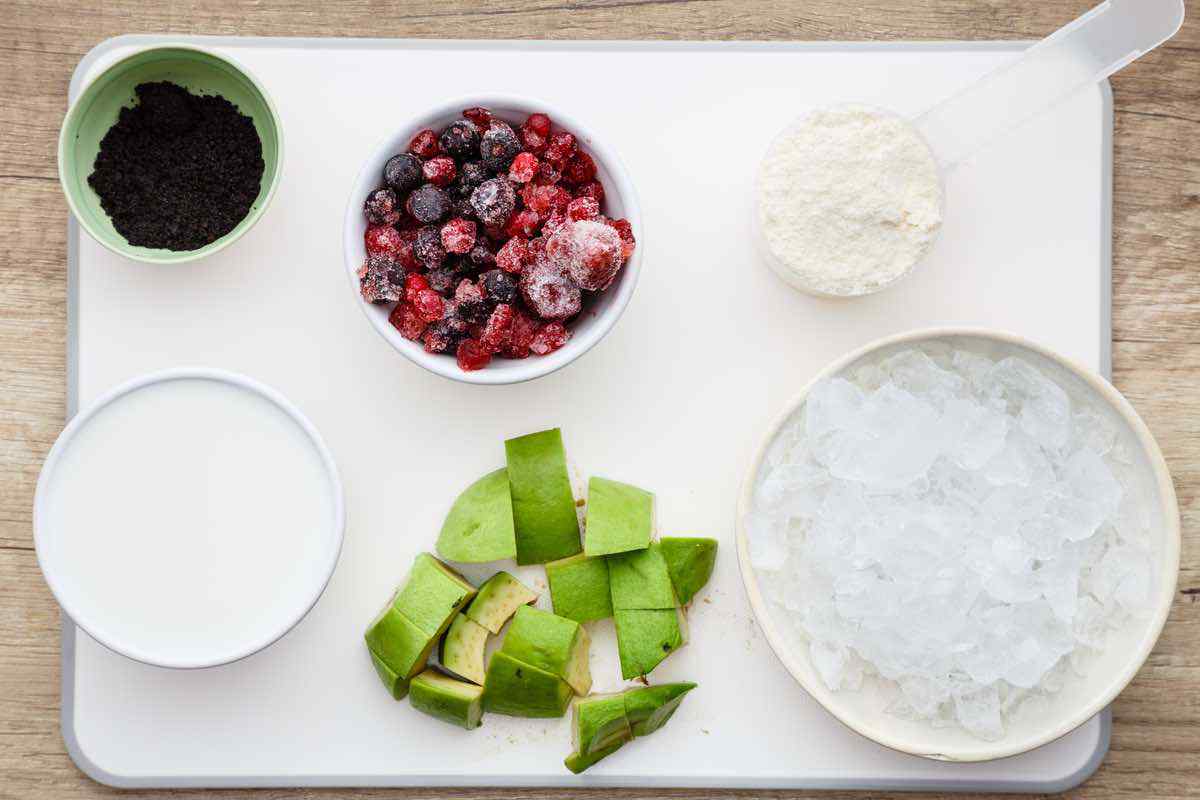 After placing your acai powder, mixed berries, and avocado in the blender, you'll also want to add some unsweetened almond milk (I like to use an unsweetened vanilla flavor), liquid Stevia, crushed ice, and one scoop of vanilla protein powder (this is why I like to go for the vanilla almond milk). I've been using the same type of keto-friendly protein powder for over a year now, this vanilla flavored powder that has added grass-fed collagen and MCT powder. I stick with it because it tastes great, it has no artificial additives, and it's perfect for my keto goals.
Blend all of the ingredients together and then pour the smoothie mixture into a bowl. If you'd like, you can add some optional toppings for decoration such as extra berries, shredded coconut flakes for some extra fats, some hemp berries, or even all of the above if you'd like.
More Keto Smoothie Recipes:
Protein-Packed Keto Breakfast Smoothie for Weight Loss
Fat Burning Strawberry and Peanut Butter Keto Smoothie
Very Berry Keto Fruit Smoothie (Creamy and Refreshing)
Double Chocolate and Peanut Butter Keto Smoothie
The Best Keto Green Breakfast Smoothie Ever (Packed with Avocado)
Easy and Quick Keto Smoothie Recipe – Low Carb and High in Healthy Fats
Print Recipe
The Ultimate Keto Smoothie Bowl
FREE KETO RECIPES + 5-INGREDIENT KETO COOKBOOK

Make sure to sign up for free to get instant access to the 5-Ingredient Keto Cookbook, which includes my favorite 20+ keto recipes of all-time, all under 5 ingredients.
Scale
1 scoop vanilla protein powder
½ medium avocado
1/3 cup mixed frozen berries
1 tbsp acai powder
¾ cup unsweetened almond milk
1/3 cup crushed ice
liquid Stevia to taste
For decoration (optional)
berries, unsweetened coconut flakes or chips, hemp seeds
To make the smoothie, place all the ingredients in a blender and blend until smooth.
Transfer into a bowl.
Top with berries, hemp seeds and coconut flakes (if using) and serve.