Keto Dinner
Sheet Pan Keto Shrimp Scampi
When I've had a long and stressful day at work, the last thing I want to deal with when I come home is spending a ton of time in the kitchen preparing dinner. That's exactly why I love making sheet pan recipes like the one that I'm about to share with you guys today. Recipes like this no hassle sheet pan keto shrimp scampi are heaven sent and make me seem like a better cook than I am. You'll see why once you make it! It's incredibly tasty and no hassle at all to make.
Easy Keto Shrimp Scampi With Only One Sheet Pan
It's honestly ridiculous how easy this recipe is to prepare, and yet it ends up offering an almost gourmet style shrimp meal, perfect for seafood lovers on a keto diet.
To make it, you'll first want to preheat your oven to 400°F and then grab a small bowl to combine the butter, garlic cloves, Italian seasoning, and lemon juice. Next, take all of the shrimp and arrange them on your baking sheet. Pour about ⅔ of the butter mixture over top of the shrimp and toss to coat. Bake the shrimp at 400°F for approximately five minutes and then remove from the oven.
You can then add in all of your zucchini veggie noodles before pouring the remaining amount of your butter mixture over top. Toss to coat and then put the baking sheet back into the oven, baking everything for an additional 5-10 minutes.
By the way, if you love to cook shrimp dishes, you might be interested in checking out these six awesome keto shrimp recipes.
Why is My Shrimp Scampi Watery?
The most common reason that people end up with watery shrimp scampi is because they aren't using enough butter when making the sauce. That's exactly why this recipe uses ½ cup of butter. It helps to ensure that your sauce ends up nice and thick.
If you're still running into issues with watery shrimp scampi, then you should have a peek at this resource that will show you a few tricks for thickening up butter garlic sauces just like the one used in this recipe.
Can I Use Frozen Shrimp for This Recipe?
Yes, you can use either fresh or frozen shrimp when making this recipe. Whenever I make it, I prefer using fresh shrimp but you're more than welcome to go with whatever type of shrimp you enjoy!
If using frozen shrimp, be sure to thaw the shrimp completely and drain the excess water. Pat the shrimp dry before placing them on the baking sheet.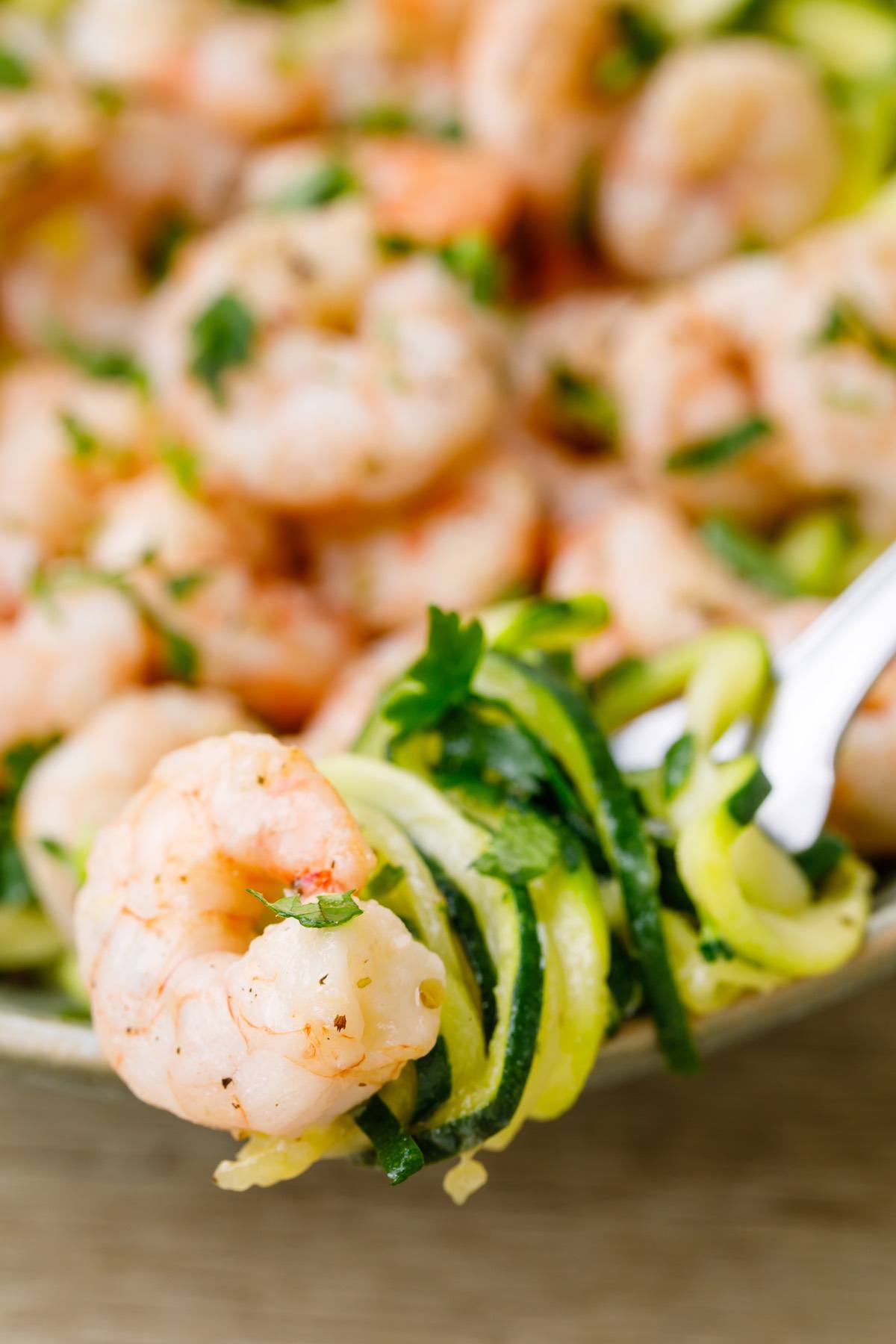 How Do I Properly Store Shrimp Scampi Leftovers?
Ended up with a bit more shrimp scampi than you can eat in one sitting? Not to worry as this recipe is every bit as good when enjoyed as leftovers as it is when it's fresh out of the oven.
So long as you make sure to properly store your shrimp scampi in an airtight container, you can keep it in the fridge for up to four days. On the other hand, if you want to make a bulk batch of shrimp scampi to freeze, you definitely can. Just go with the same idea: use the proper kind of airtight container and you can expect your shrimp scampi to last for up to two months in the freezer.
(You may also like: Keto Salmon Cakes with Avocado Lime Dressing)
Print Recipe
Sheet Pan Keto Shrimp Scampi
Author: Bree - KetoPots.com
Prep Time:

10 minutes

Cook Time:

10 minutes

Total Time:

20 minutes

Yield:

4

1

x
Scale
1 ½

pounds medium shrimp, peeled and deveined

½ cup

unsalted butter or ghee, melted

4

garlic cloves, minced

1 tbsp

freshly squeezed lemon juice or to taste

½ tsp

Italian seasoning

4 tbsp

chopped fresh parsley

2

medium zucchini, cut into noodles 

salt and freshly ground black pepper, to taste
Preheat oven to 400°F. 

In a small bowl combine the butter (or ghee), garlic, Italian seasoning and lemon juice. 

Place the shrimps on a baking sheet. 

Pour 2/3 of butter mixture over the shrimps and toss to coat. 

Bake in preheated oven for 5 minutes. 

Remove from the oven and add the zucchini noodles. 

Pour the remaining butter mixture over the noodles and toss to coat. 

Return to the oven and bake for 5-10 minutes or until shrimps are pink, firm and cooked through and zucchini noodles are tender-crisp. 

Remove from the oven. 

Season to taste with salt and black pepper. 

Sprinkle with fresh parsley and toss to combine. 

Serve immediately.
FREE KETO RECIPES + 5-INGREDIENT KETO COOKBOOK

Make sure to sign up for free to get instant access to the 5-Ingredient Keto Cookbook, which includes my favorite 20+ keto recipes of all-time, all under 5 ingredients.