Keto Desserts
Crispy (And Buttery) Keto Shortbread Cookies with Pecan Dust Crumble
I will 100% vouch for these keto shortbread cookies any day. Once you try it, you'll know why! These cookies are buttery, they melt in your mouth, and are so simple to make, I almost can't believe it.

How to Make the Most Buttery, Melt-In-Your-Mouth Keto Shortbread Cookies
Make the dough. Using a whisk or even just a fork, beat together your butter and sweetener until it's light and fluffy. Add in the almond flour.
Refrigerate and preheat. Refrigerate your dough for about 2 hours. In the meantime, preheat your oven and prepare your baking sheet.
Scoop dough onto baking sheet. Use an ice cream scoop or spoon to measure out small balls of dough onto your baking sheet.
Lightly press down. You don't want it to be too thin, about 1cm thickness is good.
Bake for 10-12 minutes. It should be slightly dark around the edges of the cookie.
Let the cookies cool. Once you take them out, allow them to cool completely.
Decorate! Once the cookies are cooled completely, you can decorate them. I chose to dip half of each cookie in melted chocolate and sprinkled them with chopped pecans.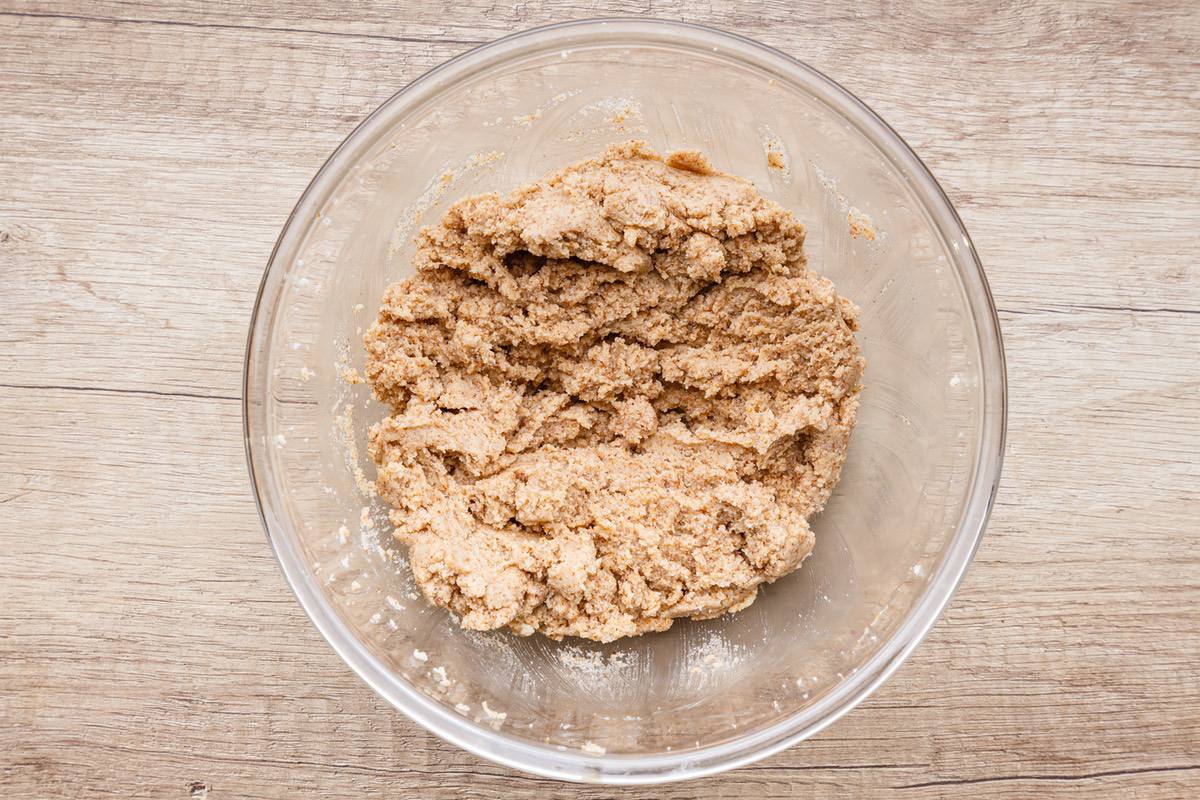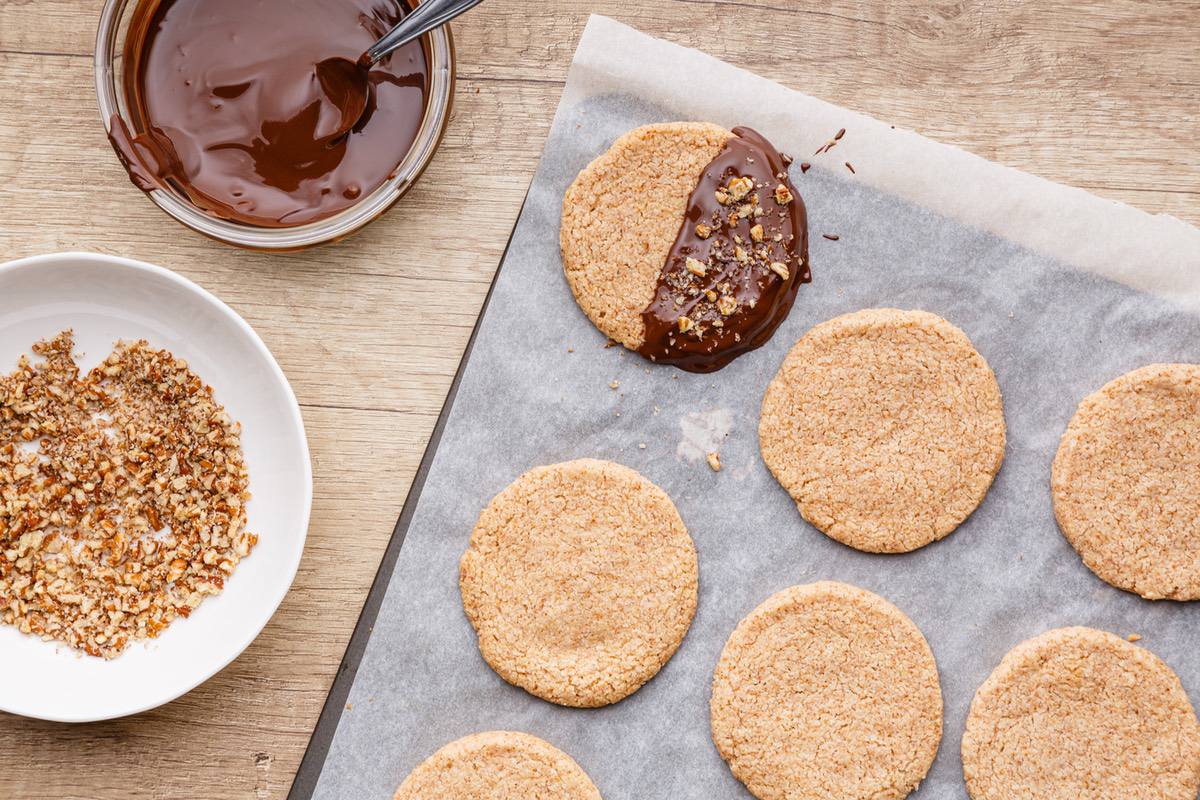 Keto Shortbread Cookie Tips (Important Things to Remember for the Best Keto Shortbread Cookies Ever)
Here are some important things to remember when making keto shortbread cookies:
Don't skimp on the butter. Use good quality, salted butter for this recipe. I know there are dairy-free alternatives out there, but trust me on this one: you need to use real butter.
Ensure that the butter is at room temperature before baking. Softened butter will yield a different texture of cookie vs. very firm butter.
Use blanched almond flour instead of almond meal. Almond flour is finer than almond meal and this small detail will make a big difference in the texture of your cookie.
Don't mix in the almond flour all at once. Instead, add slowly in batches to ensure that all ingredients are mixed well.
Allow ample time to cool the cookies once they are taken out of the oven. Otherwise, the shortbread cookies may still be too soft to handle.
Use a granulated sweetener. Some sweeteners come in powder or syrup form, but this recipe calls for a granulated sweetener for it to come out with the right shortbread cookie texture.
Don't flatten the cookie dough too much! Remember, shortbread cookies are a little on the thicker side to help them keep their soft, chewy and crumbly texture. Flattening them too much will yield a crispy cookie.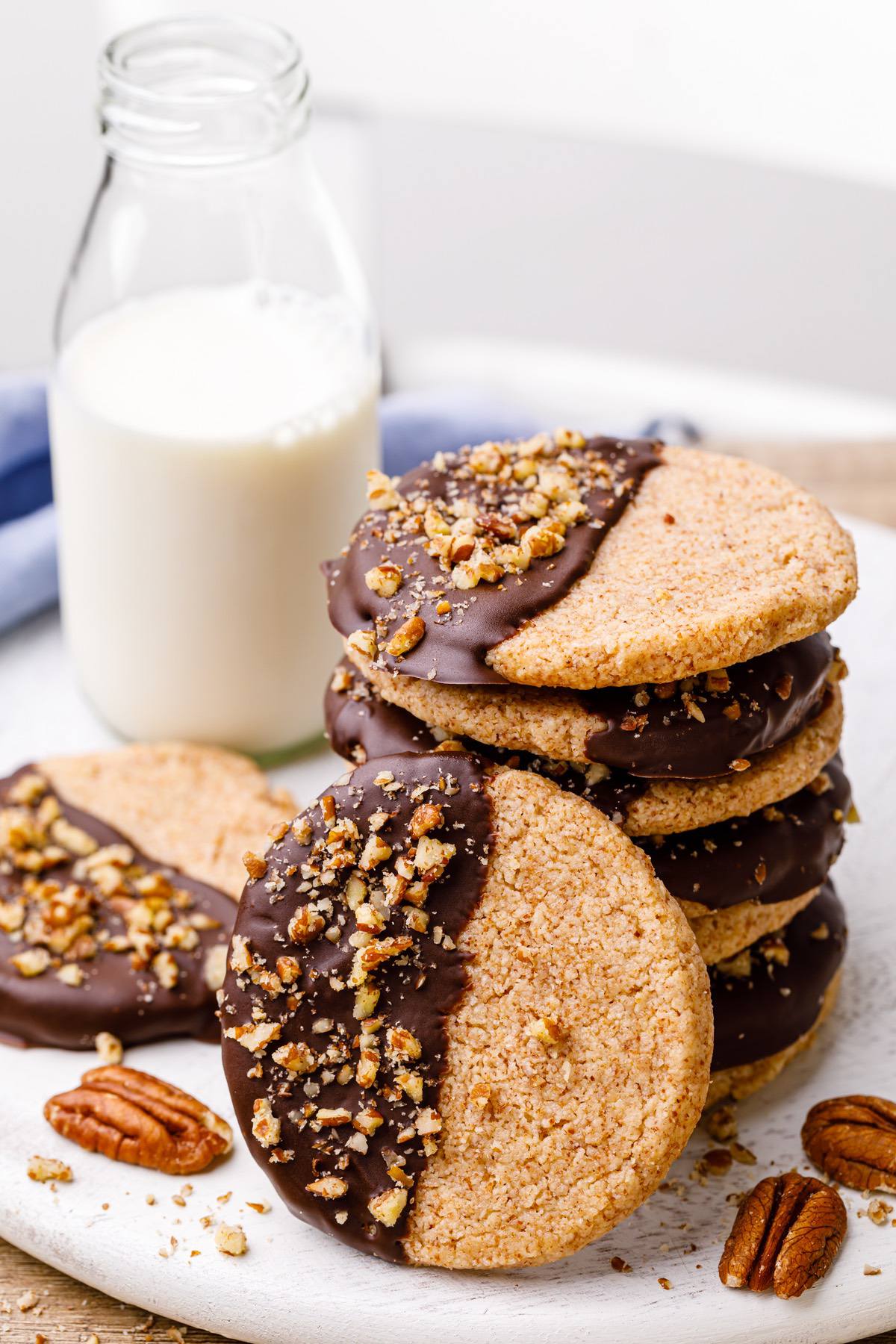 How to Freeze Keto Shortbread Cookie Dough With Almond Flour
This cookie dough recipe can be made beforehand and stored in the freezer for future use.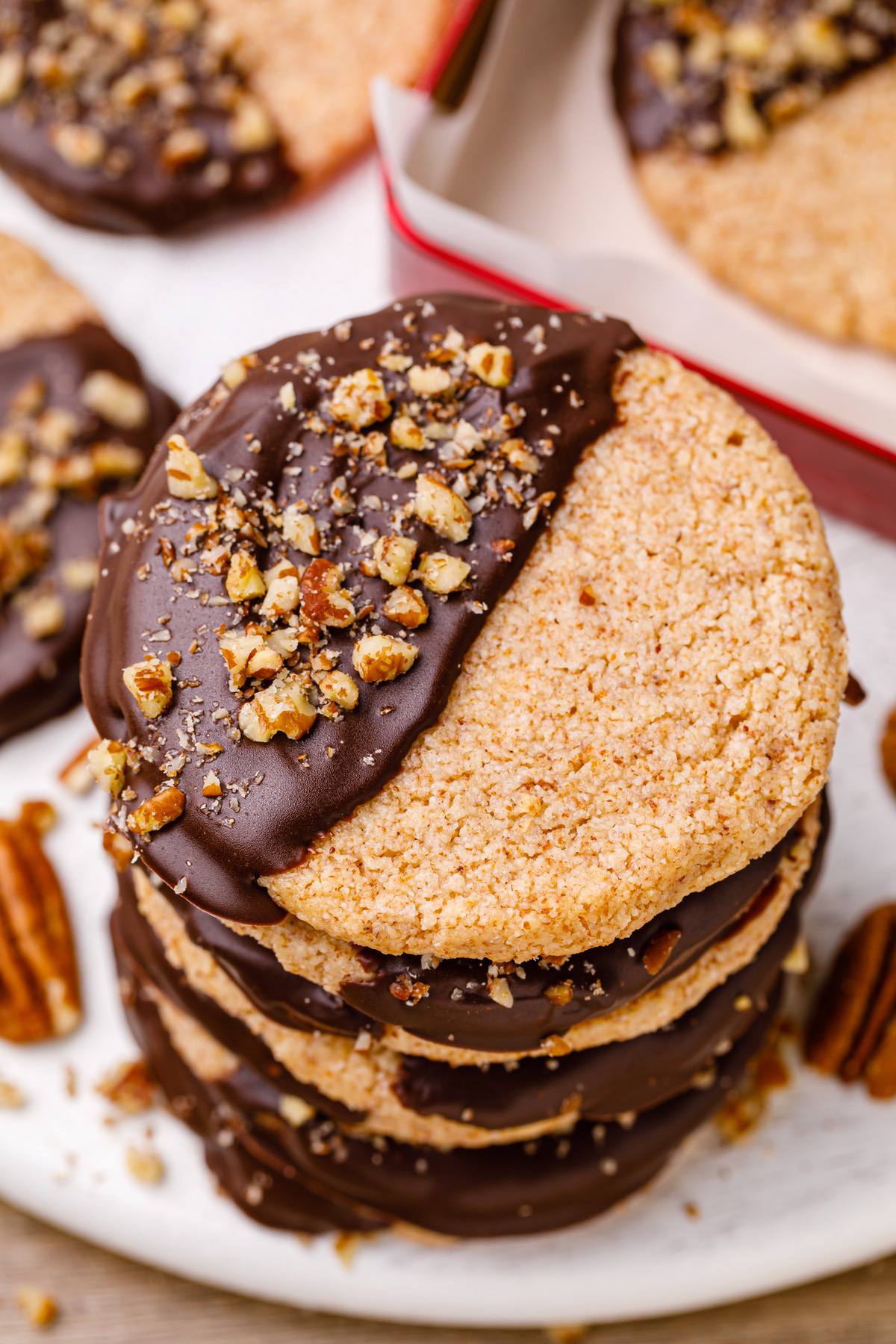 You can roll the dough into a ball or a log and store tightly wrapped. Make sure to thaw the dough first before measuring out into small balls onto your baking sheet.
If you have the space, another option is to store the scooped cookies on the baking sheet and just cover and store the whole baking sheet. This is less practical unless you're going to bake it in the next day or so.
(You may also like: Keto Double Chocolate Chip Cookies)
Print Recipe
Crispy (And Buttery) Keto Shortbread Cookies with Pecan Dust Crumble
Author: Bree - KetoPots.com
Prep Time:

15 minutes

Cook Time:

10 minutes

Total Time:

25 minutes

Yield:

1

2

1

x
FREE KETO RECIPES + 5-INGREDIENT KETO COOKBOOK

Make sure to sign up for free to get instant access to the 5-Ingredient Keto Cookbook, which includes my favorite 20+ keto recipes of all-time, all under 5 ingredients.
Scale
2 ½ cups

almond flour

6 tbsp

butter, softened 

1/3 cup

granulated Stevia or other low carb granulated sweetener 

1 tsp

vanilla extract

1/3 cup

sugar free dark chocolate chips, melted 

3 tbsp

pecans, finely chopped
In a large bowl, beat the butter and sweeter until light and fluffy. 

Add the almond flour and mix to combine. 

Refrigerate for 2 hours. 

Preheat oven to 350°F. 

Line a baking sheet with parchment paper. 

Use an ice cream scoop to scoop the dough onto the prepared baking sheet. 

Light press each ball. 

Bake in preheated oven for 10-12 minutes. 

Remove from the oven. 

Allow to cool completely. 

Dip each cookie halfway into the chocolate and place onto the lined baking sheet. 

Sprinkle with chopped pecans. 

Refrigerate until the chocolate is firm.
More Keto-friendly Almond Flour Cookie Recipes
Almond Flour Keto Sugar Cookies – Use this incredibly tasty sugar cookie recipe as a good base for other flavored cookies.
Cream Cheese Cookies with Cherry Glaze – A delicate balance between sweet and tart, these cream cheese cookies are a must-try for fruit-based dessert lovers.
Peanut Butter Stuffed Chocolate Keto Cookie Sandwiches – Two soft chocolate cookies with a creamy peanut butter filling–my idea of an energy-packed snack or dessert.
Keto Gingerbread Cookies – An addicting alternative to the usual gingerbread cookie recipe that you can gobble up by the dozen thanks to the nutritious ingredients.
Keto Pumpkin Cookie Sandwiches – You can't beat these incredibly soft pumpkin cookie sandwiches with a luscious cream cheese filling in the center.