Keto Recipes
Easy Sheet Pan Keto Chicken Breast Meal for the Whole Family
When it comes to cooking meals for supper, there's nothing that I love more than simplicity. That probably explains why I'm such a huge fan of this easy sheet pan keto chicken breast meal recipe. It only takes about 10 minutes to prepare by adding a bunch of tasty ingredients to a single sheet pan and then it's a simple matter of tossing it in the oven to cook. Nice and easy, just how I like my recipes. Don't let the simplicity fool you though. This recipe makes one truly delicious chicken dinner that your whole family will absolutely love.

A Nice and Easy Family Dinner Option
This recipe truly does have it all when it comes to making a healthy, balanced dinner meal. You can start by taking your zucchini and quartering it before cutting it into one inch pieces. It's important to include lots of healthy green veggies when you're following a keto diet in order to ensure that you're getting enough fiber, vitamins, and other minerals. Zucchini is one of my favorite greens to eat because it's incredibly versatile and full of nutritional benefits, as it's a rich source of vitamin C and other disease-fighting antioxidants. (1) After cutting the zucchini into smaller pieces, place it in a bowl and then add in your olive oil and season with a bit of salt and pepper.
Next, take your chicken breasts and cut slashes into them widthways, according to the directions listed below in the actual recipe. After seasoning your chicken with some salt and pepper, you can then add in your sliced mozzarella and cherry tomatoes into each cut. Baking your chicken breasts with this recipe already produces some deliciously juicy cuts of meat, but by adding in the cheese and tomatoes, this meal is taken to a whole new level. I like using the cherry tomatoes because in spite of their small size, they add quite a nutritional punch to this meal, offering plenty of vitamins, minerals, and antioxidants, especially if you're using ripe tomatoes. (2)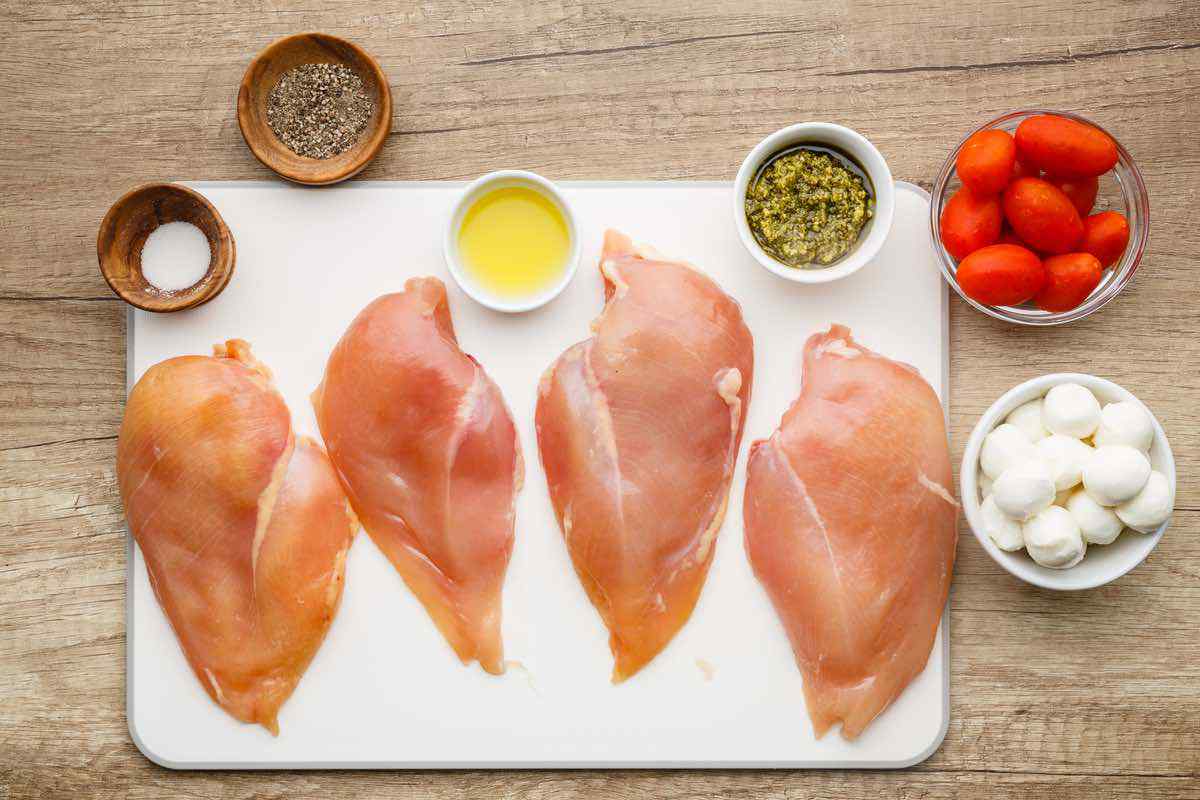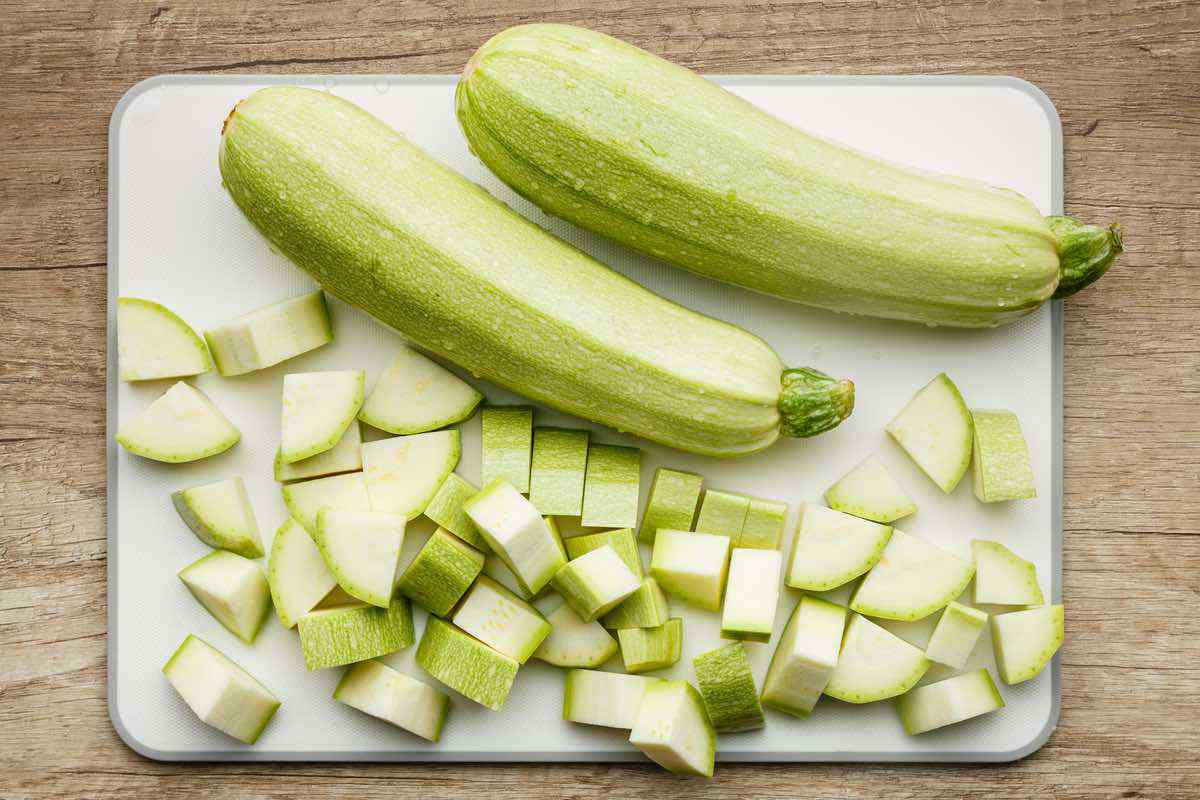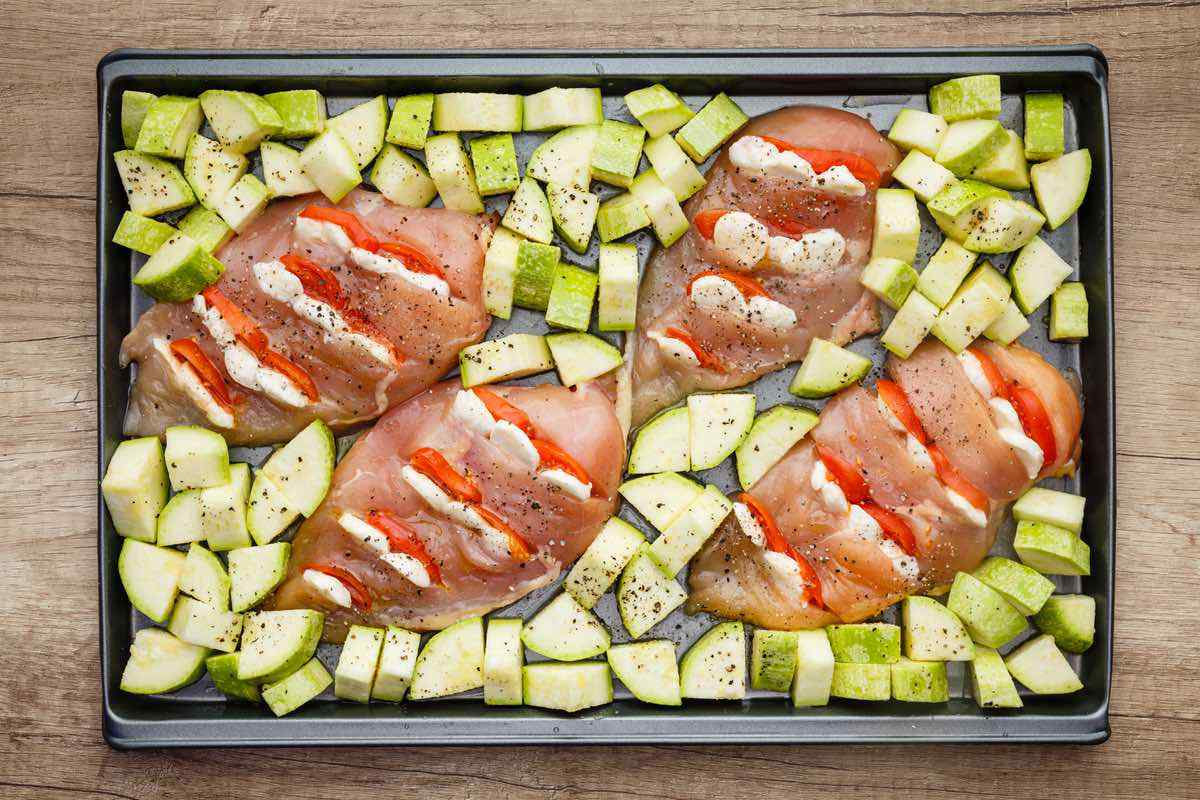 With the prep work done, simply place your pieces of chicken onto your baking sheet and drizzle the remaining bit of olive oil on top. This helps to make the recipe even more appealing for those of you seeking to add even more healthy fat calories to your keto meals. Using extra virgin olive oil is a great way to do so and it also provides some terrific health benefits in its own right, such as reducing your risk of heart disease and fighting inflammation in the body. (3) You can then line the zucchini around your chicken breasts on the sheet as well before baking everything for about 25-30 minutes.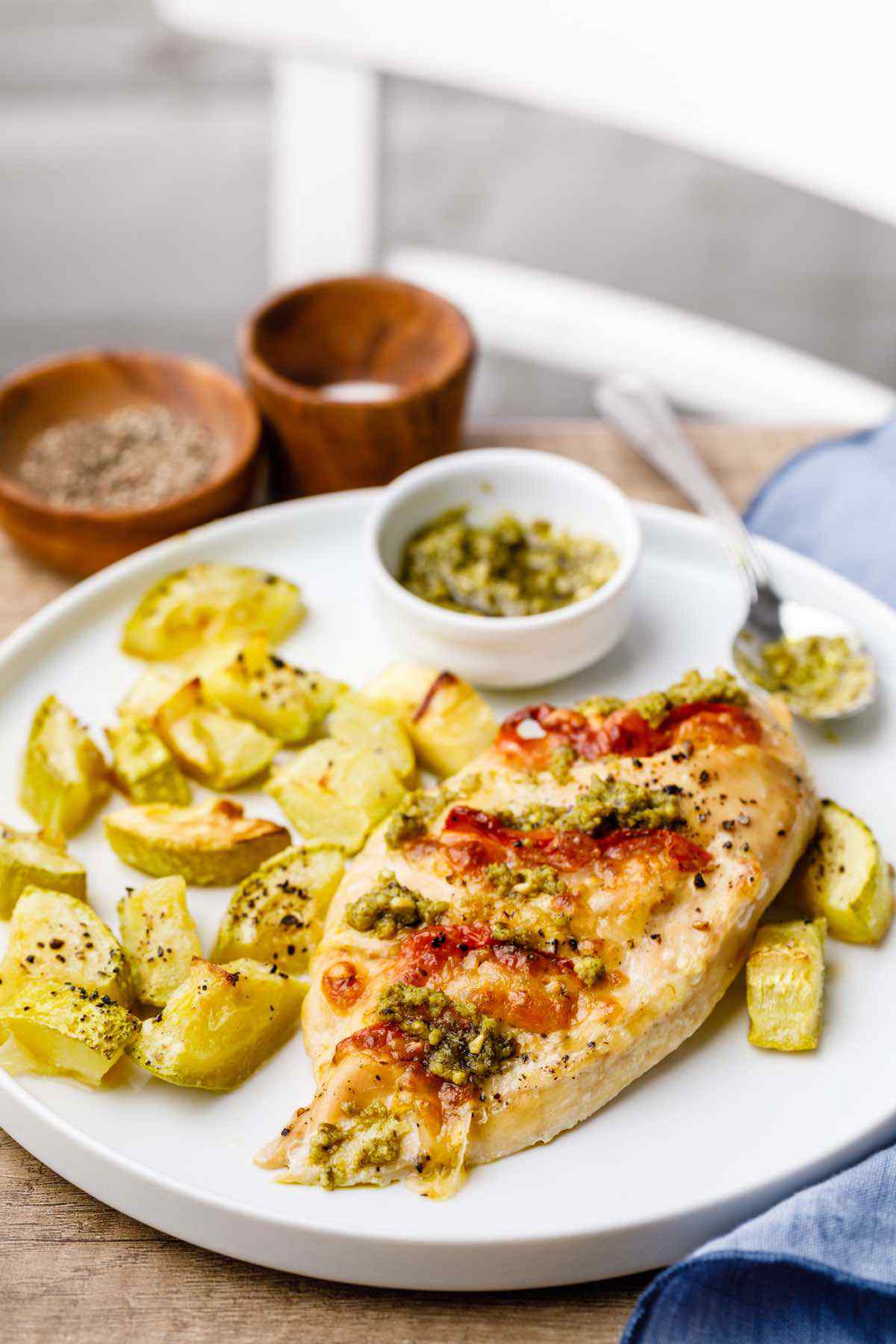 This chicken breast meal is just perfect when served alongside some pesto as a side dish. I strongly recommend making your own low carb pesto if you would like to do so. Even without the pesto, this is an incredibly flavorful keto meal that absolutely anyone can sit down and enjoy, even if they aren't following a keto diet. For those who want something a little lighter, you can serve this alongside our avocado chicken salad. This is easily one of my new favorite meals to sit down and enjoy with my family, and I'm sure it will become one of yours as well.
More Keto Chicken Recipes:
Classic Keto Buffalo Chicken Wings (Crispy, Saucy and Spicy)
Healing Bone Broth Keto Chicken Soup (For Joint Pain and Gut Health)
Creamy Avocado Keto Chicken Salad (Ridiculously Good)
Crispy, Crunchy Keto Fried Chicken (This is the Best)
Print Recipe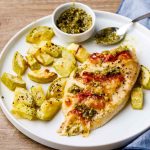 Easy Sheet Pan Keto Chicken Breast Meal
Author:
Prep Time:

10 minutes

Cook Time:

25 minutes

Total Time:

35 minutes

Yield:

4

1

x
FREE KETO RECIPES + 5-INGREDIENT KETO COOKBOOK

Make sure to sign up for free to get instant access to the 5-Ingredient Keto Cookbook, which includes my favorite 20+ keto recipes of all-time, all under 5 ingredients.
Scale
4 (6 ounces each) boneless skinless chicken breasts
3 ounces mini mozzarella, sliced
3 ounces cherry tomatoes, sliced
4 tbsp olive oil
2 tbsp fresh pesto (optional)
1 ½ pound zucchini
salt, black pepper to taste
Preheat oven to 425°F.
Quarter the zucchini and cut into 1 inch pieces.
Place the zucchini in a bowl, add 3 tablespoon of olive oil, season with salt and black pepper to taste and toss to combine.
Cut slashes into the chicken breasts widthways, about ½ inch apart, slicing almost to the bottom but not all the way through.
Season the chicken with salt and black pepper.
Add slices of mozzarella, and slices of tomato to each cut.
Place the chicken on a baking tray and drizzle with remaining olive oil.
Place the zucchini around the chicken.
Bake in preheated oven for 25-30 minutes.
Remove from the oven, drizzle the chicken with pesto (if using) and serve.