Keto Recipes
Chewy Homemade Keto Scallion Pancakes (Low Carb)
I've been experimenting with savory keto pancakes for so long now, that I almost forgot to share this tried and tested recipe. It doesn't need a lot of ingredients, so it's perfect for quick and easy meals. Here's how I make my incredibly good keto scallion pancakes.

How to Make Keto Scallion Pancakes
Whisk the eggs. Whisk the eggs thoroughly but no need to whisk them to the point where they turn into stiff peaks.
Add the coconut flour. Continue whisking.
Season. Season with salt. Add the scallions and mix.
Cook in a nonstick pan over medium heat. Heat some oil for a few seconds in the pan before adding in half of your mixture.
Cook for 3-4 minutes per side. Cook the remaining mixture in the pan, flipping it halfway through.
Serve. Cut into small pieces and sprinkle some extra scallions (optional).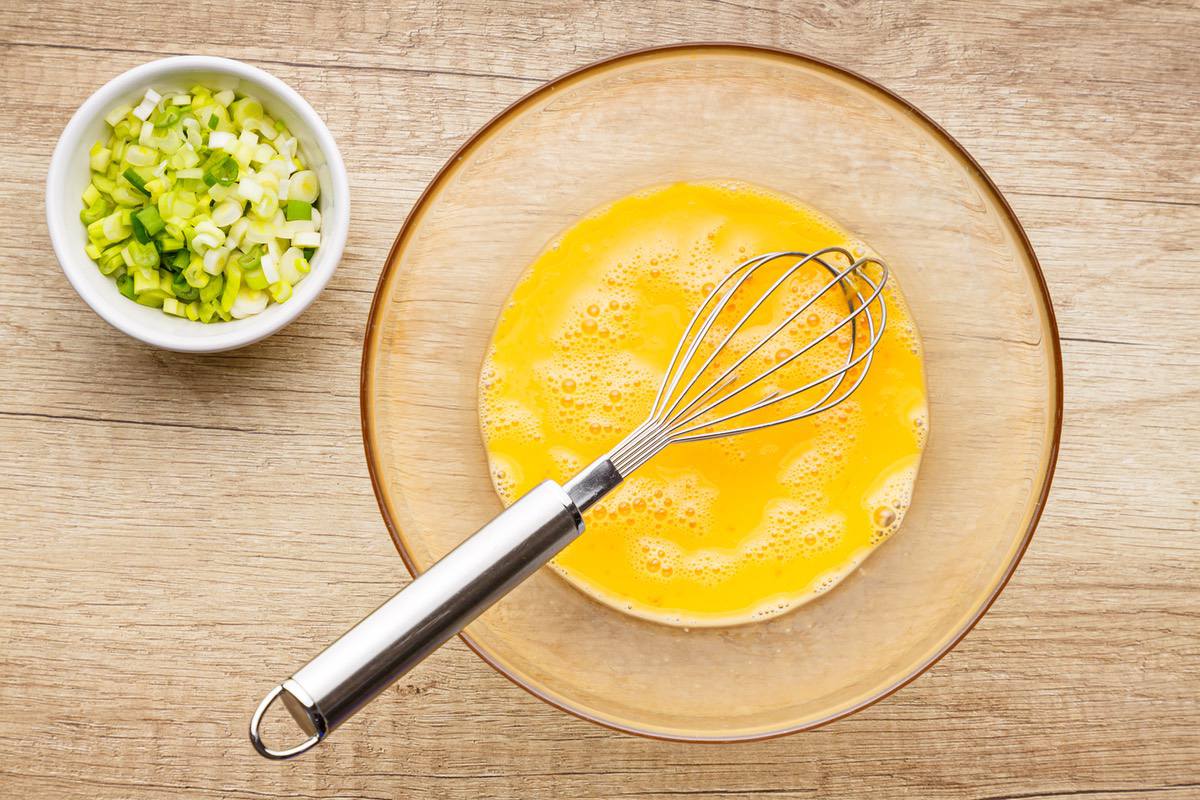 Can I Make Scallion Pancakes Ahead?
What's great about this recipe is that it can be made ahead and frozen for later. As a matter of fact, this is exactly what I do when I have leftovers. I like to portion them out into single servings, so that I can take out a serving and reheat when needed.
How to Reheat Scallion Pancakes
Speaking of reheating, here's how I reheat my scallion pancakes after freezing them. Since we're dealing with eggs, it's important not to overcook it while reheating because the eggs might become rubbery.
Instead of reheating it straight from its frozen state, you're going to want to bring it out for 1-2 hours to let it thaw slightly. Once it's slightly thawed, you can then heat it up in the pan on high heat for 30 seconds to 1 minute per side.
Are Scallion Pancakes Good to Have as Breakfast Everyday?
Even though these are technically pancakes, you can rest assured that this is 100% keto approved. The addition of coconut flour doesn't add too many net carbs since coconut flour's overall carb content is from dietary fiber, so it's definitely well within keto protocols.
In addition to being high in fiber, scallion pancakes are also a good source of protein thanks to the eggs. Starting your day off with a high protein, moderate fat meal is an excellent idea because it gives you stable energy levels, and it's incredibly satiating.
Other Savory Keto Pancake Ideas
Once you've tried my scallion pancakes, I have no doubt you'll be in search of other savory pancakes to try. Here are some other flavor combos for you to try:
Ham and cheese
Spinach and pancetta
Aged gouda and kale
Print Recipe
Chewy Homemade Keto Scallion Pancakes (Low Carb)
Author: Bree
Prep Time:

5 minutes

Cook Time:

10 minutes

Total Time:

15 minutes

Yield:

2

1

x
FREE KETO RECIPES + 5-INGREDIENT KETO COOKBOOK

Make sure to sign up for free to get instant access to the 5-Ingredient Keto Cookbook, which includes my favorite 20+ keto recipes of all-time, all under 5 ingredients.
Scale
3

eggs 

2 tbsp

coconut flour 

¼ cup

sliced scallions plus extra for serving 

salt to taste 

1 tbsp

olive oil for cooking 
Whisk the eggs. 

Add the coconut flour and whisk to combine. 

Season to taste with salt. 

Add the scallions and mix to combine. 

Heat the oil in a nonstick pan over medium heat. 

Pour in half of the mixture. 

Cook for 3-4 minutes per side. 

Remove the pancake from the pan.

Add the remaining mixture to the pan. 

Cook for 3-4 minutes per side. 

Cut the pancakes into small pieces. 

Sprinkle with extra scallions (if using) and serve.