Keto Recipes
Simple and Addictive Garlic Roasted Cauliflower
Simple and addictive are two words that aptly describe this recipe. Truth be told, I don't know what took me so long to start adding garlic to my roasted vegetables but what matters is that I know better now and I've made it my life mission to share it with the world.
That's right, I'm here to make sure that by the end of this recipe, you'll feel motivated to roasted your cauliflower in the oven with some garlic, oil, salt and pepper. If it sounds deliriously easy, that's because it is.
First, you're going to preheat your oven to 450 degrees Fahrenheit. Next, place your cauliflower florets in a large baking dish. I'm using cauliflower for this recipe because it's low in carbs, high in fiber, and easy to work with because of its neutral flavor. Also because it contains vitamins and minerals such as magnesium, potassium, manganese, vitamin K, vitamin B6, folate, and more. Next, you're going to add garlic and olive oil and toss it until the oil coats the cauliflower florets. Garlic has powerful anti-inflammatory and antioxidant properties, while olive oil is a monounsaturated fat that helps protect you against the risk of cardiovascular disease and stroke, not to mention both are tasty. Season with salt and black pepper to taste. Personally, I love some freshly cracked black pepper with this.
(Read this: Is Cauliflower Keto-friendly?)
Lastly, sprinkle some parmesan cheese and parsley on top and let it broil for 3-5 minutes or until your cauliflower florets are golden brown. Parsley and its flavonols have antiseptic, diuretic, and anti-inflammatory properties for the treatment of otitis, urinary disease, cardiac disease, hypertension and more. (1) Parmesan cheese on the other hand is a good source of protein, and its calcium content helps promote skeletal health. (2)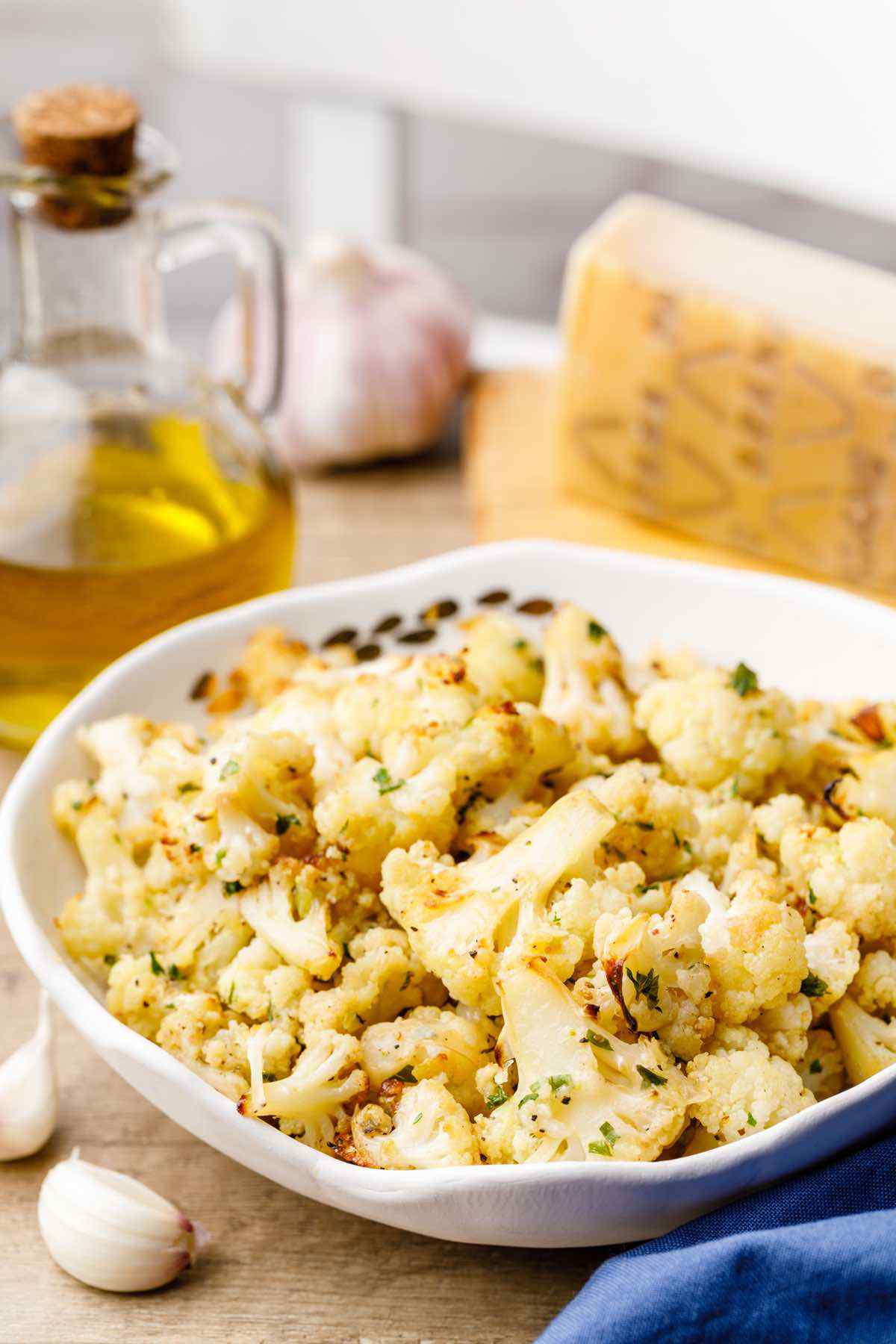 Once it's done, all that's left to do is serve and watch as it disappears from your serving dish. Your friends, family and guests will all love this one!
More Low Carb Keto Cauliflower Recipes:
Cauliflower and Cheddar Soup (My Keto Soup Go-To)
Keto Pork Cauliflower Fried Rice (YUM)
Keto Cauliflower Rice
Twice Baked Loaded Keto Cauliflower Casserole
Keto Cauliflower Mac and Cheese (Easy and Down Home)
Homemade Keto Mashed Cauliflower (Buttery and Creamy)
Print Recipe
Addictive Keto Garlic Roasted Cauliflower
Author: Bree - KetoPots.com
Prep Time:

10 minuites

Cook Time:

30 minutes

Total Time:

40 minutes

Yield:

6

1

x
Scale
1 large head (about 2 pounds) cauliflower, separated into florets
3 garlic cloves, minced
3 tbsp olive oil
1/3 cup grated Parmesan cheese
1 tbsp chopped fresh parsley
salt, black pepper to taste
Preheat oven to 450°F.
Place the cauliflower florets in a large baking dish.
Add the garlic and olive oil and toss to combine.
Season with salt and black pepper to taste.
Bake in preheated oven for 25 minutes, stirring halfway through.
Sprinkle with Parmesan and parsley and broil for 3-5 minutes or until golden brown.
Serve immediately.
FREE KETO RECIPES + 5-INGREDIENT KETO COOKBOOK

Make sure to sign up for free to get instant access to the 5-Ingredient Keto Cookbook, which includes my favorite 20+ keto recipes of all-time, all under 5 ingredients.