Keto Recipes
Ooey, Gooey Keto Reuben Casserole
Today's recipe is all about how to make the best and most satisfying keto Reuben casserole. This recipe delivers big time on that classic Reuben sandwich taste, as it's loaded with all of the classic staples: sauerkraut, Swiss cheese, corned beef, and Thousand Island dressing.

I love casseroles that mimic my favorite foods! A couple other favorites you need to try are the Big Mac Casserole, Philly Cheesesteak Casserole and Chili Dog Casserole.
How to Make a Keto Reuben Casserole
Here's everything that you'll need to know in order to prepare this tasty keto Reuben casserole from scratch:
Preheat the oven. Preheat your oven to 400℉.
Prepare the cauliflower. Place the cauliflower florets in a large roasting pan and toss in some avocado oil. Make sure it's evenly coated.
Season with salt and black pepper to taste.
Bake. Bake in the preheated oven for 25 minutes, stirring it once halfway through.
Transfer. Transfer the cauliflower to a 9×13 inch baking dish.
Top. Top with sauerkraut. (More on how to make your own sauerkraut below.)
Drizzle. Drizzle with sugar-free Thousand Island dressing.
Finish it off. Top with bite-size pieces of corned beef and Swiss cheese slices.
Bake. Bake the casserole in the preheated oven for 10-15 minutes or until the casserole is heated through and the cheese has melted.
Serve. Serve warm.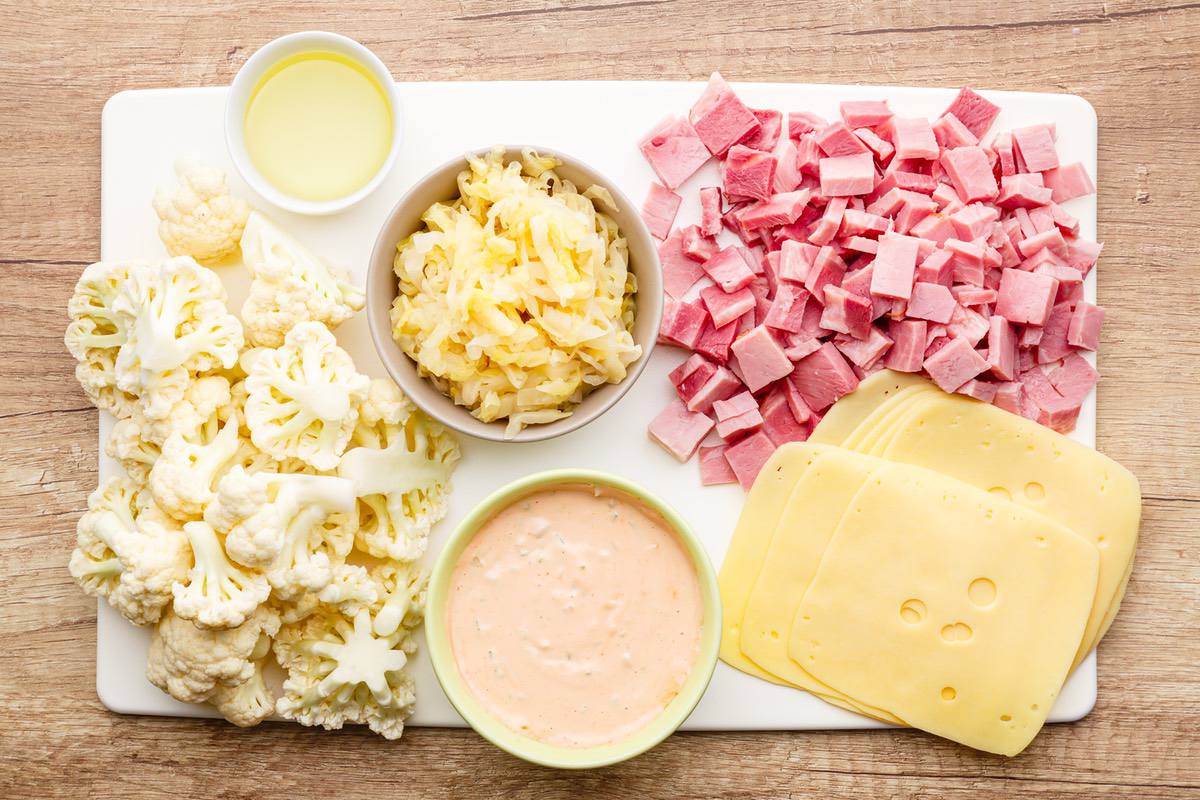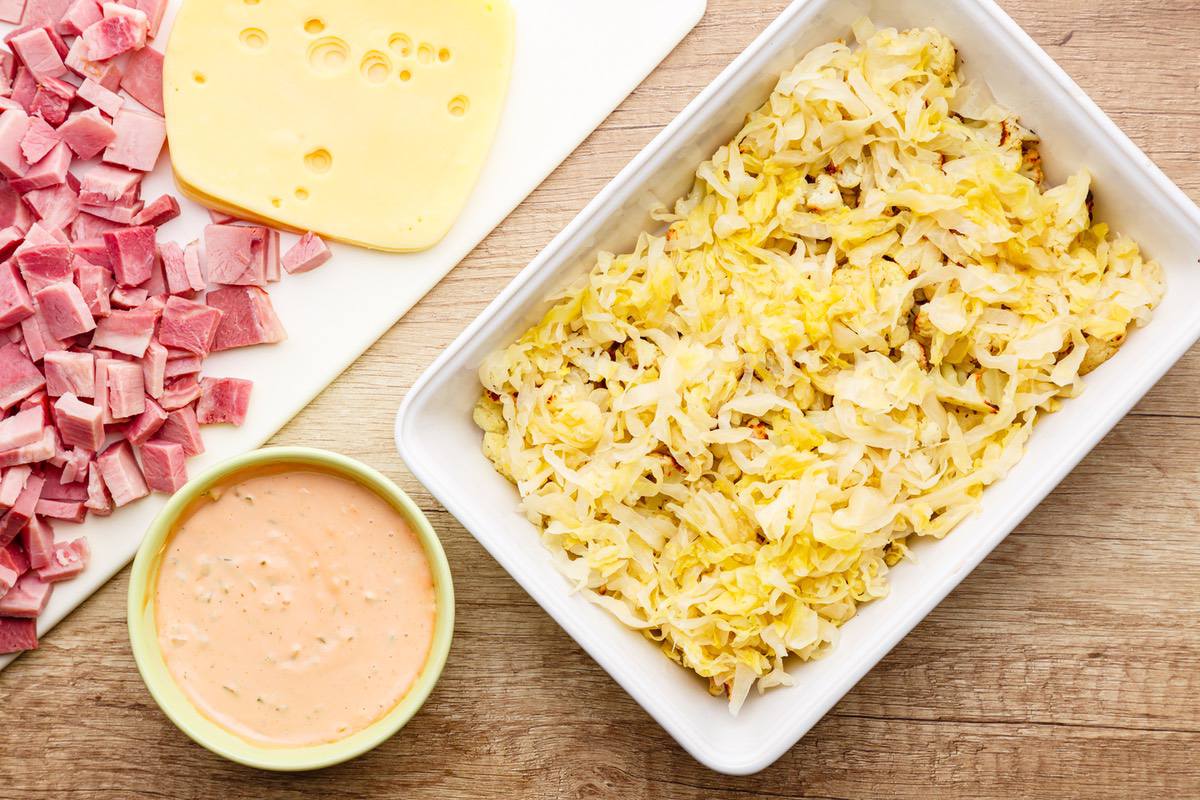 If you want a really authentic reuben experience, try topping with this keto-friendly thousand island dressing.
How to Make Homemade Sauerkraut
I've been really into making my own homemade keto-friendly sauerkraut lately (it goes perfectly with this Reuben casserole). If you'd like to try your hand at making some yourself, here is the exact recipe that I use:
Prepare the cabbage. Slice your cabbage into quarters and remove the cores. Then slice each quarter lengthwise to make 8 wedges. Finally, slice each wedge crosswise into ribbons.
Season. Combine the cabbage ribbons with salt in a large bowl. Use your hands to thoroughly mix the cabbage and salt together for 5-10 minutes; long enough for the cabbage to become watery and limp.
(Optional) Add seeds. Add in caraway seeds if desired.
Pack. Pack your cabbage mixture into a mason jar. Then use a smaller weighted jelly jar to press the cabbage down; this will help to keep it submerged under the liquids.
Press. For the next 24 hours, you'll want to press down on the cabbage with the jelly jar periodically.
Ferment. Keep the sauerkraut at a cool room temperature and allow it to ferment for between 3-10 days.
More Good Keto Casseroles
How to Store Keto Reuben Casserole Leftovers
You can keep your keto Reuben casserole leftovers stored in either the fridge or the freezer.
Before storing it, you'll first want to make sure that the casserole has cooled off completely once it comes out of the oven. You can then either leave it in the baking dish and wrap it tightly with plastic wrap, or simply transfer it into an airtight storage container.
You'll be able to keep your leftovers stored like this in the fridge for up to 3 days or you can alternatively freeze it for up to 3 months.
(You may also like: Twice Baked Keto Cauliflower Casserole)
Print Recipe
Ooey, Gooey Keto Reuben Casserole
Author: Bree
Prep Time:

10 minutes

Cook Time:

40 minutes

Total Time:

50 minutes

Yield:

8

1

x
FREE KETO RECIPES + 5-INGREDIENT KETO COOKBOOK

Make sure to sign up for free to get instant access to the 5-Ingredient Keto Cookbook, which includes my favorite 20+ keto recipes of all-time, all under 5 ingredients.
Scale
4 cup

cauliflower florets 

3 tbsp

avocado oil

1

(14 oz) can sauerkraut, drained 

½ cup

sugar-free Thousand island dressing 

1

pound corned beef, chopped into bite-seize pieces 

8 oz

Swiss cheese slices 

salt and black pepper to taste
Preheat oven to 400ºF. 

Place the cauliflower florets in a large roasting pan. 

Add the olive oil and toss to combine. 

Season with salt and black pepper to taste. 

Bake in preheated oven for 25 minutes, stirring halfway through. 

Transfer the cauliflower to a 9×13 baking dish.

Top with sauerkraut. 

Drizzle with sauce.

Top with beef and cheese. 

Bake in preheated oven for 10-15 minutes until heated through and cheese is melted.