Keto Recipes
Raspberry Cheesecake Fat Bombs (Holy Yumoly)
I think it's safe to say that pretty much everybody that I know LOVES cheesecake. It's easily one of my top five favorite desserts. The only problem with cheesecake is that it's definitely one of those desserts that can pack on the unwanted pounds pretty rapidly. Well I've got some good news for everyone. The recipe I'm sharing today manages to take the great taste of cheesecake and transform it into a keto-friendly fat bomb that can actually help you to lose weight instead of gaining it. These fat heavy raspberry cheesecake fat bombs are an excellent way to indulge your cheesecake cravings in a totally guilt-free manner.
A Great Tasting Keto Take on a Classic Dessert
Unlike making a normal cheesecake dessert, these keto fat bombs are unbelievably simple to prepare. All you need are a few simple ingredients, a blender, and about five minutes of time. Simply blend the ingredients together and then add the mixture into an ice cube tray before freezing them. As you can see, there's really nothing to it. So with the super simple directions out of the way, let's take a few moments to talk about what exactly goes into making the fat bombs.
Raspberries – You won't get very far making a raspberry cheesecake without including the raspberries! You can use either fresh or frozen raspberries for this recipe as you'll be freezing the mixture in the end anyway, the choice is totally up to you. While it's possible to make a variety of similar recipes with different kinds of berries, like strawberry cheesecake fat bombs, I've always preferred to eat raspberries. They're incredibly healthy and they're rich in antioxidant extracts that have been demonstrated to play a role in killing stomach and colon cancer cells. (1)
Coconut Oil – This is added into the mix for two purposes. First, it helps to hold your fat bomb mixture together after blending due to its thicker consistency. The other purpose is to obviously add more quality fats into your fat bombs! While many people are hesitant to include coconut oil in their diet due to its high saturated fat content, a recent 2018 study has actually indicated that coconut oil could actually reduce your risk of heart disease when consumed daily for as little as four weeks. (2)
Cream Cheese – The second essential ingredient of a raspberry cheesecake, cream cheese is added to further boost the amount of fat calories in the fat bombs and to assist the coconut oil in holding the mixture together. I'd recommend letting your cream cheese sit at room temperature for an hour or two before making this recipe, as it will help soften it up a bit more, making it easier to mix with the other ingredients.
Stevia – No dessert would be complete without adding a little something to help sweeten it up a little bit, and this raspberry cheesecake recipe is no exception. Considering that white sugar is a huge cause of obesity and other metabolic issues (3), I like to use Stevia for all of my keto recipe needs because it's an all-natural zero calorie alternative that still tastes great.
Conclusion
Other than the four ingredients mentioned above, you'll also need to add a small amount of pure vanilla extract into the mix for further flavoring as well. Again, simply blend everything together, freeze them, and voila! Your very own raspberry cheesecake fat bomb treats, as easy as that. I've yet to find a simpler way to satisfy my cheesecake cravings — and I get to do so without feeling guilty about it! Talk about a win-win. As a final note, you can easily swap out the raspberries for another ingredient like strawberries if you'd prefer to make a strawberry cheesecake version of this recipe. Feel free to experiment!
More Keto Fat Bomb Recipes:
Keto Peppermint Patty Fat Bombs (Addictive and Refreshing)
The Best Peanut Butter and Chocolate Keto Fat Bombs (Try These)
Keto Buttercream Fat Bombs (Creamy Deliciousness)
Print Recipe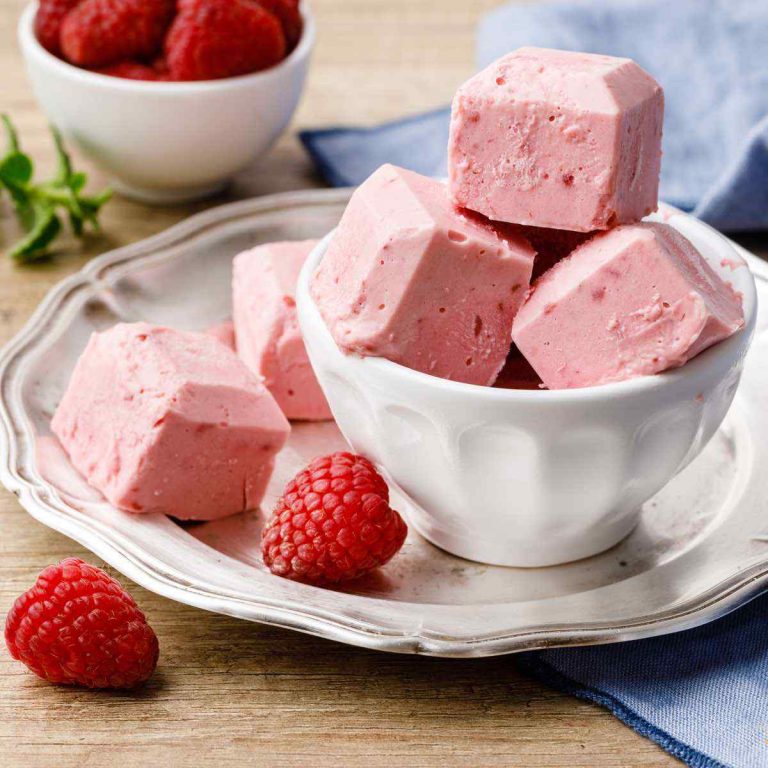 Raspberry Cheesecake Keto Fat Bombs
Author:
Prep Time:

5 minutes

Total Time:

5 minutes

Yield:

8

1

x
FREE KETO RECIPES + 5-INGREDIENT KETO COOKBOOK

Make sure to sign up for free to get instant access to the 5-Ingredient Keto Cookbook, which includes my favorite 20+ keto recipes of all-time, all under 5 ingredients.
Scale
1 cup fresh or frozen raspberries
1 tsp vanilla extract
¼ cup coconut oil
¾ cup cream cheese
2 tbsp granulated Stevia or other granulated sweetener
Place the raspberries in a blender and blend until smooth.
Add the rest of ingredients and blend until smooth.
Pour the mixture into ice cube trays and freeze until hardened.
Store the fat bombs in an air-tight container in the freezer for up to a month.