Keto Recipes
Pumpkin Muffins with Cream Cheese Frosting (YUM)
There are so many things to be excited about during the fall season. The colors, the holidays, and of course, the food. For special fall occasions like Halloween and Thanksgiving, we want to share this amazing recipe that we guarantee you're going to love. It's the perfect dessert for parties, family get-togethers, or just something nice to surprise your children with. These pumpkin muffins with cream cheese frosting have the flavors of fall in every bite.
Flavors of Fall in Every Bite
Now it may sound too good to be true but these muffins are perfectly keto-friendly, contain no sugar, and they're also gluten and grain-free. You might be wondering how all this is possible? Anything is possible with a little creativity and small tweaks to the traditional muffin recipe. Instead of using regular flour, this recipe makes use of almond flour. Almond flour is a far healthier alternative to white flour because it's higher in dietary fiber which is essential for good digestion, contains a good amount of monounsaturated fat, and is high in minerals such as calcium, iron, potassium and magnesium. (1) Lastly, the consistency of the almond flour is identical to regular flour so you wouldn't even be able to tell the difference.
To start, grab a bowl for dry ingredients and combine the almond flour, baking soda, cinnamon, ground nutmeg, ground ginger and a pinch of salt. Cinnamon, nutmeg and ginger together scream "fall", so be warned. Your house is going to smell amazing once these are in the oven.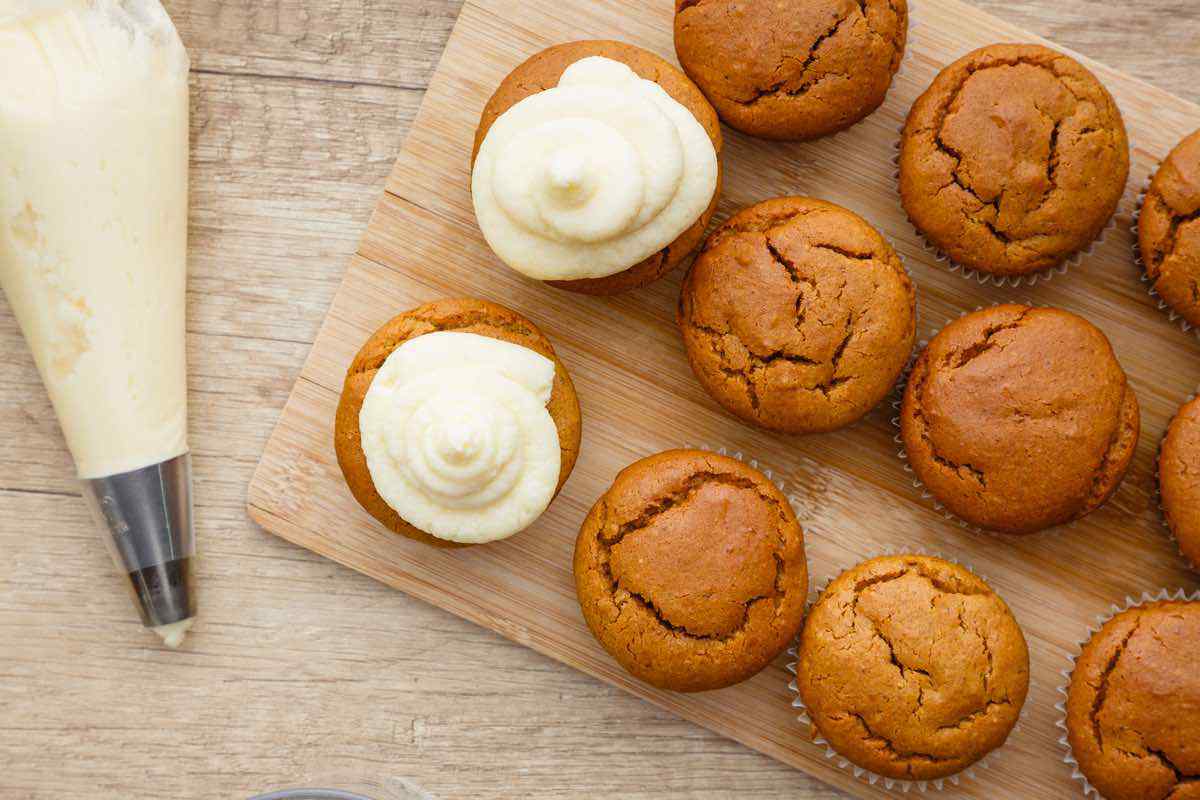 Next, add 2 eggs and a half cup of granulated Stevia or any low-carb granulated sweetener in another bowl. Turn on your mixer to beat the eggs and sweetener until the consistency of it becomes fluffy. This step is crucial to fluffy muffins. If you've baked with all keto-approved ingredients before and they turned out like hockey pucks, you probably forgot to beat the eggs until fluffy. Next, add the almond butter and pumpkin puree into the mix. These add moisture, healthy fats and some fiber to your muffins. Mix all until smooth.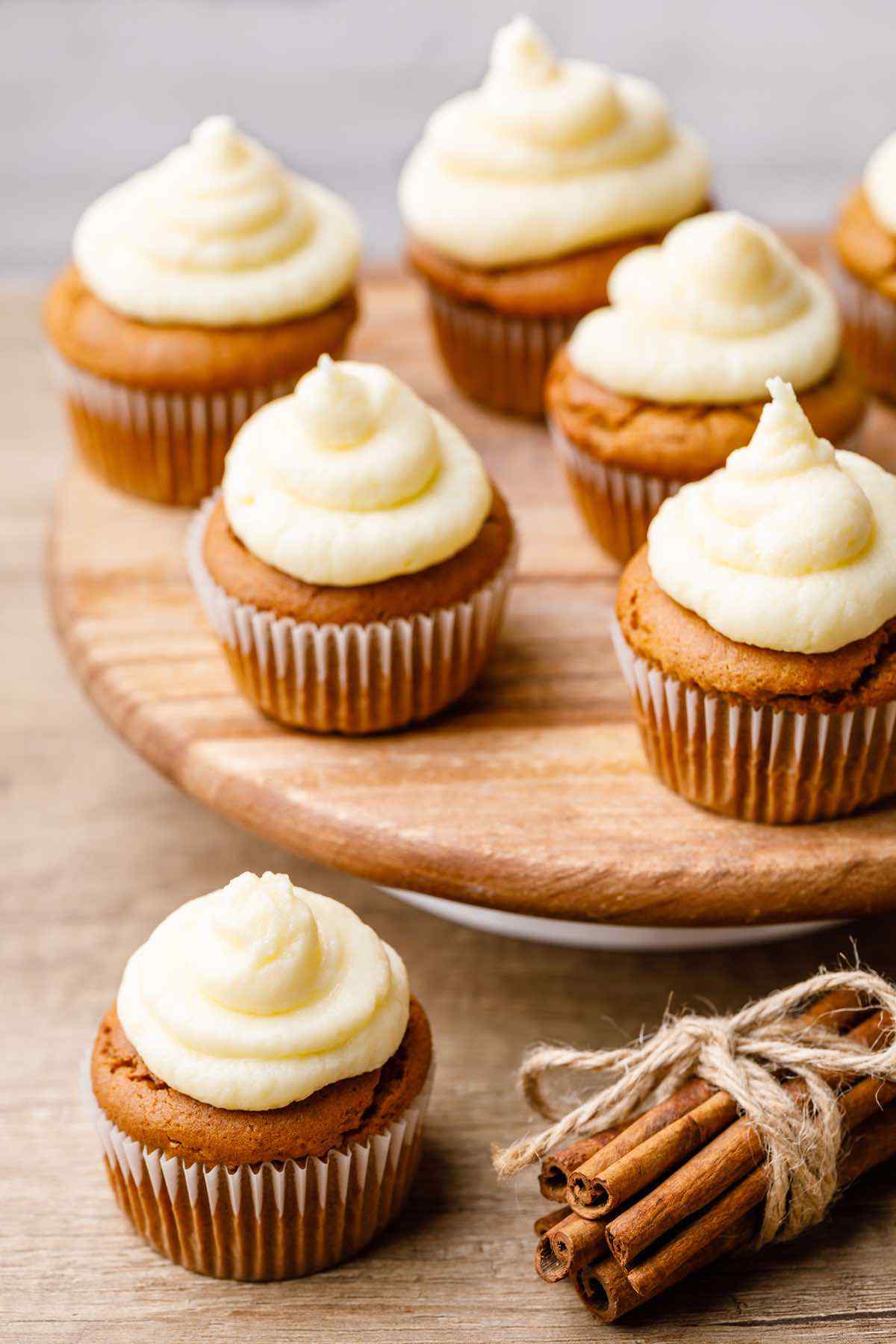 Finally, scoop the batter into the 12 muffin cups and bake them in the oven for 20-25 minutes. Be sure to use a kitchen timer to avoid overcooking or undercooking your muffins. Once your muffins are done, take them out of the oven and set them aside to cool down completely.
Now that the muffins are finished, it's time to make the rich cream cheese frosting. Get another bowl and add softened butter and granulated sweetener. We highly recommend using all-natural grass-fed butter. Mix the two ingredients for 3-5 minutes or until it becomes creamy and smooth. Add the cream cheese to the bowl and mix until they are well combined. Take your frosting and scoop it into a piping bag. Before topping your pumpkin muffins with the cream cheese frosting, make sure they have cooled down completely otherwise the frosting will run and you'll end up with a delicious mess. There are worse things, I suppose!
More Keto Muffin Recipes:
Fat Bomb Keto Breakfast Muffins (Energy on the Go)
Sausage and Cheese Keto Egg Muffins (These Reheat Really Well)
Moist Cream Cheese Keto Blueberry Muffins (Mom Recipe Favorite)
Print Recipe
Keto Pumpkin Muffins with Cream Cheese Frosting
Author: Bree - KetoPots.com
Prep Time:

30 minutes

Cook Time:

20 minutes

Total Time:

50 minutes

Yield:

1

2

1

x
Scale
1/3 cup almond flour
½ tsp baking soda
pinch of salt

1 tsp cinnamon
¼ tsp ground ginger
½ tsp ground nutmeg
2 eggs
½ cup granulated Stevia or other low carb granulated sweetener
1 cup natural almond butter
½ cup homemade or canned organic pumpkin puree
1 tsp pure vanilla extract
For the frosting:
4 oz cream cheese
4 oz butter
3 tbsp granulated Stevia or other low carb granulated sweetener
Preheat oven to 350ºF.
Line a 12-cup muffin pan with paper cups. Set aside.
In a bowl combine the almond flour, baking soda, pinch of salt, cinnamon, ground nutmeg and ground ginger. Set aside.
In the bowl of a stand mixer fitted with the paddle attachment beat the eggs and sweetener until pale and fluffy, about 3-5 minutes.
Add the almond butter and pumpkin puree and beat until well combined.
Add in the almond flour mixture and beat until smooth.
Scoop the batter into the prepared muffin cups.
Bake in preheated oven for 20-25 minutes or until a toothpick inserted into the center comes out clean.
Remove from the oven and allow to cool completely.
To make the frosting, in the bowl of a stand mixer fitted with the paddle attachment beat the softened butter and sweetener, scraping bowl occasionally, until smooth and creamy about 3-5 minutes.
Add the cream cheese and beat until well combined.
Pipe the frosting over the cupcakes and serve or refrigerate until ready to serve.
FREE KETO RECIPES + 5-INGREDIENT KETO COOKBOOK

Make sure to sign up for free to get instant access to the 5-Ingredient Keto Cookbook, which includes my favorite 20+ keto recipes of all-time, all under 5 ingredients.