Keto Recipes
Keto Pumpkin Cookie Sandwiches (My Kids Love These)
I have a confession to make. I'm kind of a geek when it comes to my baking. What I mean by that is I tend to try and match my baked goods with the seasons and holidays throughout the year. Peppermint patty fat bombs at Christmas time, heart shaped cookies for Valentine's Day, green veggie cakes for St. Patrick's Day — you get the idea. However, every now and then I come across a recipe that seems like it should fall into the 'seasonal' category, but it's just too good not to enjoy year round. This recipe for keto pumpkin cookie sandwiches is one such recipe. The cookies provide a delightful cinnamon spice and pumpkin flavor, with a delicious cream cheese frosting holding everything together.
Pumpkin Spice, Cinnamon Spice, Cream Cheese Frosting…Oh My!
Aside from the use of ground cinnamon and pumpkin puree, there's one other key ingredient used to make these cookies that offers a lovely autumn-like flavor. Almond flour is used instead of any sort of refined wheat flour and it provides a delicious hint of nutty flavor that blends perfectly with the other flavors on offer. It's also an excellent source of heart healthy monounsaturated fats to use in your baking recipes. And unlike other types of unhealthy baking ingredients like refined sugars and flour, using almond flour helps to lower "bad" LDL cholesterol levels while also reducing overall cardiometabolic risk factors. (1)
Cinnamon is an equally viable baking ingredient when it comes to offering a ton of flavor along with some terrific health benefits. It should be no surprise to anyone how much I love cinnamon, considering the amount of amazing keto-friendly cinnamon snack recipes that I've shared. It really is an amazing culinary spice though — it's full of anti-inflammatory and antioxidant properties, and it's even been found to help lower both blood pressure and blood sugar levels. (2)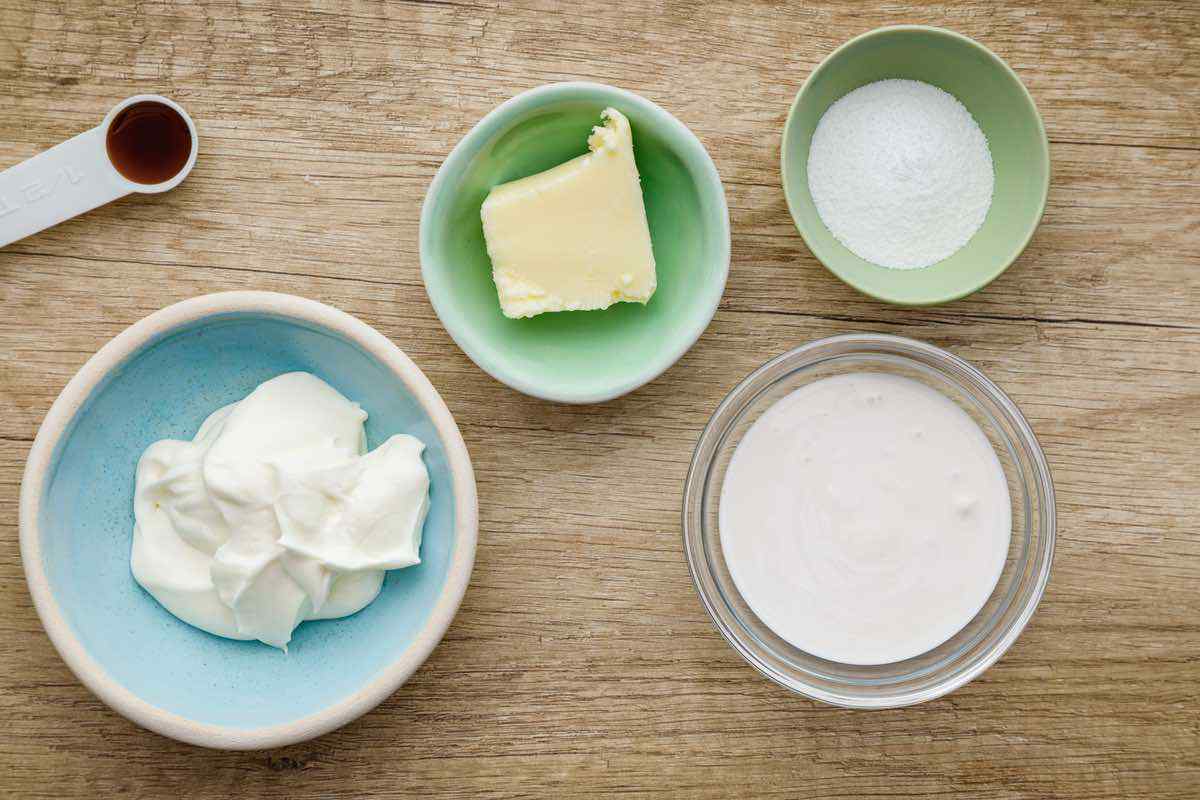 And of course, you'll need to use the pumpkin puree to complete your pumpkin cookies. Much like cinnamon, pumpkin is full of potent biological properties that make it incredibly beneficial for your health. Pumpkin has actually been found to possess antidiabetic, anticancer, and anti-inflammatory properties, in addition to several other great medicinal benefits. (3)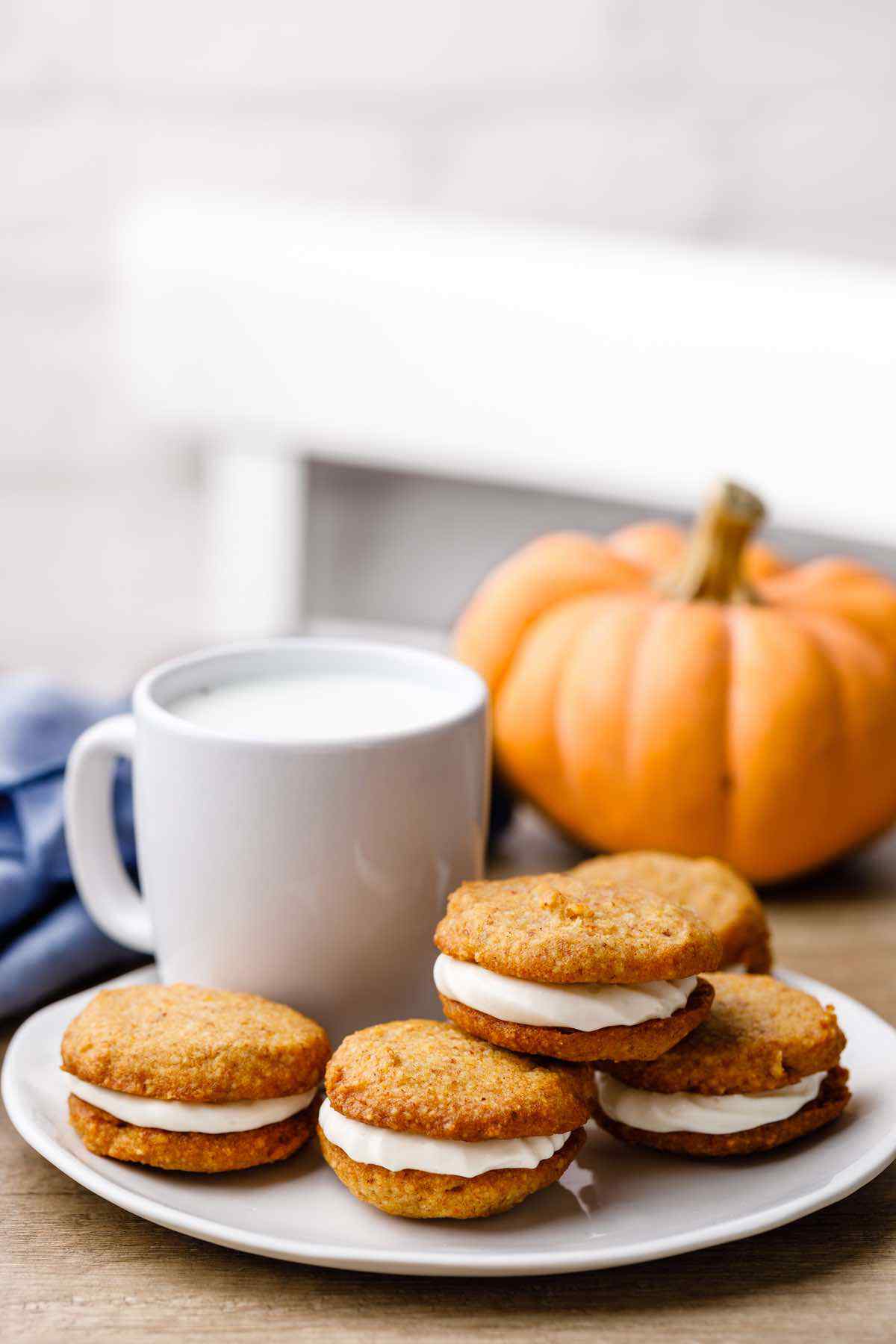 When you combine these three phenomenally healthy baking ingredients with other keto baking staples like a zero calorie sweetener (such as Stevia), butter, eggs, and vanilla extract, you end up with pumpkin cookies that are out of this world good. Once you've finished making your cookie dough and placed the cookies in the oven, you can turn your attention to making the cream cheese frosting. Simply beat together some butter and Stevia with the cream cheese, and then gradually add in the heavy cream until the mixture is smooth. Once your cookies are ready to go, use the frosting to sandwich them together and enjoy!
More Keto Cookie Recipes:
Low Carb Keto Cream Cheese Cookies with Cherry Glaze
The Best Keto Sugar Cookies Ever (These are Butter Bombs)
Easy 3-Ingredient Keto Peanut Butter Cookies (These are My Favorite)
Keto Double Chocolate Chip Cookies (Better Than the Bakery!)
Print Recipe
Keto Pumpkin Cookie Sandwiches
Author:
Prep Time:

30 minutes

Cook Time:

10 minutes

Total Time:

40 minutes

Yield:

2

0

1

x
FREE KETO RECIPES + 5-INGREDIENT KETO COOKBOOK

Make sure to sign up for free to get instant access to the 5-Ingredient Keto Cookbook, which includes my favorite 20+ keto recipes of all-time, all under 5 ingredients.
Scale
2 cups almond flour
½ tsp baking powder
1 tsp ground cinnamon
½ cup granulated Stevia or other low carb granulated sweetener
½ cup butter
1 egg
1 tsp vanilla extract
½ cup pumpkin purée, well drained
For the frosting:
4 oz cream cheese, at room temperature
¼ cup butter, at room temperature
3 tbsp granulated Stevia or other low carb granulated sweetener or to taste
½ tsp vanilla extract
2 tbsp heavy cream
Preheat oven to 350°F.
Line a baking sheet with parchment paper.
In a bowl combine the almond flour, baking powder and ground cinnamon.
In another bowl cream the sweetener and butter.
Add the egg, pumpkin puree and vanilla extract and beat until smooth.
Stir the dry ingredients into the wet ingredients and mix to combine
Drop by rounded tablespoon onto the prepared baking sheet.
Bake for 10-12 minutes.
Remove from the oven and allow to cool completely before adding filling.
To make the filling, beat the cream cheese, butter, and sweetener together until well combined.
Beat in the heavy cream until smooth.
Pipe the filling onto bottoms of half the cookies.
Sandwich with remaining cookies and serve.