Keto Recipes
The Best Keto Protein Bars Ever (Save This Recipe)
I love protein bars. They're a convenient protein-packed snack you can grab in a pinch. However, many protein bars either fall short in the nutrient department or taste awful. Lucky for you (and me), this recipe solves both of those problems. These are literally the best keto protein bars ever. They are made with healthy, keto-friendly ingredients and they taste absolutely amazing.

Ridiculously Great Tasting Protein Bars
You will first need to place the shredded coconut into your food processor. Using real coconut flakes helps to give the protein bars a lovely authentic coconut taste, while also making sure you are getting some healthy fats as well. You'll be glad you included coconut flakes once you see how much great flavor they add, but even more importantly, coconuts are an excellent staple food to include when eating keto. They're such a great source of good fats that even the flakes have been shown to have a cholesterol-lowering effect. (1)
In addition to the shredded coconut, you'll also need to add two ounces of vanilla protein powder as well. This is to make sure that each one of your bars will an adequate amount of protein. The vanilla protein powder also adds texture and flavor to the bar. Another ingredient that was included to make sure your protein bars taste good is some form of low carb granulated sweetener. I strongly recommend using as natural a product as possible, like Stevia. The reason being is that many of the so-called "healthier" artificial sweeteners may not be quite so healthy after all, according to certain studies. (2) Keep your choice of sweetener as low carb as possible in order to keep them keto-friendly.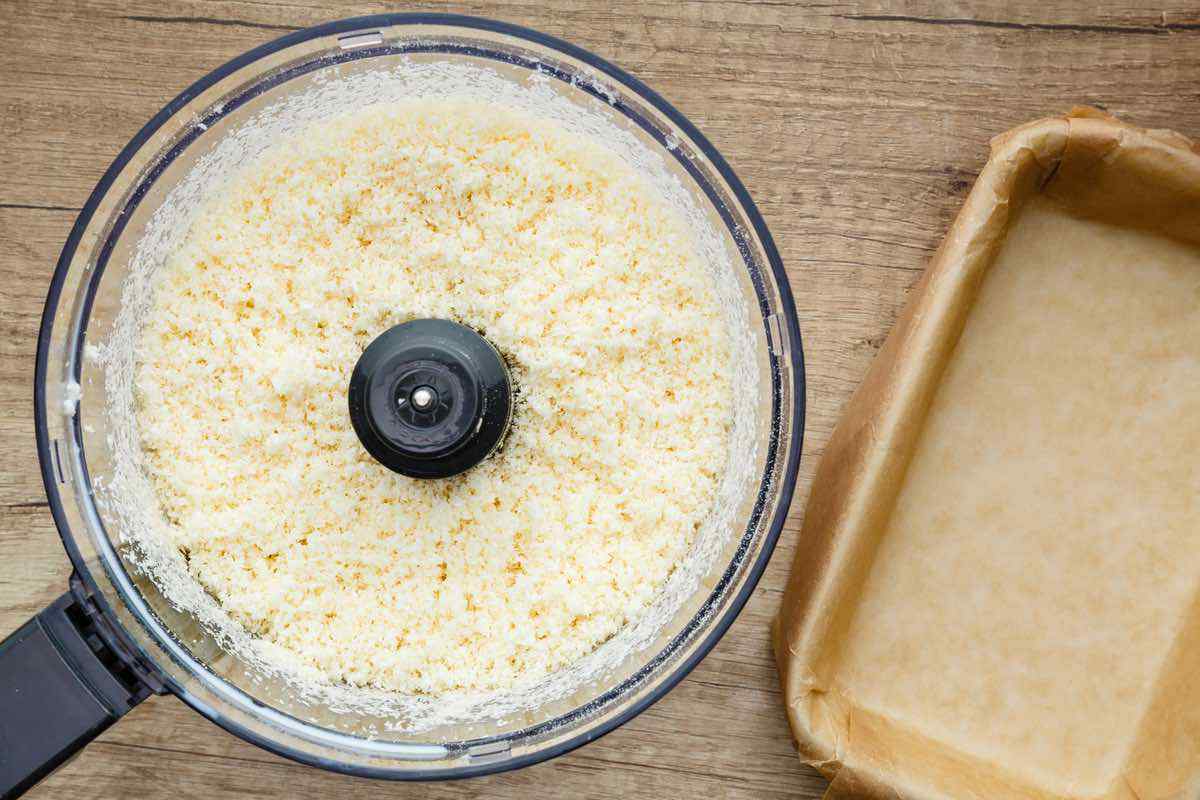 The last ingredient to be added is half a cup of full fat milk. This serves two main purposes. It adds a bit more fats and even more protein into the bars, while still keeping the carbs to a minimum. Perfect for keto protein bars! After blending all of your ingredients together, you can transfer the mixture to a baking pan and let chill in the freezer for 30 minutes.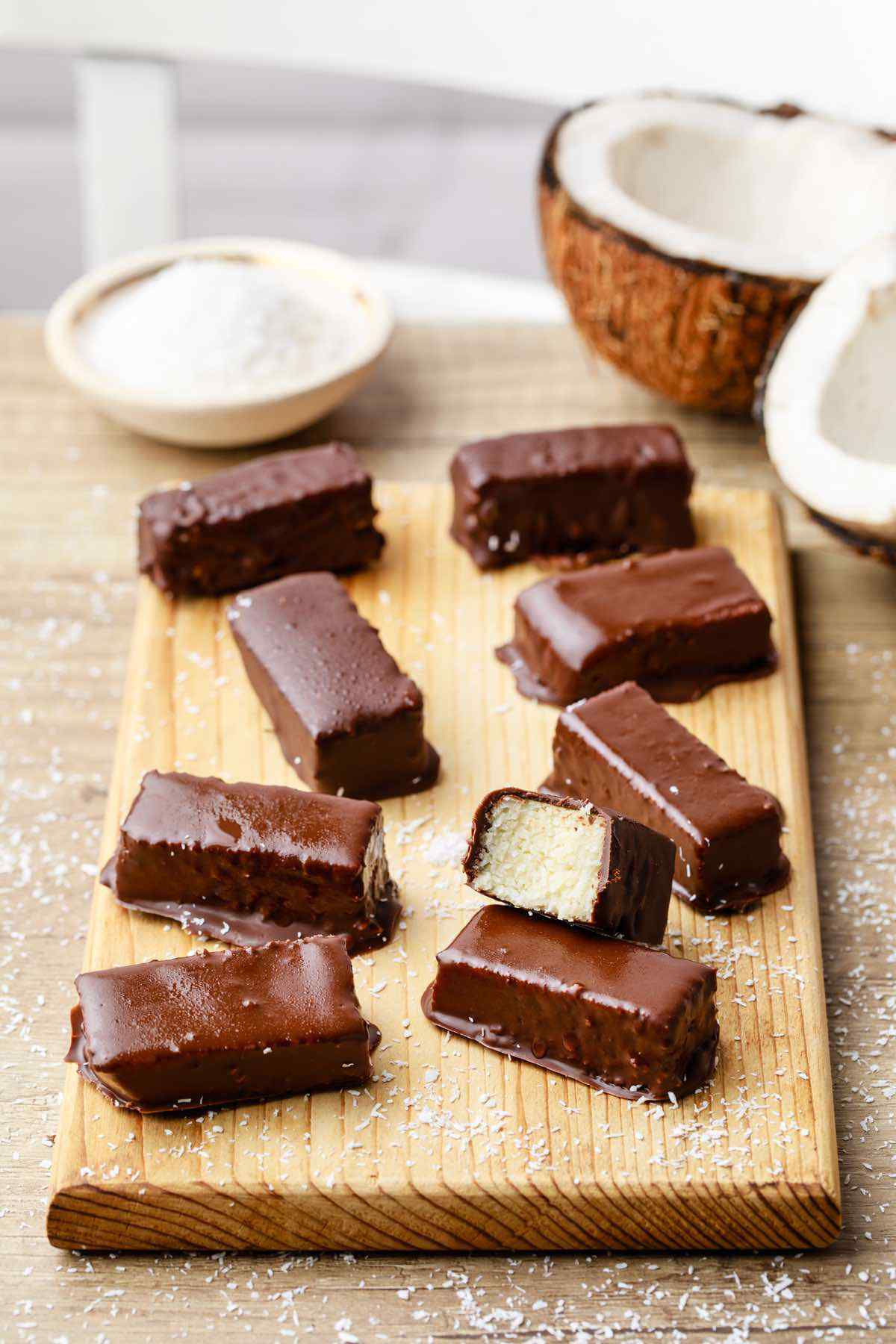 How to Make Homemade Chocolate Icing
With the bars in the freezer, you can now turn your attention to making the homemade chocolate icing. There are only two required ingredients here, coconut oil and sugar free dark chocolate. These two ingredients make sure that your chocolate icing is both delicious AND nutritious, as dark chocolate provides several cardiovascular benefits (3) while the coconut oil contains medium chain triglyceride fatty acids, which help your body enter ketosis more quickly. Simply melt the dark chocolate and coconut oil together to make the icing.
To finish off the protein bars, cut the frozen mixture into 16 bars and then dip them into the chocolate icing. Freeze for another 30 minutes and you're all set! There are very few protein bars out there that taste better than these. They are definitely now one of my go-to options for a convenient protein source either before or after my workouts.
PS. Bars are lifesavers especially when the ingredients are made of actual nutrients instead of just empty calories. There aren't too many ketogenic options at restaurants and fast food chains, so these are a must in my home. They're far healthier and more filling too! Watch out for more recipes like this in the near future!
More Good Keto Bar Recipes
Print Recipe
The Best Keto Protein Bars Ever
Author: ketopots.com
Prep Time:

15 minutes

Total Time:

15 minutes

Yield:

1

6

1

x
FREE KETO RECIPES + 5-INGREDIENT KETO COOKBOOK

Make sure to sign up for free to get instant access to the 5-Ingredient Keto Cookbook, which includes my favorite 20+ keto recipes of all-time, all under 5 ingredients.
Scale
For the bars:
2 cup finely unsweetened finely shredded coconut
2 oz vanilla protein powder
2 tbsp or to taste granulated Stevia sweetener or other low car granulated sweetener
½ cup full fat milk
For chocolate icing:
3 oz dark sugar free chocolate, chopped
1 tbsp coconut oil
In a food processor, place the finely shredded coconut, vanilla protein, sweetener and milk and process until combined.
Spoon the mixture into an 8×4 inch baking pan lined with parchment paper and press evenly with spatula.
Freeze for 30 minutes.
To make the chocolate icing, melt together the chocolate and coconut oil.
Remove the bars from the freezer and cut into 16 bars.
Dip each bar into the chocolate icing and freeze for another 30 minutes.
Keep the bars in an airtight container in the refrigerator or freezer.