Keto Dinner
No-Hassle Soul-Satisfying Instant Pot Keto Pot Roast
Ever since I was a child, a good homemade pot roast has been one of my very favorite dinner meals. My grandmother used to make the meanest pot roast with whipped potatoes and gravy. Now that I'm all grown up with a family of my own, I still turn to making a pot roast when I need to come up with something for dinner that will leave everyone happy. And my go to recipe for those nights is this no-hassle soul-satisfying instant pot keto pot roast. More on my personal favorite recipe later.

Since making a keto friendly pot roast is honestly one of my very favorite go to options when it comes to making dinner for my family. When you serve it along with a side option like mashed cauliflower and keto friendly gravy, it's simply to die for. So with that in mind, it's safe to say that I've tried out quite a few different keto pot roast recipes. Here are five more outstanding ways to make a roast from some of my very favorite keto blogs:
An Easy to Make And Oh So Hearty Keto Pot Roast Dinner
After seasoning your chuck roast with salt and black pepper, you can get your instant pot ready. Add in two tablespoons of extra virgin olive oil before adding in your roast and browning it for 4-5 minutes per side. Take the roast out of the instant pot, and then add in the cup of beef broth.
Next, add in three tablespoons of worcestershire sauce and stir to combine. You'll then want to press 'CANCEL' on the instant pot before stirring in three sprigs of fresh rosemary, four sprigs of fresh thyme, two sliced celery stalks, three sliced carrots, two minced garlic cloves, and one medium onion that has been cut into wedges. Last but not least, top it all off with the chuck roast.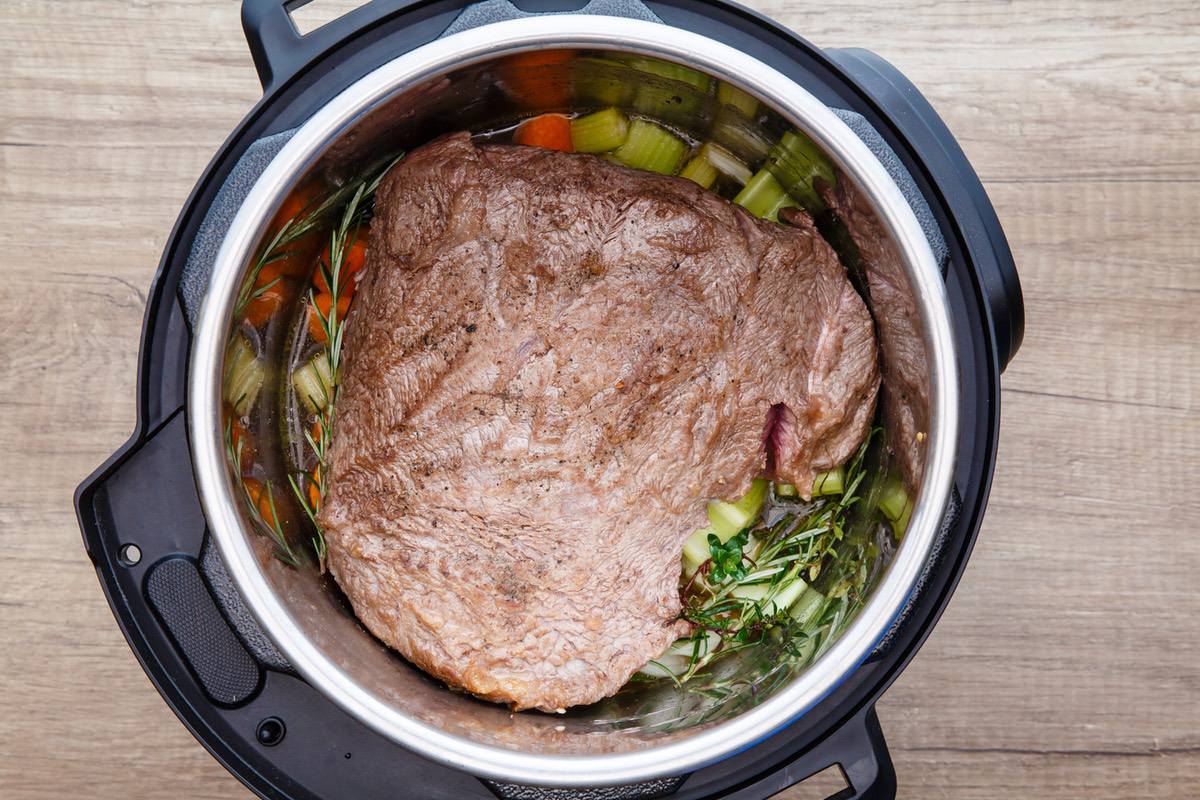 Remove your chuck roast and veggies and serve them both with the sauce left over in the instant pot poured over top.
What's the Best Cut of Meat for Making a Pot Roast (Aside from Chuck Roast)?
I realize that we all have different tastes and preferences, so if you would prefer to use a different cut of meat, there are two other viable options when it comes to making a yummy pot roast.
Since you're going to want to go with tougher cuts of meat (they contain higher amounts of collagen that will break down into gelatin, which in turn tenderizes your meat and gives it that succulent fall-apart-on-your-fork finish), that leaves you with the option of either using beef brisket or beef round for making a pot roast if you don't want to go with chuck roast.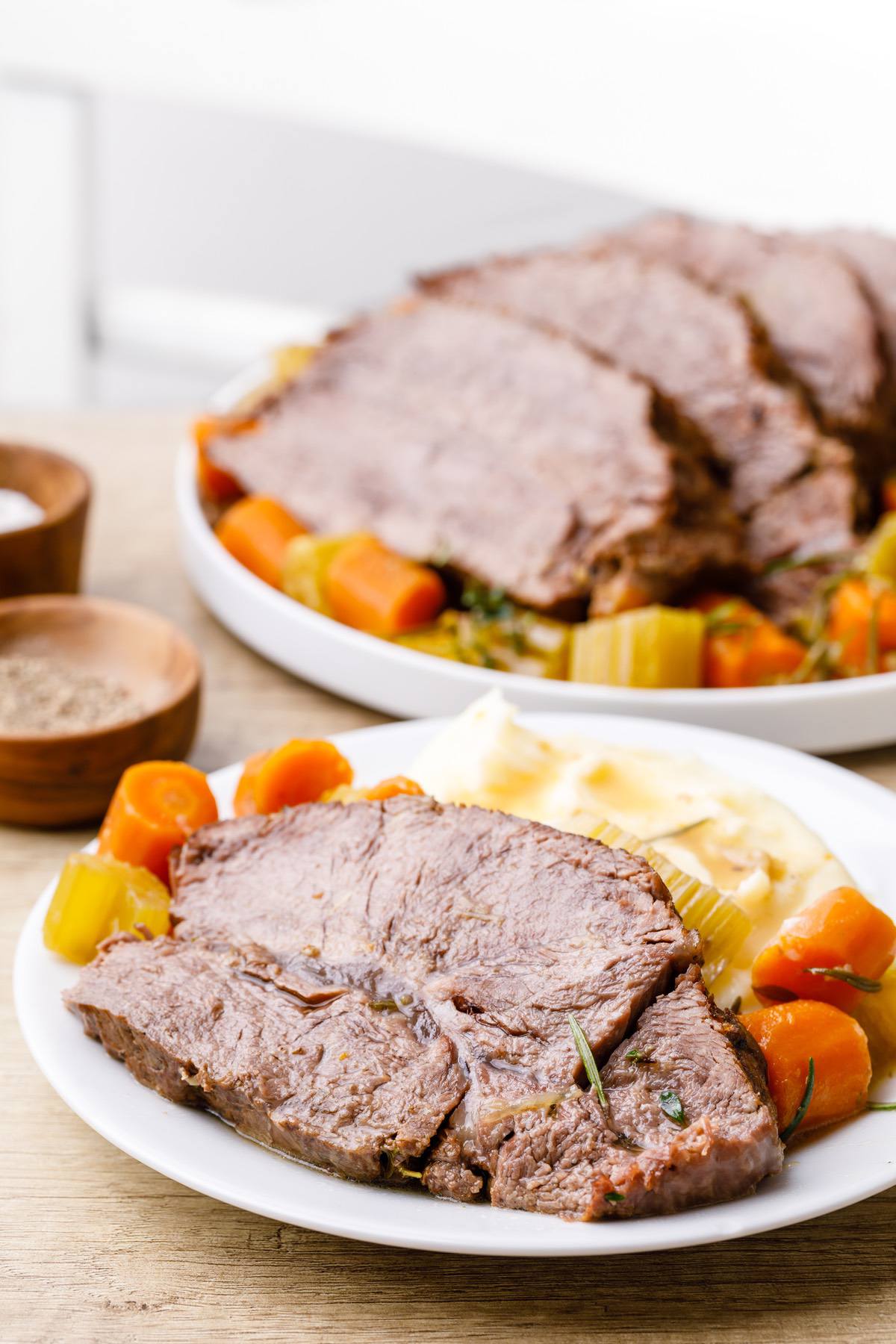 Can I Use Chicken or Pork Instead?
Yes, you can absolutely use both chicken and pork for making delicious instant pot keto friendly pot roasts.
Keto beef pot roasts are my personal favorite, but it's actually followed by pork as a very close second. And while I'm not the biggest fan of chicken pot roasts in the world, I have indeed still tried a few ridiculously good ones.
Feel free to use whatever type of meat you like best when making your keto pot roasts.
Why Is My Pot Roast Tough?
The single biggest reason why your pot roast is turning out tough is most likely because it's undercooked.
As I mentioned above, when making a pot roast, you're better off using tougher cuts of meat due to the collagen breakdown. Slow cooking the meat gives it plenty of time to tenderize thanks to the added moisture provided by the instant pot.
On the other hand, it's also possible to overcook your pot roast, which in turn will give it a rather dry texture. You can try to prevent this by making sure that you're using enough braising liquid in the pot while you cook the roast. Make sure that you don't let it go dry!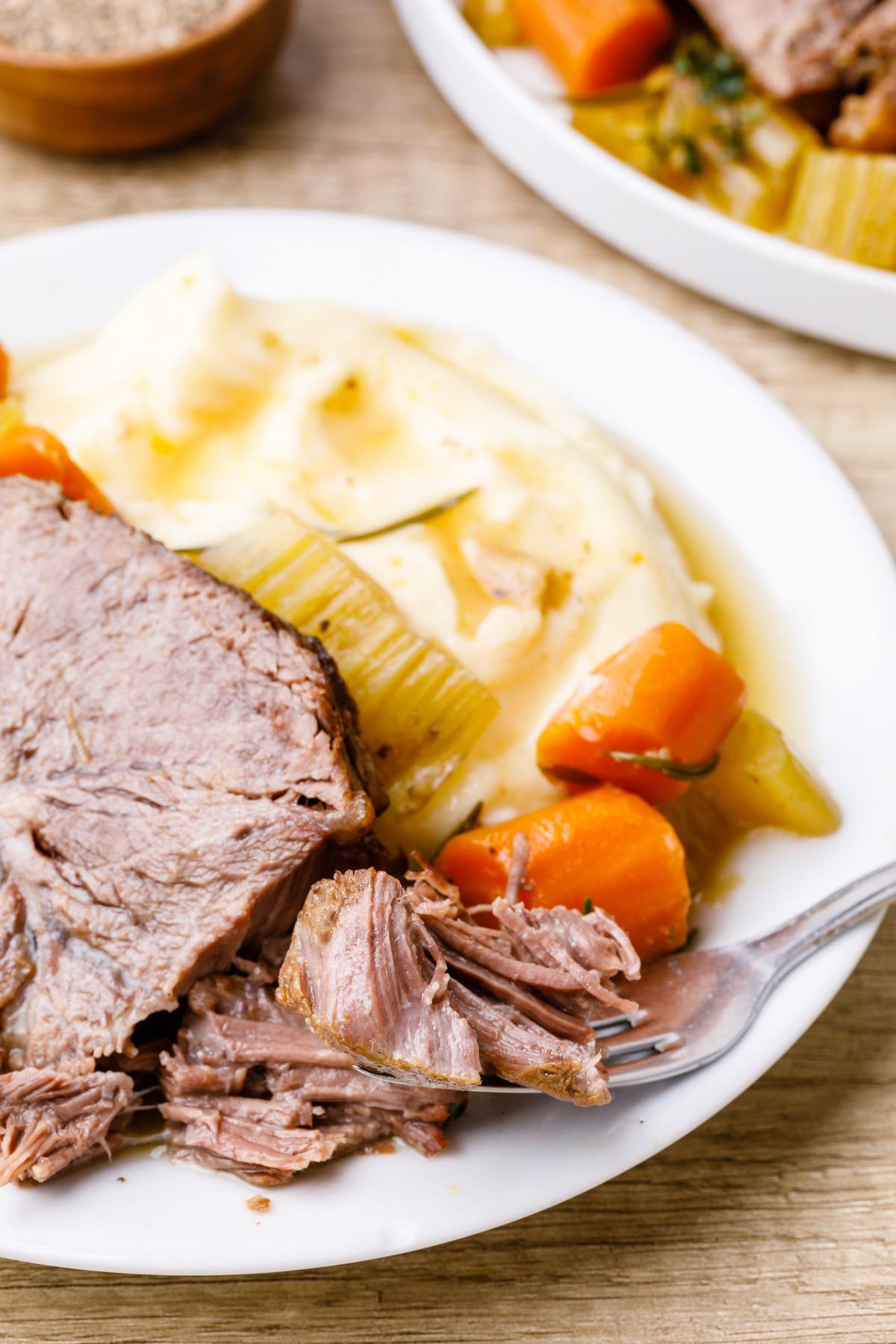 Can Pot Roast Be Frozen?
Yes, this beef pot roast can be safely frozen. Not only that, but it can actually stay good for weeks when stored in the freezer!
Here's a pro tip for you guys as well. Make sure to pour the cooking liquid over top of your beef slices when you freeze them. This helps to prevent them from drying out in the freezer.
(You may also like: The Best (No Hassle) Keto Instant Pot Beef Stew)
Print Recipe
No-Hassle Soul-Saytisfying Instant Pot Keto Pot Roast
Author: Bree - KetoPots.com
Prep Time:

10 minutes

Cook Time:

1 hour

Total Time:

1 hour, 10 minutes

Yield:

1

0

1

x
FREE KETO RECIPES + 5-INGREDIENT KETO COOKBOOK

Make sure to sign up for free to get instant access to the 5-Ingredient Keto Cookbook, which includes my favorite 20+ keto recipes of all-time, all under 5 ingredients.
Scale
4

pounds chuck roast

2 tbsp

olive oil

2

celery stalks,  sliced 

3

medium carrots, sliced 

1

medium onion, cut into wedges

3 tbsp

Worcestershire sauce

2

garlic cloves, minced 

3

sprigs fresh rosemary

4

sprigs fresh thyme

1 cup

beef broth

salt and black pepper to taste   
Season the roast with salt and black pepper. 

Press the SAUTE button on the Instant Pot and let stand until screen reads "HOT".

Add the olive oil. 

Add the roast and brown 4-5 minutes per side. 

Remove the roast from the Instant Pot. 

Add the beef broth and scrape the bottom of the pot with a wooden spoon to loosen the brown bits.

Add the Worcestershire sauce and stir to combine. 

Press the CANCEL button. 

Stir in the rosemary, thyme, celery, onion, garlic and carrots. 

Top with beef.

Close and seal the Instant pot.

Turn the venting knob to SEALING.

Press the PRESSURE COOK button and check to make sure the pressure level shows as "High" in the display. 

Adjust the timer to 50 minutes.

When finished cooking, release pressure naturally according to manufacturer's directions.

Open the lid.

Discard the rosemary and thyme sprigs. 

Remove the roast and vegetables from the Instant pot. 

Serve the roast with vegetables and sauce poured over top.
More Easy Keto Instant Pot Recipes: